Global GNSS Simulator Market Insights
The Global GNSS Simulator market is projected to grow at a high CAGR over the period of forecast. Growing applications of GNSS Simulator as one of the main sources of consumer electronics, and coupled with IoT enabled smart devices is also expected to have a positive impact on market growth. The strict regulatory government makes consumers skeptical about the global GNSS Simulator market, which in turn propel the market growth as it requires a huge investment in research and development activities. GNSS Simulator is driven by its own technologies, and infrastructure among others. GNSS Simulator operates on 4 constellations namely, BeiDou, GPS, GLONASS, and two regional satellites namely, IRNSS-NAVIC, and QZZS. GNSS simulator offers an efficient and effective means for testing GNSS receivers and their systems.
Global GNSS Simulator Market: Component Insights
Based on Component, the Global GNSS Simulator market is segmented into hardware, software, and service. The hardware segment holds the largest market position throughout the forecast period. The Hardware segment produces the required RF signal during the run time scenario while the simulator test is performed. Hardware components of GNSS Simulator includes receiver, the tester, and desktop among others.
Over the past few years, Software segment held a prominent market position. Because of their flexibility and cost benefits, software-defined GNSS simulators are extremely attractive. Moreover, these software control the simulator while performing a GNSS Simulator test. The Software allows users to create, edit and organize dynamic events scenario parameters.
The Service segment is expected to experience rapid growth throughout the forecast period. This segment is driven by the adoption of GNSS Simulators across multiple industries and allow users to manage support services, and solve the problems related to simulation systems.
Global GNSS Simulator Market: Type Insights
Based on Type, the market is segregated into single-channel, and multi-channel. Single-channel GNSS simulators are a quick and extremely cost-effective solution for GNSS receiver manufacturing tests, particularly on mobile devices with GNSS receivers.
Multi-channel GNSS simulators can run a number of standard GNSS receiver performance tests with their different variations. It finds its application in engineering and development testing navigational fixing and position testing.
Global GNSS Simulator Market: Application Insights
Based on Application, the market is segregated into navigation, mapping, location-based services, surveying, vehicle assistance systems, and others. The location based services segment holds the largest market position throughout the forecast period. The vehicle assistance system is expected to grow at highest CAGR during the forecast of period. It finds its implementation in the manufacturing and development testing of navigational fixes and positions. GNSS simulators enable self-driving vehicles to safely navigate without human interference.
Global GNSS Simulator Market: Receiver Insights
Based on Receiver, the market is segregated into GPS, GLONASS, BeiDou, and Others (IRNNS-NaVIC, and QZZS). GPS segment holds the largest market position throughout the forecast period. GPS developed by USA has a network of 31 satellites covering this planet and has been widely used in commercial devices like mobile phones, navigators etc. The major driver of this market is due to increased smartphone penetration in combination with GPS-enabled cars. BeiDou segment is expected to grow significantly during the forecast period.
Global GNSS Simulator Market: Vertical Insights
Based on Vertical, the market is segregated into automotive, military & defense, aerospace, marine, consumer electronics, and others. Automotive segment is expected to grow throughout the forecast period. The consumer electronics segment is estimated to hold a large market share. Growing adoption of connected cars and driver less cars in developed countries which includes USA, France, Germany, and UK among others is expected to grow at the highest CAGR.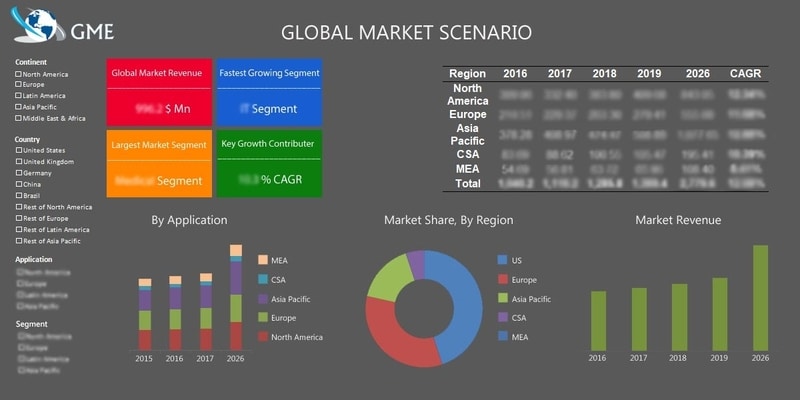 Global GNSS Simulator Market: Regional Insights
North America is expected to dominate the market in terms of market share for GNSS simulator market. Increasing demand in military & defense, marine and aerospace verticals along with the use in outdoor activities such as mapping, and navigation among others is expected to increase the demand during the forecast period.
Global GNSS Simulator Market: End-Use Landscape
The end-use landscape entails a list of current and prospective consumers prevailing across the regions. This section provides company addresses, contact details, products, and regional presence of companies who are purchasing or are likely to purchase Global GNSS Simulator over the coming years.
Global GNSS Simulator Market: Vendor Landscape
The report contains a chapter dedicated to vendors operating in the market, covering raw material manufactures, equipment developers, manufacturers, and distributors. The report provides these insights on a regional level. This section of the report entails contact details, experience, products manufactured/supplied, and geographical presence of companies.
Global GNSS Simulator Market Share & Competitor Analysis
Major players in the Global GNSS Simulator market are Spirent Communications, Rohde & Schwarz, Syntony GNSS, Orolia ,CAST Navigation, Accord Software & Systems, IFEN, RACELOGIC (England), TeleOrbit, Jackson Labs Technologies, iP-Solutions, Hyper Tech, WORK Microwave, Qascom, M3Systems, and Galileo Satellite Navigation among others.
Please note: This is not an exhaustive list of companies profiled in the report.
In May 2019, Spirent Communication launched Spirent CloudSure, the world's first commercially-available test solution for assuring NFV performance as specified in ETSI GS NFV-TST 001
In March 2019, Rohde & Schwarz introduced R&S THV9evo in VHF band III, to enables network operators to optimally leverage the full capabilities of the standard and offers great flexibly in fulfilling future signal processing requirements
In September 2016, Syntony GNSS was selected by ESA BIC, a Business Incubator of European Space Agency
The global GNSS Simulator Market has been studied from the year 2017 till 2026. However, the CAGR provided in the report is from the year 2018 to 2026. The research methodology involved three stages: Desk research, Primary research, and Analysis & Output from the entire research process.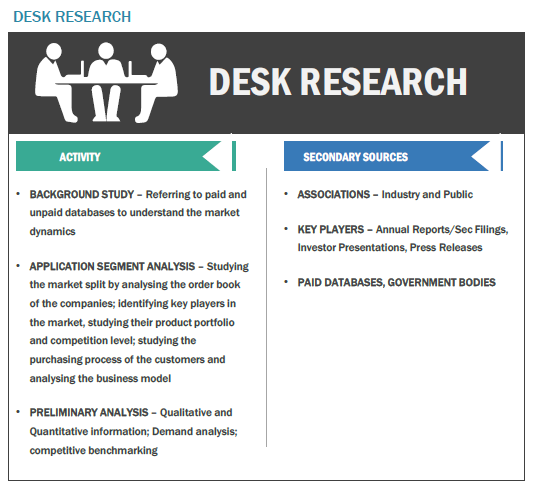 The desk research involved a robust background study which meant referring to paid and unpaid databases to understand the market dynamics; mapping contracts from press releases; identifying the key players in the market, studying their product portfolio, competition level, annual reports/SEC filings & investor presentations; and learning the demand and supply side analysis for the GNSS Simulator Market.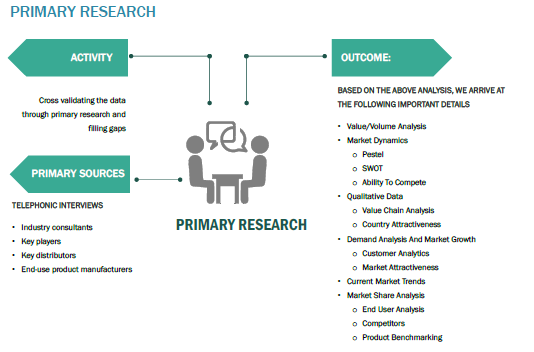 The primary research activity included telephonic conversations with more than 50 tier 1 industry consultants, distributors, and end-use product manufacturers.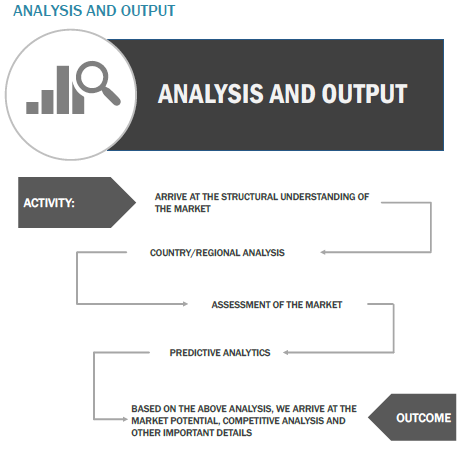 Finally, based on the above thorough research process, an in-depth analysis was carried out considering the following aspects: market attractiveness, current & future market trends, market share analysis, SWOT analysis of the companies, and customer analytics.