Graphene Nanoplatelets Market: Insights
Graphene nanoplatelets are ultra-thin graphene sheets that have a platelet morphology and are made up of stacks with one or more graphene sheets. Carbon nanotube producers primarily create graphene nanoplatelets, which are made by epitaxial growth or chemical vapor deposition. Graphene nanoplatelets are 10 to 50 nanometers in height. Graphene nanoplatelets have a high aspect ratio and widely are preferred in many applications. They also have high thermal and electrical conductivity. Coatings, energy and power conservation, conductive inks, composites, and medical devices are indeed a few of the applications that have benefited from their multifunctional properties.
Growing demand from the aerospace and energy industries, as well as high market demand for eco-friendly, strong, efficient, and lightweight goods, are boosting the market growth. The rising usage as a filler in polymer matrices is driving the market. The industry hasn't been fully commercialized yet. Several R&D programs have been carried out in recent years to commercialize large-scale production. The industry is predicted to be rife with opportunities as cutting-edge technologies for processing and product purification evolves. For innovation and growth studies, a variety of government and non-government research organizations have collaborated with commercial producers.
The product's high mechanical strength and distinctive morphology have prompted it to be used in the production of composites. They're used as fillers in the matrices of thermoplastic and thermoset composites. They are used in many applications such as Inks & pastes, electrostatic drawings, external parts of automobiles, electrostatic-sensitive devices (ESD), and electromagnetic interference (EMI) shielding among others. Also, epoxy GNP composites, fluoroelastomer (FKM) GNP composites, and silicone rubber GNP composites use them. These composites have increased conductivity and can be used in high-temperature environments. The nanocomposites industry has recently been fuelled by a surge in demand for materials with outstanding hardness, high tensile strength, and durability. Due to its excellent mechanical strength and conductive characteristics, graphene nanoplatelets have evolved as the most attractive substrate among the different materials used in nanocomposites.
Graphene nanoplatelets are expected to become a possible replacement for different carbon-based materials used in composite fabrication due to large-scale processing at a lower cost. As a result, over the next several years, rapid development in the nanocomposite industry, combined with product availability at a commercially feasible price, is projected to spur market growth. Industrial production is hampered by economic and technological obstacles.
One of the limiting forces at work in the industry is proprietary technologies. Exfoliation of graphite is the principal cause of graphene nanoplatelets. Costly technologies are used in the isolation and exfoliation steps, which adds to the overall cost. The implementation of a low-cost manufacturing method, on the other hand, is supposed to break down the market barriers.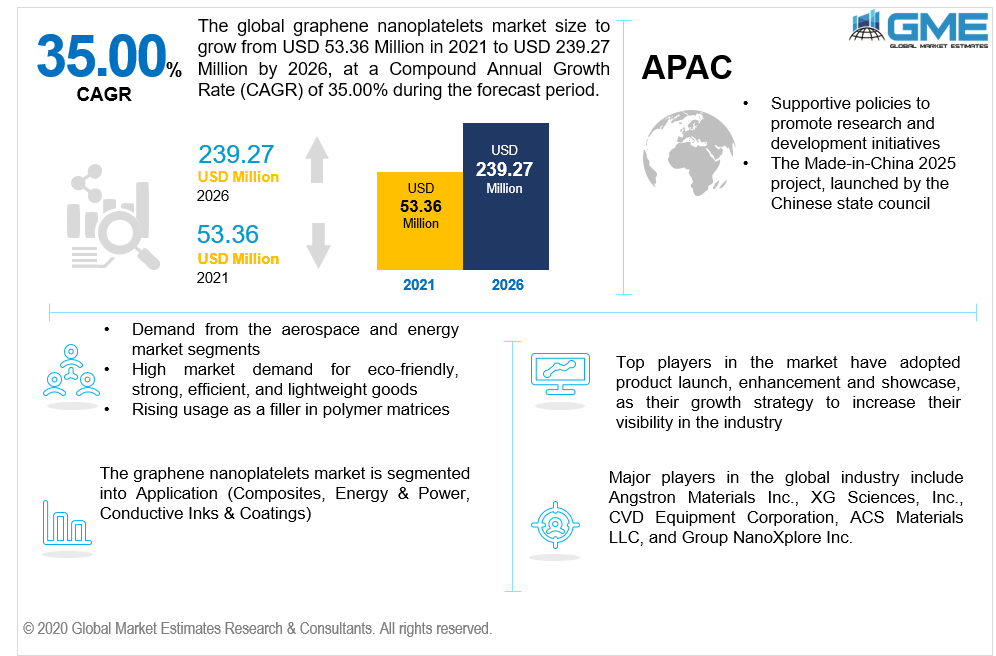 Graphene Nanoplatelets Market: By Application
Composites became the primary application segment of the global market in 2019, accounting for a substantial portion of business sales. The substance is extensively utilized in composites fabrication. In the automobile and construction sectors, composites based on graphene nanoplatelets are in high demand. Over the projected timeframe, the increasing market for automobiles with low weight and high fuel efficiency is expected to boost product consumption.
Over the forthcoming years, energy & power is predicted to occupy maximum share in the market. Because of its potential to increase the durability of advanced power systems, the substance is used in batteries, supercapacitors, and electrodes. When you use the product, you get more efficiency, more longevity, and more battery life for less price.
The product is used in the printed electronics, electrical, and packaging industries to produce conductive coatings and inks. Their electrical and thermal properties make them ideal for use in coatings and inks. Graphene nanoplatelet-based conductive inks can be used with a variety of processing and curing methods. RFID tags, smart labels, smart packaging, printed electronics, and heat sink manufacturers are expected to fuel significant demand for conductive inks and coatings shortly.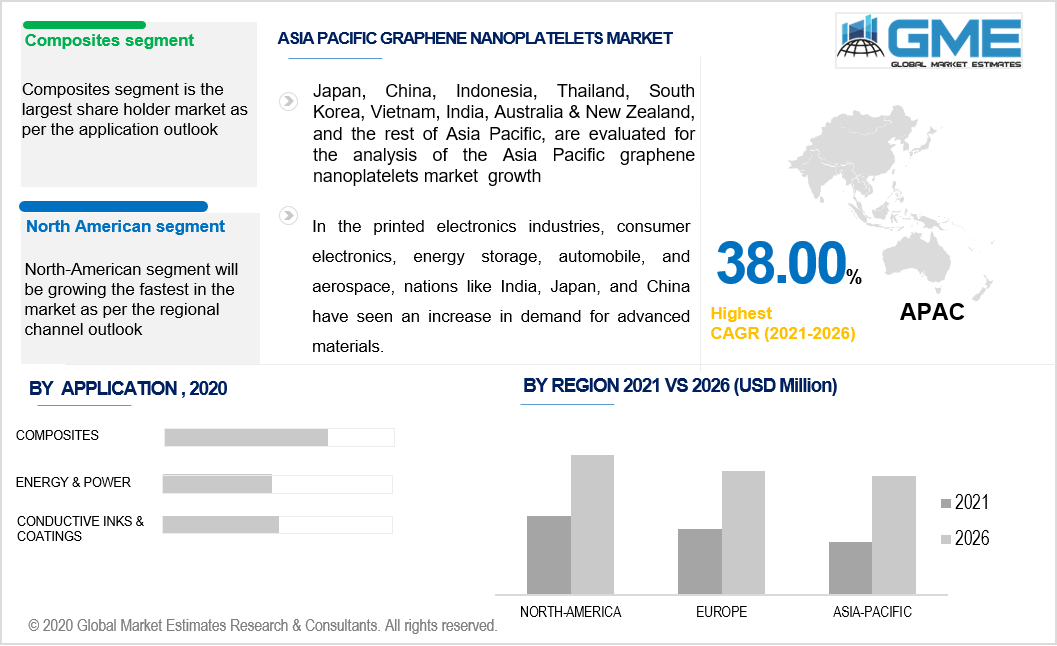 Graphene Nanoplatelets Market: By Region
North America led the graphene nanoplatelets sector in 2016, accounting for the bulk of global sales. In North America, there is a strong market for composites manufactured from graphene nanoplatelets because of the aerospace and automobile sectors. The presence of aircraft manufacturers in this region is driving the demand for lightweight composites.
In 2019, Europe accounted for the third-largest share of global market sales. The market in Europe has been led by advanced nations such as Spain, Germany, United Kingdom, France, and Italy. In Europe, growth in environmental sustainability has fuelled interest in hybrid and electric cars, which has accelerated product demand in recent times.
Over the projected timeframe, the Asia Pacific market is anticipated to grow at a high speed. Soon, the region is will also overtake the North American market in terms of sales. The presence of many electronics, automobile, consumer goods manufacturers in China, India, and South Korea among others are driving the market growth.
In the Asia Pacific region, supportive policies to promote research and development initiatives on graphene nanoplatelets are projected to generate attractive opportunities. The growing demand for made-in-China and made-in-India products among various end-use industries is expected to boost the advanced manufacturing sector in the region. As a result, graphene nanoplatelets are expected to be used in a variety of applications.
Graphene Nanoplatelets Market: Share & Competitor Analysis
CVD Equipment Corporation, Strem Chemicals, Inc., Angstron Materials Inc, Cambridge Nanosystems, XG Sciences Inc, Applied Graphene Materials Inc., ACS Materials LLC, Haydale Graphene Industries Inc., Group NanoXplore Inc., Xiamen Knano Graphene Technology Co. Ltd, Thomas Swan & Co. Ltd., Graphene Laboratories Inc, and Directa Plus PLC among others are the prominent players.
Please note: This is not an exhaustive list of companies profiled in the report.
The Global Graphene Nanoplatelets Market has been studied from the year 2019 till 2026. However, the CAGR provided in the report is from the year 2021 to 2026. The research methodology involved three stages: Desk research, Primary research, and Analysis & Output from the entire research process.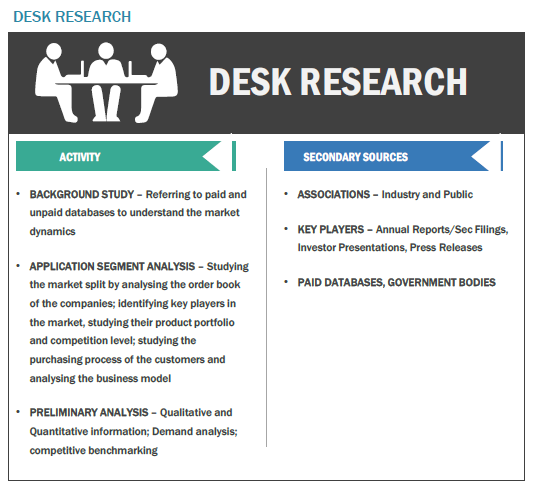 The desk research involved a robust background study which meant referring to paid and unpaid databases to understand the market dynamics; mapping contracts from press releases; identifying the key players in the market, studying their product portfolio, competition level, annual reports/SEC filings & investor presentations; and learning the demand and supply-side analysis for the Graphene Nanoplatelets Market.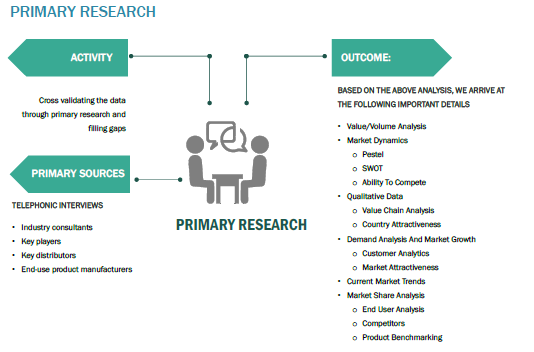 The primary research activity included telephonic conversations with more than 50 tier 1 industry consultants, distributors, and end-use product manufacturers.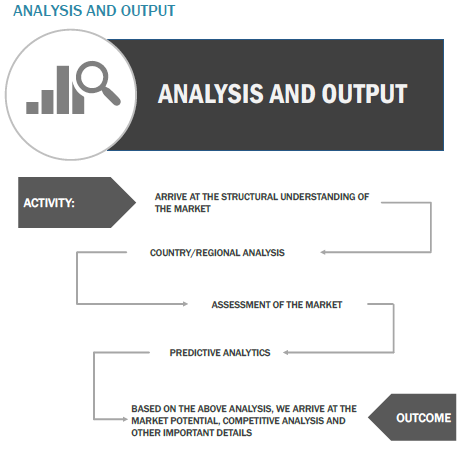 Finally, based on the above thorough research process, an in-depth analysis was carried out considering the following aspects: market attractiveness, current & future market trends, market share analysis, SWOT analysis of the company and customer analytics.