High-Performance Polymers Market: Insights
The products are known as high-temperature plastics, and high-tech plastics. These high-performance polymers differ from the other commercially accessible engineering polymers or generic commodity polymers chiefly due to their characteristics such as chemical stability, high-temperature stability, production quantity, mechanical properties, durability, lighter weight than other materials, and cost-effectiveness. According to statistics, this kind of polymer represents 0.2% or 700,000 tonnes of artificial polymers in total but holds the highest position in the polymers' pyramid.
Moreover, these high-performance polymers meet more advanced test requirements as compared to engineering and standard polymers. They are developed to meet various parameters to increase their use in robust environments. The best quality polymers are developed by polycondensation processes. The process is a chemical synthesis process to develop the best molecular mass polymers. Electrical wire insulators, construction, fluid flow tubing, architecture and fiber optics, defense, and avionics, medical and healthcare to oil and gas, are a few of their applications.
Major drivers include increasing demand for high-performance polymers from the aerospace and automotive industries due to the increasing focus for lightweight aerospace and automotive components, and back-end research done continuously by the businesses to find fresher and better application avenues, trying to meet precise customer demands. One of the crucial trends seen in the high-performance polymer market is the steps taken by numerous governments to promote and fund high-performance polymers in several applications such as solar cells and membrane technology.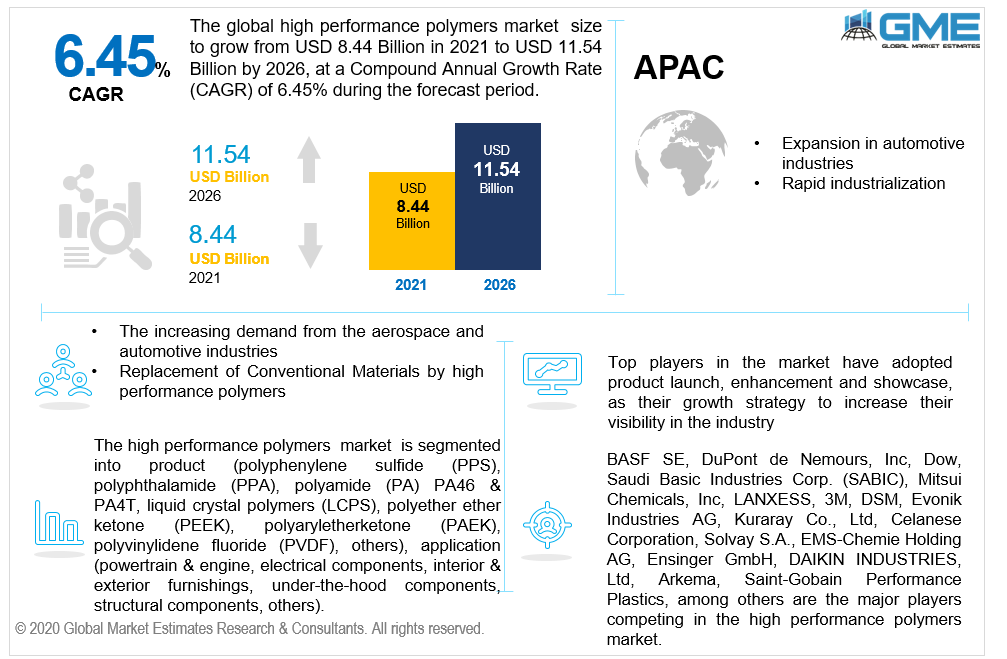 High-Performance Polymers Market: By Product
The product segment includes polyphenylene sulfide (PPS), polyphthalamide (PPA), polyamide (PA) PA46 & PA4T, liquid crystal polymers (LCPS), polyether ether ketone (PEEK), polyaryletherketone (PAEK), polyvinylidene fluoride (PVDF), and others.
The category of polyphenylene sulphide (PPS) is the prominent segment that holds the major share in the market between 2021-2026.
Due to its high thermal stability, excellent mechanical strength, dimensional stability, good chemical resistance, inherent flame resistance, electrical insulation properties, and production process becoming more accessible and cheaper, the market's growth is stimulated. It can be used extensively in various industrial domains like appliances, automotive parts, electronics, among others, as an alternative to thermosets and metals.
Victrex is one of the key company offers different high-performance products: over two hundred million drivers are using victrex PEEK-based ABS/ESC brake components; over one billion mobile devices use Victrex solutions, in high-performance speakers. Approximately fifteen thousand aircraft have Victrex solutions onboard like clamps, brackets, or thermal, acoustic insulation. PEEK also finds use inside the human body: in the pursuit for enhanced patient care PEEK as a biomaterial has slightly more than 15 years of history, but around nine million rooted devices globally use PEEK-OPTIMA polymers from Invibio, a Victrex plc company. Advanced PEEK supplies, integrated offerings, and production processes open the door to amplified efficiency and more innovative potential uses.
High-Performance Polymers Market: By Application
According to the application analysis, the six segments are powertrain & engine, electrical components, interior & exterior furnishings, under-the-hood components, structural components, and others.
The under-the-hood components segment will generate huge revenue and will be the maximum shareholder in the application segment. This is because, from the tribology standpoint, in case of specific breakdowns preventing vehicles from working, these high-performance polymers prove to be much more effective and work better than metals. The products are used to develop many parts such as valves, transmission bushings, and gas rings, turbine bearings, piston rings, gaskets, bearings, and valves of the gasoline pump, bushings, and gaskets for the gasoline injector, carburetor gaskets, and bushings, valves, and gaskets for the hydraulic system, require these materials.
High-performance polymers offer more excellent reliability, versatility, and design options for the next-generation electronic devices and empower leading brands to manufacture cutting-edge products that are lighter, thinner, and smarter. These solutions are used in numerous consumer electronics and appliance components such as switches, batteries, mobile device enclosures, circuit boards, and audio speakers to sensors, printers, and connectors. Polymer solutions are gradually being used by industry leaders to differentiate a products' final performance and reliability and resolve engineering challenges. In the appliances market, a 2% efficiency gain and 3.5dB or 50% noise reduction occurs when polymers replace metal in giving actual consumer and economic experience gains for the consumer base.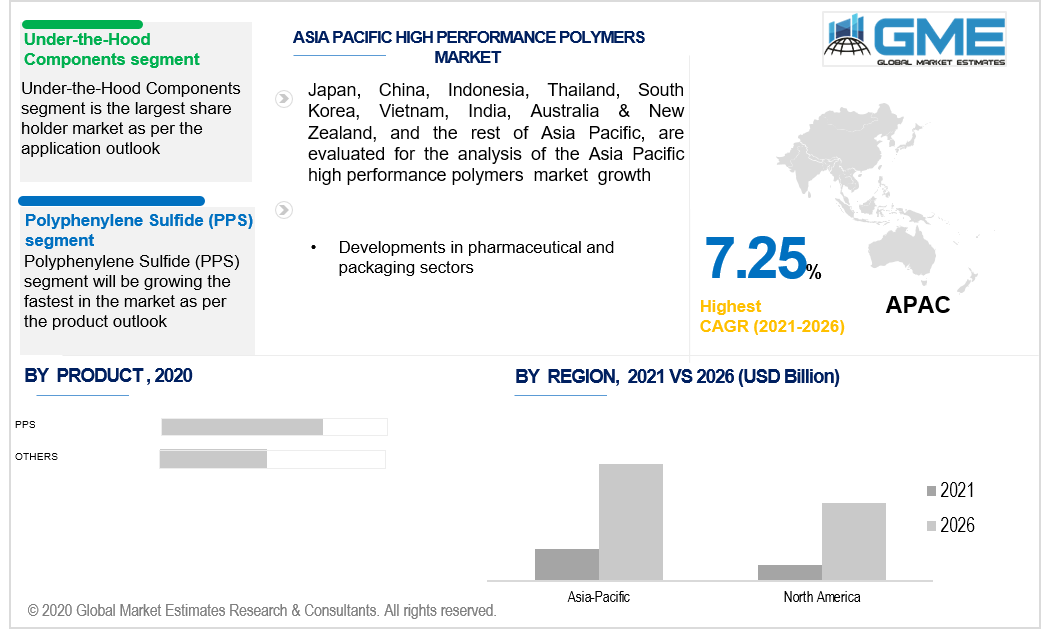 High-Performance Polymers Market: By Region
The Asia-Pacific region is dominating the market in terms of revenue generation. This is attributed to the expansion in automotive industries across India and China, rapid industrialization, and developments in the pharmaceutical and packaging sectors. All of these are creating more and more demand for such high-performance polymers. The presence of leading automotive makers such as Honda, KIA, Hyundai, Toyota, and Tata among others is supporting the market growth in the region. According to the data published by China automotive, car sales in the country is surged by 30 % y-o-y to 2.5 million in January 2021.
High-Performance Polymers Market Share & Competitor Analysis
BASF SE, Lonza Group, Saudi Basic Industries Corporation (SABIC), DuPont de Nemours, Inc, Sumitomo Chemical Co., Ltd., Degussa Group, PBI Performance Products, HP Polymer, Teijin Limited, Dow, Saudi Basic Industries Corp. (SABIC), Idemitsu Kosan Co., Ltd., Dainippon Ink and Chemicals, Incorporated (DIC), Mitsui Chemicals, Inc, LANXESS, 3M, Koninklijke DSM N.V., Evonik Industries AG, Covestro, Unitika, Kuraray Co., Ltd, Reinforced ThermoPlastics (RTP), Clariant SE, Asahi Kasei Chemical Corporation, Celanese Corporation, Eagle Plastics Ltd., Mitsubishi Engineering-Plastics Corporation, Solvay S.A., EMS-Chemie Holding AG, Ensinger GmbH, DAIKIN INDUSTRIES, Ltd, Chi Mei Corporation, Centroplast Engineering Plastics GmbH, Arkema, Victrex PLC, Saint-Gobain Performance Plastics, among others, are the significant market players.
Please note: This is not an exhaustive list of companies profiled in the report.