Global High Purity Alumina (HPA) Market: Insights
The High Purity Alumina is an advanced material, utilized in the production of sapphire substrates, which are then used in the manufacturing of Light-Emitting Diodes (LEDs) and other application purposes. High Purity Alumina showcases some properties like high brightness levels, corrosion-free, and capacity to endure high temperatures. From the last few decades, the usage of LEDs has witnessed a spur in demand, thus boosting the demand for high purity alumina.
The rising government interventions along with the increasing demand for LEDs among emerging countries are supporting market growth. The encouraging cost-effective and efficient utilization of resources also boosting the market. High purity alumina is used for a wide range of industrial and applicational purposes. They attribute characteristics like high heat resistance, high electrical strength, and mechanical strength which are more preferred by the user industries. These features of HPA add value to the final products manufactured across various verticals, giving them a profitable sale. High purity alumina has very few substitutes that match the effective properties of the final product. HPA is used in manufacturing semiconductors, LEDs, scratchproof glasses, and other electronic devices.
With increasing awareness among the people about environmental conservation, the HPA market is experiencing changing preferences among the user base, correspondingly increased demand for user-friendly and economical options. Consumer choices have changed in the last few years and the demand for LEDs has increased. The properties of HPA highlight the usefulness of LEDs thus driving growth in the global market. The high purity alumina proves to be an eco-friendly option thus, motivating the end-users to opt for it over other materials. The growing automotive, batteries and electric vehicle industries also contribute extensively to the growth of the high purity alumina market.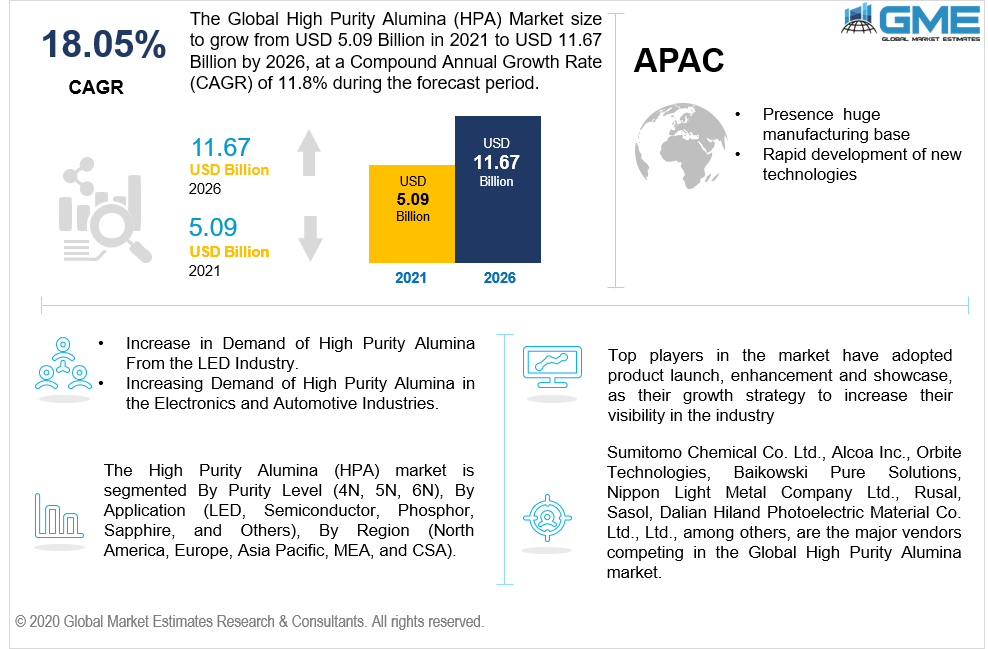 Global High Purity Alumina (HPA) Market: By Purity levels
Based on the purity level the market is classified into three different types as per end-user requirements. High Purity alumina 99.9% is termed as purity level of 3N, HPA 99.99% is termed as purity level of 4N and HPA 99.999% is termed as purity level of 5N. 4N HPA is the purest form of aluminum oxide Al2O3
. 4N level of purity is the most preferred one within the HPA market. 4N HPA is a high-quality product, giving high value and margin to its sellers as well as to its users. The characteristics of 4N purity level like high durability, reliability, tolerance to high temperature, and brightness are more effective in LEDs, electrical vehicles, and automotive. 4N HPA tends to be more of a better option compared to the 99.9% purity level and other aluminum oxides like smelter grade alumina (SGA). The 4N HPA is widely preferred for the production of synthetic sapphire.
With growing fascination among the population about Electric Vehicles (EV), the demand for energy condensed batteries is also increasing. These dense batteries highly require lithium-ion battery separators for long-lasting energy sustenance. 4N high purity alumina an essential ingredient in the making of lithium-ion battery separators.
Global High Purity Alumina (HPA) Market: By Application
HPA is such essential raw material that is not substitutable. They are the most basic ingredient required to produce synthetic sapphire. This synthetic sapphire is further used to manufacture substrates of LEDs, semiconductors which are essential in electronic devices, scratchproof watch glasses, optical lenses and windows, smartphones and other electronic devices, Phosphor, Sapphire, and Others. The underdeveloped countries are experienced high power shortages and the growling hunger for energy resources, due to power shortages these countries are highly dependent on LEDs-driven bulbs. The desirable features of alumina like high purity and durability, as well as the cost-effectiveness and eco-friendly nature, fit perfectly in the application of LED. The highly efficient properties of HPA have congruently made LEDs an energy-efficient resource. The usage of 4N HPA in 90% of the global LED manufacturing displays the reason for its vast adaptation. This vast adaptation of LED could be seen in various verticals like lighting devices, majorly indoor home lighting, automobiles, smart screens, television and monitor screens, billboards, display signs, and others.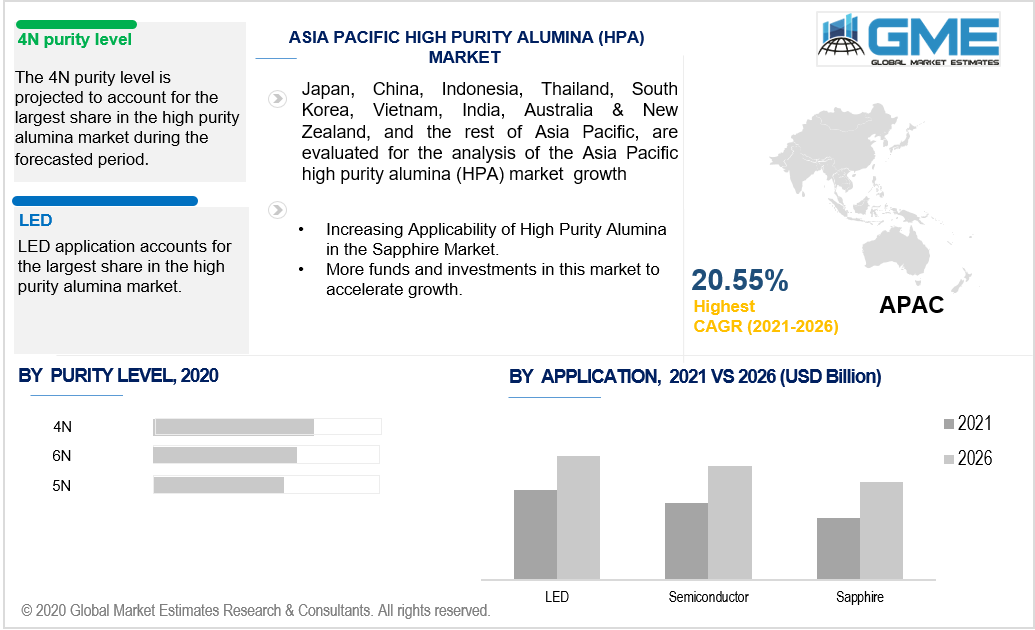 Global High Purity Alumina (HPA) Market: By Region
Asia Pacific region occupies a major chunk of the global market compared to the rest of the regions. Countries like China, Japan, India, and Australia account for the highest number of end-user companies. Japan accounts to demand a high amount of HPA annually, due to its highly tech-driven industrial base. These countries are also a huge center for LED and lithium battery industries, which consistently demand a bulk amount of 4N HPA. The governments of these countries are encouraging and spreading awareness among the consumers about the effectiveness of this eco-friendly option. The utilization of high purity alumina majorly in wide application verticals, promotes not only eco-friendly options but also ensures cost-effectiveness, making it economical for the end-users in this region. China is one of the leading producers of HPA.
Hebei Pengda company has a production capacity of 7,000 tpa which accounts for approximately 30% of global production. Chinese producers of 4N HPA are known to be the best producers in the world market, thus sustaining their dominant position in the Asia-Pacific region in the global market. The governments in the APAC region have also been taking initiatives to bring in more funds and investments in this market to accelerate growth.
Global High Purity Alumina (HPA) Market: By Share & Competitor Analysis
Altech Chemicals Ltd., Xuancheng Jingrui, Sumitomo Chemical Co. Ltd., Sasol, Alcoa Inc., Rusal, Orbite Technologies, Dalian Hiland, Nippon., and Baikowski Pure Solutions among others are the key players.
Please note: This is not an exhaustive list of companies profiled in the report.
The Global High Purity Alumina (HPA) Market has been studied from the year 2019 till 2026. However, the CAGR provided in the report is from the year 2021 to 2026. The research methodology involved three stages: Desk research, Primary research, and Analysis & Output from the entire research process.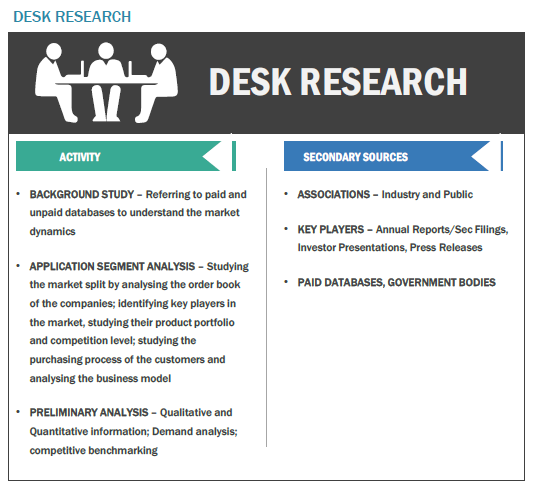 The desk research involved a robust background study which meant referring to paid and unpaid databases to understand the market dynamics; mapping contracts from press releases; identifying the key players in the market, studying their product portfolio, competition level, annual reports/SEC filings & investor presentations; and learning the demand and supply-side analysis for the High Purity Alumina (HPA) Market.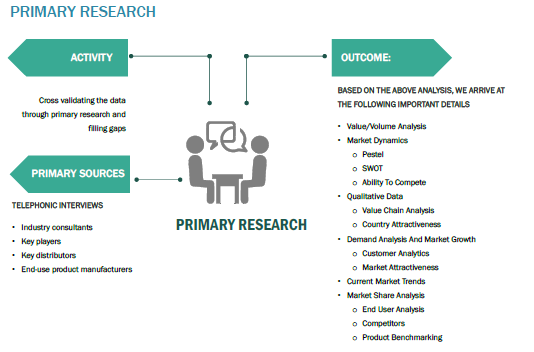 The primary research activity included telephonic conversations with more than 50 tier 1 industry consultants, distributors, and end-use product manufacturers.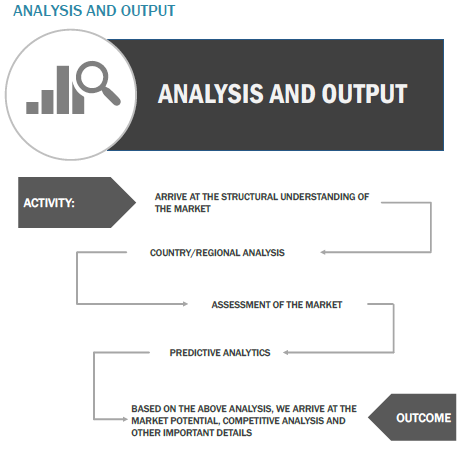 Finally, based on the above thorough research process, an in-depth analysis was carried out considering the following aspects: market attractiveness, current & future market trends, market share analysis, SWOT analysis of the company and customer analytics.