Hospital EMR Systems Market: Insights
Hospital EMR systems are a digital representation of information that is associated with health that may have previously been stored in patient's paper charts. It can capture clinical data and allows it to be searched, managed, centralizes and normalized health care information & delivery. Factors like easier population health modeling, tracking of community health issues, stringent government mandates to maintain patient data, rising government support through funds to adopt software and solutions to maintain data, growing patient volume because of a global pandemic, and improved quality care of patients/rising trend of patient-centric hospital services are expected to increase demand for the hospital EMR systems market. The hospital EMR is part of the hospital management system, which helps in maintaining systematic clinical records. Such software brings in operational efficiency by helping in working on billing, patient registration, and workflow & inventory management.
The EMR indulges in storing information in detail related to patient such as patient's emergency contact, allergies, details of health insurance, physician details, old prescriptions, notes on various medical progress overtime, past and future appointments, treatment plans, discharge summaries, weight, height, body temperature, BMI, etc. It helps to facilitate the functioning of the medical care procedures, by backing to work on maintaining notable information.
The EMR is capable of transferring eminent information of patients' records from one department to another. The digitally storing of information provides for more space to accumulate huge patient population data. It also allows serving storage of patient data at once, thus enhancing productivity, providing an organized workflow on a daily basis, and decreasing operational costs. It also intensifies patient care and result management with scalable and customized medical records maintained electronically. Eliminating all forms of errors and zero chances for error in inpatient health records is the major aim of this software/system.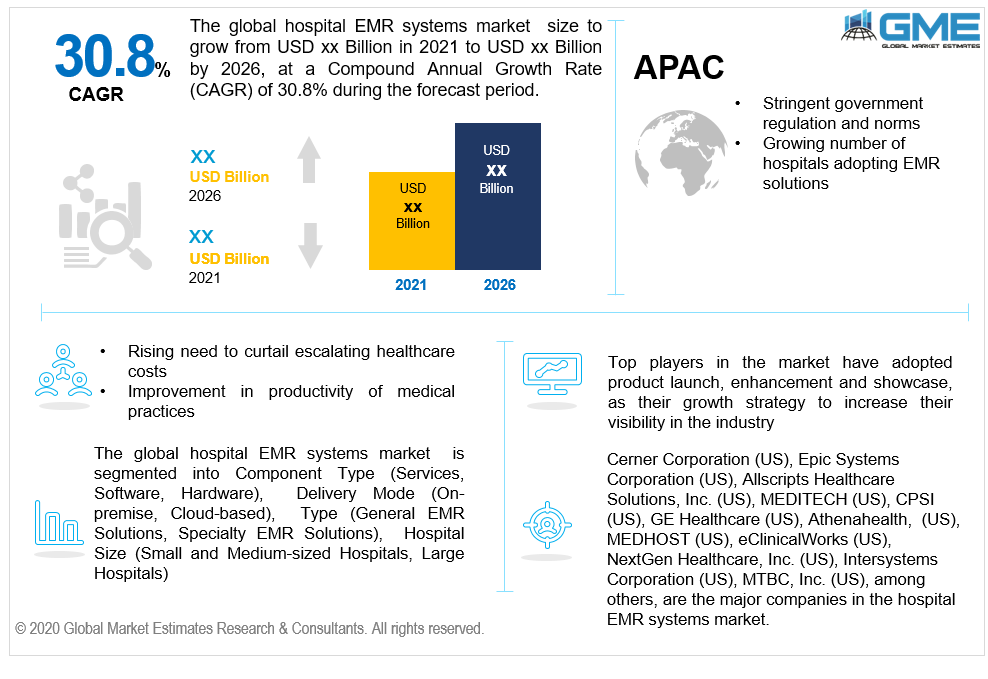 Hospital EMR Systems Market: By Component
The three categories include services, software, hardware, and others. The software category is the largest shareholder in the market from 2021 to 2026. This is due to an increasing number of patient registration due to the global pandemic and other rapidly spreading infections and diseases. Helping to connect and transfer information inter departments is done smoothly with the help of EMR software.
Hospital EMR Systems Market: By Type
Based on the type the market is segmented into General and Specialty EMR solutions. The general EMR solution held the largest share of the hospital EMR solutions market. This type of solution helps in multifunctioning the data and also deals in multi-specialty cases to pursue efficient multi-department data.
Hospital EMR Systems Market: By Delivery Mode
According to the delivery mode analysis, the two segments are on-premise and cloud-based. The cloud-based EMR software will be the largest segment in terms of market value or market size. This is largely attributed to the rising number of cloud-based EMR software installed at new and multi-specialty hospitals. Cloud-based EMR has enhanced features related to data sharing, data storing, and data presentation when compared to on-premise type EMR.
Hospital EMR Systems Market: By Hospital Size
Based on the study, the hospital size can be divided into two categories: small & medium-sized hospitals, and large hospitals. In 2020, the small & medium-sized hospitals segment was predicted to foster the fastest growth in the market due to the quicker acquisition of EMR in small and medium-sized hospitals. This acquisition was mainly due to features of ease of deployment, transfer of patient data, etc. offered by EMR software over regular patient data software.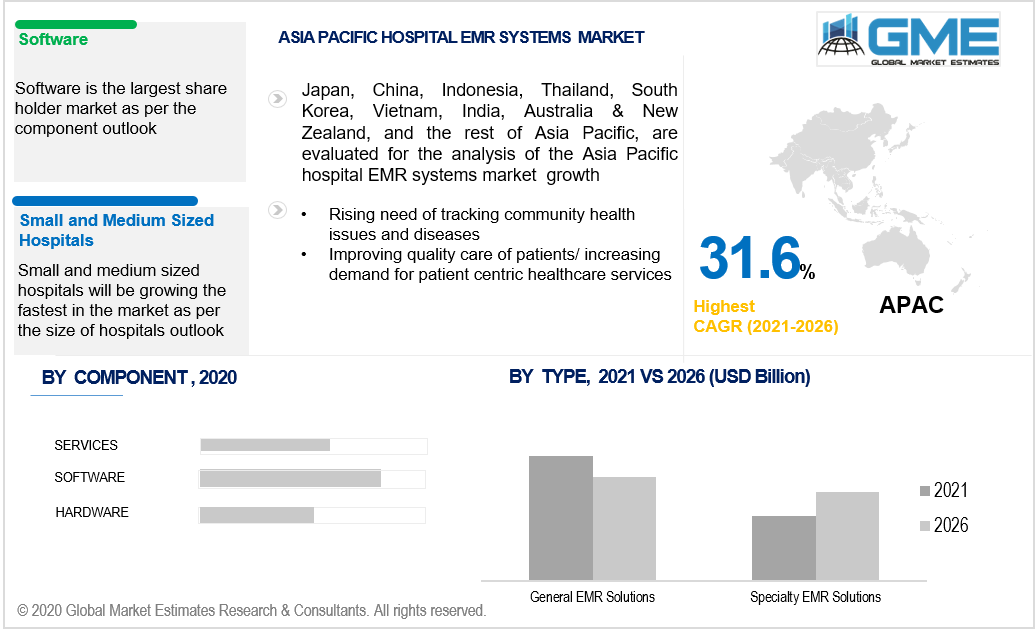 Hospital EMR Systems Market: By Region
Based on the region, the hospital EMR system market is segmented into North America, Asia-Pacific, Europe, Middle East, Africa, and Central & South America. The dominant position in the market is held by North America as of 2021. Most of the top healthcare IT firms have their head offices in North America. For instance, Cerner Corporation, Advanced Data Systems Corporation, GE Healthcare, etc. are a few companies located in the US. Moreover, this market has witnessed a rapid growth in EMR technology which has led to increasing demand from large-sized hospitals. This region also has a huge population base suffering from chronic diseases owing to an unhealthy lifestyle. So, this provides for wider scope for the market to be dominant in the forecasted period too.
The Asian and European markets are also expected to grow in the coming years (2021-2026). This is owing to increasing investments in healthcare and medical infrastructure. The government has initiated mandates on securing and maintaining patient records for better utilization of the records and for formulating regional policies and plans. The market drivers for this region are the need to curb the increasing healthcare costs, rising government support, and increasing need to manage patient data.
Hospital EMR Systems Market: Share & Competitor Analysis
Cerner Corporation (US), Epic Systems Corporation (US), Allscripts Healthcare Solutions, Inc. (the US), MEDITECH (US), CPSI (US), GE Healthcare (US), Athenahealth, (US), MEDHOST (US), eClinicalWorks (US), NextGen Healthcare, Inc. (the US), Intersystems Corporation (US), MTBC, Inc. (the US), Cantata Health (US), Advanced Data Systems Corporation (US), CureMD Healthcare (US), among others, are the major healthcare information technology companies in the hospital EMR systems market.
Please note: This is not an exhaustive list of companies profiled in the report.
In January 2020, MTBC adopted CareCloud Corporation helping the company capitulate greater efficiency, accelerate growth, and provide more flexibility.
In October 2019, MEDITECH in association with Google launched the EMR data through the Google Cloud Platform which helped to firmly deliver patient data, enhance scaling, and promote interoperability.
In 2019, Epic Systems, partnered with Teledoc Health to integrate telecom services, by enhancing the virtual platform with apps and software. This helped the company improve market visibility.
The Global Hospital EMR Systems Market has been studied from the year 2019 till 2026. However, the CAGR provided in the report is from the year 2021 to 2026. The research methodology involved three stages: Desk research, Primary research, and Analysis & Output from the entire research process.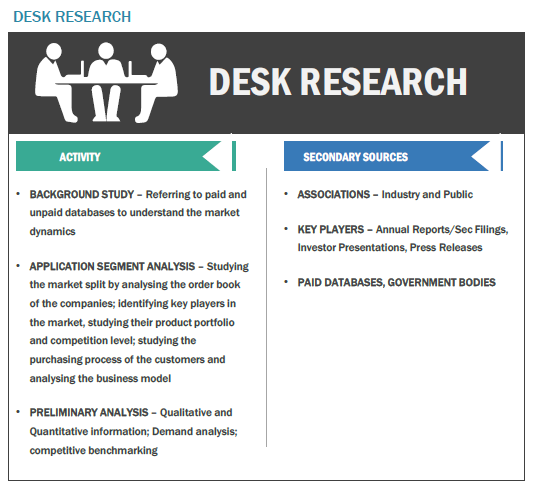 The desk research involved a robust background study which meant referring to paid and unpaid databases to understand the market dynamics; mapping contracts from press releases; identifying the key players in the market, studying their product portfolio, competition level, annual reports/SEC filings & investor presentations; and learning the demand and supply-side analysis for the Hospital EMR Systems Market.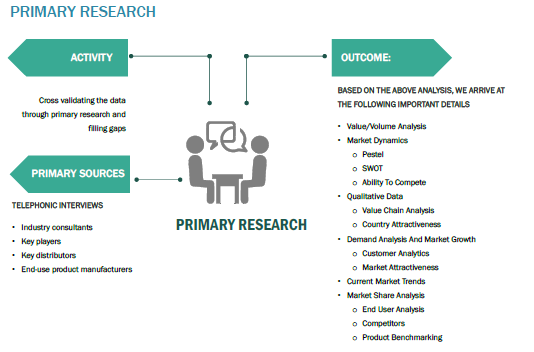 The primary research activity included telephonic conversations with more than 50 tier 1 industry consultants, distributors, and end-use product manufacturers.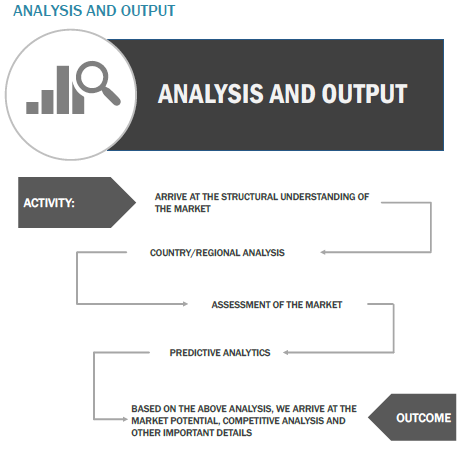 Finally, based on the above thorough research process, an in-depth analysis was carried out considering the following aspects: market attractiveness, current & future market trends, market share analysis, SWOT analysis of the company and customer analytics.