Hydrogen Generation Market: Insights
Hydrogen generation is the industrial method of producing and distributing hydrogen gas. This process can be achieved in many ways such as water electrolysis, coal gasification, steam methane reforming, etc, and is demanded by varied end-users, mainly for chemical processing, like transportation, petroleum refinery, ammonia production, etc. Its demand is directly connected with the demand and production of other chemical extractions that it is used for, like methane, ammonia, etc. The largest source of hydrogen production is through fossil fuels but with an urge to reduce carbon footprint many firms are shifting to cleaner methods like water electrolysis and biomass gasification.
The uprising trend of cleaner fuel alternatives and power sources has driven users towards the use of hydrogen. Hydrogen is used in fuel cells to generate power through a chain of chemical reactions compared to combustion, this results in a much cleaner and pollution-free fuel. With the rise in population in many Asia Pacific countries and hike in the use of vehicles in North American and European countries, this could also be contributed due to rise in personal disposable income amongst middle and lower class which has increased the demand for fuel throughout the world. As the traditional coal and fossil fuel are limited and declining, a need for newer fuels has skyrocketed the demand for hydrogen generation.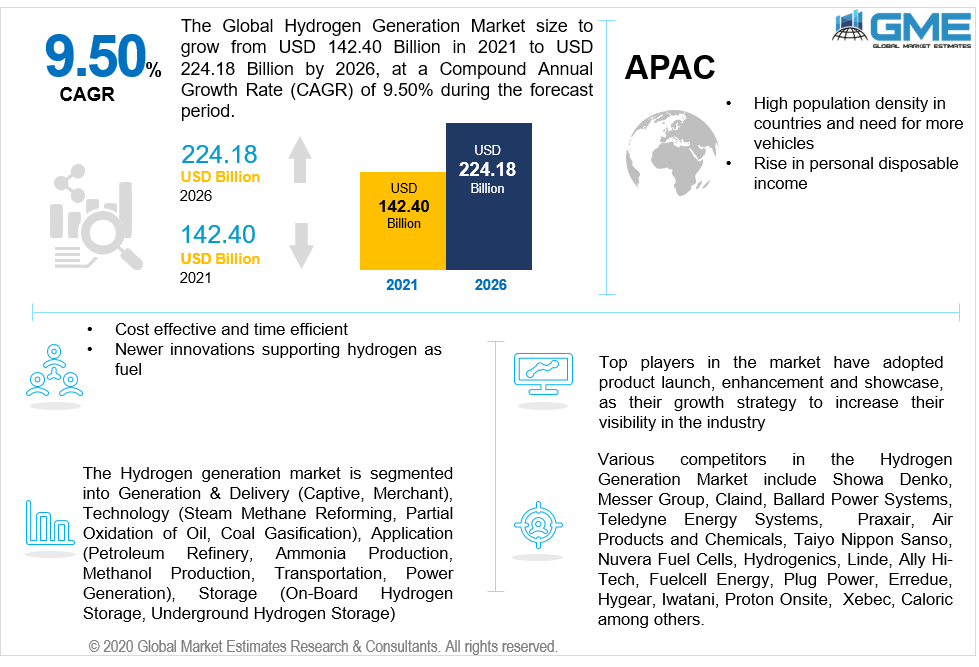 Hydrogen Generation Market: By Generation and Delivery
The market for Hydrogen Generationis bifurcated into two, Captive and Merchant. Whereas the Merchant segment is further divided by delivery mode and by state. Among the two, the Merchant-based Generation is estimated to be the fastest growing market segment in the forecasted duration because merchant-based generation and delivery are cost-effective and time-efficient. It doesn't require high transportation services and infrastructure construction, as it can be done through natural gases and water electrolysis. On the other hand, as these methods are still not applicable by many vendors, Captive holds the largest market share in terms of revenue generated. As through generations, Captive method has been used and specialized in by producers. However slowly they are moving towards the merchant method, due to limitations of raw material.
Hydrogen Generation Market: By Technology
Based on thetechnical analysis, the market isbifurcated into steam methane reforming, electrolysis of water, partial oxidation of oil, and coal gasification among others. The largest used technology in the hydrogen generation market is steam methane reforming, due to its better productivity results. The steam method is highly used by the petroleum, oil, and gas industry, by using high temperature to convert natural gas into hydrogen. The method is preferred due to its operational and economic benefits for its end users. Due to depriving fossil fuels, and hyping trend to use cleaner methods has caused producers to use electrolysis of water as an alternative. Therefore the share of electrolysis of water to produce hydrogen has seen a rise during the forecasted duration from 2020 to 2026.
Hydrogen Generation Market: By Application
Based on theapplication analysis, the market is bifurcated into petroleum refinery, power generation, ammonia production, transportation, and methanol production among others. According to this analysis, the transportation segment is expected to grow the fastest in terms of sales generated, this can be attributed to rise in two-wheeler/four-wheeler vehicles all over the world and their respective sales. Along with this,the rise in population and personal disposable income among middle and lower class income groups is enabling them to afford more vehicles for their household. Also to reduce carbon footprint, consumers tend to shift to cleaner fuel sources, and the companies are innovating vehicles that support the same. Hydrogen fuel users are also provided some incentives from the government like easy refuel stations, a lower rate of loans for vehicles, etc.
Hydrogen Generation Market: By Storage
Based on thestorage analysis, the market is bifurcated into On-Board Hydrogen Storage, Power-to-gas Hydrogen Storage, and Underground Hydrogen Storage. On-Board hydrogen storage dominates the market segment as this type of hydrogen is usually compressed and stored in liquid or gas form. It makes them easy and safe to store, as these compression chambers are made up of special alloy meant to store hydrogen. Power-to-gas hydrogen is estimated to have seen growing demand during 2020 to 2026. This is due to a high growing need for an alternative fuel other than petroleum, also fossil fuels are limited whereas the population has seen a rising demand for vehicles. They can be easily fitted in vehicles to be used as fuel. The sector has seen betterment and innovation as many companies are investing in the research and development of hydrogen generation as a fuel alternative.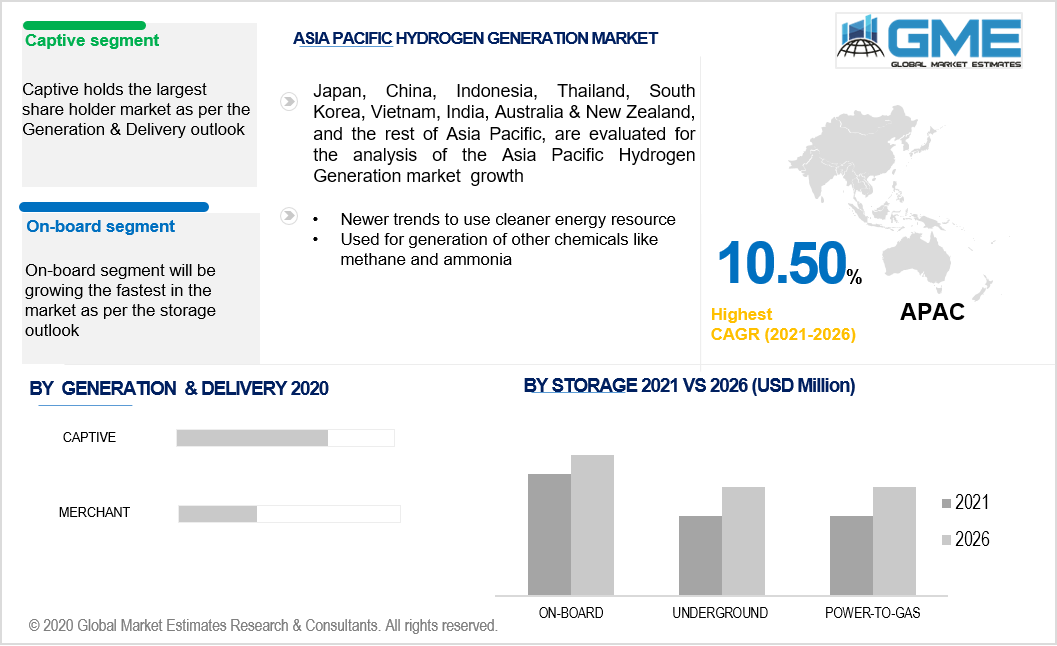 Hydrogen Generation System Market: By Region
The regional analysis is mainly dominated by North America followed by Europe andthe Asia Pacific. The advancement in technology and also growing demand from automotive sectors are boosting regional growth. Also, many companies clustered in the country have invested a lot in research and development of technology to keep themselves on edge with the competition. On the other hand, Asia Pacific has been estimated to have a faster growth during the forecasted duration, this is contributed due to the increasing population and rise in the personal disposable income of the household.
Hydrogen Generation Market: Share & Competitor Analysis
Key competitors in the Hydrogen Generation market include Showa Denko, Messer Group, Claind, Ballard Power Systems, Teledyne Energy Systems, Praxair, Air Products and Chemicals, Taiyo Nippon Sanso, Nuvera Fuel Cells, Hydrogenics, Linde, Ally Hi-Tech, Fuelcell Energy, Plug Power, Erredue, Hygear, Iwatani, Proton Onsite, Xebec, Caloric among others.
Please note: This is not an exhaustive list of companies profiled in the report.
The Global Hydrogen Generation Market has been studied from the year 2019 till 2026. However, the CAGR provided in the report is from the year 2021 to 2026. The research methodology involved three stages: Desk research, Primary research, and Analysis & Output from the entire research process.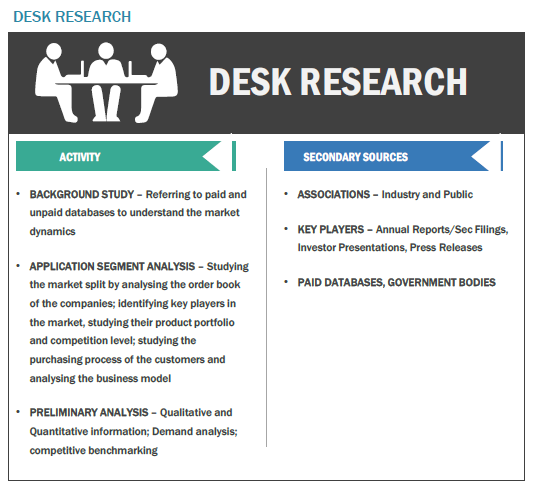 The desk research involved a robust background study which meant referring to paid and unpaid databases to understand the market dynamics; mapping contracts from press releases; identifying the key players in the market, studying their product portfolio, competition level, annual reports/SEC filings & investor presentations; and learning the demand and supply-side analysis for the Hydrogen Generation Market.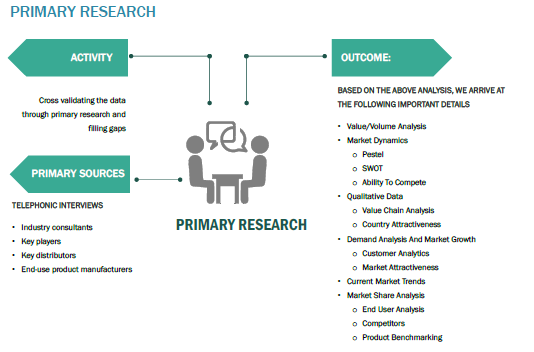 The primary research activity included telephonic conversations with more than 50 tier 1 industry consultants, distributors, and end-use product manufacturers.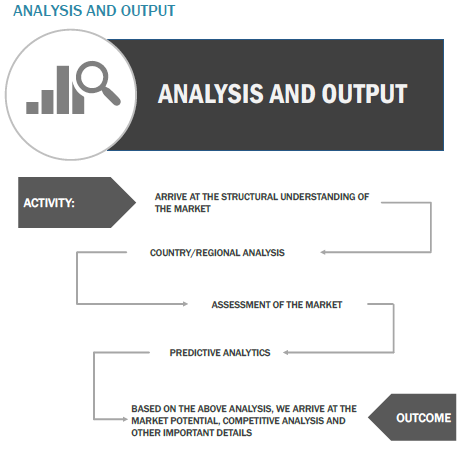 Finally, based on the above thorough research process, an in-depth analysis was carried out considering the following aspects: market attractiveness, current & future market trends, market share analysis, SWOT analysis of the company and customer analytics.