Hydrolyzed Wheat Protein Market: Insights
Hydrolyzed wheat proteins are non-genetically engineered materials that do not include any animal-derived ingredients. Hydrolyzed wheat proteins are extracted biologically from wheat germ and behave as an amber liquid at room temperature. Wheat hydrolysis is a procedure that uses an acidic, alkaline, or enzymatic process to remove wheat components such as bioactive peptides.
Currently, hydrolyzed wheat proteins are being used in a diversity of cultures and businesses. Hydrolyzed wheat proteins, which incorporate wheat as a key component, develop high-quality food and beverages with no adverse effects and provides health benefits. Hydrolyzed wheat proteins are used by consumers and patients from diverse demographics because their products are 100% natural and organic.
Wheat protein consumption is expected to increase as a result of many factors such as the expanding food industries, rising market inclination towards meat analogues, nutritious benefits for lactose intolerant and health- and fitness-conscious customers, and the usage of wheat protein in diverse end-user sectors such as pet food supplements.
The bakery sector's market for hydrolyzed wheat flour is predicted to rise as the incidence of celiac disease rises. This is attributable to the reality that the use of hydrolyzed wheat protein in the beauty industry is now stimulating demand rise.The surge in the proportion of people engaged in multiple chemical hair therapies such as hair coloring has resulted in damaged hair and hair loss across both males and females. Hydrolyzed wheat protein is being used for the treatment of damaged hair and its unique characteristics allow for the addition of volume and the creation of a lustrous look.
The existence of alternatives such as hydrolyzed soy protein, a high-protein source, stifles demand growth.However, the salon and beauty services industry is undergoing a dramatic expansion, which, along with an increase in demand for natural skincare and haircare products, is expected to provide hydrolyzed wheat flour manufacturers with a lucrative opportunity to grow their consumer base. This is due to the unique functional properties and product advancements research had made it suitable to be exclusively used in the production of hydrolyzed wheat protein-based hair styling products, cosmetics, and beauty products.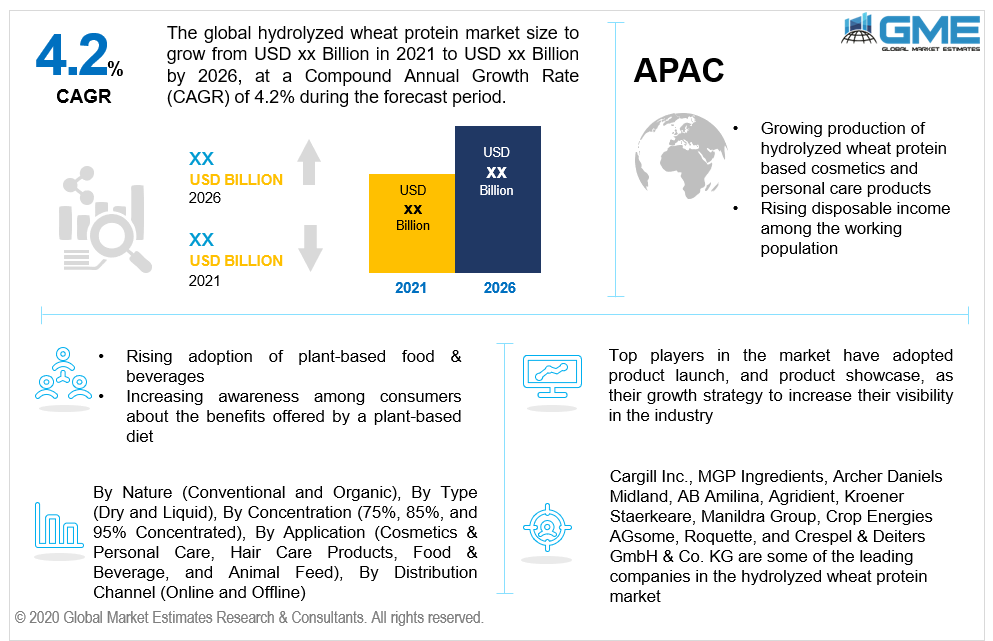 Hydrolyzed Wheat Protein Market: By Nature
The market can be split into conventional, and organic depending on the nature ofthe hydrolyzed wheat protein. The market for organic will be the largest becauseorganic hydrolyzed wheat protein has become more popular in ingredient lists for high-end hair and skincare. This is in response to a massive shift in which customers prefer trustworthy brand products ingredients extracted from natural sources.
Hydrolyzed Wheat Protein Market: By Type
Based on the type of hydrolyzed wheat protein, the market can be divided into dry and liquid segments. The market for the organic liquid formwill be the largest because liquid wheat proteins are majorly used to make a variety of hair and skincare formulations. These formulations are widely regarded for their film-forming and moisturizing abilities.
Hydrolyzed Wheat Protein Market: By Concentration
Based on the concentration, the hydrolyzed wheat proteinmarket is categorized into 75%, 85%, and 95% concentrated. The market segment of 95% will be the largest because it is the purest form of product with a minimal quantity of additives.
Hydrolyzed Wheat Protein Market: By Application
Based on the application, the market is classified into cosmetics & personal care, hair care products, food & beverage, and animal feed. The demand from the food & beverage segment will rise the highest from 2021 to 2026 because it is frequently used as a nutritional supplement for customers looking for protein-rich products. Also, the formulation is widely used in beverages such as energy drinks, which contributes to the overall market expansion.
Hydrolyzed Wheat Protein Market: By Distribution Channel
Themarket is segregated into two segments based on distribution channels: online and offline. The demand for the offlinesegment will rise the highest from 2021 to 2026. High prevalence for offline outlets such as supermarkets and retail outlets, as well as convenience stores, makes a higher sale than internet channels. The direct-to-customer (DTC) channel, which involves digital selling to end customers, is yet another popular form of offline delivery.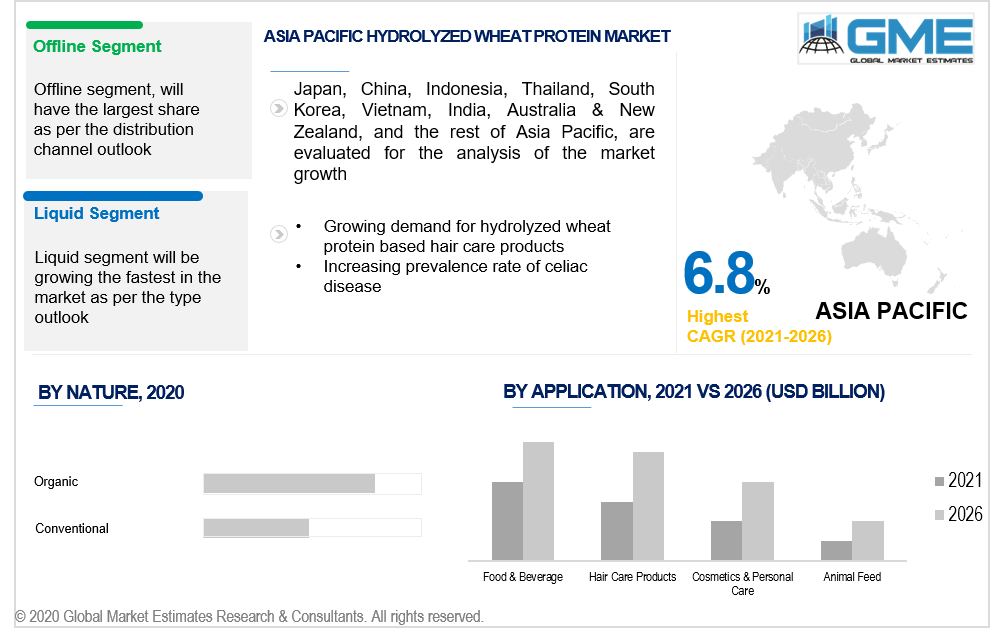 Hydrolyzed Wheat Protein Market: By Region
As per the geographical analysis, the market can be classified into North America (the United States, Canada, and Mexico), Asia Pacific (India, China, Japan, Malaysia, Singapore, and Rest of Asia Pacific), Europe (Germany, United Kingdom, Italy, France, Spain, Netherlands, and Rest of Europe), Middle East & Africa (Saudi Arabia, United Arab Emirates, and Rest of the Middle East & Africa) and Central South America (Brazil, Argentina, and Rest of Central and South America).North America continues to dominate the demand for hydrolyzed wheat protein in the forecast period [2021-2026], led by Europe and Asia-Pacific. Consumers in this region are actively demanding food and drinks that offer both flavor and essential nutritious benefits.The increased acceptance of plant-based food and beverages due to customer understanding of the advantages of plant-based nutrition is among the key factors driving demand in this region.Asia Pacific is anticipated to be the fastest regional market in terms of CAGR growth. This is due to a growing aging population, a healthier consumer lifestyle, and greater recognition for nutritious foods.Furthermore, the high rate of wheat production, as well as the steady growth of the food and beverage industry, are expected to have a significant effect on the market for wheat-based protein in emerging economies.
Hydrolyzed Wheat Protein Market Share and Competitor Analysis
Cargill Inc., MGP Ingredients, Archer Daniels Midland, AB Amilina, Agridient, KroenerStaerkeare, Manildra Group, Crop Energies AGsome, Roquette, and Crespel & Deiters GmbH & Co. KG are some of the leading companies in the hydrolyzed wheat protein market.
Please note: This is not an exhaustive list of companies profiled in the report.
The Global Hydrolyzed Wheat Protein Market has been studied from the year 2019 till 2026. However, the CAGR provided in the report is from the year 2021 to 2026. The research methodology involved three stages: Desk research, Primary research, and Analysis & Output from the entire research process.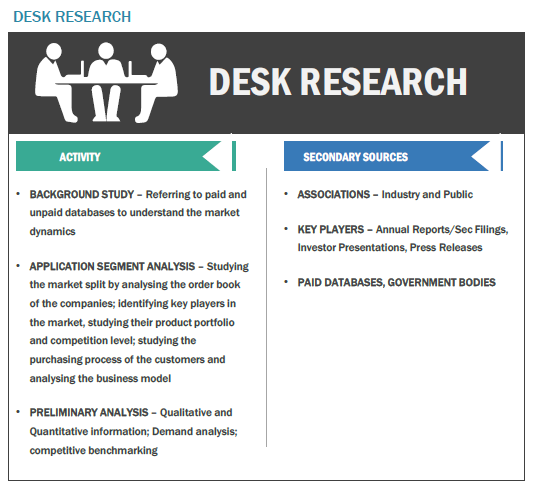 The desk research involved a robust background study which meant referring to paid and unpaid databases to understand the market dynamics; mapping contracts from press releases; identifying the key players in the market, studying their product portfolio, competition level, annual reports/SEC filings & investor presentations; and learning the demand and supply-side analysis for the Hydrolyzed Wheat Protein Market.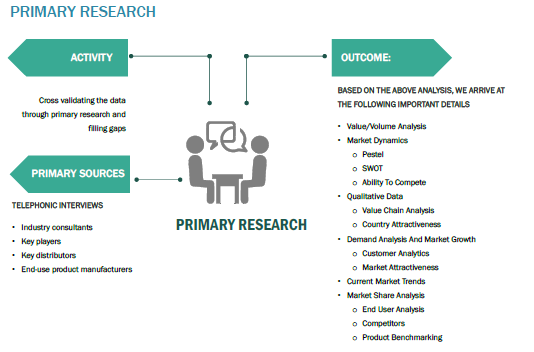 The primary research activity included telephonic conversations with more than 50 tier 1 industry consultants, distributors, and end-use product manufacturers.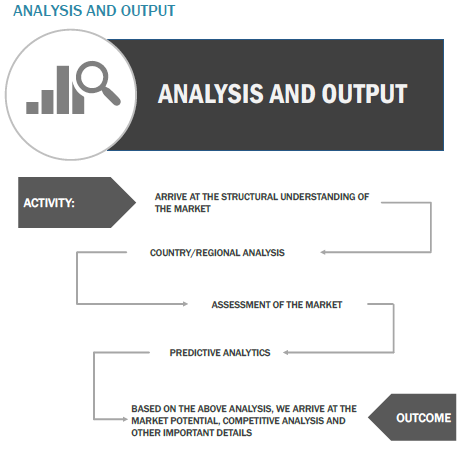 Finally, based on the above thorough research process, an in-depth analysis was carried out considering the following aspects: market attractiveness, current & future market trends, market share analysis, SWOT analysis of the company and customer analytics.