Global Industrial Pumps Market Size
The global industrial pump market is projected to exhibit a CAGR of 4.9% from 2023 to 2028. The industrial pump market is a significant segment within the broader industrial machinery industry. Industrial pumps play a crucial role in various industrial processes including oil and gas exploration, water and wastewater treatment, chemical processing, power generation, mining, and manufacturing. Industrial pumps are available in different sizes and designs to meet specific application requirements. Selection of proper pumps, installation, and maintenance are necessary to make sure that there is optimal performance and the longevity of industrial pump systems is maintained.
The main driving factors of the global industrial pump market growth include high demand for water and wastewater treatment, advancement in technology used in the development of industrial pumps, and growing oil and gas industry.
Water pumps are essential for several manufacturing processes, domestic work, and commercial work. As for wastewater, a proper channel is essential to provide passage to the wastewater, which is constantly produced from domestic, commercial, and industrial spaces that later gets treated in the water treatment plant. Thus, this is driving the demand for industrial pumps. Moreover, oil and gas industry is growing at a rapid pace, especially in OPEC countries as well as in non-OPEC countries. The OPEC countries such as the UAE is also a part of a water scarce region, and to ensure proper water supply and treatment they require industrial pumps. Such expansions are expected to drive the global industrial pumps market growth.
Pump efficiency, reliability, and control are all improving because of advancements in pump technology including smart pumps, variable speed drives, and condition monitoring systems. Thus, adoption of modern pump systems is significantly increasing by these developments. However, one of the largest restraints for market growth is fluctuations in the cost of raw materials such as stainless steel and cast iron.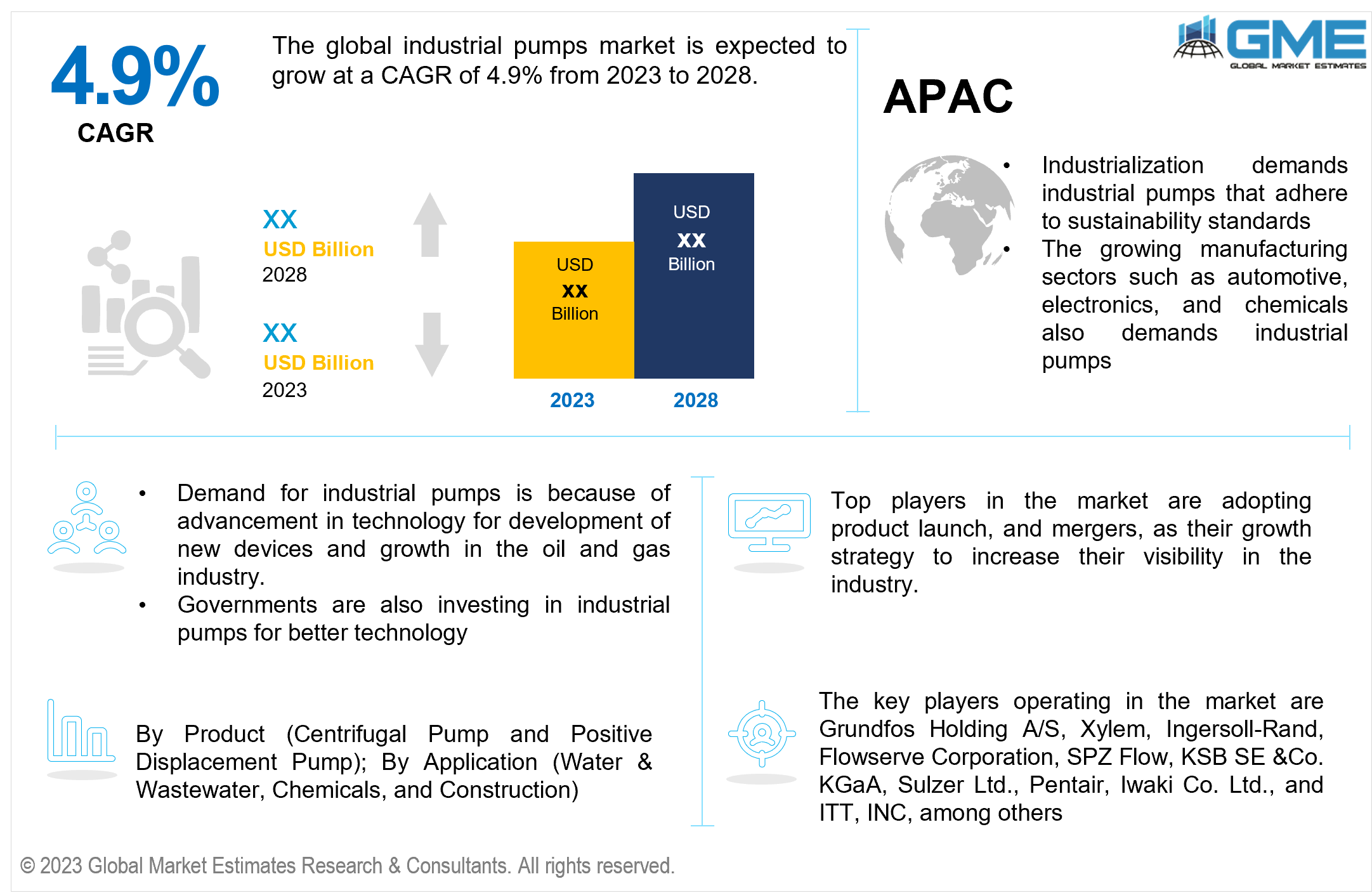 Global Industrial Pumps Market: By Product
Based on product, the market is segmented into centrifugal pump and positive displacement pump. The centrifugal pump segment held largest market share in 2022 and is expected to retain its dominance in the forecast period. It has several applications such as water supply, wastewater treatment, agriculture, chemical processing, fire protection, and others, which is expected to drive the segment growth. It also has very low maintenance costs, which makes it cost-effective in nature. As per the National Fire Protection Association (NFPA), centrifugal pumps are widely used as fire pumps due to the pressure created in the water due to the centrifugal force. Due to growing urbanization and building of residential and commercial spaces rapidly, demand for centrifugal pumps is rising.
Positive displacement pumps is expected to exhibit highest growth rate during the forecast period. The demand for positive displacement pumps is being driven by their characteristics such as higher efficiency, applications in precision dosing and high-pressure output, as compared to centrifugal pumps. High investments are made by companies and stakeholders to develop specialized displacement pumps to cater to the growing demand and output requirements of the pumps. Every human or industrial activity produces waste water which needs to be treated. Moreover, with stricter governmental regulations, demand for treating wastewater has increased manifolds and thereby higher investments.
Global Industrial Pumps Market: By Application
On the basis of application, the market is segmented into water & wastewater, chemicals, and construction. Water and wastewater treatment segment held the largest market share in 2022 and is expected to retain its dominance during the forecast period. Water is a scarce resource and to supply water and treat wastewater back to usable standards is an essential process. This is expected to drive water and wastewater segment growth during the forecast period.
The chemical segment is expected to exhibit highest CAGR during the projected forecast period. It has several applications for industrial pumps such as fluid transfers and operational processes, which require high-grade materials. Constant upgradation of the materials used for these processes is essential to avoid any kind of leakages or corrosion due to the hazardous and highly reactive nature of chemicals.
Global Industrial Pumps Market: By Region
North America is analysed to be the largest region in the global industrial pumps market during the forecast period. The region has a high demand for chemicals, petrochemicals, food and beverages, pharmaceuticals, pulp and paper. Industrial pumps are widely used in these industries for various applications including fluid processing and transmission. The region also invests in infrastructural and construction projects, which often require pumps for various applications such as dewatering, HVAC systems, etc. Thus, this is driving demand for industrial pumps, which will further fuel the North America market growth.
Asia Pacific is projected to be the fastest growing segment in the global industrial pumps market. The region is witnessing significant industrialization and urban growth in several countries such as India, China etc. This is one of the significant market drivers for Asia Pacific industrial pumps market growth. The growing manufacturing sectors especially automotive, electronics, and chemicals in the region are also driving demand for industrial pumps and contributing to the rapid urbanization. Moreover, several areas in Asia Pacific are facing water shortage. To tackle this scarcity, the region is investing in industrial pumps and the research needed for the same.
Middle East and Africa is also witnessing high demand for industrial pump. The region is well known for its oil and gas production, thus there is increasing demand for industrial pumps for exploration, production, transportation, and refining operations. Countries which are part of Gulf Corporation Council (GCC) are emerging, in terms of infrastructural developments, which also further drives demand for industrial pumps for construction, water supply, and waste water management.
Several countries in Asia are facing acute water shortage. For instance, China has officially hit 64.62% of urbanization of permanent residence. This has increased the wastewater output manifolds. In order to tackle the problem, the government is taking measures and investing in the development of more industrial pumps to help with water supply.
Global Industrial Pumps Market Share and Competitor Analysis
Key players operating in the global industrial pumps market include Grundfos Holding A/S, Xylem, Ingersoll-Rand, Flowserve Corporation, SPZ Flow, KSB SE &Co. KGaA, Sulzer Ltd., Pentair, Iwaki Co. Ltd., and ITT, INC., among others. These key players are adopting strategies such as mergers, product launches, and research and development to maintain visibility in the market. For instance, Grundfos have started listing its products on Amazon, in order to maintain digital reach and visibility. Moreover, Enaqua management team acquired the UV water treatment company from Grundfos in 2022.
Please note: This is not an exhaustive list of companies profiled in the report.
1 STRATEGIC INSIGHTS ON NEW REVENUE POCKETS
1.1 Strategic Opportunity & Attractiveness Analysis
1.1.1 Hot Revenue Pockets
1.1.2 Market Attractiveness Score
1.1.3 Revenue Impacting Opportunity
1.1.4 High Growing Region/Country
1.1.5 Competitor Analysis
1.1.6 Consumer Analysis
1.2 Global Market Estimates' View
1.3 Strategic Insights across Business Functions
1.3.1 For Chief Executive Officers
1.3.2 For Chief Marketing Officers
1.3.3 For Chief Strategy Officers
1.4 Evaluate the Potential of your Existing Business Lines vs. New Lines to Enter Into
2.1 Technological Adoption Rate
2.2 Current Trend Impact Analysis
2.3 Future Trend Impact Analysis
2.4 Data Metrics
3.1.2 Adjacent Market Opportunities
3.1.3 Ancillary Market Opportunities
3.2.1 Market Drivers: Impact Analysis
3.2.2 Market Restraints: Impact Analysis
3.2.3 Market Opportunities: Impact Analysis
3.2.4 Market Challenges: Impact Analysis
3.3.1 Porter's Five Forces Analysis
3.3.1.1 Threat of New Entrants
3.3.1.2 Threat of New Substitutes
3.3.1.3 Bargaining Power of Suppliers
3.3.1.4 Bargaining Power of Buyers
3.3.1.5 Intensity of Competitive Rivalry
3.3.2 SWOT Analysis; By Factor (Political & Legal, Economic, and Technological)
4 GLOBAL INDUSTRIAL PUMPS MARKET, BY PRODUCT
4.2 Industrial Pumps Market: Product Scope Key Takeaways
4.3 Revenue Growth Analysis, 2022 & 2028
4.4.1 Centrifugal Pump Market Estimates and Forecast, 2020-2028 (USD Billion)
4.5 Positive Displacement Pump
4.5.1 Positive Displacement Pump Market Estimates and Forecast, 2020-2028 (USD Billion)
5 GLOBAL INDUSTRIAL PUMPS MARKET, BY APPLICATION
5.2 Industrial Pumps Market: Application Scope Key Takeaways
5.3 Revenue Growth Analysis, 2022 & 2028
5.4.1 Water & Wastewater Market Estimates and Forecast, 2020-2028 (USD Billion)
5.5.1 Chemicals Market Estimates and Forecast, 2020-2028 (USD Billion)
5.6.1 Construction Market Estimates and Forecast, 2020-2028 (USD Billion)
6 GLOBAL INDUSTRIAL PUMPS MARKET, BY REGION
6.2 North America Industrial Pumps Market Estimates and Forecast, 2020-2028 (USD Billion)
6.2.3.1 U.S. Industrial Pumps Market Estimates and Forecast, 2020-2028 (USD Billion)
6.2.3.2 Canada Industrial Pumps Market Estimates and Forecast, 2020-2028 (USD Billion)
6.2.3.3 Mexico Industrial Pumps Market Estimates and Forecast, 2020-2028 (USD Billion)
6.3 Europe Industrial Pumps Market Estimates and Forecast, 2020-2028 (USD Billion)
6.3.3.1 Germany Industrial Pumps Market Estimates and Forecast, 2020-2028 (USD Billion)
6.3.3.2 U.K. Industrial Pumps Market Estimates and Forecast, 2020-2028 (USD Billion)
6.3.3.3 France Industrial Pumps Market Estimates and Forecast, 2020-2028 (USD Billion)
6.3.3.4 Italy Industrial Pumps Market Estimates and Forecast, 2020-2028 (USD Billion)
6.3.3.5 Spain Industrial Pumps Market Estimates and Forecast, 2020-2028 (USD Billion)
6.3.3.6 Netherlands Industrial Pumps Market Estimates and Forecast, 2020-2028 (USD Billion)
6.3.3.7 Rest of Europe Industrial Pumps Market Estimates and Forecast, 2020-2028 (USD Billion)
6.4 Asia Pacific Industrial Pumps Market Estimates and Forecast, 2020-2028 (USD Billion)
6.4.3.1 China Industrial Pumps Market Estimates and Forecast, 2020-2028 (USD Billion)
6.4.3.2 Japan Industrial Pumps Market Estimates and Forecast, 2020-2028 (USD Billion)
6.4.3.3 India Industrial Pumps Market Estimates and Forecast, 2020-2028 (USD Billion)
6.4.3.4 South Korea Industrial Pumps Market Estimates and Forecast, 2020-2028 (USD Billion)
6.4.3.5 Singapore Industrial Pumps Market Estimates and Forecast, 2020-2028 (USD Billion)
6.4.3.6 Malaysia Industrial Pumps Market Estimates and Forecast, 2020-2028 (USD Billion)
6.4.3.7 Thailand Industrial Pumps Market Estimates and Forecast, 2020-2028 (USD Billion)
6.4.3.8 Indonesia Industrial Pumps Market Estimates and Forecast, 2020-2028 (USD Billion)
6.4.3.9 Vietnam Industrial Pumps Market Estimates and Forecast, 2020-2028 (USD Billion)
6.4.3.10 Taiwan Industrial Pumps Market Estimates and Forecast, 2020-2028 (USD Billion)
6.4.3.11 Rest of Asia Pacific Industrial Pumps Market Estimates and Forecast, 2020-2028 (USD Billion)
6.5 Middle East and Africa Industrial Pumps Market Estimates and Forecast, 2020-2028 (USD Billion)
6.5.3.1 Saudi Arabia Industrial Pumps Market Estimates and Forecast, 2020-2028 (USD Billion)
6.5.3.2 U.A.E. Industrial Pumps Market Estimates and Forecast, 2020-2028 (USD Billion)
6.5.3.3 Israel Industrial Pumps Market Estimates and Forecast, 2020-2028 (USD Billion)
6.5.3.4 South Africa Industrial Pumps Market Estimates and Forecast, 2020-2028 (USD Billion)
6.5.3.5 Rest of Middle East and Africa Industrial Pumps Market Estimates and Forecast, 2020-2028 (USD Billion)
6.6 Central & South America Industrial Pumps Market Estimates and Forecast, 2020-2028 (USD Billion)
6.6.3.1 Brazil Industrial Pumps Market Estimates and Forecast, 2020-2028 (USD Billion)
6.6.3.2 Argentina Industrial Pumps Market Estimates and Forecast, 2020-2028 (USD Billion)
6.6.3.3 Chile Industrial Pumps Market Estimates and Forecast, 2020-2028 (USD Billion)
6.6.3.3 Rest of Central & South America Industrial Pumps Market Estimates and Forecast, 2020-2028 (USD Billion)
7.1 Company Market Share Analysis
7.2 Four Quadrant Positioning Matrix
7.4.1.1 Business Description & Financial Analysis
7.4.1.3 Products & Services Offered
7.4.1.4 Strategic Alliances between Business Partners
7.4.2.1 Business Description & Financial Analysis
7.4.2.3 Products & Services Offered
7.4.2.4 Strategic Alliances between Business Partners
7.4.3.1 Business Description & Financial Analysis
7.4.3.3 Products & Services Offered
7.4.3.4 Strategic Alliances between Business Partners
7.4.4.1 Business Description & Financial Analysis
7.4.4.3 Products & Services Offered
7.4.4.4 Strategic Alliances between Business Partners
7.4.5.1 Business Description & Financial Analysis
7.4.5.3 Products & Services Offered
7.4.5.4 Strategic Alliances between Business Partners
7.4.6.1 Business Description & Financial Analysis
7.4.6.3 Products & Services Offered
7.4.6.4 Strategic Alliances between Business Partners
7.4.7.1 Business Description & Financial Analysis
7.4.7.3 Products & Services Offered
7.4.7.4 Strategic Alliances between Business Partners
7.4.8.1 Business Description & Financial Analysis
7.4.8.3 Products & Services Offered
7.4.8.4 Strategic Alliances between Business Partners
7.4.9.1 Business Description & Financial Analysis
7.4.9.3 Products & Services Offered
7.4.9.4 Strategic Alliances between Business Partners
7.4.10.1 Business Description & Financial Analysis
7.4.10.3 Products & Services Offered
7.4.10.4 Strategic Alliances between Business Partners
7.4.11.1 Business Description & Financial Analysis
7.4.11.3 Products & Services Offered
7.4.11.4 Strategic Alliances between Business Partners
8.1.2 Market Scope & Segmentation
8.2.1.2 GMEs Internal Data Repository
8.2.1.3 Secondary Resources & Third Party Perspectives
8.2.1.4 Company Information Sources
8.2.2.1 Various Types of Respondents for Primary Interviews
8.2.2.2 Number of Interviews Conducted throughout the Research Process
8.2.2.4 Discussion Guide for Primary Participants
8.2.3.1 Expert Panels Across 30+ Industry
8.2.4.1 Paid Local Experts Across 30+ Industry Across each Region
8.3.1.1 Macro-Economic Indicators Considered
8.3.1.2 Micro-Economic Indicators Considered
8.3.2.1 Company Share Analysis Approach
8.3.2.2 Estimation of Potential Product Sales
8.4.2 Time Series, Cross Sectional & Panel Data Analysis
8.5.1 Inhouse AI Based Real Time Analytics Tool
8.5.2 Output From Desk & Primary Research
8.6 Research Assumptions & Limitations
LIST OF TABLES
1 Global Industrial Pumps Market, By Product, 2020-2028 (USD Billion)
2 Centrifugal Pump Market, By Region, 2020-2028 (USD Billion)
3 Positive Displacement Pump Market, By Region, 2020-2028 (USD Billion)
4 Global Industrial Pumps Market, By Application, 2020-2028 (USD Billion)
5 Water & Wastewater Market, By Region, 2020-2028 (USD Billion)
6 Chemicals Market, By Region, 2020-2028 (USD Billion)
7 Construction Market, By Region, 2020-2028 (USD Billion)
8 Regional Analysis, 2020-2028 (USD Billion)
9 North America Industrial Pumps Market, By Product, 2020-2028 (USD Billion)
10 North America Industrial Pumps Market, By Application, 2020-2028 (USD Billion)
11 U.S. Industrial Pumps Market, By Product, 2020-2028 (USD Billion)
12 U.S. Industrial Pumps Market, By Application, 2020-2028 (USD Billion)
13 Canada Industrial Pumps Market, By Product, 2020-2028 (USD Billion)
14 Canada Industrial Pumps Market, By Application, 2020-2028 (USD Billion)
15 Mexico Industrial Pumps Market, By Product, 2020-2028 (USD Billion)
16 Mexico Industrial Pumps Market, By Application, 2020-2028 (USD Billion)
17 Europe Industrial Pumps Market, By Product, 2020-2028 (USD Billion)
18 Europe Industrial Pumps Market, By Application, 2020-2028 (USD Billion)
19 Germany Industrial Pumps Market, By Product, 2020-2028 (USD Billion)
20 Germany Industrial Pumps Market, By Application, 2020-2028 (USD Billion)
21 U.K. Industrial Pumps Market, By Product, 2020-2028 (USD Billion)
22 U.K. Industrial Pumps Market, By Application, 2020-2028 (USD Billion)
23 France Industrial Pumps Market, By Product, 2020-2028 (USD Billion)
24 France Industrial Pumps Market, By Application, 2020-2028 (USD Billion)
25 Italy Industrial Pumps Market, By Product, 2020-2028 (USD Billion)
26 Italy Industrial Pumps Market, By Application, 2020-2028 (USD Billion)
27 Spain Industrial Pumps Market, By Product, 2020-2028 (USD Billion)
28 Spain Industrial Pumps Market, By Application, 2020-2028 (USD Billion)
29 Netherlands Industrial Pumps Market, By Product, 2020-2028 (USD Billion)
30 Netherlands Industrial Pumps Market, By Application, 2020-2028 (USD Billion)
31 Rest Of Europe Industrial Pumps Market, By Product, 2020-2028 (USD Billion)
32 Rest Of Europe Industrial Pumps Market, By Application, 2020-2028 (USD Billion)
33 Asia Pacific Industrial Pumps Market, By Product, 2020-2028 (USD Billion)
34 Asia Pacific Industrial Pumps Market, By Application, 2020-2028 (USD Billion)
35 China Industrial Pumps Market, By Product, 2020-2028 (USD Billion)
36 China Industrial Pumps Market, By Application, 2020-2028 (USD Billion)
37 Japan Industrial Pumps Market, By Product, 2020-2028 (USD Billion)
38 Japan Industrial Pumps Market, By Application, 2020-2028 (USD Billion)
39 India Industrial Pumps Market, By Product, 2020-2028 (USD Billion)
40 India Industrial Pumps Market, By Application, 2020-2028 (USD Billion)
41 South Korea Industrial Pumps Market, By Product, 2020-2028 (USD Billion)
42 South Korea Industrial Pumps Market, By Application, 2020-2028 (USD Billion)
43 Singapore Industrial Pumps Market, By Product, 2020-2028 (USD Billion)
44 Singapore Industrial Pumps Market, By Application, 2020-2028 (USD Billion)
45 Thailand Industrial Pumps Market, By Product, 2020-2028 (USD Billion)
46 Thailand Industrial Pumps Market, By Application, 2020-2028 (USD Billion)
47 Malaysia Industrial Pumps Market, By Product, 2020-2028 (USD Billion)
48 Malaysia Industrial Pumps Market, By Application, 2020-2028 (USD Billion)
49 Indonesia Industrial Pumps Market, By Product, 2020-2028 (USD Billion)
50 Indonesia Industrial Pumps Market, By Application, 2020-2028 (USD Billion)
51 Vietnam Industrial Pumps Market, By Product, 2020-2028 (USD Billion)
52 Vietnam Industrial Pumps Market, By Application, 2020-2028 (USD Billion)
53 Taiwan Industrial Pumps Market, By Product, 2020-2028 (USD Billion)
54 Taiwan Industrial Pumps Market, By Application, 2020-2028 (USD Billion)
55 Rest of APAC Industrial Pumps Market, By Product, 2020-2028 (USD Billion)
56 Rest of APAC Industrial Pumps Market, By Application, 2020-2028 (USD Billion)
57 Middle East and Africa Industrial Pumps Market, By Product, 2020-2028 (USD Billion)
58 Middle East and Africa Industrial Pumps Market, By Application, 2020-2028 (USD Billion)
59 Saudi Arabia Industrial Pumps Market, By Product, 2020-2028 (USD Billion)
60 Saudi Arabia Industrial Pumps Market, By Application, 2020-2028 (USD Billion)
61 UAE Industrial Pumps Market, By Product, 2020-2028 (USD Billion)
62 UAE Industrial Pumps Market, By Application, 2020-2028 (USD Billion)
63 Israel Industrial Pumps Market, By Product, 2020-2028 (USD Billion)
64 Israel Industrial Pumps Market, By Application, 2020-2028 (USD Billion)
65 South Africa Industrial Pumps Market, By Product, 2020-2028 (USD Billion)
66 South Africa Industrial Pumps Market, By Application, 2020-2028 (USD Billion)
67 Rest Of Middle East and Africa Industrial Pumps Market, By Product, 2020-2028 (USD Billion)
68 Rest Of Middle East and Africa Industrial Pumps Market, By Application, 2020-2028 (USD Billion)
69 Central & South America Industrial Pumps Market, By Product, 2020-2028 (USD Billion)
70 Central & South America Industrial Pumps Market, By Application, 2020-2028 (USD Billion)
71 Brazil Industrial Pumps Market, By Product, 2020-2028 (USD Billion)
72 Brazil Industrial Pumps Market, By Application, 2020-2028 (USD Billion)
73 Chile Industrial Pumps Market, By Product, 2020-2028 (USD Billion)
74 Chile Industrial Pumps Market, By Application, 2020-2028 (USD Billion)
75 Argentina Industrial Pumps Market, By Product, 2020-2028 (USD Billion)
76 Argentina Industrial Pumps Market, By Application, 2020-2028 (USD Billion)
77 Rest Of Central & South America Industrial Pumps Market, By Product, 2020-2028 (USD Billion)
78 Rest Of Central & South America Industrial Pumps Market, By Application, 2020-2028 (USD Billion)
79 Grundfos Holding A/S: Products & Services Offering
80 Xylem: Products & Services Offering
81 Ingersoll-Rand: Products & Services Offering
82 SPZ Flow: Products & Services Offering
83 KSB SE & Co. KGaA: Products & Services Offering
84 SULZER LTD.: Products & Services Offering
85 Pentair : Products & Services Offering
86 Iwaki Co. Ltd.: Products & Services Offering
87 ITT, Inc.: Products & Services Offering
88 Flowserve Corporation: Products & Services Offering
89 Other Companies: Products & Services Offering
LIST OF FIGURES
1 Global Industrial Pumps Market Overview
2 Global Industrial Pumps Market Value From 2020-2028 (USD Billion)
3 Global Industrial Pumps Market Share, By Product (2022)
4 Global Industrial Pumps Market Share, By Application (2022)
5 Global Industrial Pumps Market, By Region (Asia Pacific Market)
6 Technological Trends In Global Industrial Pumps Market
7 Four Quadrant Competitor Positioning Matrix
8 Impact Of Macro & Micro Indicators On The Market
9 Impact Of Key Drivers On The Global Industrial Pumps Market
10 Impact Of Challenges On The Global Industrial Pumps Market
11 Porter's Five Forces Analysis
12 Global Industrial Pumps Market: By Product Scope Key Takeaways
13 Global Industrial Pumps Market, By Product Segment: Revenue Growth Analysis
14 Centrifugal Pump Market, By Region, 2020-2028 (USD Billion)
15 Positive Displacement Pump Market, By Region, 2020-2028 (USD Billion)
16 Global Industrial Pumps Market: By Application Scope Key Takeaways
17 Global Industrial Pumps Market, By Application Segment: Revenue Growth Analysis
18 Water & Wastewater Market, By Region, 2020-2028 (USD Billion)
19 Chemicals Market, By Region, 2020-2028 (USD Billion)
20 Construction Market, By Region, 2020-2028 (USD Billion)
21 Regional Segment: Revenue Growth Analysis
22 Global Industrial Pumps Market: Regional Analysis
23 North America Industrial Pumps Market Overview
24 North America Industrial Pumps Market, By Product
25 North America Industrial Pumps Market, By Application
26 North America Industrial Pumps Market, By Country
27 U.S. Industrial Pumps Market, By Product
28 U.S. Industrial Pumps Market, By Application
29 Canada Industrial Pumps Market, By Product
30 Canada Industrial Pumps Market, By Application
31 Mexico Industrial Pumps Market, By Product
32 Mexico Industrial Pumps Market, By Application
33 Four Quadrant Positioning Matrix
34 Company Market Share Analysis
35 Grundfos Holding A/S: Company Snapshot
36 Grundfos Holding A/S: SWOT Analysis
37 Grundfos Holding A/S: Geographic Presence
38 Xylem: Company Snapshot
39 Xylem: SWOT Analysis
40 Xylem: Geographic Presence
41 Ingersoll-Rand: Company Snapshot
42 Ingersoll-Rand: SWOT Analysis
43 Ingersoll-Rand: Geographic Presence
44 SPZ Flow: Company Snapshot
45 SPZ Flow: Swot Analysis
46 SPZ Flow: Geographic Presence
47 KSB SE & Co. KGaA: Company Snapshot
48 KSB SE & Co. KGaA: SWOT Analysis
49 KSB SE & Co. KGaA: Geographic Presence
50 Sulzer Ltd.: Company Snapshot
51 Sulzer Ltd.: SWOT Analysis
52 Sulzer Ltd.: Geographic Presence
53 Pentair : Company Snapshot
54 Pentair : SWOT Analysis
55 Pentair : Geographic Presence
56 Iwaki Co. Ltd.: Company Snapshot
57 Iwaki Co. Ltd.: SWOT Analysis
58 Iwaki Co. Ltd.: Geographic Presence
59 ITT, Inc.: Company Snapshot
60 ITT, Inc.: SWOT Analysis
61 ITT, Inc.: Geographic Presence
62 Flowserve Corporation: Company Snapshot
63 Flowserve Corporation: SWOT Analysis
64 Flowserve Corporation: Geographic Presence
65 Other Companies: Company Snapshot
66 Other Companies: SWOT Analysis
67 Other Companies: Geographic Presence