InGaAs Camera Market Insights
InGaAs cameras are employed for physical and life science applications that require high sensitivity and specificity, i.e., above 900-1700 nm wavelength, which is known as shortwave infrared (SWIR). There are a few InGaAs cameras that can detect up to as high as 2500 nm due to changes in material composition. On the other hand, the silicon-based CCD cameras have excellent detection of the UV-to-NIR limit, but the bandgap of silicon prevents it from providing sufficient detection power over 1100 nm, over here InGaAs cameras play a significant role because they have a lower bandgap and are preferred over others for applications in the shortwave infrared (SWIR).
As a detection element, InGaAs has provided a cost-effective solution for near-infrared (NIR) industrial purposes such as moisture analysis, layer material deployments, and numerous filtering functions including extracting polymeric materials from organic materials. As a result, the use of innovation in industrial production and optimization is growing. Moreover, Industry 4.0 accelerated the growth of technology such as robotics, which now play a critical role in factory automation, with robots managing multiple main processes in manufacturing. New uses for InGaAs cameras have evolved including, vision-guided robots and automatic butchering. These vision-guided robots are made up of IR imagers that locate and take different items from a container, followed by a camera that evaluates the position of every component and positions it on a production line.
With the current Covid-19 pandemic, InGaAs cameras are projected to see a drop in demand from numerous manufacturing industries like food and beverage, microelectronics, robotics, and defence. The food processing and processing sector, which accounts for a significant portion of the industrial market for InGaAs cameras, is experiencing a drop in revenue. Moreover, due to their efficiency characteristics such as compact, unheated, composite structures, high-quality night-time visibility mounted concealed eye-safe lasers, object tracking, and susceptibility to nightglows, these cameras find wide application areas in protection. These cameras can be used in defence, security, aviation, telecom, industrial automation, and mass spectrometry.
The increasing demand for line scan InGaAs cameras for computer projection implementations, the rising penetration level of InGaAs cameras in the security and intelligence industry, and growing preference for InGaAs cameras in safety, surveillance, and fire protection have all been driving the global InGaAs camera market. Strict global trade regulations, on the contrary, could serve as a constraint in the global market.
The factors driving the InGaAs camera market is the increasing demand for precision in industries for inspection at micro levels for eliminating even the smallest errors. They are required for space programmes for deeper penetration into space, installation in satellites for surveillance purposes. There is a surge in the adoption of InGaAs cameras in robotics due to the increasing technological advancements in industries. Moreover, demand in the field of food segment for looking out for even the most minute issues in the eatables whether it is fruit, vegetable, processed food, and liquid containers is also increasing rapidly. Newmarket players venturing into the field of optics and cameras are coming out with the latest innovations creating a competitive market for the InGaAs product. The increasing demand for security purposes in the defence sector and the research purposes in the field of microbiology and biotechnology will further act as a key driver for the overall demand rise.
InGaAs Camera Market: By Camera Cooling Technology
Based on camera cooling technology, the InGaAs camera market can be segregated into the cooled and uncooled camera. The uncooled camera segment is dominating the market compared to the cooled cameras. Uncooled cameras cost less than cooled ones, but the cooled camera is expected to grow with a decent growth rate. Due to increased automation, uncooled cameras are being used in a variety of industries, including military and defence, aviation, food safety, industrial automation, and telecom. These cameras are inexpensive, which increases their prominence.
InGaAs Camera Market: By Scanning Type
Based on scanning type, the InGaAs Camera Market can be segregated into area scan camera and line scan camera. The area scan camera has the biggest market share as compared to the line scan camera. Area scan cameras are broad sense cameras that use a huge vector of pixel to detect a 2D view of a specific area in a single processing period. Area scan camera is best suited for application areas where the subject is static, while line scan cameras record regular images utilizing a single row of pixels and are best suited for applications where the subject is in transition, such as line examination on a machinery belt. Thus, the overall demand for area scan camera will be high.
InGaAs Camera Market: By Application
Based on application, the InGaAs camera market can be segregated into military & defence, industrial automation and scientific research. The military & defence sector is the dominating segment as per the application outlook. A substantially high defence budget, along with the use of technologically sophisticated weapons and equipment are the key drivers. Growing investment in video surveillance applications is also expected to assist the growth of the InGaAs camera in the military and defence segment.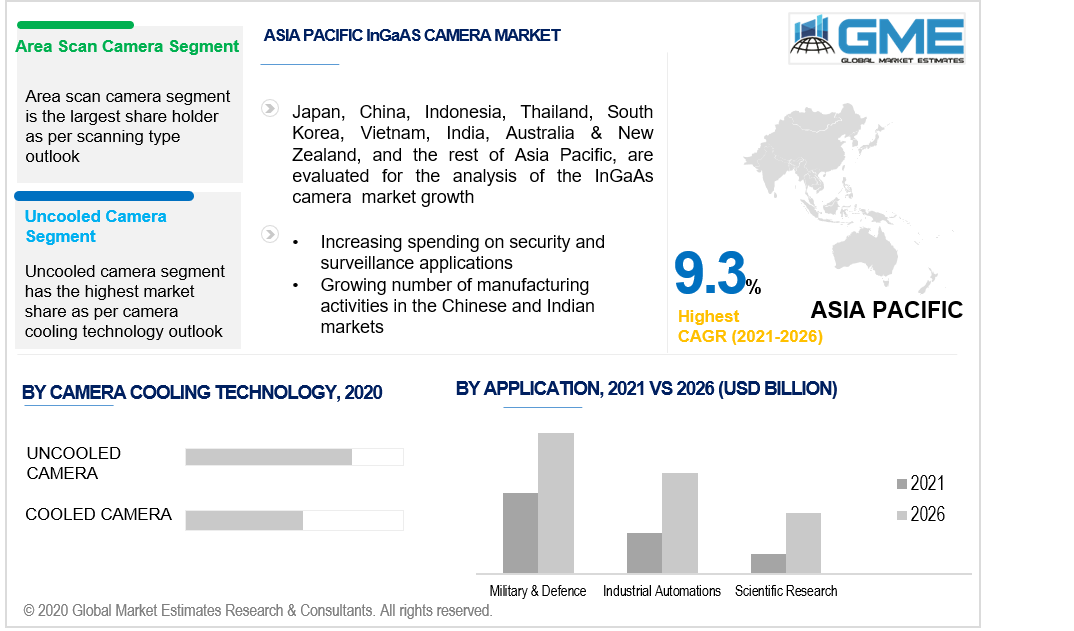 InGaAs Camera Market: By Region
As per the geographical analysis, the market of InGaAs Camera Market can be classified into North America (the US, Canada, and Mexico), Asia Pacific (India, China, Japan, Malaysia, Singapore, and Rest of Asia Pacific), Europe (Germany, United Kingdom, Italy, France, Spain, Netherlands, and Rest of Europe), Middle East & Africa and Central South America. North America reportedly contributes to a large share of sales and is predicted to hold its dominance throughout the projected timeframe. The emergence of leading players, as well as the use of InGaAs cameras in surgical instruments and research projects, are trends boosting demand in this region's core demographic. Additionally, a high defence budget, particularly in the United States, as well as the deployment of technologically sophisticated infrastructure for military purposes are augmenting the core demographic's demand in the North American region. North America is followed by Europe and the reason being is the amount of money being invested in infra-red imaging by private companies and by the government for better defence equipment's. The Asia Pacific is the fastest-growing market owing to the surge in implementation of advanced security system in the industry and also the growing number of manufacturing activities in the Chinese and Indian market.
InGaAs Camera Market Share and Competitor Analysis
Hamamatsu, First Sensor, Teledyne Technologies, Luna, Lumentum, Laser Components, Albis Optoelectronics, Thorlabs, Sensors Unlimited, FLIR Systems, Xenics, New Imaging Technologies, Allied Vision Technologies, Raptor Photonics, Sofradir, Princeton Instruments, Photon, Fermionics Opto-Technology, AC Photonics, GPD Optoelectronics, New England Photoconductor, QPHOTONICS, Episensors, IRCameras among others are the top players in the InGaAs camera market.
Please note: This is not an exhaustive list of companies profiled in the report.
Chapter 1 Methodology
1.1 Market Scope & Definitions
1.2 Estimates & Forecast Calculation
1.3 Historical Data Overview And Validation
1.4 Data Sources
1.4.1 Secondary
1.4.2 Primary
Chapter 2 Report Outlook
2.1 InGaAs Camera Market Overview, 2019-2026
2.1.1 Industry Overview
2.1.2 Camera Cooling technology Overview
2.1.3 Scanning Scanning Type Overview
2.1.4 Application Overview
2.1.5 Regional Overview
Chapter 3 InGaAs Camera Market Trends
3.1 Market Segmentation
3.2 Industry Background, 2019-2026
3.3 Market Key Trends
3.3.1 Positive Trends
3.3.1.1 Increasing demand of precision in industries for
inspection at micro levels.
3.3.1.2 Increasing demand for security purposes.
3.3.2 Industry Challenges
3.3.2.1 High installation and maintenance cost
3.4 Prospective Growth Scenario
3.4.1 Camera Cooling technology Growth Scenario
3.4.2 Scanning Scanning Type Scenario
3.4.3 Application Growth Scenario
3.5 COVID-19 Influence over Industry Growth
3.6 Porter's Analysis
3.7 PESTEL Analysis
3.8 Value Chain & Supply Chain Analysis
3.9 Regulatory Framework
3.9.1 North America
3.9.2 Europe
3.9.3 APAC
3.9.4 LATAM
3.9.5 MEA
3.10 Technology Overview
3.11 Market Share Analysis, 2020
3.11.1 Company Positioning Overview, 2020
Chapter 4 InGaAs Camera Market, By Camera Cooling technology
4.1 Camera Cooling technology Outlook
4.2 Cooled camera
4.2.1 Market Size, By Region, 2019-2026 (USD Million)
4.3 Uncooled Camera
4.3.1 Market Size, By Region, 2019-2026 (USD Million)
4.4 Access Control
4.4.1 Market Size, By Region, 2019-2026 (USD Million)
Chapter 5 InGaAs Camera Market, By Scanning Scanning Type
5.2 Area Scan Camera and
5.2.1 Market Size, By Region, 2019-2026 (USD Million)
5.3 Line Scan Camera
5.3.1 Market Size, By Region, 2019-2026 (USD Million)
Chapter 6 InGaAs Camera Market, By Application
6.1 Application Outlook
6.2 Military & Defence
6.2.1 Market Size, By Region, 2019-2026 (USD Million)
6.3 Industrial Automation
6.3.1 Market Size, By Region, 2019-2026 (USD Million)
6.4 Scientific Research
6.4.1 Market Size, By Region, 2019-2026 (USD Million)
Chapter 7 InGaAs Camera Market, By Region
7.1 Regional outlook
7.2 North America
7.2.1 Market Size, By Country 2019-2026 (USD Million)
7.2.2 Market Size, By Camera Cooling Technology, 2019-2026 (USD Million)
7.2.3 Market Size, By Scanning Type, 2019-2026 (USD Million)
7.2.4 Market Size, By Application, 2019-2026 (USD Million)
7.2.5 U.S.
7.2.5.1 Market Size, By Camera Cooling Technology, 2019-2026 (USD Million)
7.2.5.2 Market Size, By Scanning Type, 2019-2026 (USD Million)
7.2.5.3 Market Size, By Application, 2019-2026 (USD Million)
7.2.6 Canada
7.2.6.1 Market Size, By Camera Cooling Technology, 2019-2026 (USD Million)
7.2.6.2 Market Size, By Scanning Type, 2019-2026 (USD Million)
7.2.6.3 Market Size, By Application, 2019-2026 (USD Million)
7.3 Europe
7.3.1 Market Size, By Country 2019-2026 (USD Million)
7.3.2 Market Size, By Camera Cooling Technology, 2019-2026 (USD Million)
7.3.3 Market Size, By Scanning Type, 2019-2026 (USD Million)
7.3.4 Market Size, By Application, 2019-2026 (USD Million)
7.3.5 Germany
7.3.5.1 Market Size, By Camera Cooling Technology, 2019-2026 (USD Million)
7.3.5.2 Market Size, By Scanning Type, 2019-2026 (USD Million)
7.3.5.3 Market Size, By Application, 2019-2026 (USD Million)
7.3.6 UK
7.3.6.1 Market Size, By Camera Cooling Technology, 2019-2026 (USD Million)
7.3.6.2 Market Size, By Scanning Type, 2019-2026 (USD Million)
7.3.6.3 Market Size, By Application, 2019-2026 (USD Million)
7.3.7 France
7.3.7.1 Market Size, By Camera Cooling Technology, 2019-2026 (USD Million)
7.3.7.2 Market Size, By Scanning Type, 2019-2026 (USD Million)
7.3.7.3 Market Size, By Application, 2019-2026 (USD Million)
7.3.8 Italy
7.3.8.1 Market Size, By Camera Cooling Technology, 2019-2026 (USD Million)
7.3.8.2 Market Size, By Scanning Type, 2019-2026 (USD Million)
7.3.8.3 Market Size, By Application, 2019-2026 (USD Million)
7.3.9 Spain
7.3.9.1 Market Size, By Camera Cooling Technology, 2019-2026 (USD Million)
7.3.9.2 Market Size, By Scanning Type, 2019-2026 (USD Million)
7.3.9.2 Market Size, By Application, 2019-2026 (USD Million)
7.3.10 Russia
7.3.10.1 Market Size, By Camera Cooling Technology, 2019-2026 (USD Million)
7.3.10.2 Market Size, By Scanning Type, 2019-2026 (USD Million)
7.3.10.3 Market Size, By Application, 2019-2026 (USD Million)
7.4 Asia Pacific
7.4.1 Market Size, By Country 2019-2026 (USD Million)
7.4.2 Market Size, By Camera Cooling Technology, 2019-2026 (USD Million)
7.4.3 Market Size, By Scanning Type, 2019-2026 (USD Million)
7.4.4 Market Size, By Application, 2019-2026 (USD Million)
7.4.5 China
7.4.5.1 Market Size, By Camera Cooling Technology, 2019-2026 (USD Million)
7.4.5.2 Market Size, By Scanning Type, 2019-2026 (USD Million)
7.4.5.3 Market Size, By Application, 2019-2026 (USD Million)
7.4.6 India
7.4.6.1 Market Size, By Camera Cooling Technology, 2019-2026 (USD Million)
7.4.6.2 Market Size, By Scanning Type, 2019-2026 (USD Million)
7.4.6.3 Market Size, By Application, 2019-2026 (USD Million)
7.4.7 Japan
7.4.7.1 Market Size, By Camera Cooling Technology, 2019-2026 (USD Million)
7.4.7.2 Market Size, By Scanning Type, 2019-2026 (USD Million)
7.4.7.3 Market Size, By Application, 2019-2026 (USD Million)
7.4.8 Australia
7.4.8.1 Market Size, By Camera Cooling Technology, 2019-2026 (USD Million)
7.4.8.2 Market size, By Scanning Type, 2019-2026 (USD Million)
7.4.8.3 Market size, By Application, 2019-2026 (USD Million)
7.4.9 South Korea
7.4.9.1 Market Size, By Camera Cooling Technology, 2019-2026 (USD Million)
7.4.9.2 Market Size, By Scanning Type, 2019-2026 (USD Million)
7.4.9.3 Market Size, By Application, 2019-2026 (USD Million)
7.5 Latin America
7.5.1 Market Size, By Country 2019-2026 (USD Million)
7.5.2 Market Size, By Camera Cooling Technology, 2019-2026 (USD Million)
7.5.3 Market Size, By Scanning Type, 2019-2026 (USD Million)
7.5.4 Market Size, By Application, 2019-2026 (USD Million)
7.5.4 Brazil
7.5.5.1 Market Size, By Camera Cooling Technology, 2019-2026 (USD Million)
7.5.5.2 Market Size, By Scanning Type, 2019-2026 (USD Million)
7.5.5.3 Market Size, By Application, 2019-2026 (USD Million)
7.5.6 Mexico
7.5.6.1 Market Size, By Camera Cooling Technology, 2019-2026 (USD Million)
7.5.6.2 Market Size, By Scanning Type, 2019-2026 (USD Million)
7.5.6.3 Market Size, By Application, 2019-2026 (USD Million)
7.5.7 Argentina
7.5.7.1 Market Size, By Camera Cooling Technology, 2019-2026 (USD Million)
7.5.7.2 Market Size, By Scanning Type, 2019-2026 (USD Million)
7.5.7.3 Market Size, By Application, 2019-2026 (USD Million)
7.6 MEA
7.6.1 Market Size, By Country 2019-2026 (USD Million)
7.6.2 Market Size, By Camera Cooling Technology, 2019-2026 (USD Million)
7.6.3 Market Size, By Scanning Type, 2019-2026 (USD Million)
7.6.4 Market Size, By Application, 2019-2026 (USD Million)
7.6.5 Saudi Arabia
7.6.5.1 Market Size, By Camera Cooling Technology, 2019-2026 (USD Million)
7.6.5.2 Market Size, By Scanning Type, 2019-2026 (USD Million)
7.6.5.3 Market Size, By Application, 2019-2026 (USD Million)
7.6.6 UAE
7.6.6.1 Market Size, By Camera Cooling Technology, 2019-2026 (USD Million)
7.6.6.2 Market Size, By Scanning Type, 2019-2026 (USD Million)
7.6.6.3 Market Size, By Application, 2019-2026 (USD Million)
7.6.7 South Africa
7.6.7.1 Market Size, By Camera Cooling Technology, 2019-2026 (USD Million)
7.6.7.2 Market Size, By Scanning Type, 2019-2026 (USD Million)
7.6.7.3 Market Size, By Application, 2019-2026 (USD Million)
Chapter 8 Company Landscape
8.1 Competitive Analysis, 2020
8.2 Hamamatsu
8.2.1 Company Overview
8.2.2 Financial Analysis
8.2.3 Strategic Positioning
8.2.4 Info Graphic Analysis
8.3 First Sensor
8.3.1 Company Overview
8.3.2 Financial Analysis
8.3.3 Strategic Positioning
8.3.4 Info Graphic Analysis
8.4 Teledyne Technologies
8.4.1 Company Overview
8.4.2 Financial Analysis
8.4.3 Strategic Positioning
8.4.4 Info Graphic Analysis
8.5 Luna
8.5.1 Company Overview
8.5.2 Financial Analysis
8.5.3 Strategic Positioning
8.5.4 Info Graphic Analysis
8.6 Lumentum
8.6.1 Company Overview
8.6.2 Financial Analysis
8.6.3 Strategic Positioning
8.6.4 Info Graphic Analysis
8.7 Laser Components
8.7.1 Company Overview
8.7.2 Financial Analysis
8.7.3 Strategic Positioning
8.7.4 Info Graphic Analysis
8.8 Albis Optoelectronics
8.8.1 Company Overview
8.8.2 Financial Analysis
8.8.3 Strategic Positioning
8.8.4 Info Graphic Analysis
8.9 Thorlabs
8.9.1 Company Overview
8.9.2 Financial Analysis
8.9.3 Strategic Positioning
8.9.4 Info Graphic Analysis
8.10 Sensors Unlimited
8.10.1 Company Overview
8.10.2 Financial Analysis
8.10.3 Strategic Positioning
8.10.4 Info Graphic Analysis
8.11 FLIR Systems
8.11.1 Company Overview
8.11.2 Financial Analysis
8.11.3 Strategic Positioning
8.11.4 Info Graphic Analysis
8.12 Xenics
8.12.1 Company Overview
8.12.2 Financial Analysis
8.12.3 Strategic Positioning
8.12.4 Info Graphic Analysis
8.13 New Imaging Technologies
8.13.1 Company Overview
8.13.2 Financial Analysis
8.13.3 Strategic Positioning
8.13.4 Info Graphic Analysis
8.14 Allied Vision Technologies
8.14.1 Company Overview
8.14.2 Financial Analysis
8.14.3 Strategic Positioning
8.14.4 Info Graphic Analysis
8.15 Raptor Photonics
8.15.1 Company Overview
8.15.2 Financial Analysis
8.15.3 Strategic Positioning
8.15.4 Info Graphic Analysis
8.16 Sofradir
8.16.1 Company Overview
8.16.2 Financial Analysis
8.16.3 Strategic Positioning
8.16.4 Info Graphic Analysis
8.17 Princeton Instruments
8.17.1 Company Overview
8.17.2 Financial Analysis
8.17.3 Strategic Positioning
8.17.4 Info Graphic Analysis
8.18 Photon
8.18.1 Company Overview
8.18.2 Financial Analysis
8.18.3 Strategic Positioning
8.18.4 Info Graphic Analysis
8.19 Fermionics Opto-Technology
8.19.1 Company Overview
8.19.2 Financial Analysis
8.19.3 Strategic Positioning
8.19.4 Info Graphic Analysis
8.20 AC Photonics
8.20.1 Company Overview
8.20.2 Financial Analysis
8.20.3 Strategic Positioning
8.20.4 Info Graphic Analysis
8.21 GPD Optoelectronics
8.21.1 Company Overview
8.21.2 Financial Analysis
8.21.3 Strategic Positioning
8.21.4 Info Graphic Analysis
8.22 New England Photoconductor
8.22.1 Company Overview
8.22.2 Financial Analysis
8.22.3 Strategic Positioning
8.22.4 Info Graphic Analysis
8.23 QPHOTONICS
8.23.1 Company Overview
8.23.2 Financial Analysis
8.23.3 Strategic Positioning
8.23.4 Info Graphic Analysis
8.24 Episensors
8.24.1 Company Overview
8.24.2 Financial Analysis
8.24.3 Strategic Positioning
8.24.4 Info Graphic Analysis
8.25 IRCameras
8.25.1 Company Overview
8.25.2 Financial Analysis
8.25.3 Strategic Positioning
8.25.4 Info Graphic Analysis