Injection Molding Machine Market: Insights
The injection molding process, which is commonly used for the manufacturing of plastic parts, is carried out by injection molding machines; although, they can also be used to manufacture components or parts other than plastic made of various certain materials. The injection molding machine melts the substance to be poured into the shaping mold, cooling off and solidifying the molten material, taking the desired shape component.
The growing globalization, rapid urban growth, and technological advancements are anticipated to push market growth in the upcoming years. These machines are mainly used in the manufacturing of small products for everyday use. One of the key developments in this market is the increasing acceptance of advanced automatic machines with low-cost offerings.
Furthermore, growing demand from the packaging sector coupled due to the rising e-commerce and organized retail sector will boost the outlook for the industry. Growing spending on R&D has led to the development of emerging innovations, like advanced large-scale hydraulic systems, electrical systems for digital processing of components for small and complex components, and hybrid systems that can operate for large and small components, thereby saving costs.
Producers are based on IMM manufacturing, which offers manufacturing versatility, is low maintenance, and highly effective. High demand for injection-molded material is produced by new injection molding methods like gas-assisted injection molding, foam injection molding, multiple part injection, and molding co-injection molding.
The growth of the market is expected to be driven by the growing demand for plastics in the automotive, household appliances, packaging, and other end-user industries. Also, due to increasing technological advances in the injection molding process, the mass production of complex plastic shapes has become easier and more effective.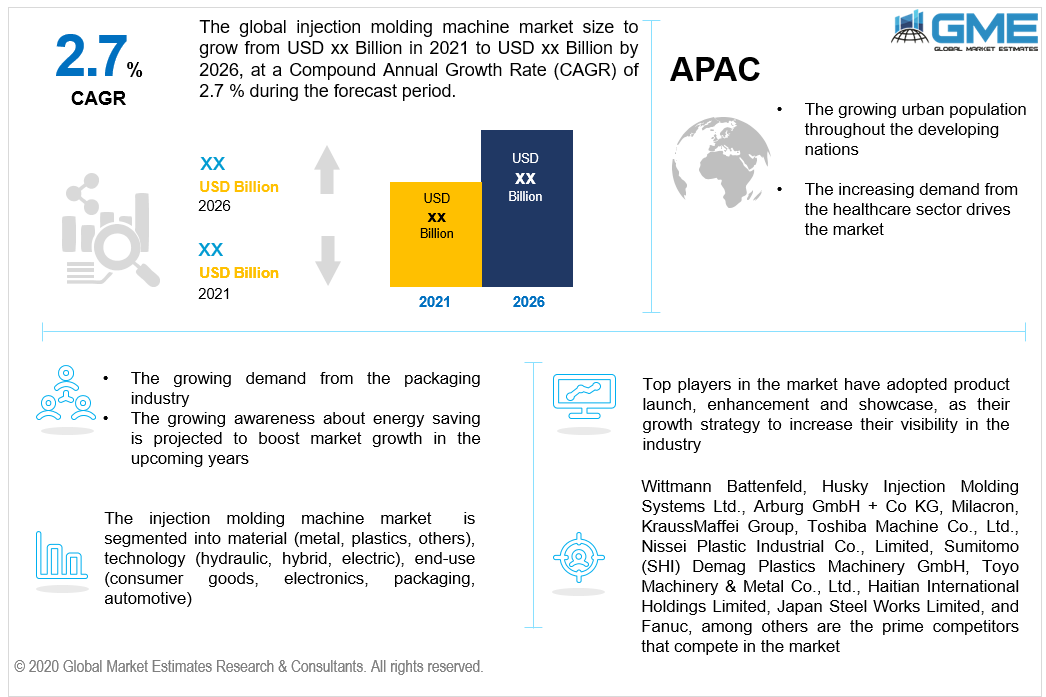 Injection Molding Machine Market: By Material
The plastic injection molding machine sector accounted for the largest revenue share in 2019 due to the rapid development in the use of plastic parts in the automotive sector owing to reduced weight and expense, which is anticipated to fuel market growth over the forecast era. The use of a wide range of material forms, including polycarbonate, polystyrene, nylon, and polypropylene, is also facilitated by these machines.
The market for metal injection molding machines is projected to broaden at a high CAGR over the projected timeframe. Fine-powdered metal with a binding material is used by metal injection molding machines to manufacture metal parts including gears, phone flip sliders, levers, and fiber optic parts, among others, which are used in a wide variety of dental, firearms, aerospace, medical, and automotive applications.
Injection Molding Machine Market: By Technology
The hybrid technology segment is anticipated to boost market share during the forecast era. The demand for hydraulic technology is expected to increase substantially in the automotive sector, whereby high clamping power is required for the production of large and heavy components. It is commonly used in sectors such as aerospace, marine, and defense for producing heavy parts. Moreover, hydraulic injection molding supremacy is also one of the significant factors expected to continue throughout the forecast period due to its improved efficiency and low maintenance costs.
As it incorporates the features of both hydraulic and electric injection molding machines, the market for hybrid injection molding machines is anticipated to accelerate. It offers high hydraulic machine clamping force and fuel efficiency, less start-up time, and high accuracy, better performance for producing both small and large components.
Injection Molding Machine Market: By End-Use
The packaging segment is anticipated to grow during the expected timeframe at a high CAGR pace. This is primarily attributed to the high distinction between packaging types, such as shape, volume, and content. These machines are used to produce different kinds of thin-wall containers, packages of milk, juice, and water, food storage, buckets, and caps and closures for beverages. Moreover, demand for packaged food is increasing with changing consumer lifestyles and rising income levels, thereby increasing the need for injection molded plastics in packaging applications.
The development of the packaging industry is driven by increasing urbanization, rising levels of income for packaged goods, and a spike in e-commerce and organized retail. This is driving the market for rigid plastic packaging and the need for injection molding from the packaging industry in turn.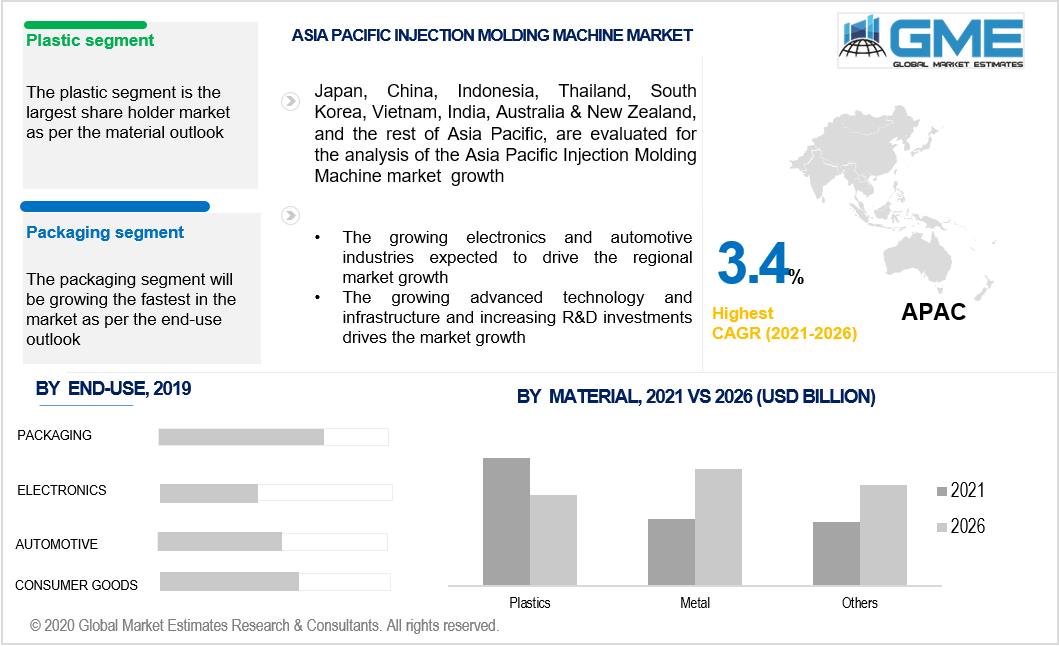 Injection Molding Machine Market: By Region
The European region retains the leading marketplace for the coming years in terms of sales. It is driven by factors that led to the market growth due to the growing number of skilled professionals and R&D facilities. To decrease the turnaround times and boost production levels, industries are also investing in technological advancements.
Furthermore, the Asia-Pacific region will demonstrate a significant CAGR rate over the expected timeframe attributed to the increasing demand from the automotive industry and the significant presence of non-registered and registered companies producing a broad range of equipment and machines. Moreover, rapid urban development throughout developing nations along with rising demand for end-use industries are some of the factors driving the Asia-Pacific region's market during the forecast era. China is rising as the global leader in car production. As per the International Trade Administration (ITA), China is anticipated to produce more than 27 million vehicles by 2020.
Injection Molding Machine Market: Share & Competitor Analysis
Wittmann Battenfeld, Husky Injection Molding Systems Ltd., Arburg GmbH + Co KG, Milacron, KraussMaffei Group, Toshiba Machine Co., Ltd., Nissei Plastic Industrial Co., Limited, Sumitomo (SHI) Demag Plastics Machinery GmbH, Toyo Machinery & Metal Co., Ltd., Haitian International Holdings Limited, ENGEL Austria GmbH, UBE Machinery, Chen Hsong Holdings Limited, Japan Steel Works Limited, and Fanuc, among others are the prime competitors that compete in the market.
Please note: This is not an exhaustive list of companies profiled in the report.
In January 2021, Arburg GmbH + Co KG entered into a partnership with LSVN Co., Ltd. to extend its injection molding business in Vietnam
Check the Press Release on Global Injection Molding Machine Market Report