Kenaf Seed Oil Market: Insights
Kenaf seeds produce edible vegetable oil. Kenaf seed oil is used in cosmetics, industrial oils, and biodiesel manufacturing. Kenaf oil has a high concentration of omega polyunsaturated fatty acids (PUFAs) and various other essential nutrients which make it suitable to be used in diverse fields like cosmetics, biofuel, cooking oil, etc.
Biofuel is becoming a more feasible option to minimize the use of fossil fuels.As a result, production for kenaf seeds as a substrate is expected to rise. Furthermore, because they contain a high concentration of fatty acids, such oilseeds are often used as functional ingredients in the manufacturing process of cosmetic products.
The kenaf seed oil demand is influenced by several factors including the use of kenaf seed oil as biodiesel in a range of manufacturing and automobile industries. The growing negative impact of global warming as a result of increased use of fossil fuels is a primary factor influencing the market. As a result, authorities worldwide are encouraging the use of kenaf seed oil-based biofuel. Such eco-friendly seeds are being used as a replacement for fossil fuels which have superior efficacy while being less detrimental to the atmosphere.During the forecast period, this program is anticipated to offer new opportunities for business growth.
Kenaf seed oil is now in high demand owing to its extensivehealth benefits. It is effective for treating of various diseases.Kenaf seed oil is often used in the production of cosmetic products to preserve, moisturize, and heal skin from bruising and some other skin issues. It is also used in pharmaceutical products for nutraceuticals, cosmetics and personal care, nutritional foods, medicine, and biofuels, and its market is likely to increase exponentially.Growing demand for high-quality cooking oil, and increasing demand for and intake of refined foods, are projected to drive the kenaf seed oil market forward.
Lack of optimized refining processes to sustain the concentration of bioactive components in the bio-oil, as well as rising kenaf seed costs due to irregular supply, has a detrimental impact on the overall kenaf seed oil market's expansion.Concerns over deteriorating environmental conditions, coupled with increased support from the government for ground-breaking biofuel projects, are expected to significantly contribute to the growth of the kenaf seed oil market.Furthermore, because of the high amount of omega-6 unsaturated fats, that improves skin health, this oilseed is required to achieve traction as an important attempt to fix in the formulation of various beautifying products.Increasing importance for kenaf seed oil in a variety of businesses, as well as growing knowledge about the positive effects, are main drivers of the kenaf seed oil market's steady growth.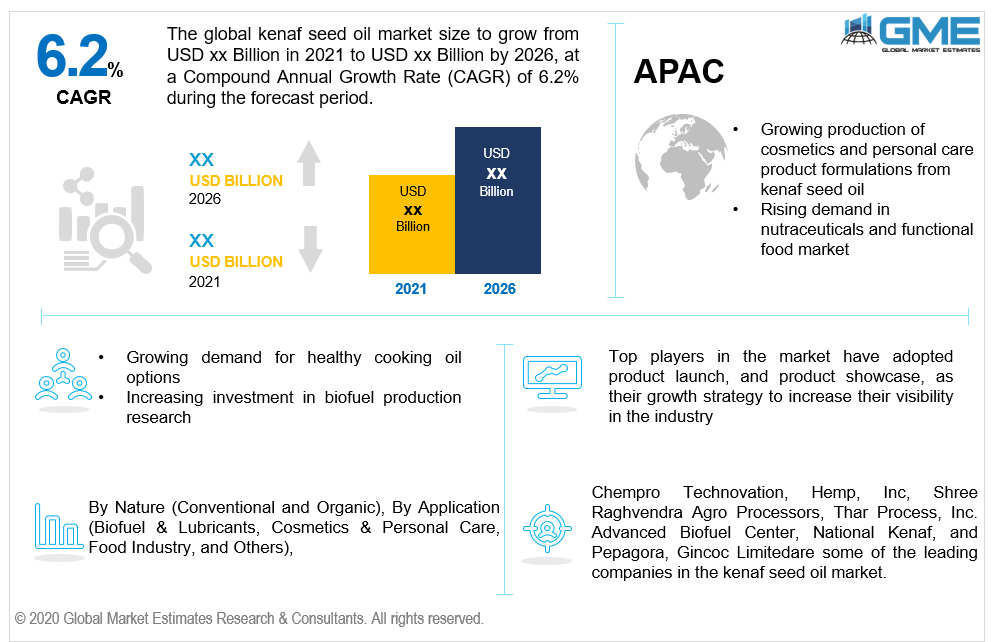 Kenaf Seed Oil Market: By Nature
The market can be split into conventional, and organic depending on the nature ofkenaf seed oil.The market for organic kenaf seed oil will be the largest because it contains phenolic, anti-tumor, anti-inflammatory, antioxidants, and phytosterol compounds, making it a promising ingredient that can be usedfor skincare products and plant-based medicines to treat cholesterol and elevated serum lipids in patient populations.
Kenaf Seed Oil Market: By Application
Thekenaf seed oilmarket is divided into four segments based on application: biofuel & lubricants, cosmetics & personal care, food industry, and others. The demand for the biofuel & lubricantssegment will rise the highest from 2021 to 2026. Increasing global use of biodiesel leading to lower carbon emissions and non-toxicity characteristics relative to conventional gasoline fuel is expected to be a major factor. Furthermore, strict federal regulations to curb carbon emissions, as well as the effort to achieve biodiversity through the production of biodiesel in developing regions, will further drive the growth of this segment.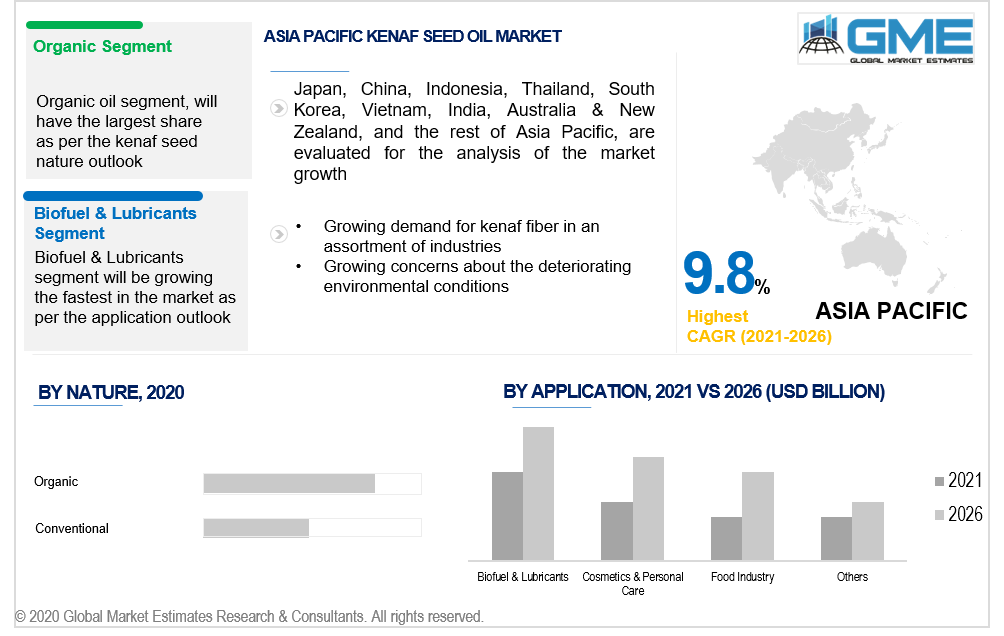 Kenaf Seed Oil Market: By Region
As per the geographical analysis, the market can be classified into North America (the United States, Canada, and Mexico), Asia Pacific (India, China, Japan, Malaysia, Singapore, and Rest of Asia Pacific), Europe (Germany, United Kingdom, Italy, France, Spain, Netherlands, and Rest of Europe), Middle East & Africa (Saudi Arabia, United Arab Emirates, and Rest of the Middle East & Africa) and Central South America (Brazil, Argentina, and Rest of Central and South America). At the moment, Asia Pacific has the highest sales share in the kenaf seed oil market and is expected to continue dominating throughout the projected timeline.Due to the extremely easy availability of natural resources for kenaf seed oil manufacturing, Asia Pacific countries are expected to retain the majority of the kenaf seed oil market demand over the forecast timeframe. Also, the government is increasing funding for kenaf development and concentrating on building a sustainable supply chain on its manufacturing. Furthermore, the consumer spending on functional foods and drinks, and also nutritional benefits such as better hair and skin nourishment, are expected to drive growth for kenaf seed oil over the forecast timeframe.
Kenaf Seed Oil Market Share and Competitor Analysis
ChemproTechnovation, Hemp, Inc, Shree Raghvendra Agro Processors, Thar Process, Inc. Advanced Biofuel Center, National Kenaf, and Pepagora, Gincoc Limited are some of the leading companies in the kenaf seed oil market.
Please note: This is not an exhaustive list of companies profiled in the report.
The Global Kenaf Seed Oil Market has been studied from the year 2019 till 2026. However, the CAGR provided in the report is from the year 2021 to 2026. The research methodology involved three stages: Desk research, Primary research, and Analysis & Output from the entire research process.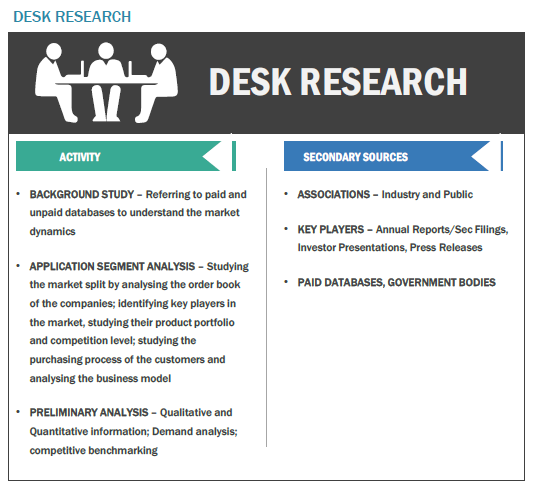 The desk research involved a robust background study which meant referring to paid and unpaid databases to understand the market dynamics; mapping contracts from press releases; identifying the key players in the market, studying their product portfolio, competition level, annual reports/SEC filings & investor presentations; and learning the demand and supply-side analysis for the Kenaf Seed Oil Market.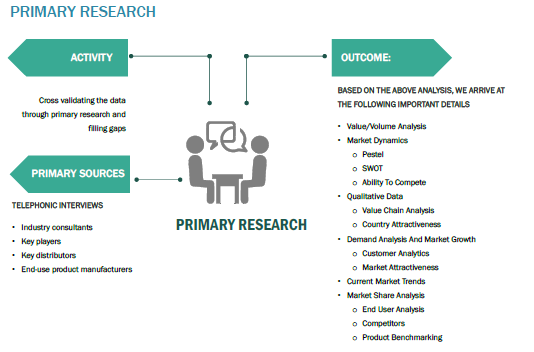 The primary research activity included telephonic conversations with more than 50 tier 1 industry consultants, distributors, and end-use product manufacturers.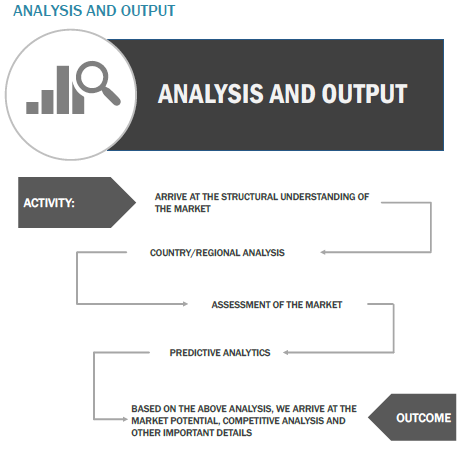 Finally, based on the above thorough research process, an in-depth analysis was carried out considering the following aspects: market attractiveness, current & future market trends, market share analysis, SWOT analysis of the company and customer analytics.