Laboratory Proficiency Testing Market: Insights
Laboratory proficiency testing is a type of testing used to ensure that specific laboratories perform as intended when doing measurements or experiments. Immunoassays, cell culture, PCR, chromatography, and other technologies are among the techniques used in laboratory competence.
The growth in the laboratory proficiency testing global market can be attributable to the growing use of laboratory proficiency testing as a result of stricter legislation, along with the increased emphasis on diagnostic laboratories as a result of the COVID-19 disease outbreak. The demand is also anticipated to be driven by the increasing number of new proficiency testing initiatives introduced by the main participants. Proficiency testing ensures that the procedures used to diagnose the new coronavirus are accurately interpreted, analyzed, and performed, resulting in high precision and faith in the outcomes. As a result, proficiency tests ensure the labs' diagnoses are correct.
Proficiency testing is important in all pandemic-affected areas. Multiple companies are launching programs to help laboratories overcome accreditation barriers, thus stimulating business expansion. Foodborne disease outbreaks are expected to rise as a result of the ingestion of contaminated foods that carry bacteria, viruses, chemical compounds, and parasites which is projected to spur industry development. More than 200 illnesses, including cancer and diarrhea, may be caused by food contamination.
The legalization of cannabis drugs in the United States in December 2018 and the subsequent growth of this industry are driving the need for protection and efficiency testing for medicinal use. As the market for high-potency cannabis grows, laboratories that have assays to precisely test cannabis potency have sprung up. As a result, demand growth is projected to be boosted by the introduction of legislation to test potency and contamination.
The high investment required for accurate and minute testing, on the other hand, could limit the global laboratory proficiency testing industry's development during the projected timeline. Nonetheless, the global laboratory proficiency testing industry is expected to expand as a result of increasing technological advancements and regulatory funding for drug and food products that must undergo stringent inspections.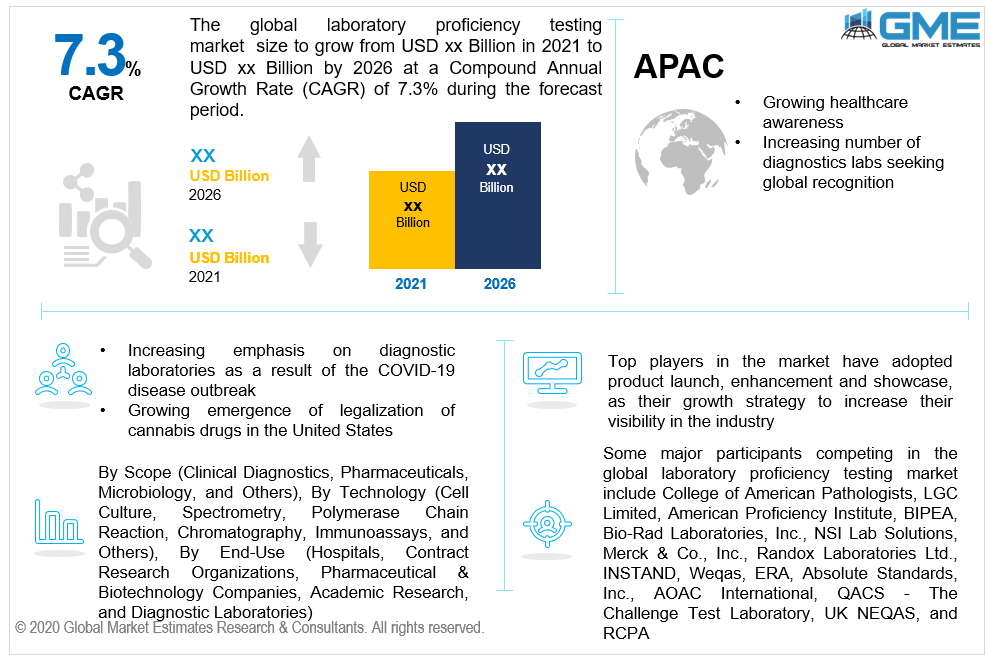 Laboratory Proficiency Testing Market: By Scope
Based on the scope of the laboratory proficiency testing, the market can be categorized as clinical diagnostics, pharmaceuticals, microbiology, and others. The clinical diagnostics category is the market leader in this segment. This is due to the advancement of complex diagnostic tests and the rising incidences of early diagnosing, which allows for quality control by proficiency testing an important feature of clinical diagnostics. Moreover, proficiency testing helps clinical diagnostics in increasing their reproducibility, effectiveness, and precision. Clinical anatomy, immunochemistry, hematology, oncology, molecular diagnostics, and coagulation are all subcategories of clinical diagnostics. Due to the prevalence of testing for allergies, autoimmune disorders, hormones, respiratory diseases, urinary electrophoresis, serum electrophoresis, and immunoglobulin in the segment, immunochemistry holds a significant market share.
Quality management labs in the pharmaceutical sector play a critical part in the quality control of items that are about to be launched to the marketplace. As a result, these laboratories must evaluate themselves regularly. To better satisfy the diverse demands in the pharmaceutical sector, LGC provides the PHARMASSURE service.
Laboratory Proficiency Testing Market: By Technology
Based on the technology incorporated in these laboratory proficiency testing, the market can be segmented as cell culture, spectrometry, polymerase chain reaction, chromatography, immunoassays, and others. The cell culture category is the market leader in this segment. Due to the surge in its usage in diagnosing the prevalence of contagious microorganisms in the blood, it is expected to rise at a significant rate. In the pharmaceutical sector, these tests are used to assess the efficacy of vaccinations and cell culture-based items. The increased use of cell culture tests to get the most out of microbial strain cultures has coincided with the increased use of cell culture-based drugs such as monoclonal antibodies. In this category, proficiency tests are accessible to assess laboratory performance and scan for contamination and toxins in cell cultures.
Due to its increasing usage in the detection of specific antibodies or antigens in the blood, the immunoassays category had a competitive advantage. They are accurate and simple to use, and they could perhaps be employed in laboratories as well as on-site. They can also be used to determine the concentration of certain other analytes in the blood using immune responses.
Laboratory Proficiency Testing Market: By End-Use
Based on the end-use of the laboratory proficiency testing market can be categorized as hospitals, contract research organizations, pharmaceutical & biotechnology companies, academic research, and diagnostic laboratories. The hospital's category is the market leader in this segment., this is due to its widespread usage by patients, hospitals, and doctors. In this market, there are two categories of labs: specialization and autonomous. For specimens, diagnostic labs must keep up with hospitals. However, these laboratories' ability to offer a wide variety of tests in a short amount of time is a strategic advantage. This provides a strategic advantage causing coupled sales volume growth for both the hospital and diagnostic labs
Over the forecast period, contract research organizations are predicted to expand significantly. Contract research organizations are primarily located in the Asia Pacific's emerging economies. Contract research organizations are likely to extend the scope of laboratory proficiency tests as a result of more strict FDA requirements for research and development activities and clinical trials.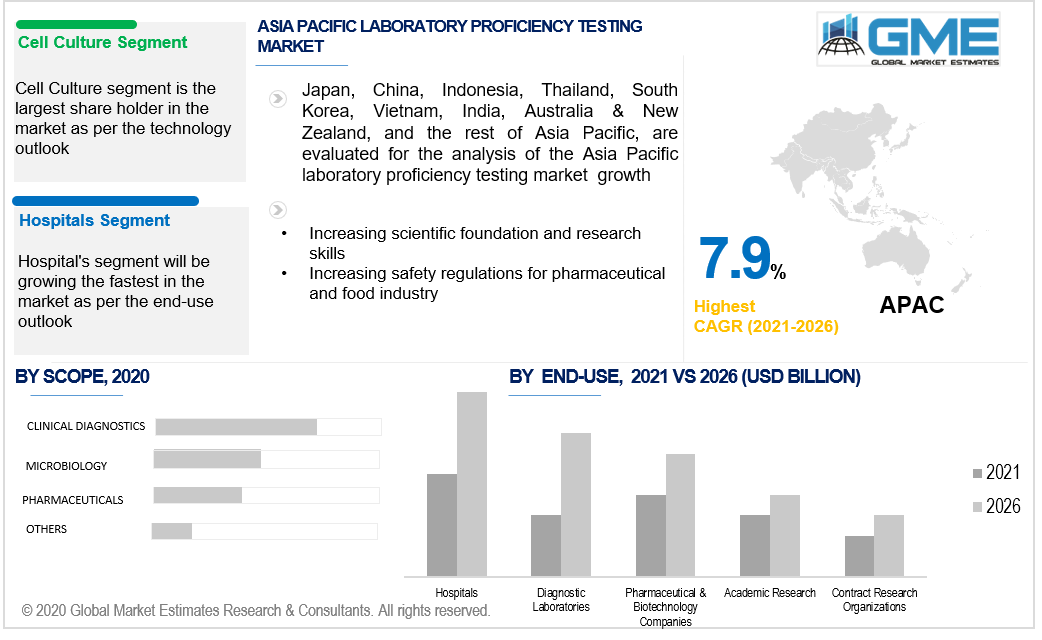 Laboratory Proficiency Testing Market: By Region
As per the geographical analysis, the market can be classified into North America (the United States, Canada, and Mexico), Asia Pacific (India, China, Japan, Malaysia, Singapore, and Rest of Asia Pacific), Europe (Germany, United Kingdom, Italy, France, Spain, Netherlands, and Rest of Europe), Middle East & Africa (Saudi Arabia, United Arab Emirates, and Rest of the Middle East & Africa) and Central South America (Brazil, Argentina, and Rest of Central and South America). The laboratory proficiency testing market's leader by region is North America. This can be attributable to the legislative framework's strictness and the increasing use of proficiency testing. The involvement of key participants in the United States is anticipated to contribute to the regional industry's expansion. Furthermore, developed economies namely the United States and Canada have highly competent workers which stimulate the demand. As a result, regional laboratory proficiency testing is estimated to grow in the forecast period.
Asia Pacific is projected to lead the laboratory proficiency testing market in the terms of CAGR. The market is expected to expand due to growing healthcare awareness and an increase in the number of labs seeking global recognition in the region. Other key factors that drive the laboratory proficiency testing market's development include the region's increasing scientific foundation and research skills, the expansion of Asian biologics food, and pharmaceutical industries, and the region's strong base of CROs.
Laboratory Proficiency Testing Market: Share & Competitor Analysis
Some major participants competing in the global laboratory proficiency testing market include College of American Pathologists, LGC Limited, American Proficiency Institute, BIPEA, Bio-Rad Laboratories, Inc., NSI Lab Solutions, Merck & Co., Inc., Randox Laboratories Ltd., INSTAND, Weqas, ERA, Absolute Standards, Inc., AOAC International, QACS - The Challenge Test Laboratory, UK NEQAS, and RCPA.
Please note: This is not an exhaustive list of companies profiled in the report.
Check the Press Release on Global Laboratory Proficiency Testing Market Report