Global Live Streaming Pay-Per-View Market Insights
Pay-per-view (PPV) is a pay television or webcast program that allows viewers to buy activities to watch on a private telecast. The broadcaster reveals the case to anyone who orders it at the same time. The pandemic paved the way for numerous business alliances, growing demand for the market in the education sector, increasing penetration of the market in the entertainment sector, the webinars by industry experts for educational purposes, and low broadband setup costs are expected to be the major factors for the growth of the live streaming pay-per-view market. During the projected era, the live streaming pay-per-view market is expected to expand at a high CAGR.
Live streaming is a form of digital streaming technology that captures and transmits content in real-time. The term "streaming" is often used, although this abbreviated term is confusing since it can refer to any content that is simultaneously broadcast and replayed without requiring a completely downloaded file. Pay per view is a corporate concept in which customers must purchase a ticket to view paying video material that is either live or pre-recorded. Businesses are putting their content on hold in exchange for a monthly fee. For the past ten years, live broadcasting has revolutionized the way film producers engage with their audiences.
Pay-per-view live streaming has several other advantages than ROI, including having a better understanding of your target audience while leveraging your earnings to improve your performance efficiency over time. Many companies are adopting the pay-per-view model, and it is proving to be successful. The Northwoods League has seen strong year-over-year development and it has been able to significantly develop its subscription offering over the period. While several recent pay-per-view live streaming events have been a success, people who think no one will pay for their content will be surprised. With targeted advertising and enough desire, people will commercialize a remarkable number of alternatives.
Many new media firms are gradually focused on introducing pay-per-view models for live streaming their activities. This will encourage both the digital media provider and the performers to benefit from a new profitability structure. Companies and musicians profit greatly from such revenue methods in terms of scope and funding. As a result, certain conditions contribute to industry expansion. Furthermore, different business verticals are focusing on implementing these streaming services to expand the scope of their content.
The market also is fuelled by the rise of broadband internet penetration and link speeds, as well as the rising usage of smartphone and streaming applications, which contributes to a gradual increase in consumption for all pay-per-view media. Boosting prosperity, especially in Asian countries, causes an explosion of demand for education, culture, as well as entertainment. As a consequence, all types of interactive media are suitable for fulfilling these criteria.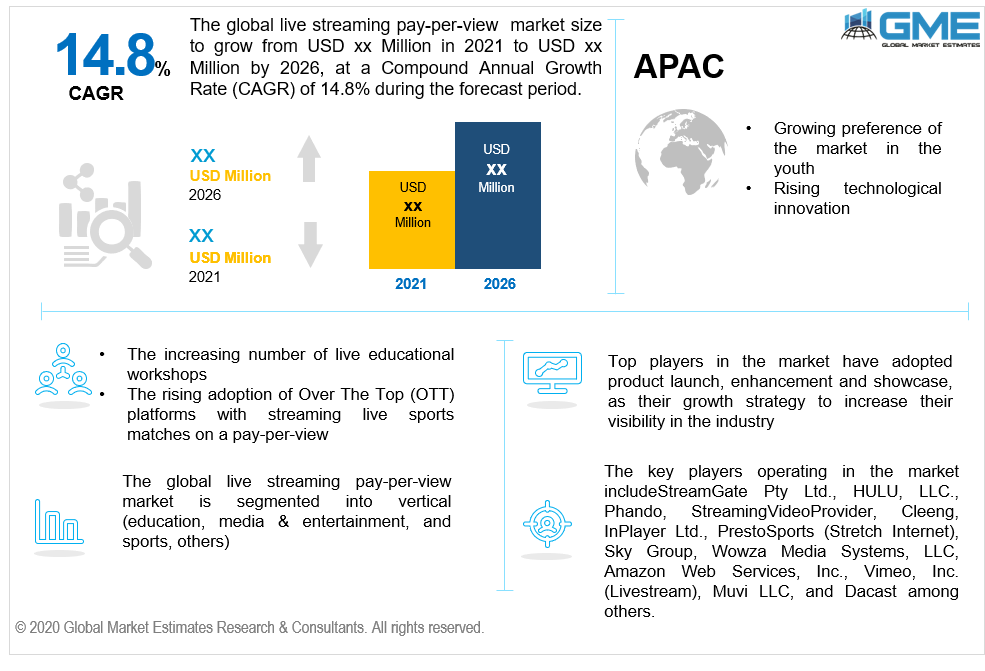 Global Live Streaming Pay-Per-View Market: By Vertical
The media & entertainment segment in the market of live streaming pay-per-view is predicted to be the fastest-growing segment. The segment's growth is being fueled by increasing acceptance, increased collaboration, and artists and musicians hosting a growing number of live performances and events.
The segment is expected to face a significant shift as a result of the advent of emerging technologies such as artificial intelligence, which has been applied by many companies in the entertainment industry to produce personalized recommendations based on user use as well as making the method increasingly competitive for content creation. Furthermore, AI assists companies in streamlining both pre-and post-production processes, allowing for more integrated workflows and therefore fewer resources. As a result of ever-changing trends, particularly in the entertainment industry, with different platforms, genres, and accessibility, the way viewers view content has changed.
The sports segment is anticipated to be the dominating segment in the live streaming pay-per-view market. The growing range of additional sporting activities has broadened the reach of live streaming on a pay-per-event platform in recent years. Consumption patterns have shifted as a result of elevated acceptance of over-the-top channels that broadcast live major sporting events on a pay-per-view platform, in addition to the increased number of sports matches. This has aided a vast number of new media firms in generating significant income from live streaming.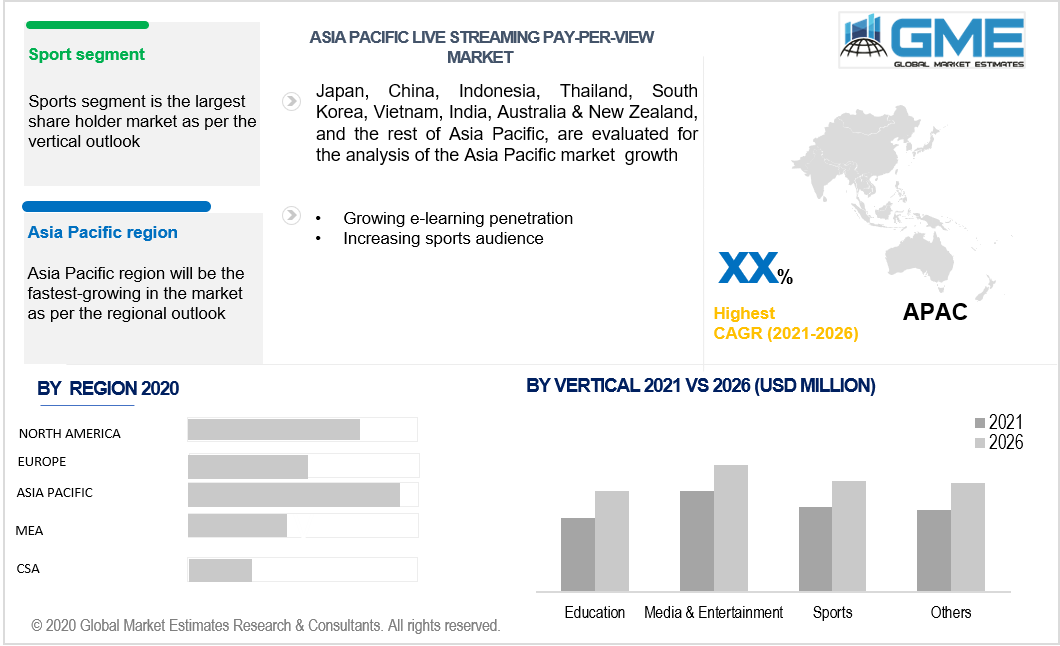 Global Live Streaming Pay-Per-View Market: By Region
The Asia Pacific region in the live streaming pay-per-view market is forecasted to be the fastest-growing region. The factors that are driving this growth are the growing preference of the market in the young population, increasing technological advancement, growing e-learning penetration, increasing sports audience, and boosting internet connectivity speed.
The main reason for this region's growth in internet penetration in the region. Over the past few years, the mobile internet has seen exponential growth all over the world. Throughout the Asia Pacific region, cellular network downloading rates have vastly improved, including Singapore, Japan, and South Korea all displaying remarkable connection speeds. Since the beginning of 2011, the amount of time people spend on the internet regularly has gradually risen across the Asia Pacific region. It is also expected that the amount of excessive use of the internet per day will keep rising until 2021.
Global Live Streaming Pay-Per-View Market Share and Competitor Analysis
The global live streaming pay-per-view market is dominated by a small number of major players including StreamGate Pty Ltd., HULU, LLC., Phando, StreamingVideoProvider, Cleeng, InPlayer Ltd., PrestoSports (Stretch Internet), Sky Group, Wowza Media Systems, LLC, Amazon Web Services, Inc., Vimeo, Inc. (Livestream), Muvi LLC, and Dacast, among others.
Please note: This is not an exhaustive list of companies profiled in the report.
In April 2021: Verizon along with Amazon Web Services launched the Verizon 5G Edge with AWS Outposts approach to offer cloud edge processing to business users, as part of their private 5G partnership. Verizon's private 5G networks with private edge platforms are combined with AWS Outposts, a completely integrated infrastructure that brings AWS connectivity to almost every data center, co-location space, or on-premises location.
In January 2021: Vimeo, the biggest and most popular all-in-one video platform, recently announced a set of tools to help advertisers and companies use video to attract and activate new consumers.
The Global Live Streaming Pay-Per-View Market has been studied from the year 2019 till 2026. However, the CAGR provided in the report is from the year 2021 to 2026. The research methodology involved three stages: Desk research, Primary research, and Analysis & Output from the entire research process.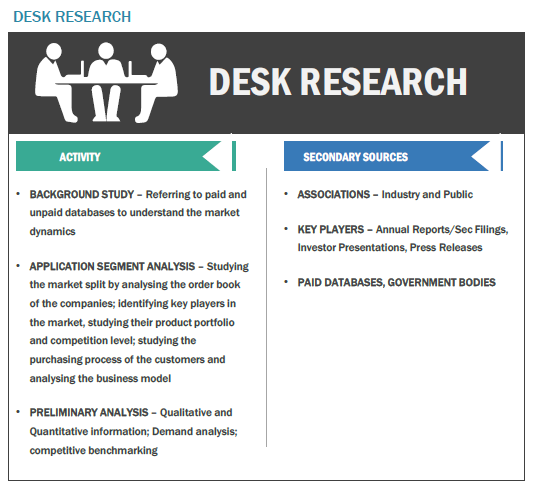 The desk research involved a robust background study which meant referring to paid and unpaid databases to understand the market dynamics; mapping contracts from press releases; identifying the key players in the market, studying their product portfolio, competition level, annual reports/SEC filings & investor presentations; and learning the demand and supply-side analysis for the Live Streaming Pay-Per-View Market.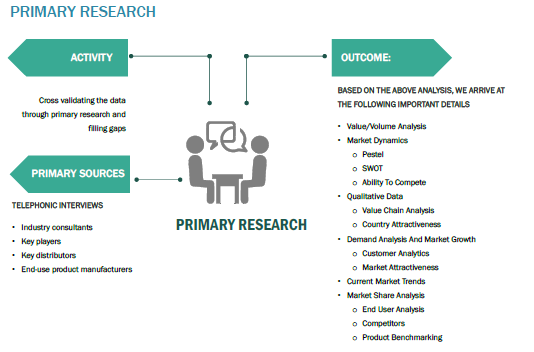 The primary research activity included telephonic conversations with more than 50 tier 1 industry consultants, distributors, and end-use product manufacturers.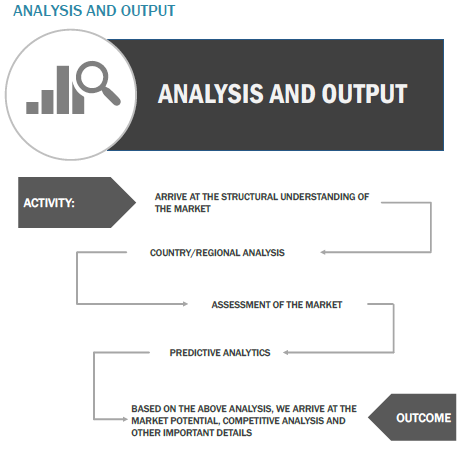 Finally, based on the above thorough research process, an in-depth analysis was carried out considering the following aspects: market attractiveness, current & future market trends, market share analysis, SWOT analysis of the company and customer analytics.