Low Level Laser Therapy Market Insights
Low level laser therapy is popularly known as cold laser therapy, low-power laser therapy (LPLT), photobiomodulation, and soft laser biostimulation. Cold laser treatment is a low-power laser-based strategy that is utilized to lower body pain and ailment. It is a non-intrusive and non-invasive treatment option for getting help from ailments and pain. Cold laser treatment machines use laser therapy of low-power and insignificant nuclear power for recuperating wounds and pain. The light transmitted through the gadget can infiltrate as profound as 5 cm into the skin. It is then retained productively by the cells of the body, which brings about efficient metabolism of cells, subsequently assisting with upgrading the recuperation of damaged or injured cells and tissues. Cold laser treatment machines don't utilize focused energy lasers and are in this way protected to use for home purposes. There are a few cold laser treatment gadgets accessible in the market today for bed side medical assistance at home. With weight below 2 pounds, battery-operated, hand-held, efficient, and cost-effective nature of the product, the market will foresee rapid growth from 2021 to 2026. Such treatments require more than 2-4 times therapy in a week. The market also has varied types of devices with different frequencies of wavelength light for superficial and deep penetration treatment (Class 1 medical device). Wavelengths of 600-700 nanometres are subjected to superficial tissues, whereas for a deeper treatment, wavelengths of 780 and 950nm are mostly used. With minimal to no side effects, this device is the most preferred device for long-term treatment plans. Besides its ill effects on eyes and for cancer patients, this device has now received FDA approval to use in regular treatment procedures for pain and wound management. The major application area of this device is pain caused by rheumatoid arthritis and osteoarthritis, pain management, wound healing, burn scar improvement, inflammation and swelling, hair loss treatment, therapy for traumatic brain injury, migraines and headaches, and healing from mouth infections.
Hence, the increasing application area of this device will propel the market demand from 2021-2026. The top market devices are Proaller Cold Laser Red Light Therapy Device, Tendlite Joint Pain Home Therapy, Multiple Radiance Medical Solo TQ Portable Laser Therapy Machine, YJTSKY Laser Therapy Device, Dynasty Professional Cold Laser Therapy, and LaserTRX Laser Therapy among others. The increasing demand for non-invasive or non-surgical laser treatment procedures will help the cold therapy or low level laser therapy market grow rapidly. Almost 1/3rd of the total US patient population is suffering from some of the other forms of fibromyalgia or musculoskeletal pain in the areas of the lower back, shoulder, and neck.
Hence, with the rising prevalence of fibromyalgia, severe/ chronic arthritis, general muscle spasm, orthopedic complications, and neurological disorders the market will witness increasing demand for portable and efficient LLLT devices. Due to the FDA approval, the market has bagged a favorable reimbursement norm which has, in turn, helped the market grow rapidly. Countries like the US, Germany, Canada, UK, Mexico, and others have witnessed increasing product launch activities in this market.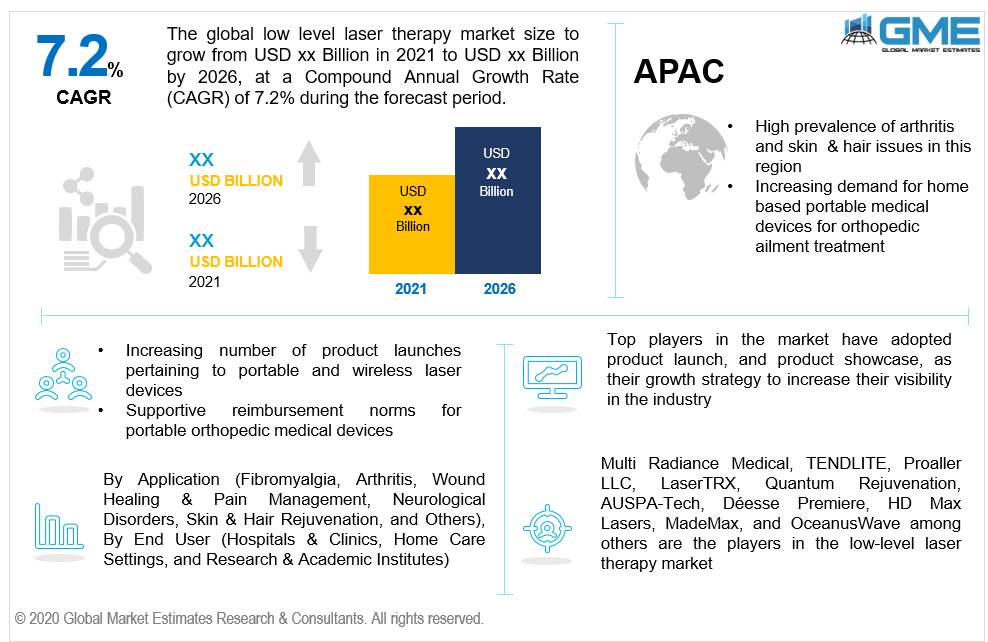 Low Level Laser Therapy Market: By Application
Based on the application the market can be segmented into fibromyalgia, arthritis, wound healing & pain management, neurological disorders, skin & hair rejuvenation, and others. However, based on the disease analytics and prevalence, the market for fibromyalgia or any sort of musculoskeletal pain will be the top market domain from 2021 to 2026. The constantly rising demand for home-based treatment technologies to cure general orthopedic issues will boost the market demand during the forecast period. However, the low level therapy's application in neurological disorders will be the fastest-growing segment owing to increasing research activities related to the usage of LLLT for Alzheimer's and Parkinson's disease. Along with this trend, the market will also witness a gradual increase in demand for skin and hair treatment pertaining to loss of hair and skin acne issues.
Low Level Laser Therapy Market: By End-User
Based on customer/ end-user analysis, the market is split into hospitals & clinics, home care settings, and research & academic institutes. Based on the features of the product, the home care settings will be the largest and fastest-growing segment in the market. High efficiency, portability, low cost, non-invasive, independent treatment protocol using this device makes it the most demanding product for home care settings.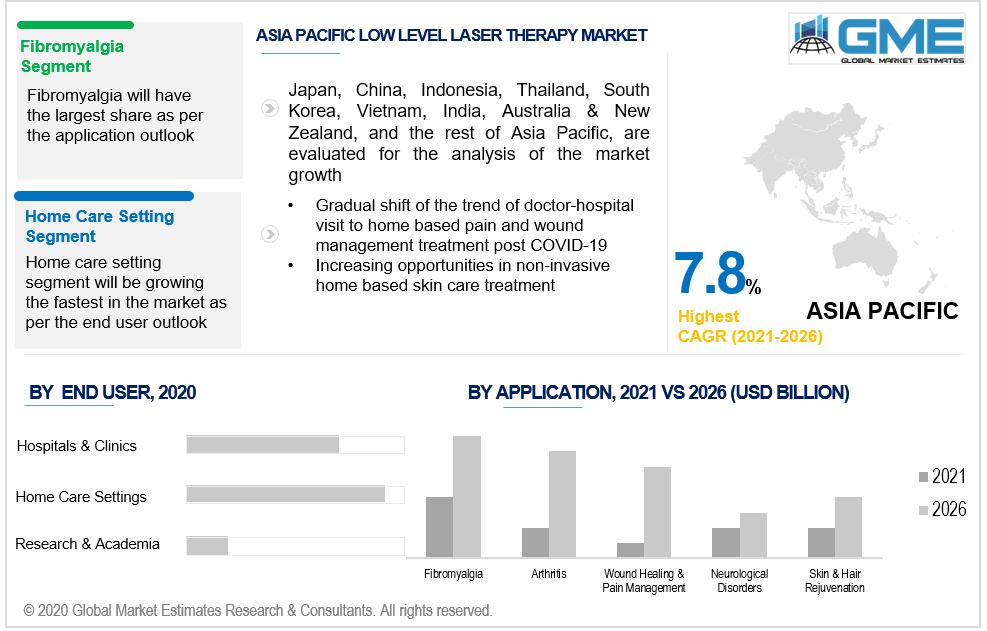 Low Level Laser Therapy Market: By Region
As per the geographical analysis, the market can be classified into North America (the US, Canada, and Mexico), Asia Pacific (India, China, Japan, Malaysia, Singapore, and Rest of Asia Pacific), Europe (Germany, United Kingdom, Italy, France, Spain, Netherlands, and Rest of Europe), Middle East & Africa and Central South America. Owing to awareness amongst general practitioners and physicians, chiropractor, and orthopedic experts regarding the non-side effect treatment method for pain and wound management and rising non-organic growth strategies (product launch) witnessed in countries like U.S. and Canada, the market for North America will be dominant throughout the forecast period in terms of revenue or market value. Besides, owing to the huge patient population base witnessed in countries like Malaysia, China, India, Japan, Singapore, Australia, the market for APAC will be seen to be growing the fastest. The rising prevalence of rheumatoid arthritis and osteoarthritis in these countries will act as a major driver for market growth from 2021 to 2026. As per WHO, after the high-income countries (441 million), the most affected countries with musculoskeletal disorders are the South-East Asia Region (369 million) and Western Pacific Region (427 million).
Low Level Laser Therapy Market Share and Competitor Analysis
Multi Radiance Medical, TENDLITE, Proaller LLC, LaserTRX, Quantum Rejuvenation, AUSPA-Tech, Déesse Premiere, HD Max Lasers, MadeMax, and OceanusWave among others are the players in the low-level laser therapy market.
Please note: This is not an exhaustive list of companies profiled in the report.
The Global Low Level Laser Therapy Market has been studied from the year 2019 till 2026. However, the CAGR provided in the report is from the year 2021 to 2026. The research methodology involved three stages: Desk research, Primary research, and Analysis & Output from the entire research process.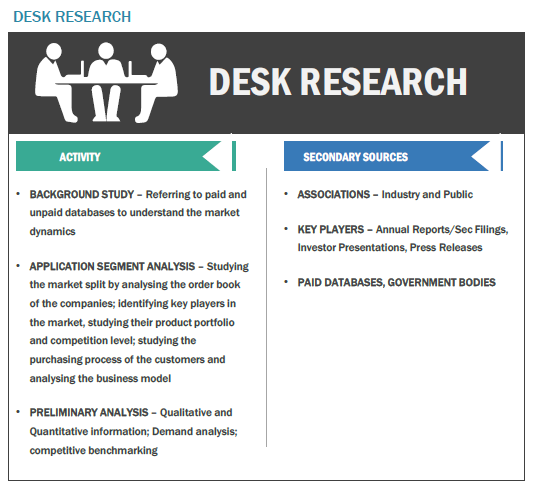 The desk research involved a robust background study which meant referring to paid and unpaid databases to understand the market dynamics; mapping contracts from press releases; identifying the key players in the market, studying their product portfolio, competition level, annual reports/SEC filings & investor presentations; and learning the demand and supply-side analysis for the Low Level Laser Therapy Market.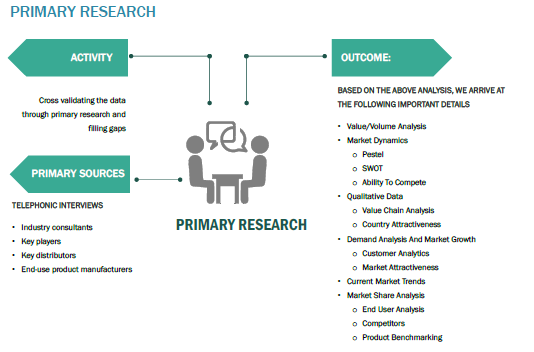 The primary research activity included telephonic conversations with more than 50 tier 1 industry consultants, distributors, and end-use product manufacturers.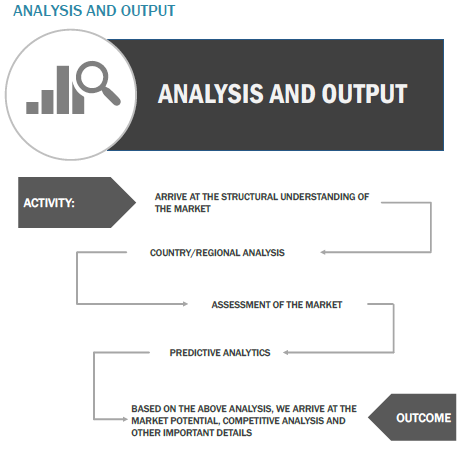 Finally, based on the above thorough research process, an in-depth analysis was carried out considering the following aspects: market attractiveness, current & future market trends, market share analysis, SWOT analysis of the company and customer analytics.