Micromachining Market Insights
Micromachining is the method of machining small parts with tools more miniature than 0.015 inches in diameter and thresholds of only a few tenths. Micromachining can produce very small and intricate pieces required for particular applications, especially in medical and semiconductors industries. It takes machinery with durable cutting and sufficient spindle speed tools to provide the strength and repeatability to run at high speeds. Micromachining tools can be as small as 0.001 inches in diameter, which is almost 1/3 diameter of a human hair, to deliver the precision and detail required.
The foremost benefit of micromachining utilizing specialized procedures and tools is that it permits the reliably repeatable and efficient production of small and complex parts with tight thresholds. Micromachining provides a single process machining system for smaller parts, allowing turning and milling to be performed on the same machine.This permits the parts to be machined more efficiently and lessens lead time.
Micromachining is perfect for machining models and parts with micro specialties in both metals and plastics and has various applications.Micromachining utilizing machines with great Swiss-type lathes or spindle speeds has the advantage of producing more precise dimensions, cleaner cuts, and tighter thresholds to meet their specialized applications in the medical and semiconductors industries.
Implementing micromachining in precision engineering work allows you to take on a broader variety of bids and produce more diverse and advanced parts.Even larger pieces can be machined with greater speed and accuracy on machines utilized for micromachining.
Manufacturers are benefiting from the growing use of micro components in highly complex frameworks. The combination of these systems with Computer-Aided Manufacturing (CAM) has aided in reducing the time needed for workpiece manufacturing and enabling the hassle-free manufacture of micro parts.
The emerging demand for miniaturization of electric products, as well as the increasing preference for laser-based micromachining over the traditional approach, are driving the micromachining market's rapid growth.The rising advancements in production technologies have reduced the time needed for manufacturing parts, further boosting the market growth.
The funding granted by government agencies such as the European Commission (EC) and the U.S. National Science Foundation (NSF) to develop micromachining systems has propelled the market growth significantly.
In recent years, there has been an escalation in the number of events such as the International Conference on micromachining, raising consumer awareness. The expanded adoption of micromachining for the fabrication of precision tools is accelerating market growth.
The COVID-19 has compelled numerous governments around the world to enact stringent laws limiting people's freedom of travel. One of these measures was the Singapore Government's activation of "Circuit Breaker" in April 2020, which culminated in the closure of workplaces and schools. These government policies have had an effect on the output capacities of some of the market's main players including Georg Fischer, Ltd., and Makino.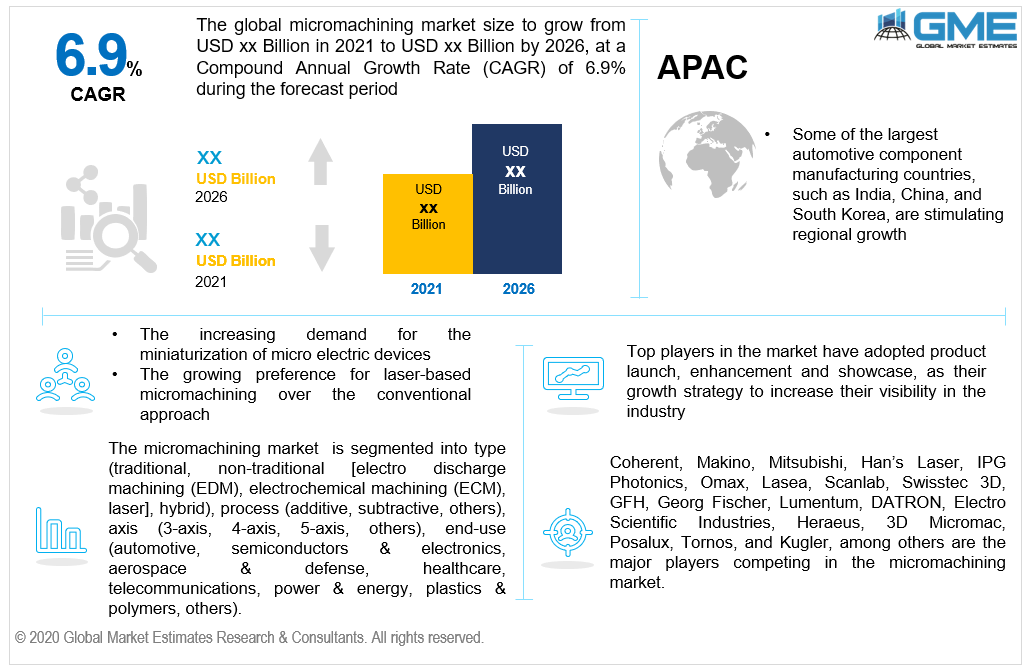 Micromachining Market: By Type
Based on the type segment the market is segmented into three segments: hybrid, traditional, and non-traditional. The non-traditional segment is further segmented into electro-discharge machining (EDM), electrochemical machining (ECM), and laser.
Laser micromachining is the dominant segment that offers precision, ease of use, and widespread usage in numerous industries. These advantages of laser micromachining drive the market for non-traditional type micromachining. Moreover, manufacturers of lasers focus on the evolution of ultrafast lasers for micromachining employment, boosting the market growth.
The traditional segment is expected to grow at a significantly higher CAGR over the forecast era due to the growing use of micro-milling, which has emerged as a flexible and rapid process for material removal and the production of microstructures.
Micromachining Market: By Process
Based on theprocess, the market is segregated into three segments: additive, subtractive, and others.In 2019, the subtractive division led the industry as the biggest shareholder. This can be due to the expense and time advantages, as well as the widespread use of mass manufacturing. It also has benefits such as the ability to refine a wide range of materials and fabricate large-scale items.
Additive machining is also recognized as 3D printing. The growing use of 3D printing for micromachining in industries such as semiconductors and electronics, as well as medical and aesthetics, due to its ability to mass-produce personalized equipment and application versatility, declares the additive process to have the highest growth rate in the micromachining industry.This method is also used to deposit thin-film layers on semiconductor wafers for the production of Microelectromechanical Systems (MEMS) sensors.
Micromachining Market: By Axis
The 5-axis segment is intended to create the fastest CAGR over the predicted period due to the higher cutting speed.5-axis micromachining enables the production of extremely complex parts from solid that would otherwise have to be cast.The use of the 5-axes is visible in the production of medical components, aerospace components, automobile, petrochemical industry parts, and military-grade products. The incorporation of a fifth dimension to micromachining increases the machine's possible utilization.
In 2019, the 3-axis segment led the industry, accounting for thelargest share of the market in terms of revenue. The growing use of 3-axis systems in the fabrication of lens arrays and other non-rotationally symmetric free-form optics is driving segment demand.
Micromachining Market: By End-Use
By end-use, the market is segmented intoautomotive, semiconductors & electronics, aerospace & defense, healthcare, telecommunications, power & energy, plastics & polymers, and others.
In recent years, there has been an expanded adoption in the aerospace & defense division to manufacture actuators, sensors, electronic assemblies, and optical MEMS, among few others. As an outcome, the aerospace & defense segment will grow at a significantly large CAGR over the forecast period. Also, these systems are used in the aerospace & defense industry to machine parts used in numerous systems such as Light Detection and Ranging (LIDAR) systems, flight control & actuation systems, control panels for cockpits, missile detection & tracking systems, and military robotics, among few others. They are also used to fabricate numerous sensors employed in tactical grade inertial purposes, structural modeling, platform stabilization, and structure health monitoring.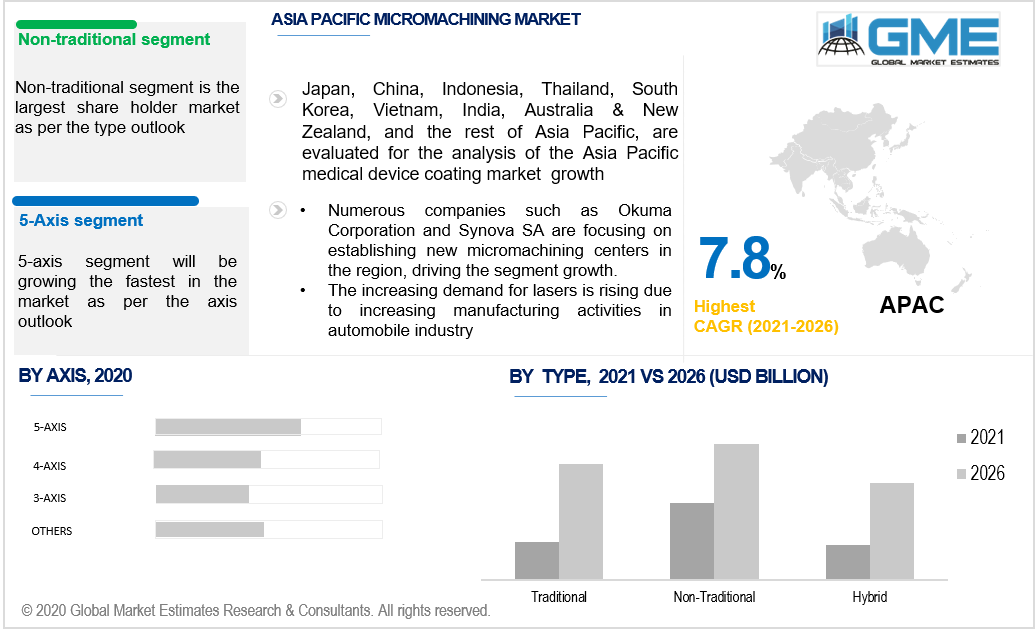 Micromachining Market: By Region
The Asia Pacific region will dominate the micromachining market as well as grow at a higher CAGR rate over the forecast period. Some of the key factors projected to drive the development of this region's micromachining industry include increased industrialization, rapid population growth, and a favorable economic outlook.Moreover, some of the largest automotive component manufacturing countries, such as India, China, and South Korea, are stimulating regional growth. Significant automotive components fabricated utilizing micromachining include automotive sensors, fuel injectors, and electrical assemblies, among few others. Numerous companies such as Okuma Corporation and Synova SA are focusing on establishing new micromachining centers in the region, driving the segment growth.
North America led the micromachining market and is expected to hold the highest market share in 2019, owing primarily to the automotive sector in the United States. The increasing use of micromachining techniques in the manufacture of automotive sensors, actuators, vehicle dynamic controls, and navigation systems is propelling the industry ahead.
Micromachining Market Share and Competitor Analysis
OpTek Ltd., Coherent, Makino, Mitsubishi, Oxford Lasers, Han's Laser, Amada Weld Tech Co., Ltd., IPG Photonics, Omax, Lasea, Scanlab, Swisstec 3D, GFH, Georg Fischer Ltd, Lumentum, DATRON, Electro Scientific Industries, Heraeus, 3D Micromac, Posalux, Tornos, and Kugler, among others are the major players competing in the micromachining market.
Please note: This is not an exhaustive list of companies profiled in the report.
In September 2019, Georg Fisher Ltd.established its new manufacturing facility in Biel, Switzerland for machining solutions.
In July 2019, Makino unveiled the U6 H.E.A.T. Extreme wire EDM unit, which uses 0.016-inch wire "Technology for coated wires As opposed to conventional methods, this system improves rough machining speeds by up to 300 percent "l 0.010" brass wire when using the same amount of wire.