Motor Monitoring Market: Insights
Motor monitoring is a process of constantly monitoring motors, clutches, and generators, in a wide range of end industries that are characterized by high conditions, with sensors permanently installed on motors to sense their actions. Sensors are connected to external devices like monitors, central servers and, analyzers, and data is transmitted to plant operators through a wired or wireless network.
The market is anticipated to grow attributed to reasons such as an increase in the use of motor condition monitoring in sports, an increase in the acceptance of motor condition monitoring in automotive and transportation, and an increase in demand for thermal imaging applications. Furthermore, the growing use of intelligent transportation systems and aerospace generates lucrative market opportunities. Furthermore, the global acceptance of automated condition monitoring technologies by the automotive, oil & gas, and food & beverage industries is driving the global motor monitoring market growth until 2026.
Monitoring the motion or temperature of the motor case or bearings can anticipate machinery failure; it can also be detected by monitoring and analyzing current in motors. End users are insisting on the implementation of predictive maintenance due to the proliferation of cloud computing and powerful applications. Predictive analytics provides a range of advantages to the manufacturing sector, including risk avoidance and mitigation, optimized time and expense, effective resource use, and insights for making better strategic decisions.
Electric motors are subjected to a range of operating and environmental hazards that inflict thermal stress on the windings, lowering the insulating quality and shortening the motor's lifespan. As a result, motor monitoring has become a significant part of locating possible issues, as well as the most effective technique.
Around 45 percent of overall energy output is accounted for by electric motors and drives. However, if electrical devices are not properly maintained, they consume approximately 5% to 10% more electricity, reducing efficiency and revenue. The motor can be monitored wirelessly, which allows for more precise capture of system parameters as well as automated detection of irregular conditions and reporting to a server.
The COVID-19 pandemic, on the other hand, is impacting activity in manufacturing plants such as automotive and mining. However, the digital transformation provides manufacturers with major benefits, such as real-time insight into equipment that has implemented the cloud solution and the ability to analyze the state of their motor.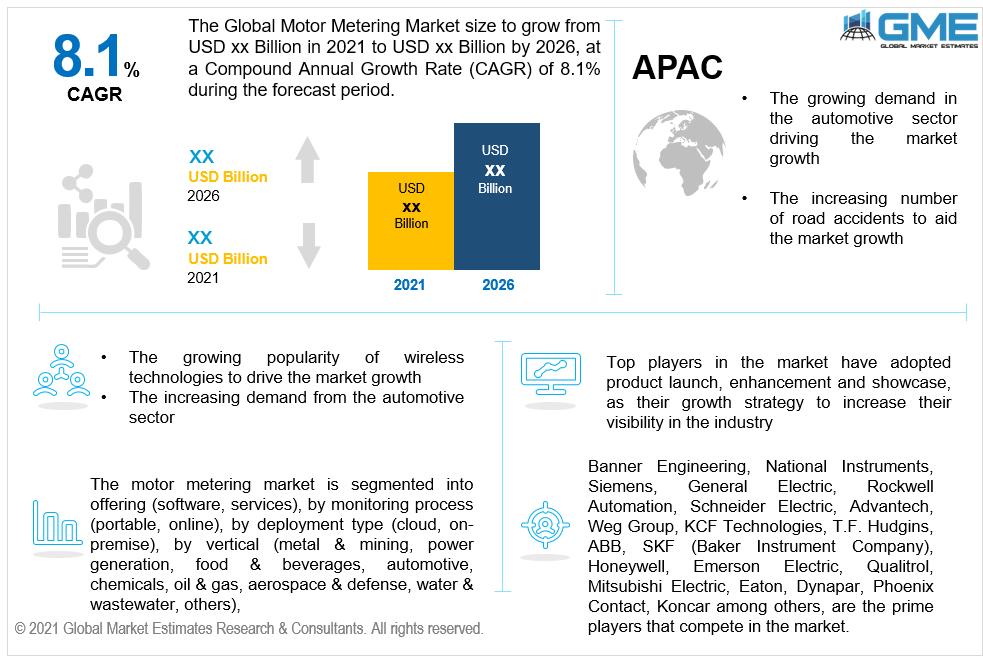 Motor Monitoring Market: By Offering
During the projected timeframe, the hardware segment is projected to dominate the market. Hardware like probes, sensors, and detectors are used to track the motor's state.They aid in the monitoring of a motor's corrosion, noise, temperature, and vibration.
During the expected timeframe, the software segment is projected to expand significantly. The growing demand for data analytics to reduce motor errors and faults is expected to propel the segment further. It aids in the proper study of motors regularly, saves time and money, and aids in making appropriate decisions following industry standards.
Motor Monitoring Market: By Deployment Type
Over the forecasted timeframe, the on-premise segment accounted for the largest sales revenue. On-premise software, on the other hand, necessitates longer integration times, domestic IT service, and domestic server hardware making it more expensive than cloud software.
Cloud implementation is projected to boost at the highest rate over the forecast timeframe. Through accessing temperature, vibration, and current data at anytime from anywhere in the facility, cloud-based software assists industry staff in identifying equipment faults and issues promptly, as well as preventing downtime.
Motor Monitoring Market: By Monitoring Process
During the forthcoming years, the online monitoring process segment is expected to hold the largest share of the market and is also anticipated to witness a significant growth rate. The demand is being driven by rapid enhancements in the chemical, oil and gas, and energy, sectors. The core business, petrochemical, offshore, power generation, chemical, and marine industries are the primary users of the equipment. It's used in a variety of piping systems on ships, including cargo piping, bunker piping, and ballast water.
The portable process size is expected to witness high growth over the forecasted timeframe. This approach aids in accurately determining the condition of the motor's insulation systems, as well as predicting motor repairs or modifications, as well as its lifetime.
Motor Monitoring Market: By Vertical
During the projected timeframe, the oil and gas segment is projected to dominate the market. In response to the pressure created by fluctuating oil prices in the global market, oil and gas companies have focused on rising efficiency and reducing operational costs; this allows them to choose and enforce predictive maintenance systems, such as motor monitoring, to ensure the continuous operation of plant machinery and avoid unscheduled downtime.
Over the forthcoming years, the market for the automotive & transportation end-use segment is expected to grow at the fastest pace. Automobile manufacturers must concentrate on efficient quality control and maintain high output levels in light of changing customer preferences. This necessitates good motor conditions in machines.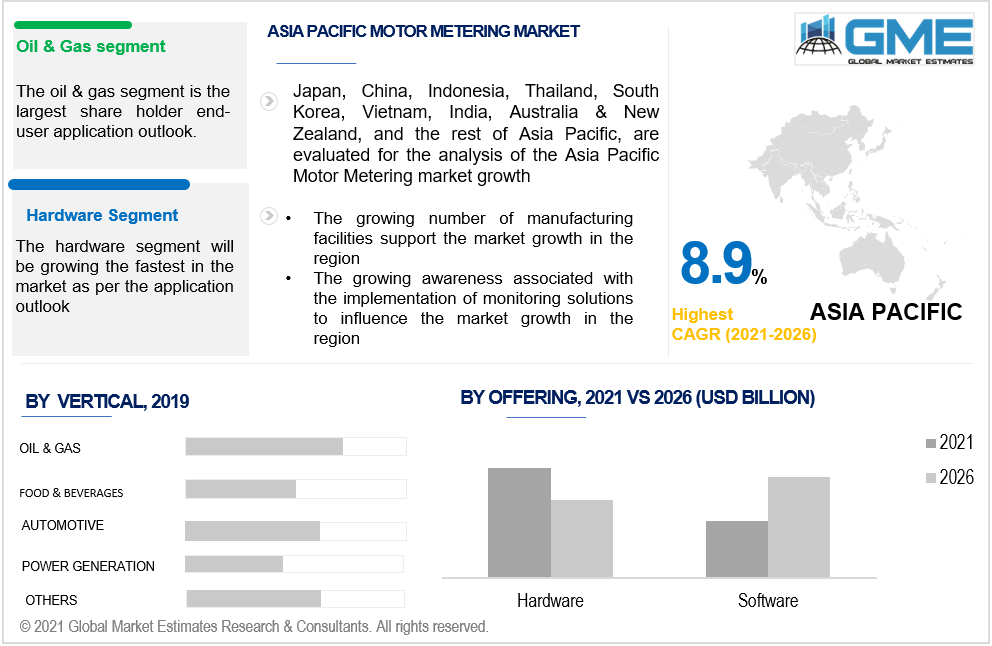 Motor Monitoring Market: By Region
The North American region will continue to lead the market in terms of revenue in the coming years. It is due to emerging technology and infrastructure networks being introduced. The regional market will continue to grow as innovations in motor monitoring software, like enhanced protection measures for cloud users and advances in cloud computing, are implemented.
Furthermore, the Asia-Pacific region experienced a substantial CAGR due to the growth of manufacturing industries and growing awareness of the benefits of adopting monitoring solutions. Since China, Japan, South Korea, and India have wide manufacturing industries, there is a steady demand for motor surveillance systems in the Asia Pacific region.
Motor Monitoring Market: Share & Competitor Analysis
Banner Engineering, National Instruments, Siemens, General Electric, Rockwell Automation, Schneider Electric, Advantech, Weg Group, KCF Technologies, T.F. Hudgins, ABB, SKF (Baker Instrument Company), Honeywell, Emerson Electric, Qualitrol, Mitsubishi Electric, Eaton, Dynapar, Phoenix Contact, Koncar among others, are the prime players that compete in the market.
Please note: This is not an exhaustive list of companies profiled in the report.
In August 2018, The LM Series of laser measuring sensors from Banner Engineering offers best-in-class performance, reliability, accuracy, and precision for real-world targets.