Online Video Platforms Market: Insights
Over the past few years, video has become one of the most popular markets and instructional platforms, but with the pandemic, it has become much more relevant as companies turn to remote work. Video sharing sites allow you to upload, store, and edit videos on the internet. Every video hosting service has its own set of features, such as faster loading, volume, and editing, to name a few. A video hosting service's web portal video allows people to upload, convert, store, and replay videos on the internet, often in an organized large-scale infrastructure that can produce revenue. Users usually add video content to a hosting service's website, mobile app, desktop app, or another interface. Shorts, full-length TV series, and documentaries are all examples of video material that can be posted. The video host saves the video to its server and enables users to enable various forms of embed codes or connections that allow others to see the video.
Usually, through a content video management system, the video is divided into multiple types. The most common of which is an adobe flash player which could also be customized. It is a very popular option and then finally the ability to track and analyze those videos -who's watching at what time and for how long and monetizing these videos with ads or other types of activities. Many small and medium-sized companies depend on online video network solutions.
Factors such as growing penetration of advanced cellular telecom networks, increasing artificial intelligence acceptance, rising popularity of streaming videos, technical advances, rising disposable income, and fast internet access are all contributing to this trend across developing regions, advancements in software and hardware, higher penetration of 4G networks and introduction of 5G networks, stringent government rules, and regulations, the super-fast internet browsing speed are driving the growth of the market. Moreover, the growing practice of designing video-based marketing content, availability of a diversity of applications, and an increasing number of brands using online video shopping are some of the leading factors to contribute to the overall growth of the market. Furthermore, rising viewership of online video content, eco-friendly and secure, surging expenditure on online video advertisements, a growing number of enterprises and brands, rising participation, and shift of consumers from conventional video platforms are expected to increase demand for the online video platform market.
However, there are factors as well in the market that restrict or hinder the growth of the market being: unexpected changes in social, political, and economic circumstances, high investment cost, lack of awareness in developing countries, availability of open source and free video platforms, restricted reimbursements, high cost of the mobile phones and lack of training among personnel.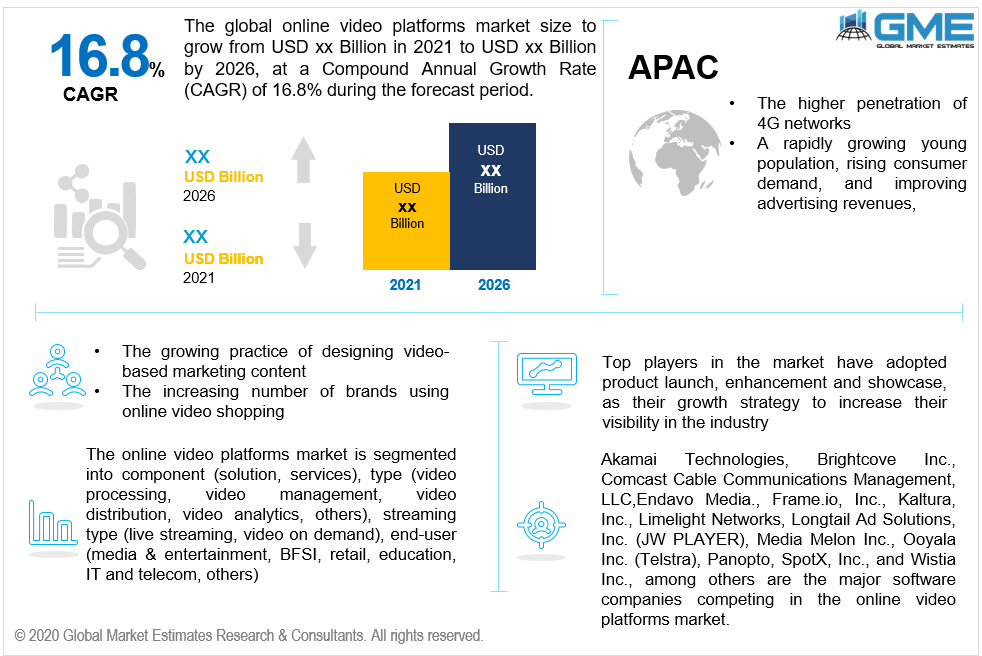 Online Video Platforms Market: By Component
According to the component segment, the two categories include Solution, Services. The category of solution is the largest shareholder over the estimated timeframe. This is due to the characteristics like faster response time, performs multiple operations, flexibility, availability of low and free cost hosting platforms, reduced human intervention, increased accuracy, rising subscription-based video content, ease in installation and maintenance, rising demand for live streaming video platforms, wide availability, availability of monetization features and accessibility in addition to being low priced and in high demand among the end-users.
Online Video Platforms Market: By Type
According to the type analysis, the five segments are Video Processing, Video Management, Video Distribution, Video Analytics, Others. In 2020, video processing is predicted to foster the fastest growth in the market due to the characteristics like low-priced, accurate, enhanced productivity, efficient IP conversion, growing need to reduce operating costs, high-density transcoding, availability of personalized video experiences, the rising level of venture funding's, adaptive bitrate packaging, availability of diverse applications, innovative product launches, in addition to highly being preferred by the people.
Online Video Platforms Market: By Streaming Type
Based on the streaming type analysis, the market can be divided into two categories: Live Streaming, Video On-demand. The video-on-demand category to hold the largest share in 2020. This is owing to certain factors like up-gradation in technology, availability of a diversity of applications, availability of free or low-cost videos, ad-free videos, increasing investments, unique interaction with customers, provision of computational support, and easier sales conversion in addition to being low priced.
Online Video Platforms Market: By End-User
Based on the end-user analysis, the market can be divided into six categories: Media & Entertainment, BFSI, Retail, Education, IT and Telecom, Other. The media and entertainment category has the largest share in terms of revenue growth in 2020.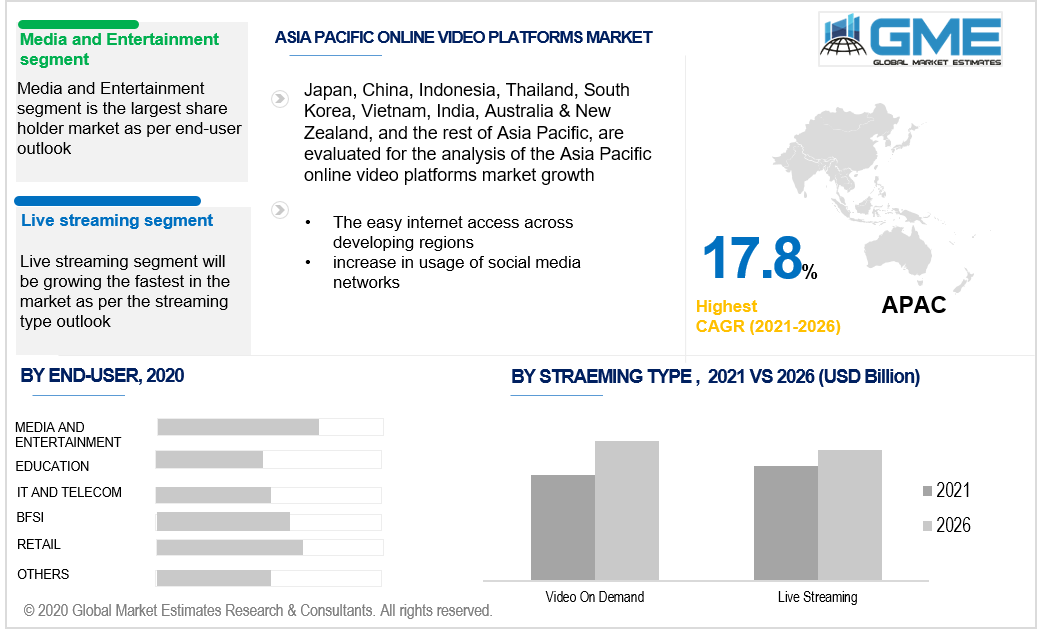 Online Video Platforms Market: By Region
As per the geographical analysis, the market of online video platforms can be classified into North America (the US, Canada, and Mexico), Asia Pacific (India, China, Japan, Malaysia, Singapore, and the Rest of Asia Pacific), Europe (Germany, United Kingdom, Italy, France, Spain, Netherlands, and Rest of Europe), Middle East & Africa and Central South America. The market for North America will be dominant as of 2021 due to the presence of a large number of key market players and industries, increasing investments, favorable government initiatives, the introduction of 5G network, advancement in technology, increasing time spent on watching videos, higher adoption among end-user industries, increased awareness among people, the constant launch of advanced products in addition to the North America region being the center of innovation. However, the Asia Pacific region will be growing the fastest owing to the rising population, rising scope of live-streaming videos, increasing growth opportunities, the rising popularity of generated video content, deep learning technologies, rising disposable income, increasing use of smartphones, and advancement in technology.
Online Video Platforms Market: Share & Competitor Analysis
Akamai Technologies, Brightcove Inc., Comcast Cable Communications Management, LLC, Endavo Media., Frame.io, Inc., Kaltura, Inc., Limelight Networks, Longtail Ad Solutions, Inc. (JW PLAYER), Media Melon Inc., Ooyala Inc. (Telstra), Panopto, SpotX, Inc., and Wistia Inc., among others are the major software companies competing in the online video platforms market.
Please note: This is not an exhaustive list of companies profiled in the report.
In March 2020, Brightcove Inc. announced that its PLAY 2020 event in Boston will not have a physical component this year due to the worldwide COVID-19 pandemic and to protect its clients, staff, and the local community.