Password Management Market Insights
Password management software is a software solution that aids in the organizing and storage of passwords. Password security has grown to be a significant segment of the identity management industry. Passwords developed by humans are often algorithmically vulnerable and weak to attack.Organizations across the globe face a massively progressing cybersecurity risk from compromised or hacked users and privileged accounts. To curb this issue, password management is expected to be a leading field.
The penetration of increasing internet services, data speed enhancements, developing communication infrastructure, and the expanding number of mobile and internet users stirs various businesses worldwide to adopt the internet services to deliver their services and products, thus creating different profiles by the end-users. Along with these, companies are increasingly embracing security measures to strengthen accountability by approving user accounts. Password protection software is becoming more popular as a result of such trends.
Moreover, as the number of computer users grows, so does the demand for password management software increases. The increasing amount of time spent on mobile devices is powered by internet usage, which comes with accounts built on a variety of internet-based service providers, ranging from grocery shopping to media and entertainment services.
Furthermore, with the advent of high-speed internet, the bring your device (BYOD) drift is increasingly becoming widespread in workplaces. Such trends are additionally increasing the market growth for password management and user authenticationin the forecast period.The development of the password security industry is also being fueled by government directives to create and maintain passwords. This is because the cybersecurity crisis has become more severe.
After the COVID-19 outbreak, the amount of cyberattacks has been drastically rising, thus negatively affecting businesses, individuals, and organizations. Therefore, few affected organizations are now spending financial resources fixing ineffective data and password management systems. It is anticipated that the menace of cyber-attacks will last longer than the COVID-19 pandemic and propel the forecast period's password management market.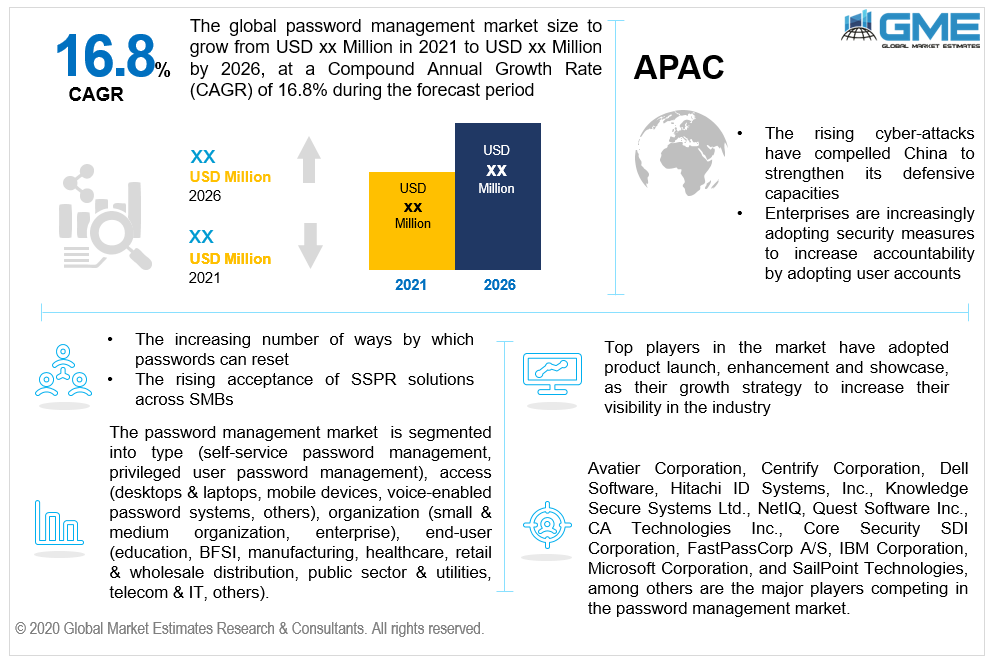 Password Management Market: By Type
Based on the type segment, the market is segmented into two segments: self-service password management and privileged user password management.
Self-service password management will emerge as the largest service segment in the forecast period. These solutions facilitate users to reset and manage their passcodes independently without any aid from the helpdesk. This helps save precious time for the information technology (IT) department and reduces the department's cost.
Privileged user password management solutions enable higher security by managing privileged users' passwords, deploying diverse methods, including frequent passcode randomization, automated password resets, and confidential session recording.
Password Management Market: By Access
Based on the access type segment, the market is segmented into four segments: desktops & laptops, mobile devices, voice-enabled password systems, and others.
The mobile devices segment is expected to be the fastest-growing segment during the forecast period. Mobile devices are competent in assisting business applications crucial to each organization.
The desktops & laptops segment also plays a vital role in giving mobility to the user. In addition to various benefits, they also expand the workforce's abilities away from the office. Mobile devices remotely facilitate business tasks' performance, as they allow mobility. Therefore, mobile devices have made it comfortable to work remotely.
Password security has been prompted by the rise of mobile device apps, as it can be integrated into mobile devices to ensure access to company data and compliance with password policy guidelines. This also provides businesses with a level of control and visibility over mobile apps.
Further, businesses are seeking to accomplish business tasks employing the latest and most comprehensive technology.Various digital development initiatives have paved the way for digital technologies that need technical advances, such as business-oriented mobile devices.
The rising concerns are clear indications of the requirement for reliable and efficient password management systems. This factor is anticipated to drive the password management market during the forecast period.
Password Management Market: By Organization
Based on the size of the organization segment the market is segmented into two segments: small & medium organization and enterprise.
Small businesses have limited funds, but the rising threat and strict compliance orders have compelled them to employ suitable security measures.
Small and medium companies must ensure that their data is safe by implementing effective passcode control processes and frameworks, given the complex and ever-changing existence of their industries.Password security assists in keeping sensitive information protected. Several large enterprises have invested in password management means as the first line of account security. Hence, the small & medium organization segment will dominate the password management market during the forecast period.
Password Management Market: By End-user
Based on the type of end-user segment the market is segmented into eight segments: education, BFSI, manufacturing, healthcare, retail & wholesale distribution, public sector & utilities, telecom & IT, and others.
The BFSI segment will be the most prominent end-user in the forecast period. Owing to the extremely sensitive nature of information and assets maintained by banking and financial institutions, it is important to ensure an extremely secure setting. Any breach or a lapse in security can be expensive and destructive, with revenue losses, and higher operating expenses, leading to a damaged reputation of the organization.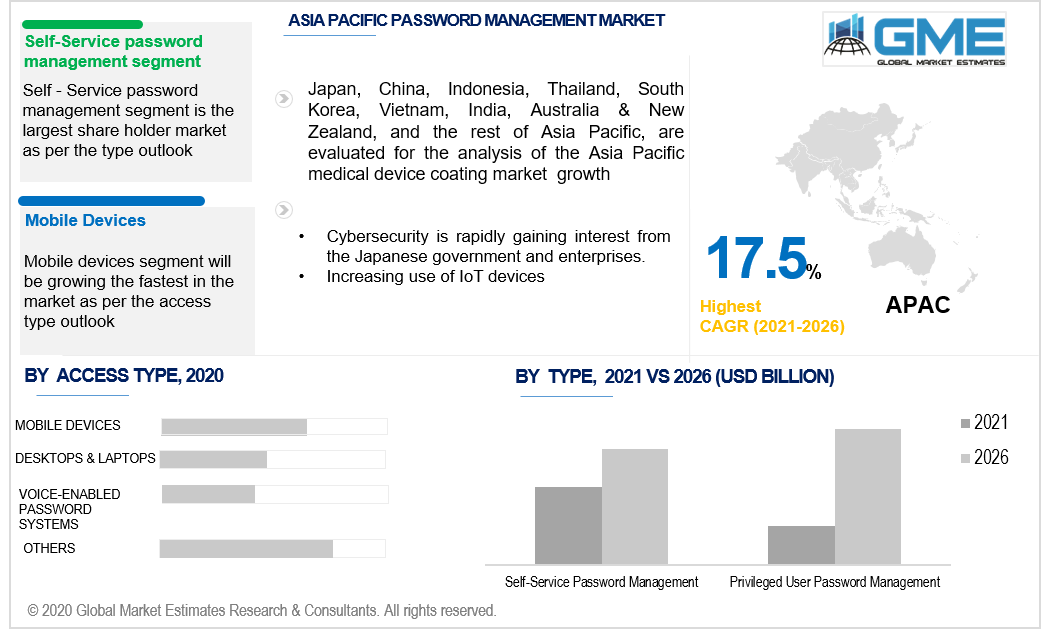 Password Management Market: By Region
The Asia Pacific region will grow at a higher CAGR rate over the forecast period. Countries such as India, China, and Japan are promoting development in the Asia-Pacific region. The increase in cyber-attacks has forced China to strengthen its defensive capacities.This is anticipated to heighten the adoption of password management to restrict unauthorized access. The rising number of cyber-attacks on Japanese companies, especially identity theft, has prompted the government to implement new policies, legislation, and facilities.Furthermore, emerging countries such as India have seen a steep increase in cybercrime registration, with the country ranking fifth overall in terms of DNS hijacks.
North America led the password management market and is projected to hold the largest market share in 2019, attributable to growing password management solutions throughout numerous end industries. Furthermore, continuous technological advancements in cloud, analytics, and BYOD developments are expected to significantly propel the regional market.
Password Management Market Share and Competitor Analysis
Avatier Corporation, Centrify Corporation, Dell Software, Hitachi ID Systems, Inc., Knowledge Secure Systems Ltd., NetIQ, Quest Software Inc., CA Technologies Inc., Core Security SDI Corporation, FastPassCorp A/S, IBM Corporation, Microsoft Corporation, and SailPoint Technologies, among others are the major players competing in the password management market.
Please note: This is not an exhaustive list of companies profiled in the report.
In June 2020, Centrify's Privileged Access Service integrated with ServiceNow's Management, Instrumentation, and Discovery (MID) Server, according to a recent announcement.
In April 2020, FastpassCorp launched its new product IVC or Fastpass Identity Verification Client. The previously listed FPR is extended and replaced by VC. IVC addresses a major compliance problem for businesses and organizations that have a support desk.