Payment Orchestration Market: Insights
Payment orchestration is a new term that incorporates concepts that most retailers are not aware of. All software systems and facilities that automate the planning and management of business processes involved in approving, receiving, and maximizing payments are referred to as payment processing automation.
A payment orchestration software (also recognized as an online payment processing platform) includes several mechanisms that assist eMerchants with transaction management, from routing to reconciliation. Merchants benefit from the platform's transparency and versatility, which includes an overview of their purchases regardless of who handled them and access to a PCI vault. These are some of the advantages of a payment orchestration platform which is helping it to be the most trending platform in the IT industry.
Some of the leading factors for the payment orchestration market growth are the quick launch of digital procedures across developing nations, maximization of the ROI of each transaction, and authentic access to every tool for product promotion. Demand for these commerce-enabling services has increased, prompting the platforms to develop their payment strategies. They are adopting multi-gateway techniques and payment orchestration more than ever before.
All companies want to cut expenses and raise conversion rates. Around the same time, major companies such as Amazon, Alibaba, and others have expanded their ability to execute such cost-cutting processes. As a result, the market is demanding that a company must be equipped not only locally but also globally. Complying with all of the current rules and laws is another hurdle for businesses to tackle to remain sustainable and hence it can act as a restrain for the market growth.
In response to growing market demand for convenience and uncertainties in today's payment landscape, payment stacks have become more complex and multifaceted. Present payment stacks have turned from an advantage to a vulnerability, with too many fractured layers and a patchwork of tech frameworks layered on top of existing legacy infrastructures – they are just aren't built with adequate consistency, interoperability, or intelligence to keep up with the emerging complexity of today's payments ecosystem. With the advent of smartphones, the introduction of modern payment systems, and the rising possibility of fraud and data breaches, staying ahead of the market has become difficult and expensive problem for travel companies.
The pandemic is going to accelerate merchants' massive migration to online networks, especially online platforms. COVID-19 is affecting key dynamics and transformations that are already ongoing, as well as providing opportunities for a growing number of ecosystem participants.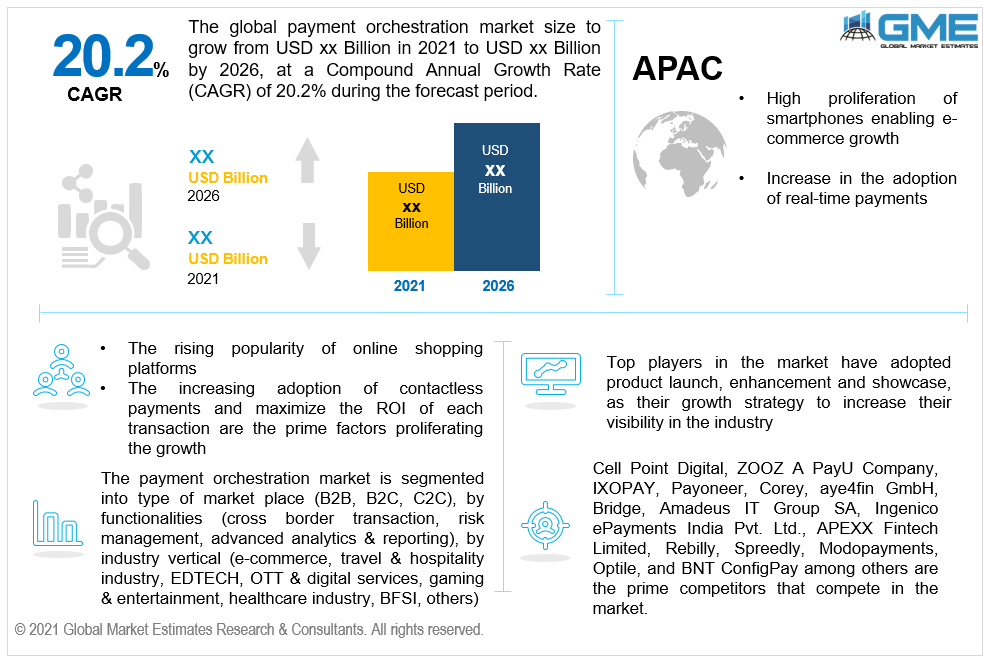 Payment Orchestration Market: By Functionalities
Based on the functionalities, the market is segregated into cross-border transactions, risk management, and advanced analytics & reporting. The cross-border transaction segment accounted for the majority of sales in 2020. If the card-issuing bank (the cardholder's bank) is located in a different country than the receiving bank (the merchant's bank), the transaction is referred to as a cross-border transaction. Domestic transactions are made using a credit card provided by a bank that is based in the same country as the merchant.
They will need to add more payment processing providers that provide local payment solutions, which would give the customers the best checkout experience. For effective local or foreign extension, you may need more than the usual international payment methods such as credit card or bank transfer.
Through providing access to real-time and unified payments data through dashboards, monitoring, and warnings, advanced payment orchestration panels may provide deeper insights. Merchants will have better ways to refine their sales and consider which places need to be concentrated on to maximize profitability with more advanced analytics. Merchants can generate and import cross-provider reports based on their business needs, as well as compare and review payment service provider results using a payment orchestration platform which will lead to market growth.
Payment Orchestration Market: By Type of Marketplace
Based on the marketplace the payment orchestration is segregated into B2B, C2C, and B2C. The B2B payments industry is expanding rapidly and is expected to continue to do so during the forecast period. Transactions between two retailers for services or goods are referred to as B2B payments. B2B payments support businesses by facilitating and accelerating funds transfers. Artificial intelligence and machine learning, according to B2B payment processing firms, can help solve a variety of problems, such as identifying incorrect costs, identifying alternative sources, conveniently providing relevant information to customers, collecting data for reports, and leading the right ways through businesses to receive required purchasing approvals.
Due to increasing digital dependency and the convenience of online shopping on digital platforms the B2C market is expected to expand rapidly over the forecast period. It has developed as a result of a hectic lifestyle and a multitude of opportunities for shopping from the convenience of one's own home.
Payment Orchestration Market: By Industry Vertical
In 2020, the BFSI segment dominated the market, accounting for the majority of global sales. Over the projected period, a rise in remittances to low and middle-income countries is predicted to be one of the main drivers driving new business growth opportunities.
Furthermore, from 2021-2026, the e-commerce segment is expected to grow at the fastest CAGR value. The popularity of e-commerce sites like Amazon, Flipkart, etc. has contributed to increasing the growth. The market is growing due to an increase in online purchases in the e-commerce industry, as well as an increase in mobile penetration and the development of multiple payment methods. Furthermore, the market is expected to benefit from an increase in internet penetration in developing countries as well as an increase in the adoption of advanced payment processing technologies such as deep learning and artificial intelligence.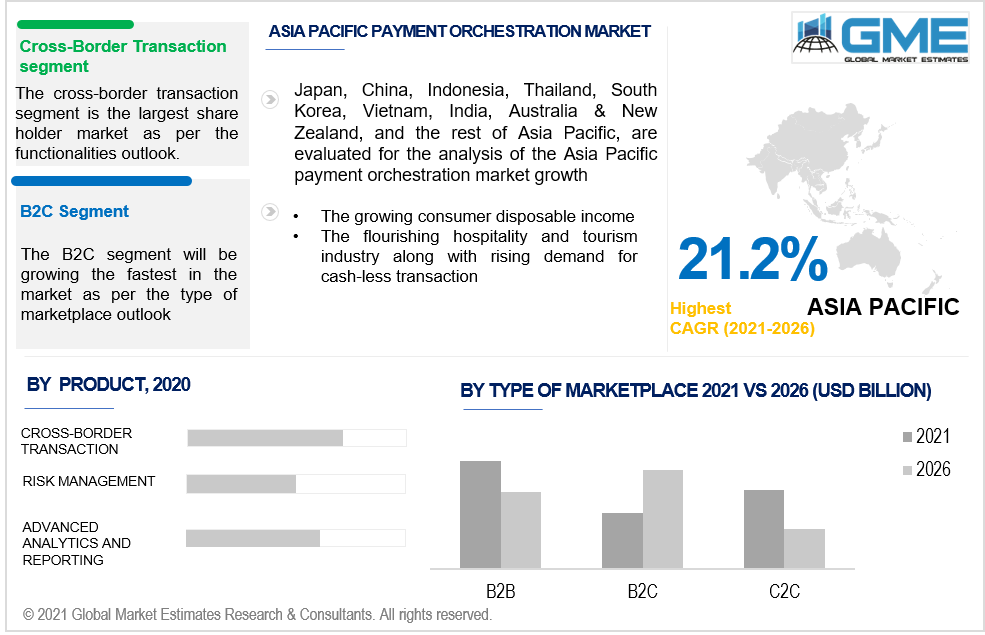 Payment Orchestration Market: By Region
In terms of revenue, the North American region is the largest market shareholder during the forecast period. The increasing deployment of smart parking meters, as well as technological advancements in these meters, are driving demand for payment orchestration in the North American region. Furthermore, as the number of unmanned stores in the United States grows, so does the market for digital payment solutions. For instance, in November 2019, Ahold Delhaize, a Dutch supermarket chain, announced the launch of the first cashier-less store in the United States.
Moreover, the Asia Pacific region is anticipated to expand at the fastest growth rate during the forecast period. The result of the growing adoption of real-time payments and growing government initiatives are the factors leading the regional growth. Furthermore, the industry is projected to benefit from an increase in digitization in Asia-Pacific developing countries such as India, and China, as well as an increase in acceptance of efficient and easy online payment transactions.
Payment Orchestration Market: Share & Competitor Analysis
Cell Point Digital, ZOOZ A PayU Company, IXOPAY, Payoneer, Corey, aye4fin GmbH, Bridge, Amadeus IT Group SA, Ingenico ePayments India Pvt. Ltd., APEXX Fintech Limited, Rebilly, Spreedly, Modopayments, Optile, and BNT ConfigPay, among others are the prime competitors that compete in the market.
In March 2021, IXOPAY entered into a strategic partnership with Vyne to provide their customers with a payment solution namely a payment orchestration platform that allows them to link to the most appropriate payment methods for the markets in which they sell.
Please note: This is not an exhaustive list of companies profiled in the report.
The Global Payment Orchestration Market has been studied from the year 2019 till 2026. However, the CAGR provided in the report is from the year 2021 to 2026. The research methodology involved three stages: Desk research, Primary research, and Analysis & Output from the entire research process.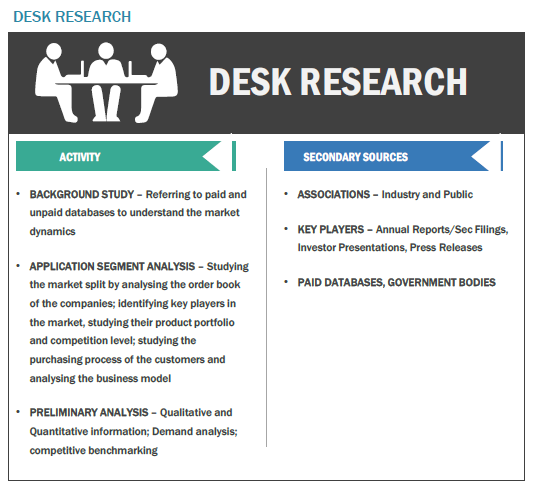 The desk research involved a robust background study which meant referring to paid and unpaid databases to understand the market dynamics; mapping contracts from press releases; identifying the key players in the market, studying their product portfolio, competition level, annual reports/SEC filings & investor presentations; and learning the demand and supply-side analysis for the Payment Orchestration Market.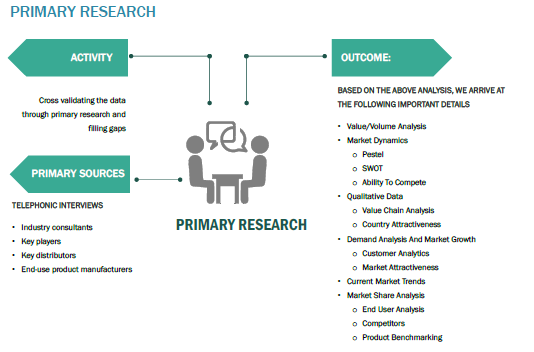 The primary research activity included telephonic conversations with more than 50 tier 1 industry consultants, distributors, and end-use product manufacturers.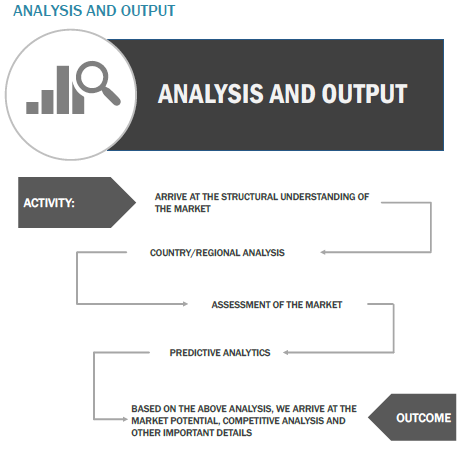 Finally, based on the above thorough research process, an in-depth analysis was carried out considering the following aspects: market attractiveness, current & future market trends, market share analysis, SWOT analysis of the company and customer analytics.