Pharmaceutical Membrane Filtration Market: Insights
Membrane Filtration is vastly incorporated in chemical procedures and the fields of biotechnology and pharmaceuticals. It has proved to be a valuable method for cleaning and filtering industrial procedure liquid and waste liquid. Membrane filtration is used for drug production and development. The membrane filtration technique applications comprise virus removal, large-scale drug manufacture, process and laboratory water purification, drug screening, protein separation, sample preparation, and lab-scale cell culturing.
The strict regulatory standards and high-quality pre-requisites in the pharmaceutical industry have aided the membrane filtration procedures to be an essential method in drug development. To confirm the drug's safety and effectiveness by removing impurities in the entire drug production process, Membrane filtration procedures are of great help. The short and medium-term predictability is tremendously limited and has an insignificant impact.
The rapid growth in the biopharmaceutical and pharmaceutical industries, increasing adoption of single-use technologies, developments in the drug production process with a wide range of usage of membrane filtration techniques in the pharmaceutical industry. The growing applications in controlling airborne diseases, rapid development in the production of generics, and the growing Nanofiltration techniques are supporting the market growth between 2021-2026. Manufacturers have also enlarged their adherence to good manufacturing practices (GMP).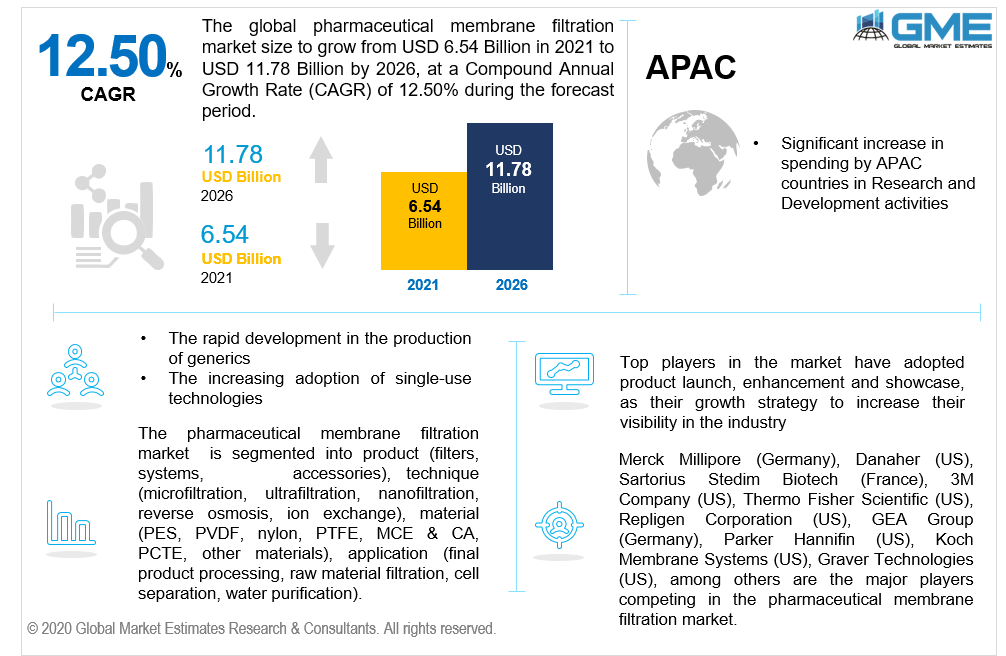 Pharmaceutical Membrane Filtration Market: By Product
Based on the product analysis, the market is segregated into filters, systems, and accessories among others. The filters segment will register a maximum share and continue the trend between 2021-2026. This is due to the rise in the adoption of single-use technologies. This segment offers benefits like less consumption of energy, a high retention rate, reduced risk of cross-contamination, and low cost.
Pharmaceutical Membrane Filtration Market: By Technique
According to the technical analysis, the five segments are microfiltration, ion exchange, ultrafiltration, reverse osmosis, and nanofiltration among others. The microfiltration segment occupied a major chunk of the market and generate huge revenue between 2021-2026.
Microfiltration (MF) is a pressure-driven separation technique, which is broadly used in concentrating, purifying, or separating colloids, macromolecules, and suspended particles from the solution. Microfiltration is extensively utilized for the cold sterilization process in the pharma industry. Pharmaceuticals have been proved to lose their effectiveness on heat addition. MF membranes are used to eliminate bacteria and other unwanted interruptions from liquids, the process is also named 'cold sterilization'.
This market's growth is attributed to the high rate of pharmaceutical drugs and other products and the rise in the adoption of membrane filtration products. Hence microfiltration has been a major segment in pharmaceutical research and development.
Pharmaceutical Membrane Filtration Market: By Material
Based on the study, the material market can be divided into seven categories: PES, PVDF, Nylon, PTFE, MCE & CA, PCTE, other materials like polypropylene, regenerated cellulose, gelatine, and PVC. The polyethersulfone (PES) segment is expected to dominate the market in the projected time frame, which can be attributed to PES's hydrophilic nature. It is also due to its wide usage in viral clearance and sterile filtration.
Pharmaceutical Membrane Filtration Market: By Application
According to the application analysis, the four segments are final product processing with sub-segments sterile filtration, API filtration, vaccine and antibody processing, protein purification, formulation and filling solutions, and viral clearance, raw material filtration with sub-segments media buffers, prefiltration, and bioburden reduction, cell separation, and water purification.
The leading segment in the estimated timeframe will be raw material filtration. This is due to the rising need to ensure the safety of pharmaceutical manufacturing processes imposed by regulatory bodies.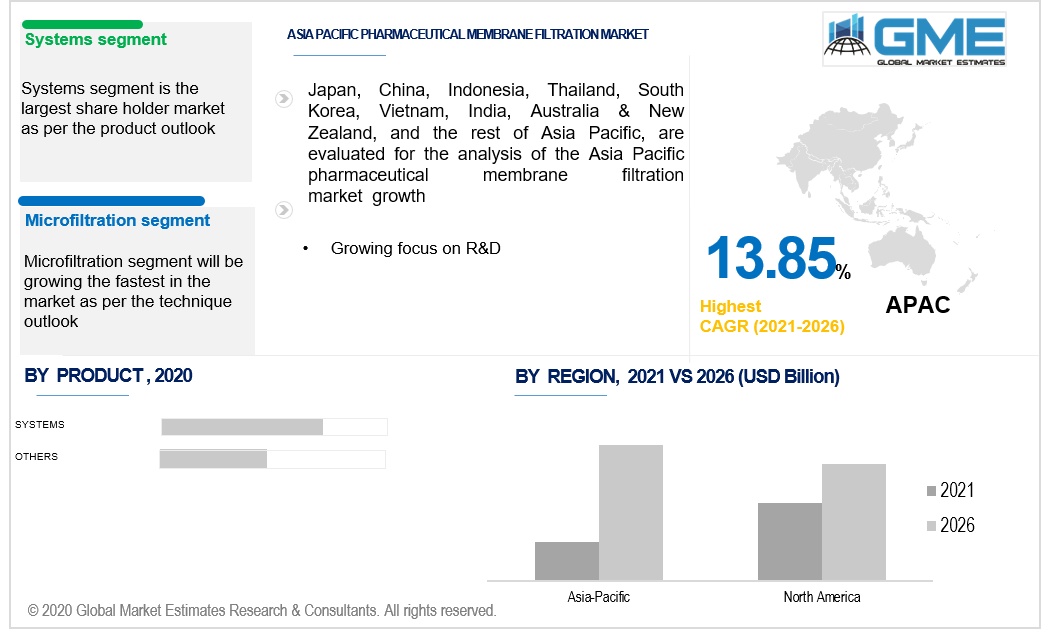 Pharmaceutical Membrane Filtration Market: By Region
The Asia Pacific region will dominate the global market n in terms of revenue and share. This is attributed to the significant increase in spending by APAC countries in Research and Development activities, like India, Singapore, and China. The presence of key pharma players such as Kalbe Farma, Mixagrip, Hyphens Pharma, Livzon pharmaceutical, and Sun Pharmaceutical among others is boosting the market growth.
North America region will also dominate the market between 2021-202. The majority of companies globally are encouraged to operate in this region. Many of the worldwide pharmaceutical market players have their headquarters and research laboratories in the US. The growing investments in the region along with the rapid development of new drugs by major players are boosting the market. The presence of key players such as Graver technologies, Thermofisher, 3M, and Simsii are sharing the maximum revenue in the region.
Pharmaceutical Membrane Filtration Market: Share & Competitor Analysis
Repligen Corporation (US), Danaher (US), Graver Technologies (US), Merck Millipore (Germany), Sartorius Stedim Biotech (France), Thermo Fisher Scientific (US), GEA Group (Germany), Koch Membrane Systems (US), 3M Company (US), Porvair Plc. (UK), Novasep (France), Amazon Filters Ltd. (UK), Parker Hannifin (US), Donaldson Company (US), Eaton Corporation (Ireland), Alfa Laval (UK), Meissner Filtration Products (US), Simsii (US), and Sterlitech Corporation (US), among others, are the major vendors competing in the Pharmaceutical Membrane Filtration market.
Please note: This is not an exhaustive list of companies profiled in the report.
In July 2018, Pall Corporation allied with BioSciencesCorp, intending to boost the manufacturing process.
In 2019, a pharmaceutical plant had developed an MBR system, which will produce UF-grade water.
Check the Press Release on Global Pharmaceutical Membrane Filtration Market Report