Phytomelatonin Market Insights
Also termed as the plant based melatonin, is a naturally resource nutraceutical component. Herbs containing high melatonin level are used to extract and biosynthesize the phytomelatonin, which is used to treat various neurological disorders.
Initially, melatonin was portrayed as a hormone which was only produced in animals. However, as per the recent study, the component was identified in various range of plants and in its stems, leaves, roots, and seeds. Melatonin occurrences have been recognized in more than 140 medicinal plants, aromatic herbs, and human consumption grade plants.These studies have opened new area research scope in vegan nutraceutical industry.
Non-appearance of unwanted toxins generated while chemically synthesising melatonin is among the key reason to promote phytomelatonin market growth. It serves as natural and more reliable supplement to its counterpart. However, inclusion of pesticides during plant cultivation and post-harvest may pose a threat to the overall process.
The traditional phytomelatonin applications were limited to improve sleep disorder occurences due to jet lag and shift work. However, the new potential application involves supporting eye health, healthy aging, skin treatment, and overall healthy immune system.
The overall melatonin market size was over USD 435 Million in 2019 and is estimated to witness over 7% growth up to 2026. Prevalence of naturally sourced nutraceuticals over synthetic solutions have positively influenced the overall phytomelatonin industry growth. Still, certain risks still occur if the formulations have not been done accurately. Hazards such as solvent residues presence during extraction may pose a threat. Moreover, the selected plant source should be examined and evaluated to avoid the occurrence of pesticides or other compounds during cultivation or post-harvest treatments.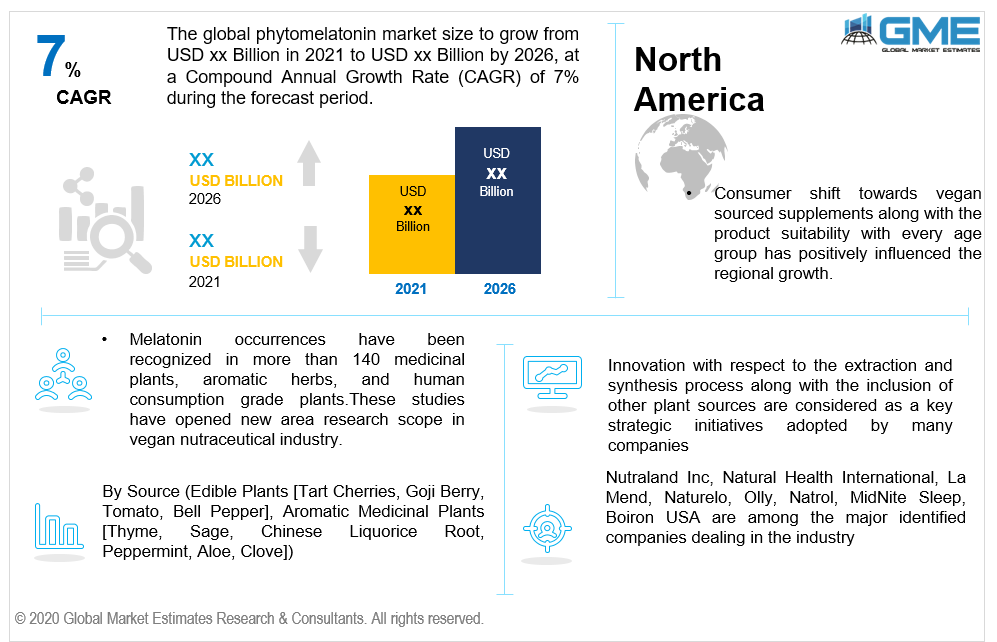 Phytomelatonin Market: By Source
Sources are sub-segmented into edible plants and aromatic medicinal plants. Under both the segments the highest potential ingredients were studied and taken into consideration.Apple and tart cherry are the two key edible plants sources which observes maximum level of phytomelatonin.
With respect to high content, Goji berry, tomato and pepper fruits led the segment. In aromatic plant segment, thyme, chinese liquorice root, sage, and mustard seeds showed the highest potential. Overall in general it has been observed that medicinal and aromatic plants have higher level of phytomelatonin than fleshy fruits and seeds. Innovation with respect to the usage of valerian root blend will open new prospects in the industry.
Phytomelatonin Market: By Form
Capsules & tablets, gummies, and cream are the three majorly forms in which the final product is produced. The product form is directly related to the application and purpose of the ingredient.
Growth in nutraceuticals and food & beverages industry due to increase in consumer spending on products that add value to their overall healthy lifestyle has positively influenced the overall product demand.
Phytomelatonin Market: By Application
Dietary supplements, medicine or drugs, and nutra cosmetics are key applications witnessed in the market. Adoption of plant-based sources for therapeutic purposes will definitely provide industry growth assurance over chemical based products.
Aid in sleeping disorder due to jet lag or stress is the foremost and reliable solution provided by phytomelatonin drugs. It regulates the person's circadian rhythms and natural sleep patterns which results in deep sleep.
Expansion in the number of pharmacies, clinical centers, and multi-specialty stores will bring new growth scope in the industry. Rising demand for vegan immunity booster supplements will positively support the product demand.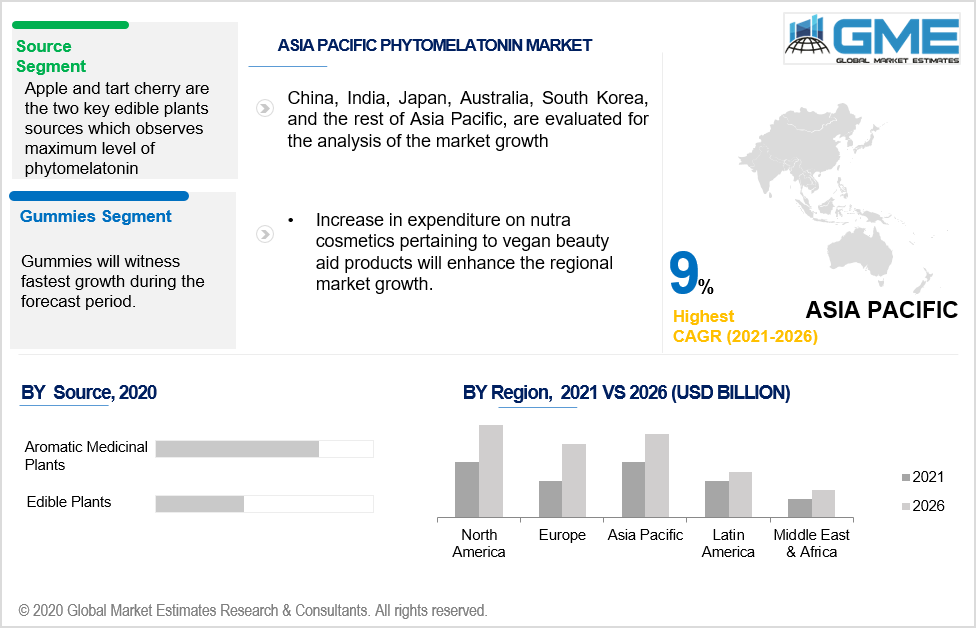 Phytomelatonin Market: By Region
North America phytomelatonin market dominated the overall industry share. Consumer shift towards vegan sourced supplements along with the product suitability with every age group has positively influenced the regional growth.
In Europe, the market is highly driven by the government acceptation towards the extraction of phytomelatonin from different plant species. High demand of anxiety relief pills to overcome depression during the covid-19 pandemic will alleviate the regional market expansion.
APAC and MEA will witness high growth during the forecast period. Increase in expenditure on nutra cosmetics pertaining to vegan beauty aid products will enhance the regional market growth.
Phytomelatonin Market Share and Competitor Analysis
Nutraland Inc, Natural Health International, La Mend, Naturelo, Olly, Natrol, MidNite Sleep, Boiron USA are among the major identified companies dealing in the industry.
Please note: This is not an exhaustive list of companies profiled in the report.
Innovation with respect to the extraction and synthesis process along with the inclusion of other plant sources are considered as a key strategic initiatives adopted by many companies.
Other key players include Benevolent Nourishment, Nature Made, Proper Labs, Radiant laboratories, Puritan's Pride, Best Naturals, Kirkman, and Gaia Herbs.
The Global Phytomelatonin Market has been studied from the year 2019 till 2026. However, the CAGR provided in the report is from the year 2021 to 2026. The research methodology involved three stages: Desk research, Primary research, and Analysis & Output from the entire research process.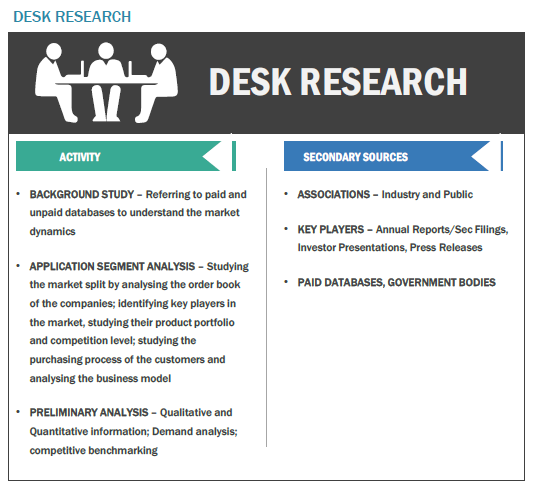 The desk research involved a robust background study which meant referring to paid and unpaid databases to understand the market dynamics; mapping contracts from press releases; identifying the key players in the market, studying their product portfolio, competition level, annual reports/SEC filings & investor presentations; and learning the demand and supply side analysis for the Phytomelatonin Market.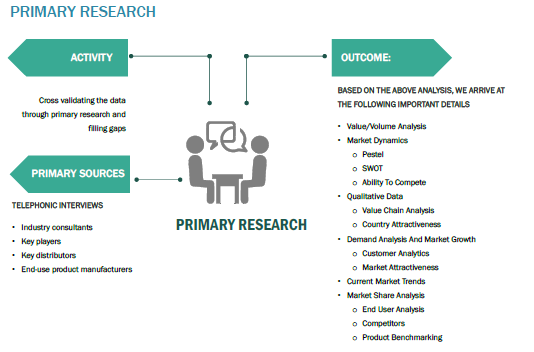 The primary research activity included telephonic conversations with more than 50 tier 1 industry consultants, distributors, and end-use product manufacturers.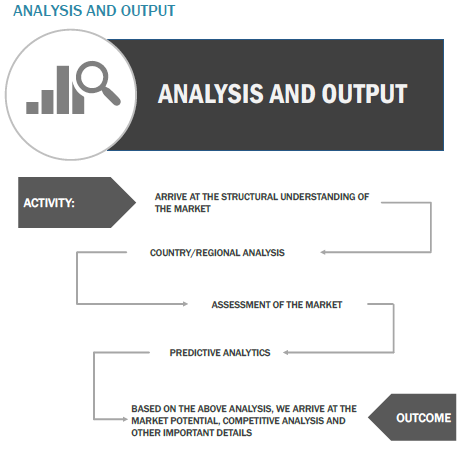 Finally, based on the above thorough research process, an in-depth analysis was carried out considering the following aspects: market attractiveness, current & future market trends, market share analysis, SWOT analysis of the company and customer analytics.