Plant Based Bioactives Market Insights
Growing health concerns pertaining to the excessive use of inorganic compounds in food, medicine, and personal care industry have reinforced the adoption of Plant Based Bioactives. Increasing consumer awareness accompanied by a preference for a healthy lifestyle in taking a balanced diet will stimulate the industry growth in the coming years.
Change in buying habits has reinforced industry providers to work on more sustainable products for better consumer reach. With the advent of the consumer-centric market and the presence of a large number of manufacturers, it became essential to produce goods that are aligned with the consumer viewpoint.
Consumer goods such as dietary supplements, personal care products, and fortified food are widely sold due to their ingredient value. The buyer is inclined towards the organic ingredient or vegan certified products. Thus, the adoption of Plant Based Bioactives makes the product different from its traditional counterparts.
Key influential factors such as the increasing geriatric population along with the rising number of incidences of chronic diseases have triggered consumers to take health supplements, which will result in Plant Based Bioactive Market growth. Also, the introduction of antioxidant and vitamin-enriched shakes and smoothies has propelled the demand for bio-based functional food and dietary supplements.
Other health factors such as diabetes, obesity, high blood pressure, and anxiety issues among the young population due to hectic lifestyle have induced the intake of dietary supplements. In addition, the support from doctors to prescribe the herbal-based protein powder and nutraceuticals as a part of daily consumption will inculcate the Plant Based Bioactives ingredient penetration.
Scientific evidence has proved that plant based bioactive used in functional food and other dietary supplements have resulted in positive effects on human health. Concerns such as inflation, allergy, and toxins were effectively reduced with the consumption of these ingredient-based products. Increased healthcare industry-focused towards prevention before treatment has encouraged the research & development of organic ingredients.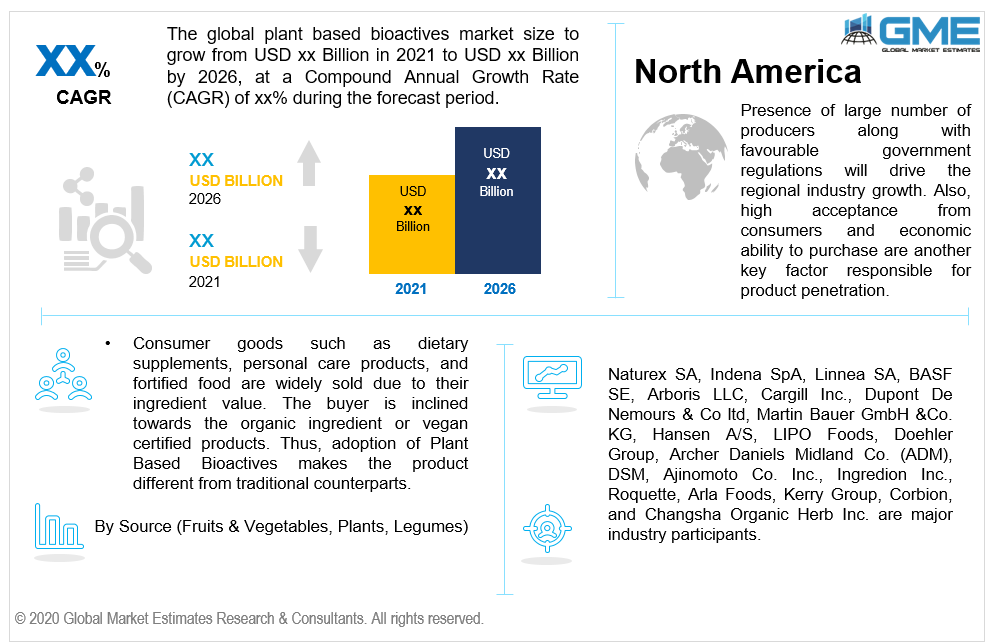 Plant Based Bioactives Market: By Source
Fruits & vegetables, plants, and legumes are major identified sources in the Plant Based Bioactives industry. Growing demand for vegan products either for consumption or non-consumption applications has propelled the usage of Plant Based Bioactives in the functional food and personal care industry.
Legumes and fruits & vegetables are the major contributing sources in the industry due to their high efficiency and availability. These sources are enriched with antioxidant properties which positively react with the human body on consumption. Soy is one of the most enriched legume and is widely used as an ingredient in functional food.
Fruits & vegetables are further sub segmented into carrots, broccoli, citrus fruits, tomatoes, and leafy vegetables. These sources are organic and hold a high potential for further usage as an ingredient in various applications. Fruits & vegetable extracts also have high penetration in the personal care industry. Increasing demand for different fragrant and properties creams, lotion, and shampoo has instigated demand for organic personal care products.
Plant Based Bioactives Market: By Application
Plant Based Bioactives applications include but are not limited to flavonoids, carotenoids, phenolic acids, alkaloids,saponins, and polysaccharides. These ingredients are capable to modulatethe human metabolic processes and reflect positive responses such as receptor activity inhibition, antioxidant effect, enzyme induction and gene expression inhibition.
Strengthening the immune system, slowing cancer cell growth, and preventing human body from damage due to oxidation are major causes to use these sources as an integral ingredient in various products. Carotenoids is among the major contributor in application segment due to its positive impact on reducing the risk of cataract, Alzheimer, heart disease, stroke, and age related diseases.
The flavonoids are expected to witness maximum gains during the forecast period. High acceptance in medicinal formulation along with no visible side effects are major attributing factors to drive growth in this application segment.
Plant Based Bioactives Market: By End-Use
Functional food & beverages, dietary supplements, animal nutrition, and personal care are major contributing sectors in the industry. Food & beverages accounted for the largest share in the industry due to its high applicability and demand for vegan functional food. Key influencing factors such as rising trend for healthy consumption habits and preference for vegan products over animal derivatives have proliferated the penetration in this segment.
Dietary supplements are projected to witness the highest gains in the coming year. Nutraceutical industry expansion along with surging demand for immunity boosters has urged the product demand in dietary supplements. Demand in the personal care segment is highly influenced by the wide availability of these ingredients with diversified beneficial properties. It has become a trend among consumers to use organic ingredients in personal care products to attain sustainable and long-term results.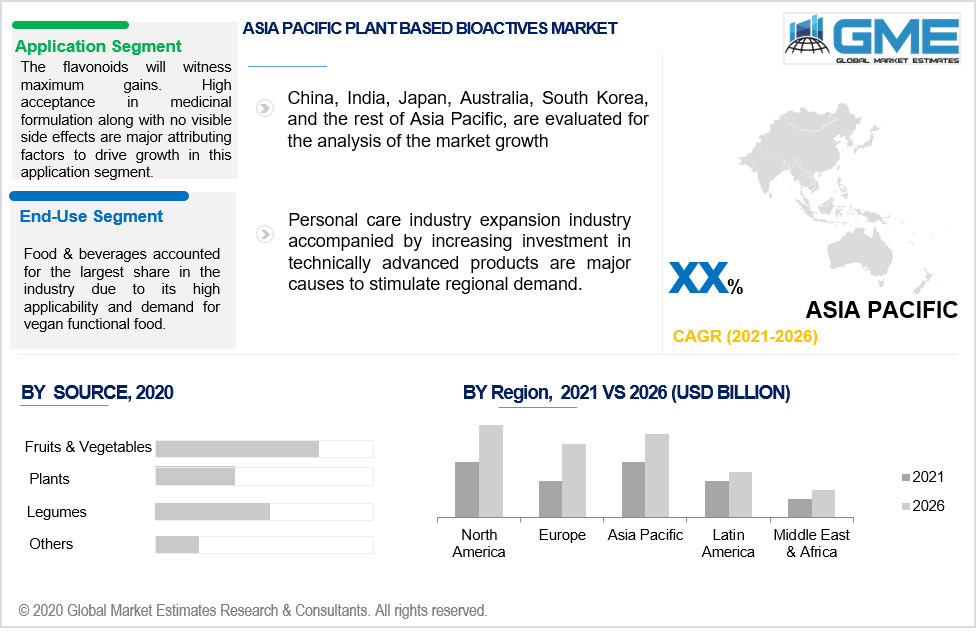 Plant Based Bioactives Market: By Region
North America will witness the largest share in the coming years. The presence of large number of producers along with favorable government regulations will drive the regional industry growth. Also, high acceptance from consumers and economic ability to purchase is another key factor responsible for product penetration.
Europe Plant Based Bioactives Market is highly inclined by rising need to boost immunity among young and geriatric population. The region has a high number population suffering from heart diseases, alzhemiers, and diabetes. The UK, Germany, Italy, and Spain will be key contributing countries in the region.
Asia Pacific is projected to witness the highest gains up to 2026. Personal care industry expansion industry accompanied by increasing investment in technically advanced products are major causes to stimulate regional demand.
Plant Based Bioactives Market Share and Competitor Analysis
Naturex SA, IndenaSpA, Linnea SA, BASF SE, Arboris LLC, Cargill Inc., Dupont De Nemours & Co ltd, Martin Bauer GmbH &Co. KG, Hansen A/S, LIPO Foods, Doehler Group, Archer Daniels Midland Co. (ADM), DSM, Ajinomoto Co. Inc., Ingredion Inc., Roquette, Arla Foods, Kerry Group, Corbion, and Changsha Organic Herb Inc. are major industry participants.
Please note: This is not an exhaustive list of companies profiled in the report.
Check the Press Release on Global Plant Based Bioactives Market Report