Polycarbonate Sheets Market: Insights
Polycarbonate is a robust, translucent thermoplastic framework with high elastic modulus, high heat deflection, low frequency, and high voltage insulation. Polycarbonate Sheets are well-known for their high impact resistance and long-term durability. Building and construction, transportation and automotive, and other industries use polycarbonate thermoplastic sheets. Wherever transparency is needed, such as industrial shops, lamp boxes, greenhouses, and hood lighting, polycarbonate sheet is used. Since polycarbonate sheets are durable and strong, they can be easily shaped and thermoformed without causing harm.
The growing use of polycarbonate sheets as UV-resistant roof panels in agricultural outbuildings including barns and greenhouses is one factor driving the demand for these polycarbonate sheets. The high-tech sheets have a perfect balance of uniformity and brightness. The high-quality materials are widely used to smooth out LEDs for a brighter environment with no hot spots, resulting in the best light design.
Due to their superior strength and enhanced heat retention properties, triple-walled sheets are also used in agricultural frameworks. These semi-transparent plastic sheets can also be used as wall panels to keep farm animals warm and well-lit. On the other hand, properties like excellent impact tolerance, UV filtration, and glare reduction will help the polycarbonate sheets industry.
Several companies have invested in recent years to help companies strengthen their market position and achieve a redundant supply chain that makes the product internationally available. Several international companies are expanding in European economies, which is likely to lead to the growth of greenfield plants and other related operations that require a consistent supply of polycarbonate sheets.
In the manufacturing of optical discs like CDs, Blu-ray discs and DVDs, polycarbonate sheet is the most commonly used material. Blu-ray disc use has increased as a result of urbanization and the demand for better home entertainment content, particularly in developing countries with slow internet speeds.
The pandemic harmed new buildings and aftermarkets. Construction activities were initially shut down entirely, but in the third quarter of 2020, they were permitted to restart operations using COVID-19 operational measures. After unlocking, the main problems in the sector are labor availability and raw material supply and costs.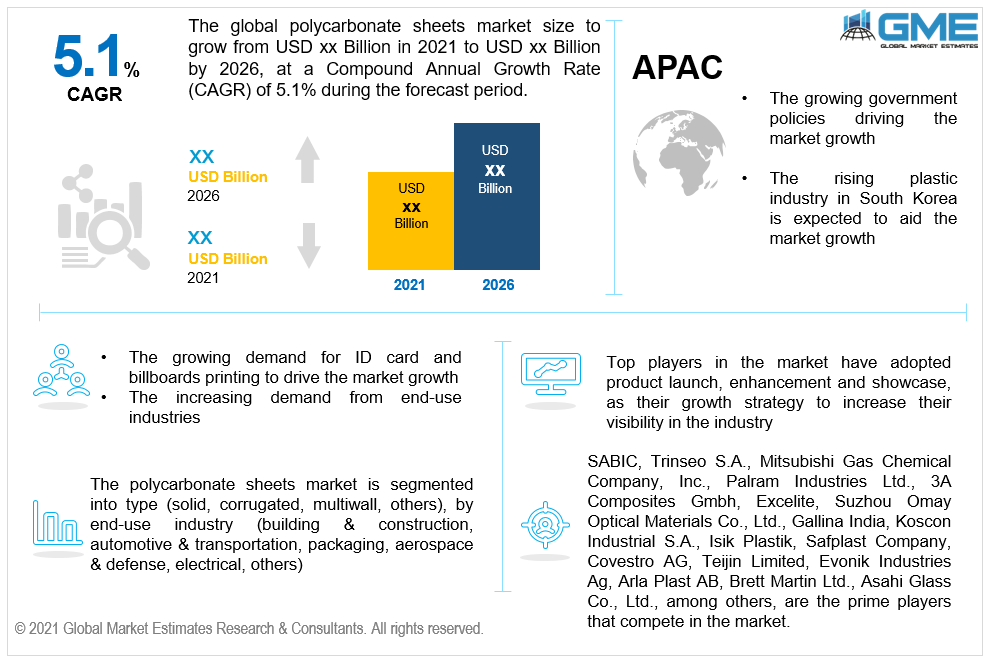 Polycarbonate Sheets Market: By Type
The solid sheet is expected to accelerate at a high CAGR over the projected period in terms of value. Solid polycarbonate sheets are commonly used instead of glass in several applications due to their excellent impact resistance and longevity. These sheets are also lighter than glass and have a high light transmission efficiency. Solid polycarbonate sheets are suitable for a variety of applications, including glazing, barrel vault roofing, and roof lighting, due to their lighter weight than glass. Polycarbonate sheets, whether transparent, translucent, or opaque, are also excellent for safety glazing applications due to their high fire resistance. These sheets have 200 times the impact strength of ordinary glass and are about ten times the strength of toughened glass.
Multi-walled sheets are becoming increasingly popular due to their lightweight, impact efficiency, thermal insulation, high UV tolerance, and excellent clarity. They're ideal for skylights, decorative partitions, signs, sidelights, screens, and greenhouses, as well as air conditioning, ventilation, roofing, and glazing.
Polycarbonate Sheets Market: By End-Use Industry
The construction and building sector is anticipated to be the leading end-use sector segment of the polycarbonate sheets market in the upcoming years. Polycarbonate sheets provide beneficial physical properties like improved ductility, high strength, and excellent uniformity. Furthermore, they are lightweight and convenient to use. Polycarbonate sheets are favored by architects over other building materials because they help minimize construction time, lower total construction costs, and allow the implementation of creative structural ideas.
It is a viable alternative to acrylic sheets or glass materials, and as a result, demand is expected to grow shortly. Glass-clad laminates are also resistant to high-powered ballistics, making them common in the industry.
One of the fastest-growing application segments has been described as transportation. The growth of the aerospace and automotive industries in developing markets is a significant driving force for this equipment in many medium and large OEMs, aftermarkets, and many others.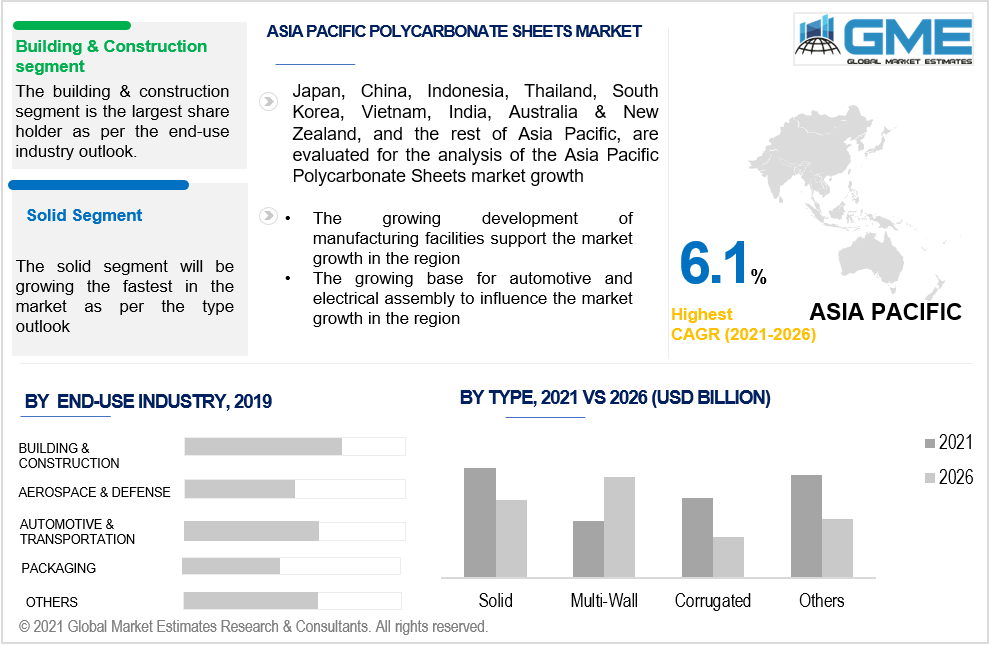 Polycarbonate Sheets Market: By Region
In terms of revenue, the North American region will continue to dominate the market for the coming years. Consumer spending is expected to increase as energy prices fall as a result of the drop in crude oil prices. This is the primary catalyst of the region's economic recovery. Moreover, strict fuel and carbon emission regulations, such as the Corporate Average Fuel Economy (CAFE) and other regulations promulgated by the United States Environmental Protection Agency, encourage the use of lightweight materials in vehicles to minimize weight and improve overall efficiency and performance.
Furthermore, over the expected timeframe, the Asia-Pacific region witnessed a significant CAGR. Polycarbonate sheets are the most lucrative market in the country, and this trend is likely to continue in the coming years. The Asia-Pacific polycarbonate sheets market is expected to be driven by increasing manufacturing production to satisfy domestic demand for high-quality products, as well as increased exports from the region.
Also, due to the extreme exponential increase in demand for miniaturized and advanced consumer electronics, the Middle East and Africa Market is expected to have high product requirements. Many vehicle manufacturers are looking for ways to reduce car weight to reduce carbon emissions, which is driving industry growth.
Polycarbonate Sheets Market: Share & Competitor Analysis
The leading competitors in the industry include Suzhou Omay Optical Materials Co., Ltd., SABIC, Trinseo S.A., Palram Industries Ltd., Excelite, Gallina India, Koscon Industrial S.A., Isik Plastik, Safplast Company, Covestro AG, 3A Composites Gmbh, Teijin Limited, Evonik Industries Ag, Arla Plast AB, Plazit-Polygal Group, UG-Oil-Plast Ltd., Spartech, Mitsubishi Gas Chemical Company, Inc., Brett Martin Ltd., Asahi Glass Co., Ltd., among others.
Please note: This is not an exhaustive list of companies profiled in the report.
In January 2021, Nusaned Investment, a fully owned subsidiary of SABIC that acts as an autonomous investment firm, launched its latest office building and a new brand name at an event in Riyadh
In February 2018, Covestro unveiled Makrolon Rx3440 polycarbonate for use in medical applications. The company was able to extend its polycarbonate sheet product range with the help of this launch
The Global Polycarbonate Sheets Market has been studied from the year 2019 till 2026. However, the CAGR provided in the report is from the year 2021 to 2026. The research methodology involved three stages: Desk research, Primary research, and Analysis & Output from the entire research process.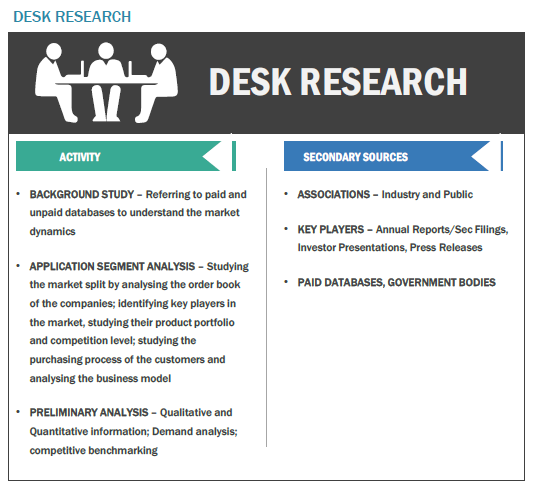 The desk research involved a robust background study which meant referring to paid and unpaid databases to understand the market dynamics; mapping contracts from press releases; identifying the key players in the market, studying their product portfolio, competition level, annual reports/SEC filings & investor presentations; and learning the demand and supply-side analysis for the Polycarbonate Sheets Market.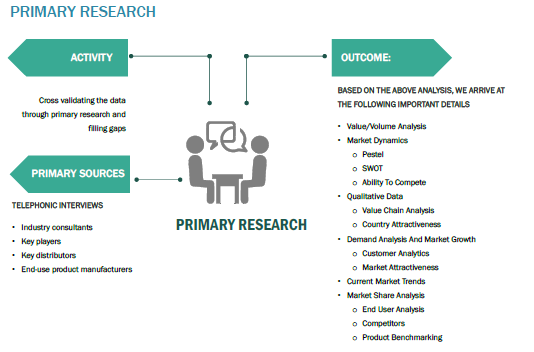 The primary research activity included telephonic conversations with more than 50 tier 1 industry consultants, distributors, and end-use product manufacturers.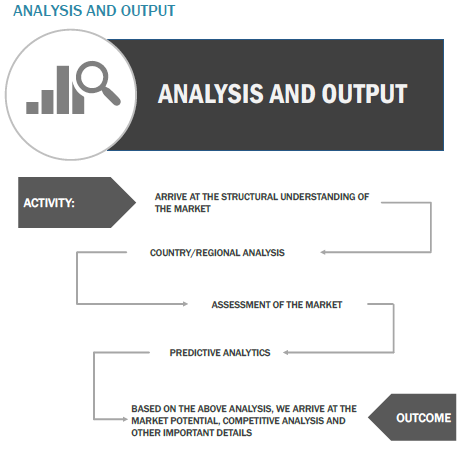 Finally, based on the above thorough research process, an in-depth analysis was carried out considering the following aspects: market attractiveness, current & future market trends, market share analysis, SWOT analysis of the company and customer analytics.