Polymer Concrete Market: Insights
The global polymer concrete market is estimated to witness a significant CAGR during the forecast period (2019-2026). The growth of the polymer concrete market is anticipated to increase with the growing construction industry, along with other factors, such as superior mechanical properties, rise in demand for chemical resistant construction materials, increase in awareness for eco-friendly concrete, and shorter installation time among others. The market is also expected to grow owing to rising product demand in the construction of industrial flooring blocks, pump bases, waste containers, trench drains, and chemical containments among others. The basic method of manufacturing polymer concrete is by reduction of volume of voids in aggregates which would lower the quantity of polymer required for binding these aggregates. The proper binding is attained by properly grading the aggregate in order to maintain less voids and maximum density. Volatile raw material cost, availability of cheap alternatives and strict government laws and regulations are some of the factors expected to hamper the growth of polymer concrete market.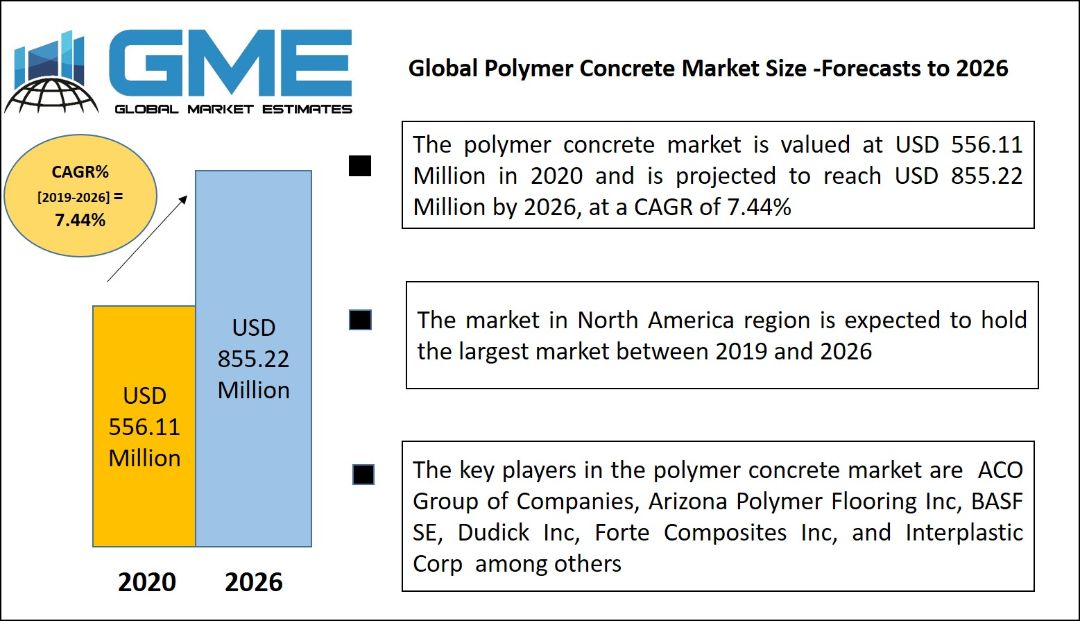 Polymer Concrete Market: By Polymer Type
On the basis of polymer type, the global polymer concrete market is segmented into epoxy, polyester, methyl methacrylate, and others. The epoxy segment is expected to grow during the forecast period, owing to its usage in various properties like rapid repair, common available materials for preparation, low porosity and toughness among others. Epoxy polymer concrete has been prepared by using epoxy resin and silica fume as filler of different particle sizes and crushed aggregates of different dimensions (0.4 mm and 0.8 mm). Epoxy polymer concrete are manufactured by mixing silicone rubber or tire waste powder, fly ash, coconut, sugar cane bagasse, and banana fiber among others.
Polymer Concrete Market: By Application
On the basis of application, the global polymer concrete market is classified into asphalt pavement, building and maintenance, industrial tanks, prefabricated products for drainage systems, and others. The asphalt pavement segment is expected to hold the largest market share in the application segment. The growth of the segment can be attributed to multiple factors, one of them being increasing road construction in the urban and the rural areas. The use of polymer concrete helps to provide highly impermeable and water tight surface that will prevent the ingress of moisture and chlorides thus avoiding reinforcement corrosion, spalling and micro cracks.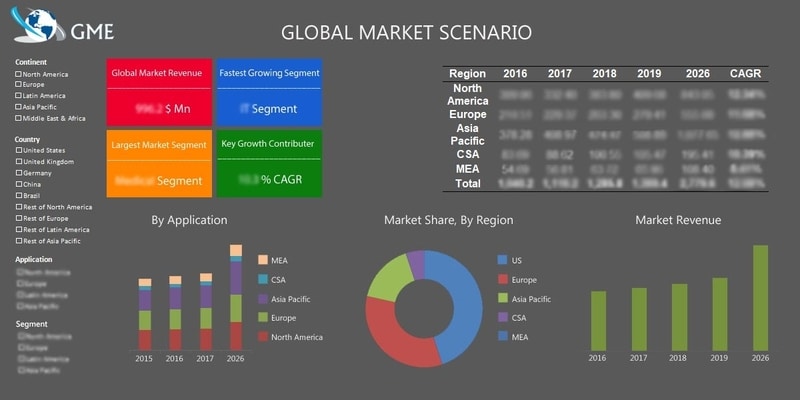 Polymer Concrete Market: By Region
Asia-Pacific is expected to hold the largest market share in 2019. The fast growing construction industries in China, India, and South Korea are expected to be the prime factors contributing to the growth of polymer concrete industry. According to the report published by China, the total length of roads in China increased from 4.5 million kilometers in 2014 to 4.9 million kilometers in 2019. Also, the total length of highways in China rose from 111,900 kilometers to about 148,200 kilometers.
North America is expected to witness considerable growth in the polymer concrete market. The growth of the market in the region can be attributed to increased technological advancement in the field of construction materials. The construction sector in Middle East & Africa is expected to observe a rapid growth in forecast period owing to factors, such as high investments, expansion of oil production, and improved weather conditions. Increase in government investments in infrastructure development projects in Saudi Arabia, UAE, and Qatar, to boost the economic growth is expected to drive the construction industry. This, in turn, will enhance the demand for polymer concrete over the projected period. Europe was also one of the major consumers of polymer concrete in the year 2017 owing to significant product demand from developed economies including Germany, U.K., Russia, Italy, and France.
Polymer Concrete Market: End Use Landscape
The end-user landscape entails a list of current and prospective consumers prevailing across the regions. This section briefs you about company addresses, contact details, products, and regional presence of companies who are purchasing or are likely to purchase Polymer Concrete. The key end-users of the markets are L&T, PCL Construction Services, Inc, Vinc iand Al Naboodah Construction Group LLC among others.
Polymer Concrete Market: Vendor Landscape
The report contains a chapter dedicated to vendors operating in the market, covering raw material manufactures, equipment developers, manufacturers, and distributors. The report provides these insights on a regional level. This section of the report entails contact details, experience, products manufactured/supplied, and geographical presence of companies.
Polymer Concrete Market: Share & Competitor Analysis
Some of the key players operating in the polymer concrete market are ACO Group of Companies, Arizona Polymer Flooring Inc, BASF SE, Dudick Inc, Forte Composites Inc, Interplastic Corp, Kwik Bond Polymers, Metrocast Corp, Napsco Inc and Polycare among others.
Please note: This is not an exhaustive list of companies profiled in the report.
In October 2019, BASF SE introduced a particle foam based on a combination of several polyamide 6 grades for a wide range of applications.
In August 2019, BASF SE acquired Solvay's integrated polyamide business to improve access to important growth markets in Asia and South America, enabling the company to improve the close collaboration with local customers.
Check the Press Release on Global Polymer Concrete Market Report