Portable C-Arm Market Insights
A portable or mobile C-arm is a clinical imaging device that is formed on the X-ray technology and can be utilized deftly in different hospital's operating rooms, surgical rooms, and diagnostic imaging centers. The name is adopted from the fact that this device has a C-formed arm/ gantry that is used for connecting the X-beam identifier & X-beam source.
This device has advanced radiographic capabilities and is used as a fluoroscopic intraoperative imaging device to guide during surgical procedures and also used during diagnosing diseases related to angiography studies, cardiac studies, and orthopedic procedures. The major demand is expected to be from the hospital operating room or operation theatre as they assist in visualizing vascular tissues, abdominal and thoracic aortic aneurysm repair, kidney drainage, percutaneous valve replacements, vascular surgery, cardiac surgery, gastroenterology, orthopedics, neuro-stimulation, neurology procedures, and pain management. The market has witnessed the presence of mini mobile C-arm, full size or large-sized C-arm, compact C-arm, and the latest super C C-arm. These imaging devices come with two different types of detectors, namely the flat panel detector or image intensifier. Owing to better and enhanced imaging quality, the flat panel detector is the future of the mobile C-arm device.
The small-sized or mini C-arms, are smaller systems than the regular ones and are used in smaller diagnostic centers and clinics for basic orthopedic imaging, podiatric imaging, and sports medicine.
Latest advancements in the C-arm segment (3-D navigation with the help of an image processing software to upgrade the system capabilities and image quality; advanced technology to reduce the intensity of radiation; laser aiming guides, touch-screen interface, procedure road-mapping & digital subtraction angiography (DSA), shorter fluoroscopy times and advanced planning for vascular surgeries), for advanced imaging practices especially during surgical procedures along with high flexibility offered by the device to the operator for navigating the arm to get the image of the patient's body part from almost any angle, access to the soft and hard copy of the advanced images with better picture quality are the major market drivers for portable C-arm from 2021 to 2026.
Also, the indirect drivers of this market are the rapidly increasing geriatric population and related orthopedic injuries, high prevalence of cardiovascular, respiratory, and gastroenterological disorders, and increasing trend of minimally invasive surgical procedures (mobile C-arm increases the chances of locating the exact tissue to be subjected for surgery).
Moreover, rising government investments in research activities related to mobile and small-sized C-arm imaging devices, and supportive & favorable reimbursement policies for x-ray imaging procedures in the developed nations will support the market growth.
The major market players offering portable or mobile C-arm are Philips, GE Healthcare, Ziehm Imaging, Siemens, Hologic, Hitachi, Canon, Fujifilm, and Shimadzu.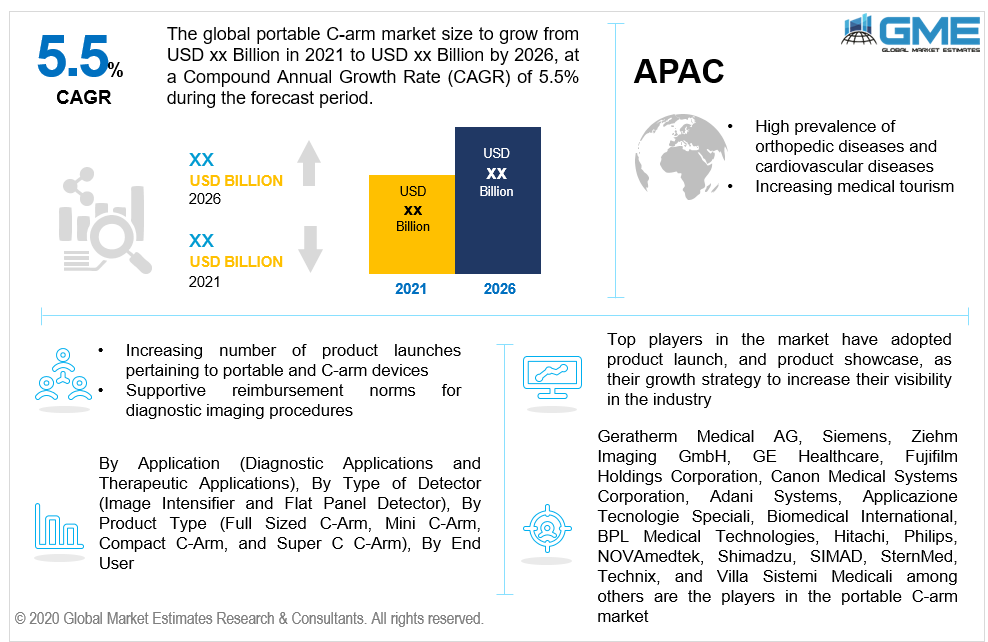 Portable C-Arm Market: By Application
Based on the application areas of the portable c-arm device, the market can be split into diagnostic and therapeutic applications. The diagnostic application is further split into Angiography Studies, Cardiac Studies, Orthopedic Procedures, and Other Applications. The therapeutic application includes embolization, line placements, TIPS stent, and trans-jugular biopsies among others. The market for therapeutic applications will grow the fastest owing to surgical advancements offered by the C-arm device and also due to increasing demand for quick and minimally invasive procedures.
Portable C-Arm Market: By Type of Detector
Based on the detector type, the market can be segregated into an image intensifier and flat-panel detector. The flat panel detectors segment will be the dominant segment in the market owing to advantages over image intensifiers such as extremely low radiation dose, enhanced image quality, and sustainability of the high quality over a period of time.
Portable C-Arm Market: By Product Type
The various types of portable C-arm available in the market are full-sized C-arm, mini C-arm, compact C-arm, and super C C-arm. The mini C-arm will grow with a higher CAGR rate as compared to other types of C-arms. The major reason being, the cost-effectiveness, the advantage of having larger space in the OR due to its compact or small size, and capabilities for extremity imaging procedures.
Portable C-Arm Market: By End-User
Based on the potential users or customers of this device, the market is segmented into hospitals, diagnostic imaging centers, and research institutes. Due to the major applications of portable C-arm devices found in the operating room and surgical procedure centers, the market for hospitals is the dominant segment as compared to other end-user segments.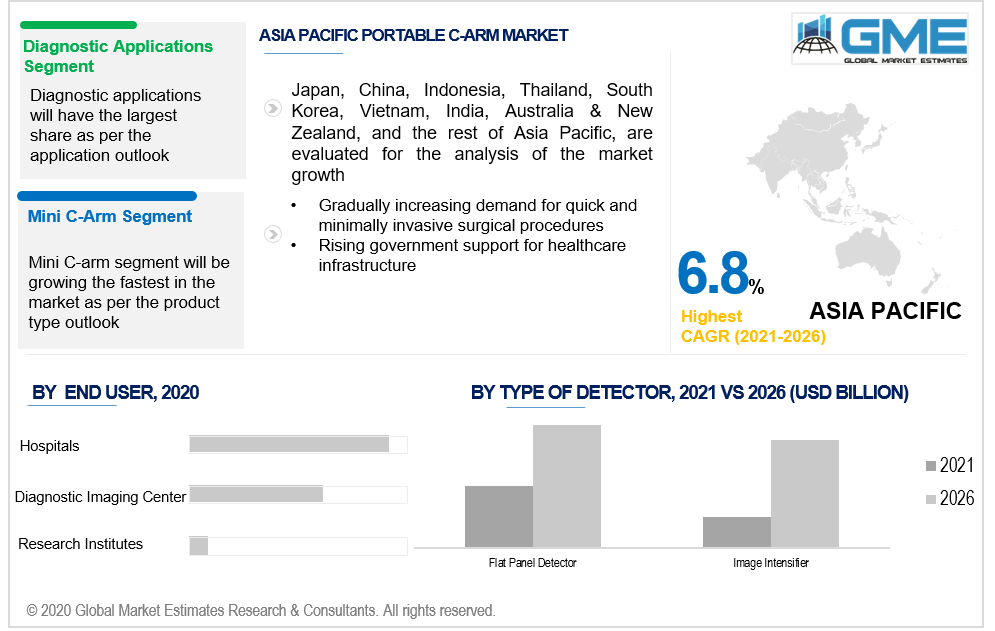 Portable C-Arm Market: By Region
As per the geographical analysis, the market can be classified into North America (the US, Canada, and Mexico), Asia Pacific (India, China, Japan, Malaysia, Singapore, and Rest of Asia Pacific), Europe (Germany, United Kingdom, Italy, France, Spain, Netherlands, and Rest of Europe), Middle East & Africa and Central South America. The market for North America will be the highest and this trend will be seen to be constant throughout the forecast period. This attributed to the presence of advanced and high level of infrastructure for healthcare labs and firms, rising number of diagnostic imaging procedures, supportive reimbursement scenario related to imaging procedures, the increasing presence of geriatric patient population, and high prevalence of chronic diseases that led to routine x-ray imaging and image-guided surgeries in the US, Canada, and Mexico. However, on the other hand, the fastest-growing segment will be seen by the Asian Pacific segment owing to huge investment opportunities for medical imaging manufacturers owing to the increasing trend of medical tourism, the rising launch of new multi-specialty hospitals, diagnostic centers, and high prevalence of cardiac cases amongst Asian population.
Portable C-Arm Market Share and Competitor Analysis
A&D Medical, Opto Circuits Limited, Exergen Corporation, Microlife Corporation, Radiant Innovation Inc., Geratherm Medical AG, Siemens, Ziehm Imaging GmbH, GE Company (GE Healthcare), Fujifilm Holdings Corporation, Canon Medical Systems Corporation, Adani Systems, Applicazione Tecnologie Speciali, Biomedical International, BPL Medical Technologies, DMS Imaging, EcoRay, Imedic Imaging, General Medical Merate, Genoray, Hologic, IBSI Ray, Idetec Medical Imaging, Italray, MS Westfalia, Hitachi, Philips, NOVAmedtek, Shimadzu, SIMAD, SternMed, Technix, and Villa Sistemi Medicali among others are the players in the portable C-arm market.
Please note: This is not an exhaustive list of companies profiled in the report.