Prosthetics And Orthotics Market: Insights
Prosthetics are used to enhance people's lifestyle and functioning who have lost their limbs by replacing them with artificial limbs called prostheses. To meet the functional needs of such individuals, which are complex and differ from the lower extremity or upper extremity, the prosthesis needs to be unique, with the combination of materials, construction, design, and alignment. Lower limb prostheses aid functions like shock absorption, cosmetic appearance, walking & standing, energy storage & return, and also other functional needs like running, jumping, and other athletic activities. Upper limb prostheses aid functions like daily activities such as eating, writing, and dressing, grasping, and reaching, and also few occupational challenges like hammering, painting, and weightlifting.
In medicine, Orthotics is concerned with the fabrication, design, and manufacture of artificial devices called orthoses, which control weakened or deformed regions in a physically challenged person's body. An orthosis mainly corrects or modifies functional and structural features of the neuromuscular and skeletal systems. It aims to offer accuracy and precision to the artificial parts. Currently, more people are taking sports as a career option. According to statistics, every year, more than 80,000 lower limb amputations related to diabetes are done in the US. Among them, every year, around 30,000 amputations occur from peripheral vascular diseases.
In the future, the orthotist or prosthetist's clinical situation will continue to progress, due to the implementation of advanced care models that are used for assisting clients with treatment goals. Doctors are required to use advanced communication skills to encourage conversations, thereby assisting clients in describing their treatment expectations and enlightening their decision about orthotic or prosthetic treatments regardless of an understanding of the likely outcomes.
The increasing diseases like diabetes and vascular illnesses, osteoporosis, osteopenia, osteoarthritis, increase in geriatric population, and rise in the adoption of supports and braces for non-invasive treatments, are supporting the market growth. The increase in obesity rates, surging road accidents and sports injuries, growing prevalence of osteosarcoma, technological advancements, and the availability of personalized orthopedic prosthetics are also significant drivers, propelling the market's growth.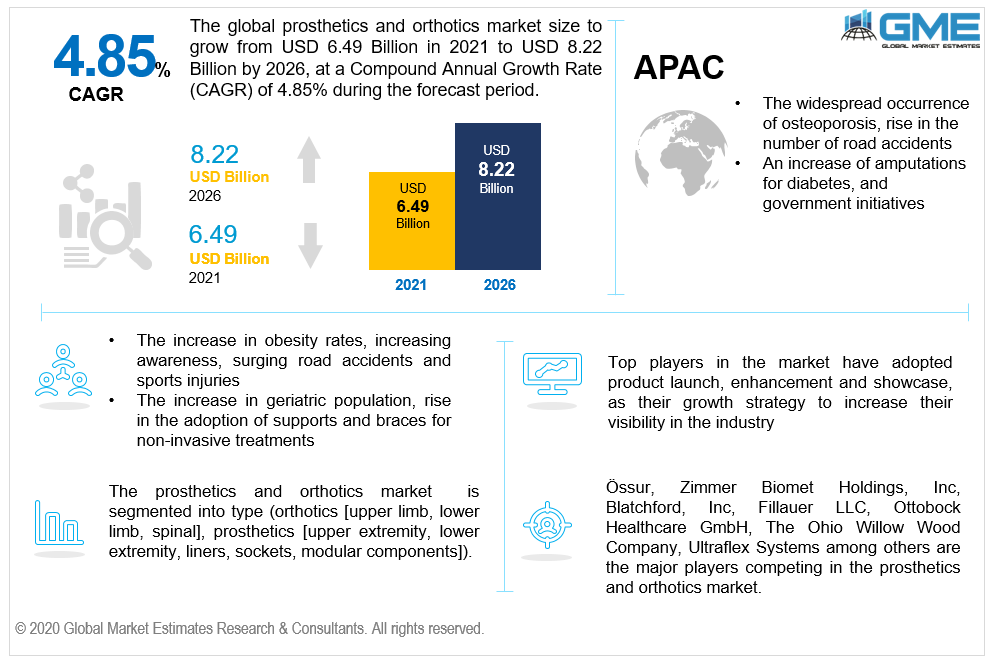 Prosthetics And Orthotics Market: By Type
Based on the type, the market is categorized into orthotics and prosthetics. Orthotics further has different segments like the upper limb, lower limb, and spinal. The Prosthetics segment is explained into upper extremity, modular components, lower extremity, sockets, and liners.
The category of orthotics is expected to be the prominent segment in terms of share between 2021-2026. This is due to a rise in osteoarthritis, rising number of spine injuries, growing penetration of orthopedic technology, rising injuries in sports, increasing amputation cases related to diabetes, and an unhealthy lifestyle.
Upper limb orthotics are extensively used types, due to various benefits, such as reduced pain and speed recovery. Spinal orthotics are likely to exhibit the fastest growth rate due to factors like a growing number of spinal injuries, and increasing target population, and unhealthy routines of youths.
The prosthetics segment is also likely to grow over the estimated period. The increase in disability rates across the globe will propel market growth.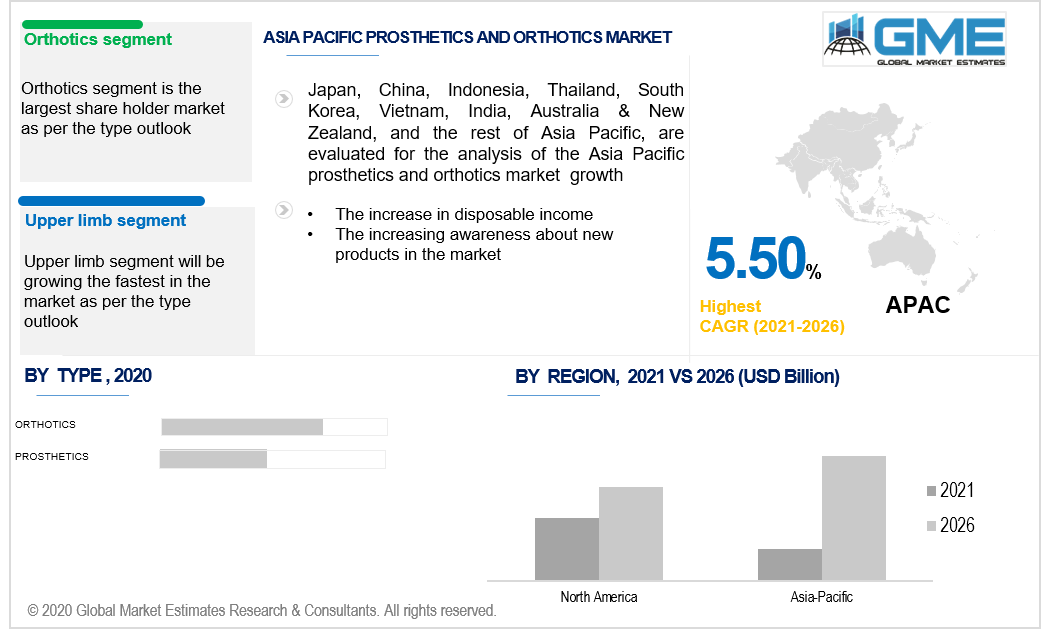 Prosthetics And Orthotics Market: By Region
The dominant market segment is held by the North American region in terms of revenue generation. This is attributed to the US's base of established providers of prosthetics, with the growing number of injuries in sports, rising prevalence of osteosarcoma, and this region attracting patients from other regions due to the availability of proficient and skilled medical doctors and experts, favorable reimbursement policies, well-equipped infrastructure in healthcare, development, and investment in the activities for research and development. Besides, the US offers good quality care and value-based services. According to the data published by American Physical Therapy Association (APTA), the U.S. registered approximately 8.7 million sports injuries in 2018. The Association for Safe International Road Travel (ASIRT stated that road accidents are the 9th foremost reason for deaths globally.
However, the Asia-Pacific region will share maximum revenue in the market. This is attributed to the widespread occurrence of osteoporosis, rise in the number of road accidents, an increase of amputations for diabetes, and government initiatives. The increase in disposable income and increasing awareness about new products in the market are also significant factors driving the market.
Prosthetics And Orthotics Market: Share & Competitor Analysis
Össur, Ultraflex Systems, Smith & Nephew PLC, Zimmer Biomet Holdings, Stryker Corporation, The Ohio Willow Wood Company, Inc, Blatchford, Inc, Ottobock Healthcare GmbH, Fillauer LLC, and Johnson and Johnson, among others, are the key players.
Please note: This is not an exhaustive list of companies profiled in the report.
In July 2018, Blatchford had introduced a new variant of sandal toe foot shell in the market.
In 2019, Ottobock company introduced the C-brace product with swing control to play a dominant role in the market
In March 2018, Smith & Nephew introduced its products JOURNEY II XR a knee arthroplasty. The products are available in the United States and Japan.
In February 2019: Ossur had launched a new, next-generation form of revolutionary Proprio Foot microprocessor ankle (MPA), which had been integrated with Artificial intelligence,
In September 2019, Zimmer Biomet launched Stratum Foot Plating System, which is a plate and screws construct system, a next-generation anatomic locking plate designed to optimize usability and time.
The Global Prosthetics And Orthotics Market has been studied from the year 2019 till 2026. However, the CAGR provided in the report is from the year 2021 to 2026. The research methodology involved three stages: Desk research, Primary research, and Analysis & Output from the entire research process.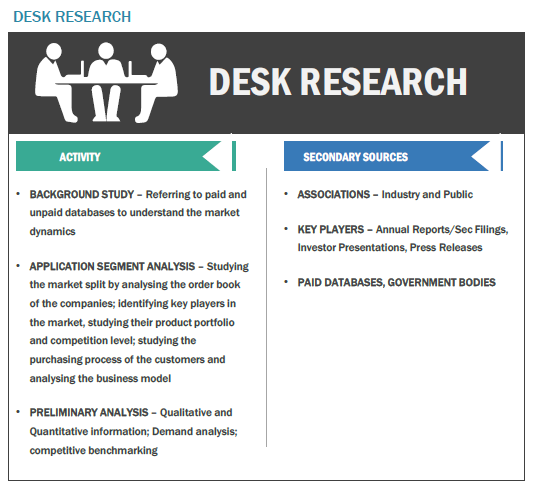 The desk research involved a robust background study which meant referring to paid and unpaid databases to understand the market dynamics; mapping contracts from press releases; identifying the key players in the market, studying their product portfolio, competition level, annual reports/SEC filings & investor presentations; and learning the demand and supply-side analysis for the Prosthetics And Orthotics Market.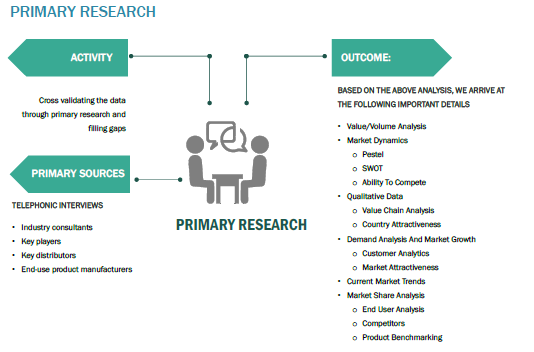 The primary research activity included telephonic conversations with more than 50 tier 1 industry consultants, distributors, and end-use product manufacturers.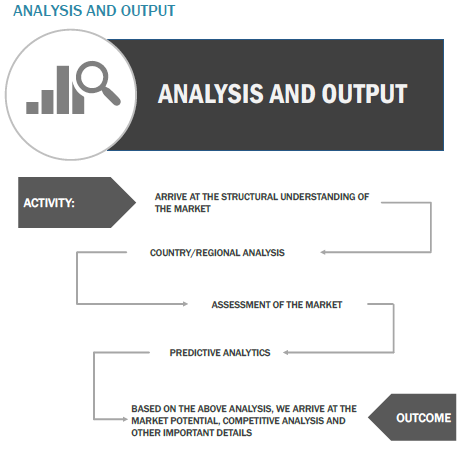 Finally, based on the above thorough research process, an in-depth analysis was carried out considering the following aspects: market attractiveness, current & future market trends, market share analysis, SWOT analysis of the company and customer analytics.