Global Protein Crystallisation Market: Insights
Protein crystallization is a process of stabilizing the molecules of protein into crystal form. Protein Crystallization is a crucial step and a method for protein purification and bringing in chemical purity. Protein crystallization is also a very essential tool in X-ray crystallography, which is the most known field for analyzing the molecular structure of proteins and nucleic acids.
After studying carefully, proteins are those atoms and molecules that give scientists an understanding of their features and functions. In today's scenario, where drug facilitation and drug administration are essential, understanding the features and functions of the proteins also becomes crucial. With increasing infectious diseases and other viruses and bacteria, the capabilities of proteins present inside a cell are very important. These proteins give professional researchers and scientists ideas of how an organism's proteins react to drug testing and whether these drugs will be beneficial on specific protein molecules. However, understanding and studying the minute protein molecules becomes difficult, making it complex to note the features and function of these proteins.
In most cases, pharmaceutical drugs are designed after analyzing the protein that will effectively interact with the proteins. That is when the professionals use the process of protein crystallization to understand the shape. In this crystallization process, once these millions of proteins are placed into the solution, they come together and pack themselves into the form of a crystal that is highly structured. Protein crystallization aims to form the enormous crystal structure that enables detailed study. This protein crystallization process can be undertaken artificially or through natural methods. The artificial method is vulnerable to fewer defects as they are formed in a controlled environment compared to the naturally formed ones. Today with the increasing requirement of higher potency pharmaceutical drugs, protein crystallization plays an essential role. Identifying various functions and features from these crystals also helps scientists identify various diseases and treatments for them.
Studies have found that a human body has approximately 100,000 proteins and over 10 billion in the surrounding nature. With each of these proteins holding distinctive structures, they reveal crucial information regarding human health and workings in the environment. This protein crystallization encloses unwraps various opportunities for discoveries and progress. Besides these, the increasing technological advancements, more significant amounts of investments in R&Ds, awareness, and demand for more efficient biotechnological and pharmaceutical industries are boosting the significance of protein crystallization in the market.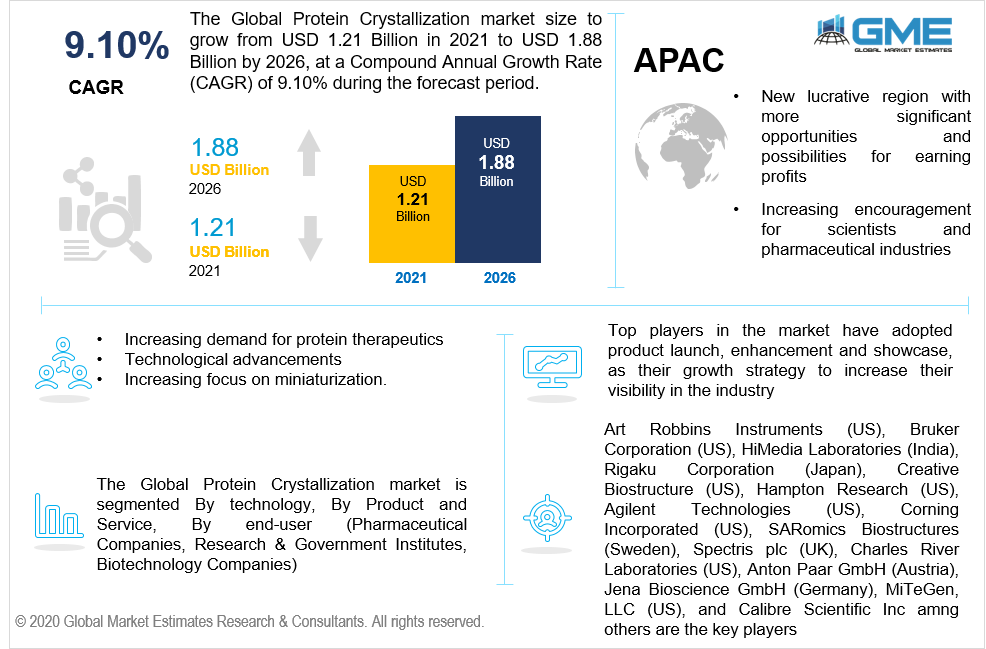 Global Protein Crystallisation Market: By Technology
X-ray crystallography is the most commonly used technology in the protein crystallization market. This scientific equipment is utilized to determine the three-dimensional features and structures of molecules like proteins. The x-ray crystallography facilitates two-dimensional view along with three-dimensional structural features. These equipment technologies are comparatively cheap to utilize with very simplistic operations. Although efficient in capturing the larger structures, this technology has no constraints to determine molecules of all sizes with no weight limits.
NMR spectroscopy is also one of the technologies that are considerably used in protein crystallization. The NMR spectroscopy utilizes magnetic fields to understand the details in the structure of proteins. Irrespective of certain more advantageous x-ray crystallography features, NMR and crystallography technologies usually complement each other. The NMR technology enables scientists to get a dynamic view of the molecular structures. This technology also features to be a non-destructive and non-invasive one, enabling better research results.
Global Protein Crystallisation Market: By Product and Service
Consumables like reagents kits, microplates, and other consumables are essential with every undertaken research or study. Prior to the beginning of every new study or research, the researchers demand these one-time-use consumables. These consumables are explicitly designed to satisfy the research requisites and to deliver compatibility and enhanced research experience. These also act as better, cheaper, and the essential products to carry out any protein crystallization process. Consumable supplies are strictly used for the purpose of research and are entirely consumed in the due course of the experiment or testing.
On the other hand, instruments, software, or services are highly costlier products used during the scientific processes, and as these requiring substantial capital investments are not demanded as frequently as the consumables.
Global Protein Crystallisation Market: By End Users
The pharmaceutical industry today is flourishing on more significant levels. With increasing health concerns and rising infectious diseases, the pharmaceutical sector has been undertaking numerous drug testings to resolve the contiguous spread of diseases. As proteins being the crucial elements and materials in the human body, studying and analyzing them becomes very essential to bring in suitable drugs and medical treatments. Protein crystallization plays two vital roles in the pharmaceutical industry's operation, mainly drug designing and drug delivery. The technological application of x-ray crystallography in bringing three dimensional protein structures enables pharmacists to understand the properties and features of human cell proteins efficiently, thus improving drug designs and outcomes. Protein crystallization is being considered a very effective tool today in the pharmaceutical industry. The traditional methods of figuring the structure of proteins and drug discoveries involved many trial and error, thus being the risker options. However, the protein crystallization process has reduced the risk in drug discoveries and has increased the efficiency and outputs.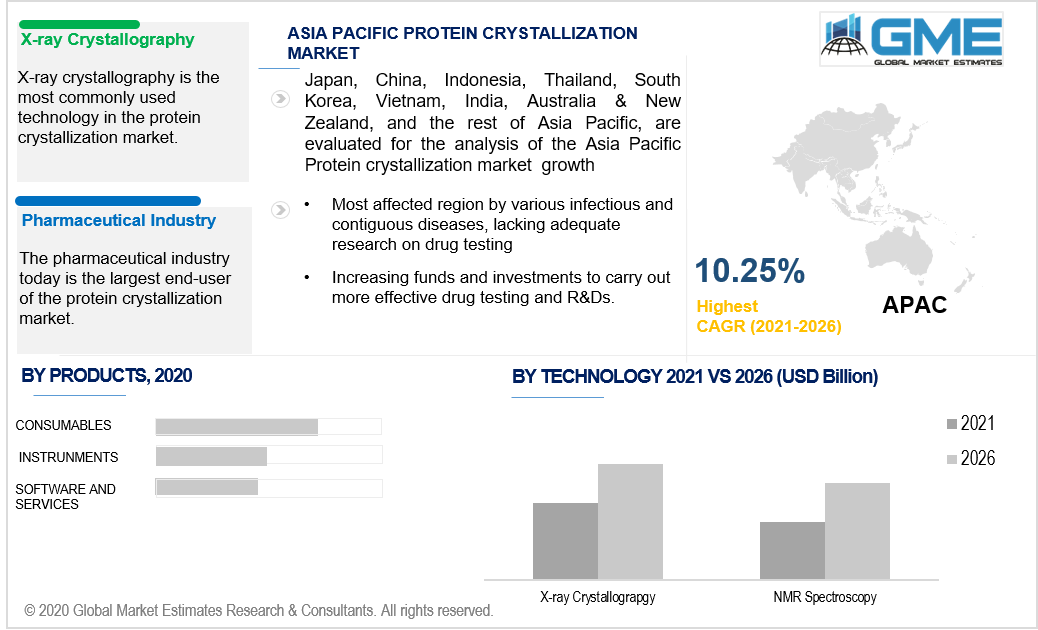 Global Protein Crystallisation Market: By Region
North America has its monopoly over the protein crystallization market. This region has been one of the biggest centers for medical and pharmaceutical activities. By itself, a country like the USA accounted for a revenue of USD 490 billion from the pharmaceutical industry in 2019, which covers 48% of the share in the pharmaceutical industry worldwide. Being a hub for countries with such enormous contributions, the North American region is correspondingly accounted to be the largest shareholder of the protein crystallization market.
However, in recent years, the Asia Pacific region is becoming the new lucrative region with more significant opportunities and possibilities for earning profits. The government in the countries of China, India, Japan, Singapore are encouraging scientists and their pharmaceutical industries to carry out protein crystallization processes to be able to bring new drug discoveries and outcomes. This region has also been one of the most affected regions by various infectious and contiguous diseases, lacking adequate drug testing research. However, in recent years, countries like China and India have spent huge funds and investments to carry out more effective drug testing and R&Ds.
Global Protein Crystallisation Market: By Share & Competitor Analysis
Art Robbins Instruments, Meiji Techno, Bruker Corporation, Biogenuix, HiMedia Laboratories, Emerald Biosystems Inc, Rigaku Corporation, Douglas Instruments Ltd, Creative Biostructure, Greiner Bio-One International, Tecan Group, Hampton Research, Agilent Technologies, Corning Incorporated, Helix BioStructures LLC, SARomics Biostructures, FORMULATRIX, Spectris plc, Arinax Scientific Instrumentation, Calibre Scientific Inc., Charles River Laboratories, MiTeGen, LLCAnton Paar GmbH, and Jena Bioscience GmbH among others.
Please note: This is not an exhaustive list of companies profiled in the report.
The Global Protein Crystallization Market has been studied from the year 2019 till 2026. However, the CAGR provided in the report is from the year 2021 to 2026. The research methodology involved three stages: Desk research, Primary research, and Analysis & Output from the entire research process.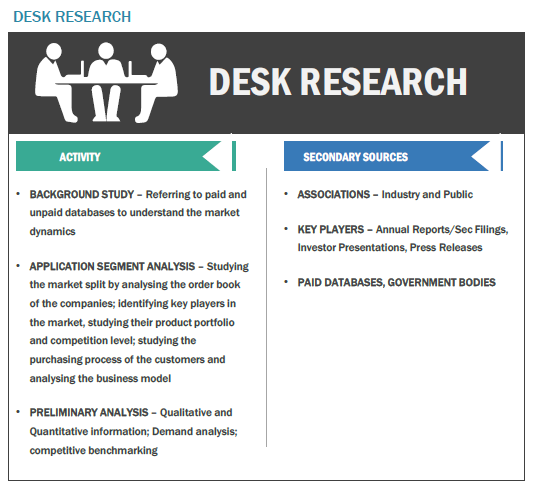 The desk research involved a robust background study which meant referring to paid and unpaid databases to understand the market dynamics; mapping contracts from press releases; identifying the key players in the market, studying their product portfolio, competition level, annual reports/SEC filings & investor presentations; and learning the demand and supply-side analysis for the Protein Crystallization Market.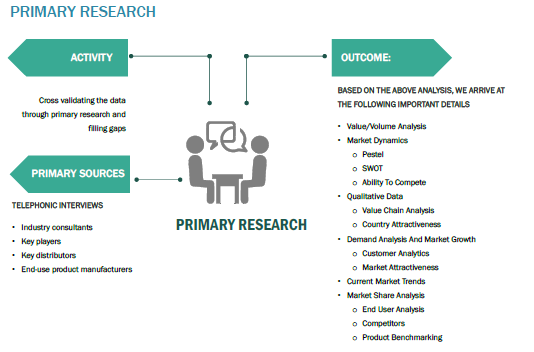 The primary research activity included telephonic conversations with more than 50 tier 1 industry consultants, distributors, and end-use product manufacturers.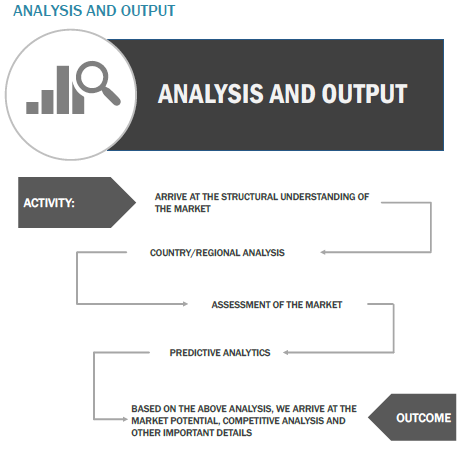 Finally, based on the above thorough research process, an in-depth analysis was carried out considering the following aspects: market attractiveness, current & future market trends, market share analysis, SWOT analysis of the company and customer analytics.