Route Optimization Software Market: Market Insights
Route optimization is a form of route scheduling program that enhances operational efficiency by optimizing routes. Path optimization is the method of determining the best route for a given set of circumstances, such as customer and driver time restrictions, vehicle problems, and route availability, to ensure the lowest possible transportation expense. Optimizing the workflow has always been the hour's requirement, and the program for route optimization has been accomplished. Through organizing sequential stops for logistics activities, including conventional and static planning features, and offering real-time, dynamic data solutions, route optimization software facilitates round-the-clock operations. It brings several variables and limitations into its federal jurisdiction to map a good path to satisfy the needs of the consumer. These software features have made it a consumer favorite. Route optimization allows businesses to maximize route scheduling, processing time, and customer service by optimizing complete order delivery.
Implementing valuable learning tools through adopting route optimization tools combines real-time data and insight into route scheduling, embellishes, and strengthens fleet management techniques. It primarily assists in the refining of vehicle routing and real-time monitoring of development. It also helps to lower the cost of fuel by offering the most optimized route possible.
In 2019, more than one-third of fleet managers studied, who did not use route optimization techniques methods, believed they would hope to see an improvement in efficiency introduced by the technology, according to a global survey conducted by Verizon. The study also reveals that over 53% of organizations using route optimization tools reported real productivity gains – with most respondents indicating significant productivity growth (53% of respondents) and compliance (52%respondents).
The logistics sector also needs to be more effective and competitive and solve the dynamic problem of efficient route planning increasingly. The logistic companies, therefore, tend to implement software technologies for route optimization that can be implemented into the current structures, specifically and confidently. Also, several start-ups are emerging in the industry on a global scale, which is expected to increase market penetration for several end-user markets.
Some of the leading market drivers of route optimization software are lowering costs, implementation of route optimization tools followed the restrictions, and reduced fines because of delays. After implementing route optimization software, overall fuel consumption has decreased average delivery costs. The rise in the use of this program could remove separated orders and external transport. GPS monitoring with the use of this device also enables real-time tracking of vehicles. These aspects contribute to demand growth.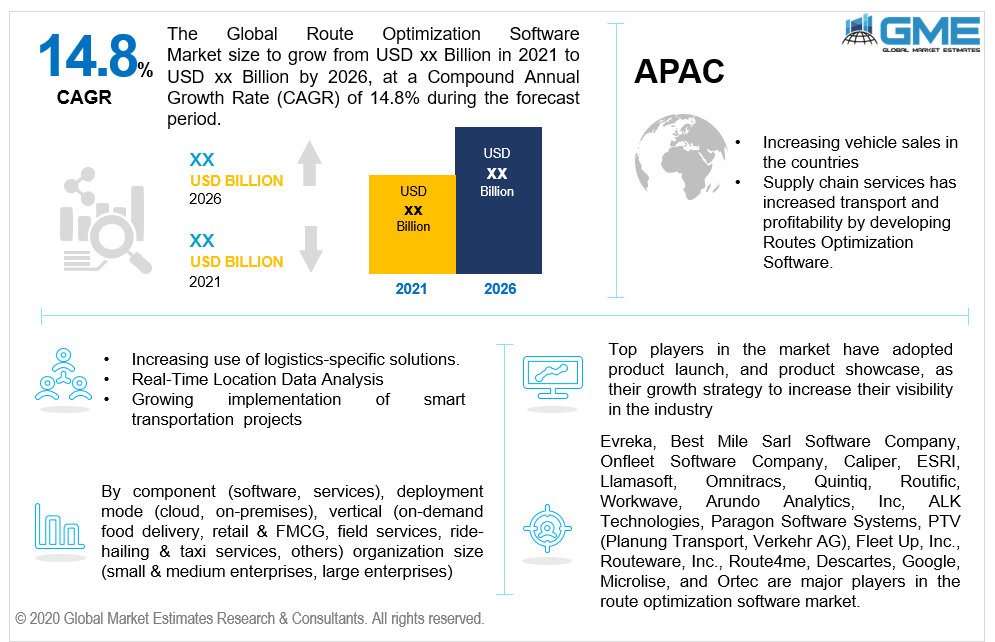 Route Optimization Software Market: By Component
By component, the market is categorized into software and services, and the services sector is further sub-divided into support & maintenance, consulting services, map integration & software deployment. The software segment is expected to hold the largest market share over the forecast timeframe due to the growing need for enhancing customer service delivery, and the need for route optimization software amidst the increasing traffic congestion.
Due to the need for all service components in the pre-and post-software implementation period, the services segment is projected to expand at a faster CAGR.
Route Optimization Software Market: By Deployment Mode
Based on the deployment mode, the market is segmented into on-premises and cloud-based deployment. Because of the decreased travel costs and increased performance, cloud deployment has seen a substantial market growth rate. Distributors provide a tool for road construction, one for GPS cell monitoring and another for tracking idle hours, routing, and others linked in a cloud with a high-speed internet, which allows the delivery of products and services effective and time-consuming. Cloud implementation helps deliver reliable information in real-time. Also, cloud-based applications need fewer resources, thus boosting the market growth.
Due to the need for customized software that can handle complicated requirements as well as the need for data control and protection, the on-premises implementation type is expected to hold a greater market share during the forecast timeframe.
Route Optimization Software Market: By Organization Size
Based on the organization size, the market is categorized into Small & Medium Enterprises and Large Enterprises. Large enterprises are dominating the market as a result of the increased use of route-optimized software instruments, and they have access to more resources (software) and planning techniques than small and medium-sized corporations. One of the end-users such as suppliers of logistics services has maximized their transport and profitability by improving roads and software. Large enterprises have become constantly conscious of the strategies that require the transport of shipments. Large companies using route optimization software on a more planned basis to satisfy consumer needs as efficiently and as effectively as possible.
The SME segment is projected to expand faster than the overall market during the forecast period, due to the growing acceptance of cloud-based route optimization tools.
Route Optimization Software Market: By Vertical
Based on the vertical, the market is classified into on-demand food delivery, retail & FMCG, field services, ride-hailing & taxi services, and other verticals. It is expected that the retail & FMCG segment dominates the market in route optimization in terms of revenue. Technology for optimization of routes will enable suppliers, wholesalers, and retailers to monitor and manage their multi-channel plans, reduce expenses for operation, maximize operating performance and provide a greater quality of customer service. The field services size is anticipated to grow at the fastest CAGR during the forecast era, due to the importance of routes undertaken to complete several jobs within a given time.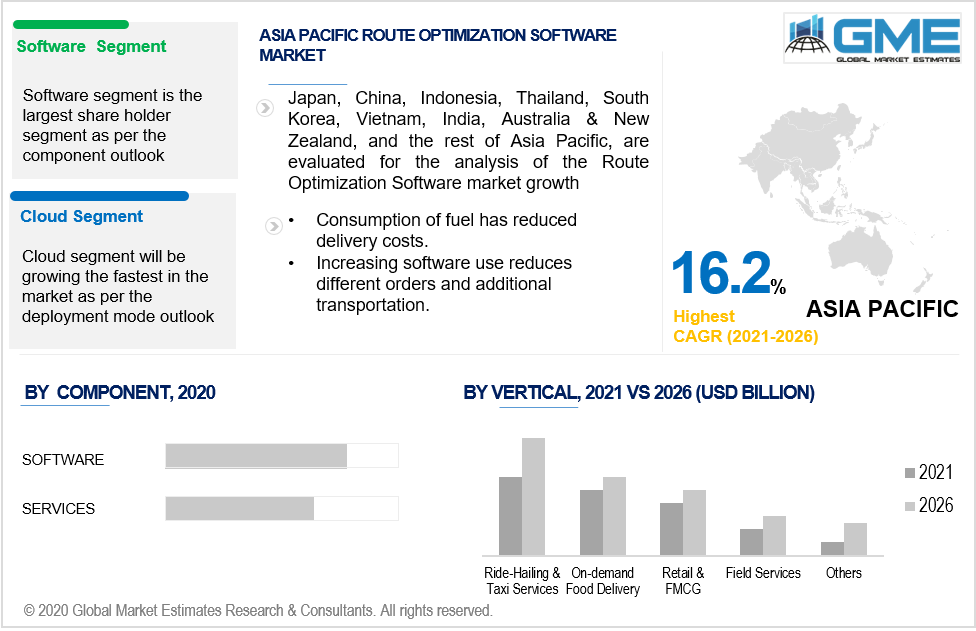 Route Optimization Software Market: By Region
As per the regional analysis, the market can be classified into North America, Asia Pacific, Europe, Middle East & Africa, and Central South America. North America is expected to hold the largest share around the world when it comes to the software optimization route industry. The region is anticipated to drive the market as there will be a large-scale technology prevalence of providers offering route optimization software solutions. Europe is recognized as the second-largest economy and its similar features to North America can be linked to it.
In the forecast period, the Asia-Pacific region is expected to hold a significant CAGR. Smartphone adoption and logistics management are increasing in emerging markets such as Singapore, China, and South Korea have come a long way and strategy implementation is being picked back progressively by companies.
Route Optimization Software Market Share and Competitor Analysis
Evreka, Best Mile Sarl Software Company, Onfleet Software Company, Caliper, ESRI, Llamasoft, Omnitracs, Quintiq, Routific, Workwave, Arundo Analytics, Inc, ALK Technologies, Paragon Software Systems, PTV (Planung Transport, Verkehr AG), Fleet Up, Inc., Routeware, Inc., Route4me, Descartes, Google, Microlise, and Ortec are major players in the Route Optimization Software Market.
In March 2019- Fleet Up, Inc collaborated with Route4Me, the world's most successful small-business route planning app. The collaboration opened up the prospect of managing some logistics-intensive market planning, optimization, tracking, and analysis process
Please note: This is not an exhaustive list of companies profiled in the report.
The Global Route Optimization Software Market has been studied from the year 2019 till 2026. However, the CAGR provided in the report is from the year 2021 to 2026. The research methodology involved three stages: Desk research, Primary research, and Analysis & Output from the entire research process.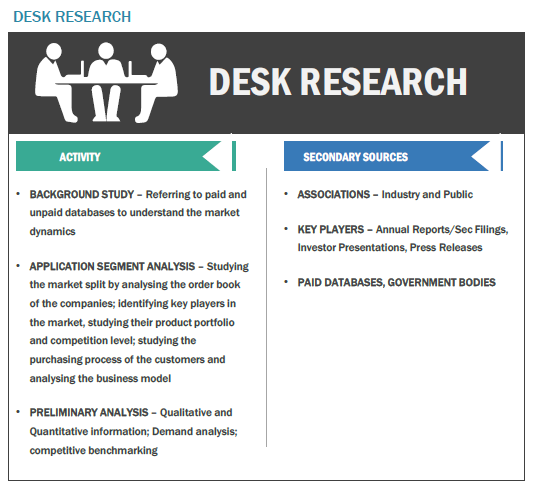 The desk research involved a robust background study which meant referring to paid and unpaid databases to understand the market dynamics; mapping contracts from press releases; identifying the key players in the market, studying their product portfolio, competition level, annual reports/SEC filings & investor presentations; and learning the demand and supply-side analysis for the Route Optimization Software Market.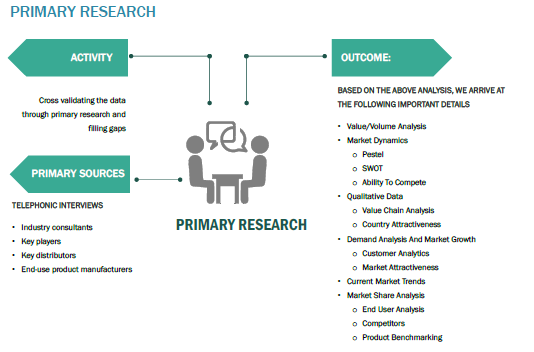 The primary research activity included telephonic conversations with more than 50 tier 1 industry consultants, distributors, and end-use product manufacturers.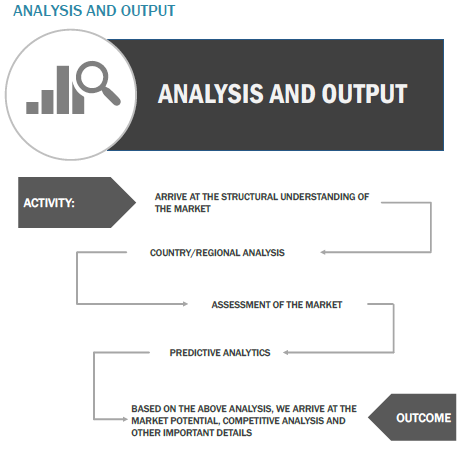 Finally, based on the above thorough research process, an in-depth analysis was carried out considering the following aspects: market attractiveness, current & future market trends, market share analysis, SWOT analysis of the company and customer analytics.