Rubber Cables Market Insights
The global Rubber Cables market is estimated to witness a moderate CAGR during the forecast period. Rubber cables are flexible even at sub-zero temperatures, highly durable, have high levels of water and abrasion resistance. The demand for rubber cables is driven by growing urbanization in developed as well as developing countries. Growing urbanization is also expected to increase adoption of rubber cables. Overhead cables often interfere with city infrastructure, and can potentially disrupt functioning. Reliability of underground cables has led to significant rise in their adoption in urban areas. The continuous research & development in the power sector to improve may push the growth of the global rubber cables market. Growing telecommunication needs across the world are further expected to drive the demand for rubber cables during the forecast period. However, presence of various substitutes and environmental hazards are anticipated to restrain the growth of the global rubber cables market.
Rubber Cables Market: By Resin Type
The global rubber cables market is segmented into SBR, EPDM, NBR, CSP, EVA, PCP, CSP and CPE on the basis of resin type. SBR (Styrene butadiene rubber) is one of the cheapest synthetic elastomer which is often used as a substitute for the natural rubber. The SBR possesses an excellent physical properties of styrene butadiene such as good aging stability and good abrasion resistance. Styrene butadiene is derived from two different types of monomers namely, butadiene and styrene. Mixture of these two different types of monomers is polymerized by two processes, namely from solution, i.e. S-SBR or as an emulsion. Ethylene propylene diene monomer rubber is a type of synthetic rubber, which finds its usage in wide range of applications. The market for EPDM is majorly driven by its physical properties such as compatibility with polar substances, for instance, ketones, fireproof hydraulic liquids, alkalis, and hot and cold water among others.
The CSP rubber cables are also exceptionally resistant to mineral oils, grease and ozone. The resin finds its application in wide range of industry verticals including water processing, renewable energy, nuclear and thermal power stations, distribution and power networks, railways, ship wiring, and mining among others. EVA (ethylene vinyl acetate) is the copolymer of vinyl acetate and ethylene. Increased demand for the EVA resin is by wide range of end use industry vertical such as plastic and paper, biomedical engineering, packaging, and textile among others. PCP (Poplychloroprene) is one of the commercially available synthetic rubbers and is an exceptionally flexible and tough sheathing material with resistance to abrasions, tears, chipping, and crushing among others. CPE (Chlorinated Polyethylene) material is obtained through the substitution of hydrogen atoms with chlorine atoms in high density polyethylene (HPDE). The market for CPE resin type is majorly driven due to its excellent chemical and physical properties, such as resistance to ozone aging, thermal oxygen aging, and alkali and acid resistance.
Rubber Cables Market: By Voltage
On the basis of voltage, the global rubber cables market can be classified into Less than 450 V, 450 V-750 V, More than 750 V. The 450-750v segment is expected to hold the significant market share in total rubber cable market, owing to wide range of applications in the end-use industries. Less than 450 V segment have a wide range of applications. These cables have cross sectional area of 1.5 Sq.mm- 400 Sq.mm. Low voltage rubber cables have 5 cores and are used in construction, industrial, mining, power station, railway, underground industries. These cables are used at low pressures and permissible working temperature of cable should not exceed 60℃. They are used for the power connection of electric equipment, electric tool and various movable electric devices. The 450 V-750 V cables have diameter of 5.7 to 45.5mm lower limits and 7.1 to 101mm outer limit. The maximum conductor resistance of these cables are 13.3 to 0.0287 ohm/km at 20. 450-750 V rubber cables have features including heat resistant insulation, longer life, excellent mechanical & electrical properties, high current carrying capacity, high compatibility of cores, and insulation is highly thermal stable. These cables have excellent resistant to moisture, abrasion, grace, oil. These cables are used for flexible connection in electrical equipment and suitable for both indoor and outdoor use in industrial and agricultural plant and on construction sites. The More than 750 V segment have 0.5KV to 10kv silicone rubber insulation electric motor lead cable. These cables are light weight, safe and secure, reliable and efficient. These cables find its application in many industries including steel mills, cranes, airport lighting, ships, nuclear & thermal power stations, wind power mills, electrical machines, construction equipment's and turbines among others.
Rubber Cables Market: By Application
On the basis of application, the global rubber cables market can be classified into Cable Sheathing, Insulation, Others. The insulation segment is expected to dominate the market share. The sheath is the protective covering which protects the cable from any external mechanical damage. The polymer used in the rubber isolation compound plays an important role as incorrect selection of the polymer may damage the cable system. The polymers used in the sheath include PVC, NBR, CR, CSMA and NR among others. The type of polymer used for sheathing largely depends on the application. The market for cable sheathing application is majorly influenced by increasing incidence of short circuits. Excellent physical and chemical properties of rubber cable have resulted to increased demand for cable sheathing applications in wide range of end use industries. The market for insulation application is majorly influenced due to the multiple properties of rubber cables such as excellent flexibility in different temperature ranges, good water absorption properties, superior abrasion resistance and weathering resistance among others.
Rubber Cables Market: By End Use
On the basis of end use, the global rubber cables market can be classified into Renewable Energy, Construction & Infrastructure, Oil & Gas Industry, Industrial, Mining & Tunneling, Marine & Offshore, Others. The industrial segment is expected to dominate the end use application in terms of growth rate during the forecast period. Renewable energy is generally collected from renewable resources such as wind, sunlight, waves, tides, rain, and geothermal heat. Rapid deployment of renewable energy and technological diversification of energy sources would result in significant energy security and economic benefits. Renewable energy also reduces environmental pollution such as air pollution caused by burning of fossil fuels and improves public health; reduces premature mortalities due to pollution. Rapid urbanization and industrialization in developing countries is expected to drive construction and infrastructure segment. Growing construction of residential building and commercial building in major metro cities is also one of the factors for construction and infrastructure segment.
Rubber cables are used in oil & gas industries for offshore drilling systems, land based drilling systems, refinery applications, pump equipment, and pipeline management. Rubber cables are used in different industrial applications including handling large workloads, electrical instrumentation, and drum reeling applications. These cables are used for fixed installation of rail vehicles, buses, pipes and closed installation ducts. Rubber sheet of rubber cables protect the wire from harshest elements on earth including ultraviolet (UV) light, salt-water submersion, oil, greases, and mechanical stress. Rubber cables are used in mining applications for dynamic equipment such as cranes and conveyors, through to sub-surface tunnel-boring machines and pumps. Rubber cables are used in different applications in marine and offshore including power, instrumentation, control, and telecommunications among others. These cables are designed to withstand the harshest elements and meteorological conditions, including saltwater spray and submersion, strong waves and wind.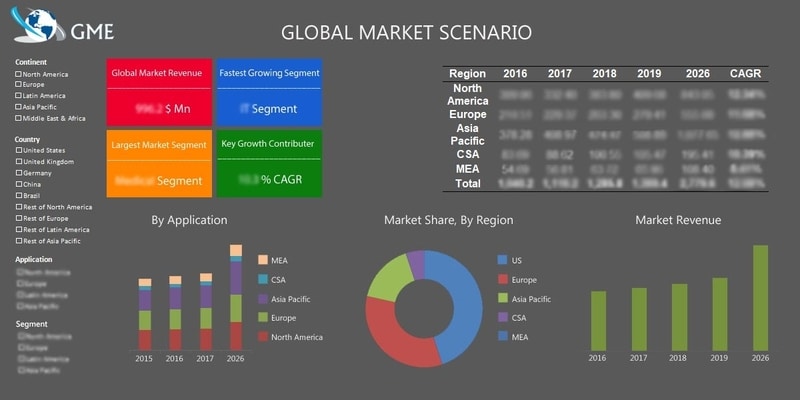 Rubber Cables Market: By Region
The global rubber cables market in terms of region is dominated by Asia Pacific owing to multiple factors such as developing economies, industrialization, advancement and increase in number of onshore industry and rise of commercial activities among others. China, Japan, South Korea, and India are the main contributors to the growth of rubber cables market in the Asia Pacific region.
Rubber Cables Market: End Use Landscape
The end-user landscape entails a list of current and prospective consumers prevailing across the regions. This section briefs you about company addresses, contact details, products, and regional presence of companies who are purchasing or are likely to purchase. The key end-users of the markets are BP, Shell, Larsen & Toubro and Bachtel among others.
Rubber Cables Market: Vendor Landscape
The report contains a chapter dedicated to vendors operating in the market, covering raw material manufactures, equipment developers, manufacturers, and distributors. The report provides these insights on a regional level. This section of the report entails contact details, experience, products manufactured/supplied, and geographical presence of companies.
Rubber Cables Market: Share & Competitor Analysis
Some of the key players operating in the rubber cables market are Top Cable, Shentai Cable, Emoire Cable, Maillifer, Philatron, Helukable, Universal Cable Limited, Cmi Limited, Reka Cable, Lapp Limited, Empire Cables, Eland Cables, Lapp Limited, Cleveland Cables, Byson Cables, Electronics Excellence Limited, Tratos Limited, Tfkable and Nexans among others.
Please note: This is not an exhaustive list of companies profiled in the report.
Check the Press Release on Global Rubber Cables Market Report