Sanitizers Market Insights
The global Sanitizers Market will be growing at a CAGR of around 12.5% from 2020 to 2026. Owning to the recent COVID-19 pandemic hit at a global level, the market is likely to be driven heavily. Moreover, factors such as advantages of a sanitizer over conventional hand wash or soap (such as portability, no use of water, high germ-killing capacity, cheap, and reliable), rising awareness of ill effects of COVID-19 and nosocomial infections caused by close contact with unknown or COVID-19 patients, shifting public focus on personal hygiene with the help of increasing influence of online/ digital marketing activities on social media and online advertisement platforms, and rising cases of COVID-19 across the globe are expected to drive the market. Due to the COVID-19 viral outbreak in every country, the government has reinforced a few strict norms pertaining to the regular use of sanitizers and disinfectants to hands and daily used items. Not only hand sanitizers but also clothes, fabrics, phones, keys, whole body, fruits, and vegetables specific sanitizers have been launched in the market and are one of the prime reasons for the overall growth of the market during 2020-2026. Furthermore, many manufacturers have launched innovative contactless, smart, automatic sanitizers to combat the increasing demand for daily used accessories sanitization. Some of the products are mobile phone sanitization case, sanitization pouch/ bag, whole body sanitization tunnels, portable contactless UV based sanitizing pens, wands for TV and other electronic or wooden surfaces, and contactless liquid or spray based sanitation dispensers among others.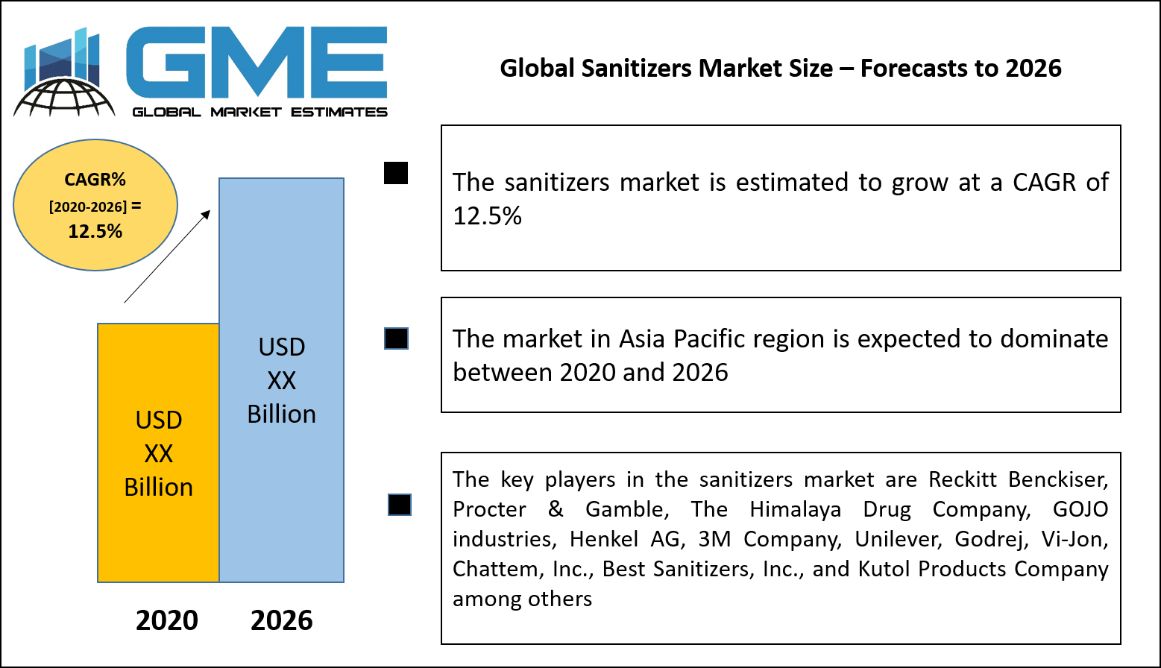 Sanitizers Market: By Type of Ingredient
Based on the type of ingredients, the market is segmented into gel-based, foam/ mist spray based, liquid-based, sanitizing wipes, and UV based. The dominant segment will be the gel-based sanitizer during 2020-2026. Although UV based and spray based sanitizers will be the fastest-growing segment among others owing to its technical advancements overcoming close contact with any object or person. Furthermore, the gel sanitizers being the traditional and most preferred product will still hold its first position in the market owing to its appropriate germ-killing formulation, low-cost portable products, and high availability.
Sanitizers Market: By Active Ingredient
In this segment, the market is divided into alcohol sanitizers and organic or alcohol-free or natural ingredient sanitizers. The alcohol-based sanitizers segment will be greater than the organic or natural ingredient based sanitizer. Owning to its market availability, high awareness of alcohol use for germ-killing, and pocket-friendly factors will lead this segment during the forecast period.
Sanitizers Market: By Distribution Channel
Based on the distribution channel, the market is segmented into supermarkets & hypermarkets; pharmacists, drug stores & chemists; hospitals and other medical centers; general stores; and E-commerce channels. Supermarket & hypermarket will be the larger contributor in terms of generating market revenue. The dominancy of the market is mainly because of the increasing no. of supermarkets across various countries, and the high availability of all types of sanitizers in these stores.
Sanitizers Market: By Portability
Based on the product's portability, the market is segmented into benchtop/ wall-mounted, trolley based, handheld, sanitizer trays/ case/ wands/ pens, sanitizer bags, and sanitization tunnels. The benchtop/ wall-mounted sanitizers and the handheld gel-based sanitizers will hold the largest share in the market by portability. Growing awareness regarding hand sanitization, ill effects of COVID-19, multi-user features of the product, and rising priority for personal hygiene will help the product segment maintain its position.
Sanitizers Market: By Application
The application segment of the sanitizer market is split into the hand, whole body, electronic & other items, fabric, room/ indoor areas, and vegetables/ fruits. Out of these the hand application segment will be the largest segment in the market. Owning to rising preference to personal hygiene amid the COVID-19 pandemic worldwide, and increasing government norms for hand sanitization over other applications will drive the market.
Sanitizers Market: By Automation
Based on the automation of the products available, the market can be segregated as manual and automatic/ electric/ battery operated sanitizer dispensers. Automatic sanitizer dispenser will be the fastest-growing segment in the market due to its advanced technology of dispensing alcohol without the user getting in touch with the machine, or any other item. Such products will be more preferred owing to the increased risk of infection or COVID-19 through any form of contact with the dispenser or any other item.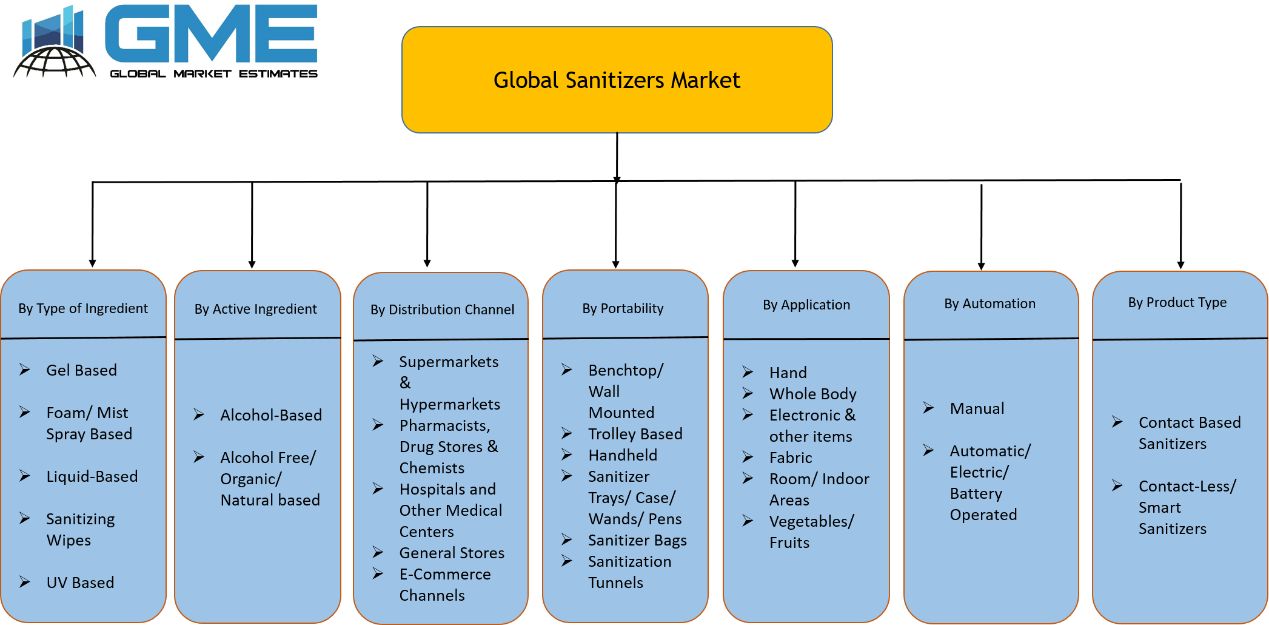 Sanitizers Market: By Type of Sanitizer
Based on the type of the product, the market is segmented into contact-based and contactless/ smart sanitizers. The contactless/ smart sanitizers will be the fastest-growing segment in the market during 2020-2026 because of its feature of no-touch sanitization, high affordability, increasing awareness of contactless living, and rising preference for an electronic item and other item's sanitization.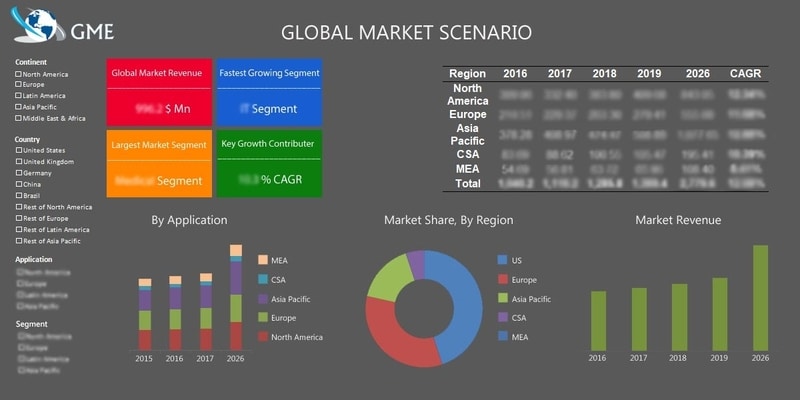 Sanitizers Market: By Region
Based on the region, the market is segmented into North America, Asia-Pacific, Europe, Middle East, and Africa, and Central & South America. During the forecast period, the North American region will be the largest contributor to the revenue generation of the sanitizer market. Factors such as the growing preference for hand sanitization at every public and private place, increasing cases of COVID-19 patients, rising availability of smart and advanced contactless sanitizers (gel and UV based), and high demand of personal hygiene and care from such region will help the market have the highest share during 2020-2026. Furthermore, the developing region namely, the Asia-Pacific region will be the fastest-growing segment. China and India being the hot spot countries for COVID-19 cases, huge end-user base, and increasing priority for personal hygiene will help this region's market grow faster.
Sanitizers Market Share and Competitor Analysis
The key players operating in the market include The Himalaya Drug Company, Reckitt Benckiser, Procter & Gamble Reckitt Benckiser, Procter & Gamble, 3M Company, Unilever GOJO Industries, Best Sanitizers, Inc., Henkel AG, Godrej, Vi-Jon, Chattem, Inc., and Kutol Products Company among others. (Other companies include Edgewell Personal Care, KAS Direct, LLC, EO Products, Nice Pak, Caremart, Nano Global Corp, HoMedics USA, LLC, PhoneSoap, Colgate-Palmolive Company, L Brands Inc., Kalla Sp. z o.o. Company, 59s.us, Kimberly-Clark, CleanSlate UV, Dr. Bronner's Magic Soaps, Megababe, LLC, DailyObjects, and Portronics)
Please note: This is not an exhaustive list of companies profiled in the report.
In July 2020, Global BioProtect LLC (US), launched a new product to its eco-friendly product line, namely patented BioProtect Hand sanitizer which is 100% recyclable, using air-powered technology. This product is made available in both alcohol and non-alcohol forms.
In May 2020, DailyObjects (India) launched a portable multifunctional UV sanitizer for smartphones, gadgets, daily used items, accessories, keys, and personal care kits.
In May 2020, Riot Labz (India) launched its product OakMist, which is a contactless-type of sanitizer dispenser that dispenses alcohol-based sanitizer solutions for disinfecting hands in the form of a spray.
Check the Press Release on Global Sanitizers Market Report
Sanitizers Market: By Type of Ingredient
Introduction

Sanitizers Market, By Type of Ingredient, 2020-2026 (USD Million)

Gel Based

Gel Based: Sanitizers Market, 2020-2026 (USD Million)

Foam/ Mist Spray Based

Foam/ Mist Spray Based: Sanitizers Market, 2020-2026 (USD Million)

Liquid Based

Liquid Based: Sanitizers Market, 2020-2026 (USD Million)

Sanitizing Wipes

Sanitizing Wipes: Sanitizers Market, 2020-2026 (USD Million)

UV Based

UV Based: Sanitizers Market, 2020-2026 (USD Million)
Sanitizers Market: By Active Ingredient
Introduction

Sanitizers Market, By Active Ingredient, 2020-2026 (USD Million)

Alcohol Based

Alcohol Based: Sanitizers Market, 2020-2026 (USD Million)

Alcohol-Free/ Organic/ Natural Based

Alcohol-Free/ Organic/ Natural Based: Sanitizers Market, 2020-2026 (USD Million)
Sanitizers Market: By Distribution Channel
Introduction

Sanitizers Market, By Distribution Channel , 2020-2026 (USD Million)

Supermarkets & Hypermarkets

Supermarkets & Hypermarkets: Sanitizers Market, 2020-2026 (USD Million)

Pharmacists, Drug Stores & Chemists, Hospitals & Other Medical Centers

Pharmacists, Drug Stores & Chemists, Hospitals & Other Medical Centers: Sanitizers Market, 2020-2026 (USD Million)

General Stores

General Stores: Sanitizers Market, 2020-2026 (USD Million)

Hospitals & Other Medical Centers

Hospitals & Other Medical Centers: Sanitizers Market, 2020-2026 (USD Million)

E-Commerce Channels

E-Commerce Channels: Sanitizers Market, 2020-2026 (USD Million)
Sanitizers Market: By Portability
Introduction

Sanitizers Market, By Portability, 2020-2026 (USD Million)

Benchtop/ Wall Mounted

Benchtop/ Wall Mounted: Sanitizers Market, 2020-2026 (USD Million)

Trolley Based

Trolley Based: Sanitizers Market, 2020-2026 (USD Million)

Handheld

Handheld: Sanitizers Market, 2020-2026 (USD Million)

Sanitizer Trays/ Case/ Wands/ Pens

Sanitizer Trays/ Case/ Wands/ Pens: Sanitizers Market, 2020-2026 (USD Million)

Sanitizer Bags

Sanitizer Bags: Sanitizers Market, 2020-2026 (USD Million)

Sanitization Tunnels

Sanitization Tunnels: Sanitizers Market, 2020-2026 (USD Million)
Sanitizers Market: By Application
Introduction

Sanitizers Market, By Application, 2020-2026 (USD Million)

Hand

Hand: Sanitizers Market, 2020-2026 (USD Million)

Whole Body

Whole Body: Sanitizers Market, 2020-2026 (USD Million)

Electronic & Other Items

Electronic & Other Items: Sanitizers Market, 2020-2026 (USD Million)

Fabric

Fabric: Sanitizers Market, 2020-2026 (USD Million)

Room/ Indoor Areas

Room/ Indoor Areas: Sanitizers Market, 2020-2026 (USD Million)

Vegetables/ Fruits

Vegetables/ Fruits: Sanitizers Market, 2020-2026 (USD Million)
Sanitizers Market: By Automation
Introduction

Sanitizers Market, By Automation, 2020-2026 (USD Million)

Manual

Manual: Sanitizers Market, 2020-2026 (USD Million)

Automatic/ Electric/ Battery Operated

Automatic/ Electric/ Battery Operated: Sanitizers Market, 2020-2026 (USD Million)
Sanitizers Market: By Type of Sanitizer
Introduction

Sanitizers Market, By Type of Sanitizer, 2020-2026 (USD Million)

Contact Based Sanitizers

Contact Based Sanitizers: Sanitizers Market, 2020-2026 (USD Million)

Contact Less/ Smart Sanitizers

Contact Less/ Smart Sanitizers: Sanitizers Market, 2020-2026 (USD Million)
Sanitizers Market: By Region
Introduction

Global Sanitizers Market, Regional Analysis, 2020-2026 (USD Million)

North America

North America Sanitizers Market, Regional Analysis, 2020-2026 (USD Million)

By Type of Ingredient

North America Sanitizers Market, By Type of Ingredient, 2020-2026 (USD Million)

By Active Ingredient

North America Sanitizers Market, By Active Ingredient, 2020-2026 (USD Million)

By Distribution Channel

North America Sanitizers Market, By Distribution Channel , 2020-2026 (USD Million)

By Portability

North America Sanitizers Market, By Portability, 2020-2026 (USD Million)

By Application

North America Sanitizers Market, By Application, 2020-2026 (USD Million)

By Automation

North America Sanitizers Market, By Automation, 2020-2026 (USD Million)

By Type of Sanitizer

North America Sanitizers Market, By Type of Sanitizer, 2020-2026 (USD Million)

By Country

U.S

By Type of Ingredient

U.S Sanitizers Market, By Type of Ingredient, 2020-2026 (USD Million)

By Active Ingredient

U.S Sanitizers Market, By Active Ingredient, 2020-2026 (USD Million)

By Distribution Channel

U.S Sanitizers Market, By Distribution Channel , 2020-2026 (USD Million)

By Portability

U.S Sanitizers Market, By Portability, 2020-2026 (USD Million)

By Application

U.S Sanitizers Market, By Application, 2020-2026 (USD Million)

By Automation

U.S Sanitizers Market, By Automation, 2020-2026 (USD Million)

By Type of Sanitizer

U.S Sanitizers Market, By Type of Sanitizer, 2020-2026 (USD Million)

Canada.

By Type of Ingredient

Canada Sanitizers Market, By Type of Ingredient, 2020-2026 (USD Million)

By Active Ingredient

Canada Sanitizers Market, By Active Ingredient, 2020-2026 (USD Million)

By Distribution Channel

Canada Sanitizers Market, By Distribution Channel, 2020-2026 (USD Million)

By Portability

Canada Sanitizers Market, By Portability, 2020-2026 (USD Million)

By Application

Canada Sanitizers Market, By Application, 2020-2026 (USD Million)

By Automation

Canada Sanitizers Market, By Automation, 2020-2026 (USD Million)

By Type of Sanitizer

Canada Sanitizers Market, By Type of Sanitizer, 2020-2026 (USD Million)

Mexico

By Type of Ingredient

Mexico Sanitizers Market, By Type of Ingredient, 2020-2026 (USD Million)

By Active Ingredient

Mexico Sanitizers Market, By Active Ingredient, 2020-2026 (USD Million)

By Distribution Channel

Mexico Sanitizers Market, By Distribution Channel, 2020-2026 (USD Million)

By Portability

Mexico Sanitizers Market, By Portability, 2020-2026 (USD Million)

By Application

Mexico Sanitizers Market, By Application, 2020-2026 (USD Million)

By Automation

Mexico Sanitizers Market, By Automation, 2020-2026 (USD Million)

By Type of Sanitizer

Mexico Sanitizers Market, By Type of Sanitizer, 2020-2026 (USD Million)

Europe

Europe Sanitizers Market, Regional Analysis, 2020-2026 (USD Million)

By Type of Ingredient

Europe Sanitizers Market, By Type of Ingredient, 2020-2026 (USD Million)

By Active Ingredient

Europe Sanitizers Market, By Active Ingredient, 2020-2026 (USD Million)

By Distribution Channel

Europe Sanitizers Market, By Distribution Channel , 2020-2026 (USD Million)

By Portability

Europe Sanitizers Market, By Portability, 2020-2026 (USD Million)

By Application

Europe Sanitizers Market, By Application, 2020-2026 (USD Million)

By Automation

Europe Sanitizers Market, By Automation, 2020-2026 (USD Million)

By Type of Sanitizer

Europe Sanitizers Market, By Type of Sanitizer, 2020-2026 (USD Million)

By Country

Germany

By Type of Ingredient

Germany Sanitizers Market, By Type of Ingredient, 2020-2026 (USD Million)

By Active Ingredient

Germany Sanitizers Market, By Active Ingredient, 2020-2026 (USD Million)

By Distribution Channel

Germany Sanitizers Market, By Distribution Channel , 2020-2026 (USD Million)

By Portability

Germany Sanitizers Market, By Portability, 2020-2026 (USD Million)

By Application

Germany Sanitizers Market, By Application, 2020-2026 (USD Million)

By Automation

Germany Sanitizers Market, By Automation, 2020-2026 (USD Million)

By Type of Sanitizer

Germany Sanitizers Market, By Type of Sanitizer, 2020-2026 (USD Million)

UK

By Type of Ingredient

UK Sanitizers Market, By Type of Ingredient, 2020-2026 (USD Million)

By Active Ingredient

UK Sanitizers Market, By Active Ingredient, 2020-2026 (USD Million)

By Distribution Channel

UK Sanitizers Market, By Distribution Channel , 2020-2026 (USD Million)

By Portability

UK Sanitizers Market, By Portability, 2020-2026 (USD Million)

By Application

UK Sanitizers Market, By Application, 2020-2026 (USD Million)

By Automation

UK Sanitizers Market, By Automation, 2020-2026 (USD Million)

By Type of Sanitizer

UK Sanitizers Market, By Type of Sanitizer, 2020-2026 (USD Million)

France

By Type of Ingredient

France Sanitizers Market, By Type of Ingredient, 2020-2026 (USD Million)

By Active Ingredient

France Sanitizers Market, By Active Ingredient, 2020-2026 (USD Million)

By Distribution Channel

France Sanitizers Market, By Distribution Channel , 2020-2026 (USD Million)

By Portability

France Sanitizers Market, By Portability, 2020-2026 (USD Million)

By Application

France Sanitizers Market, By Application, 2020-2026 (USD Million)

By Automation

France Sanitizers Market, By Automation, 2020-2026 (USD Million)

By Type of Sanitizer

France Sanitizers Market, By Type of Sanitizer, 2020-2026 (USD Million)

Italy

By Type of Ingredient

Italy Sanitizers Market, By Type of Ingredient, 2020-2026 (USD Million)

By Active Ingredient

Italy Sanitizers Market, By Active Ingredient, 2020-2026 (USD Million)

By Distribution Channel

Italy Sanitizers Market, By Distribution Channel , 2020-2026 (USD Million)

By Portability

Italy Sanitizers Market, By Portability, 2020-2026 (USD Million)

By Application

Italy Sanitizers Market, By Application, 2020-2026 (USD Million)

By Automation

Italy Sanitizers Market, By Automation, 2020-2026 (USD Million)

By Type of Sanitizer

Italy Sanitizers Market, By Type of Sanitizer, 2020-2026 (USD Million)

Rest Of Europe

By Type of Ingredient

Rest Of Europe Sanitizers Market, By Type of Ingredient, 2020-2026 (USD Million)

By Active Ingredient

Rest Of Europe Sanitizers Market, By Active Ingredient, 2020-2026 (USD Million)

By Distribution Channel

Rest Of Europe Sanitizers Market, By Distribution Channel , 2020-2026 (USD Million)

By Portability

Rest Of Europe Sanitizers Market, By Portability, 2020-2026 (USD Million)

By Application

Rest Of Europe Sanitizers Market, By Application, 2020-2026 (USD Million)

By Automation

Rest Of Europe Sanitizers Market, By Automation, 2020-2026 (USD Million)

By Type of Sanitizer

Rest of Europe Sanitizers Market, By Type of Sanitizer, 2020-2026 (USD Million)

Asia Pacific

Asia Pacific Sanitizers Market, Regional Analysis, 2020-2026 (USD Million)

By Type of Ingredient

Asia Pacific Sanitizers Market, By Type of Ingredient, 2020-2026 (USD Million)

By Active Ingredient

Asia Pacific Sanitizers Market, By Active Ingredient, 2020-2026 (USD Million)

By Distribution Channel

Asia Pacific Sanitizers Market, By Distribution Channel , 2020-2026 (USD Million)

By Portability

Europe Sanitizers Market, By Portability, 2020-2026 (USD Million)

By Application

Asia Pacific Sanitizers Market, By Application, 2020-2026 (USD Million)

By Automation

Asia Pacific Sanitizers Market, By Automation, 2020-2026 (USD Million)

By Type of Sanitizer

Asia Pacific Sanitizers Market, By Type of Sanitizer, 2020-2026 (USD Million)

By Country

China

By Type of Ingredient

China Sanitizers Market, By Type of Ingredient, 2020-2026 (USD Million)

By Active Ingredient

China Sanitizers Market, By Active Ingredient, 2020-2026 (USD Million)

By Distribution Channel

China Sanitizers Market, By Distribution Channel , 2020-2026 (USD Million)

By Portability

China Sanitizers Market, By Portability, 2020-2026 (USD Million)

By Application

China Sanitizers Market, By Application, 2020-2026 (USD Million)

By Automation

China Sanitizers Market, By Automation, 2020-2026 (USD Million)

By Type of Sanitizer

China Sanitizers Market, By Type of Sanitizer, 2020-2026 (USD Million)

Japan

By Type of Ingredient

Japan Sanitizers Market, By Type of Ingredient, 2020-2026 (USD Million)

By Active Ingredient

Japan Sanitizers Market, By Active Ingredient, 2020-2026 (USD Million)

By Distribution Channel

Japan Sanitizers Market, By Distribution Channel , 2020-2026 (USD Million)

By Portability

Japan Sanitizers Market, By Portability, 2020-2026 (USD Million)

By Application

Japan Sanitizers Market, By Application, 2020-2026 (USD Million)

By Automation

Japan Sanitizers Market, By Automation, 2020-2026 (USD Million)

By Type of Sanitizer

Japan Sanitizers Market, By Type of Sanitizer, 2020-2026 (USD Million)

India

By Type of Ingredient

India Sanitizers Market, By Type of Ingredient, 2020-2026 (USD Million)

By Active Ingredient

India Sanitizers Market, By Active Ingredient, 2020-2026 (USD Million)

By Distribution Channel

India Sanitizers Market, By Distribution Channel , 2020-2026 (USD Million)

By Portability

India Sanitizers Market, By Portability, 2020-2026 (USD Million)

By Application

India Sanitizers Market, By Application, 2020-2026 (USD Million)

By Automation

India Sanitizers Market, By Automation, 2020-2026 (USD Million)

By Type of Sanitizer

India Sanitizers Market, By Type of Sanitizer, 2020-2026 (USD Million)

Central & South America

Central & South America Sanitizers Market, Regional Analysis, 2020-2026 (USD Million)

By Type of Ingredient

Central & South America Sanitizers Market, By Type of Ingredient, 2020-2026 (USD Million)

By Active Ingredient

Central & South America Sanitizers Market, By Active Ingredient, 2020-2026 (USD Million)

By Distribution Channel

Central & South America Sanitizers Market, By Distribution Channel , 2020-2026 (USD Million)

By Portability

Central & South America Sanitizers Market, By Portability, 2020-2026 (USD Million)

By Application

Central & South America Sanitizers Market, By Application, 2020-2026 (USD Million)

By Automation

Central & South America Sanitizers Market, By Automation, 2020-2026 (USD Million)

By Type of Sanitizer

Central & South America Sanitizers Market, By Type of Sanitizer, 2020-2026 (USD Million)

By Country

Brazil

By Type of Ingredient

Brazil Sanitizers Market, By Type of Ingredient, 2020-2026 (USD Million)

By Active Ingredient

Brazil Sanitizers Market, By Active Ingredient, 2020-2026 (USD Million)

By Distribution Channel

Brazil Sanitizers Market, By Distribution Channel , 2020-2026 (USD Million)

By Portability

Brazil Sanitizers Market, By Portability, 2020-2026 (USD Million)

By Application

Brazil Sanitizers Market, By Application, 2020-2026 (USD Million)

By Automation

Brazil Sanitizers Market, By Automation, 2020-2026 (USD Million)

By Type of Sanitizer

Brazil Sanitizers Market, By Type of Sanitizer, 2020-2026 (USD Million)

Middle East & Africa

Middle East & Africa Sanitizers Market, Regional Analysis, 2020-2026 (USD Million)

By Type of Ingredient

Middle East & Africa Sanitizers Market, By Type of Ingredient, 2020-2026 (USD Million)

By Active Ingredient

Middle East & Africa Sanitizers Market, By Active Ingredient, 2020-2026 (USD Million)

By Distribution Channel

Middle East & Africa Sanitizers Market, By Distribution Channel, 2020-2026 (USD Million)

By Portability

Middle East & Africa Sanitizers Market, By Portability, 2020-2026 (USD Million)

By Application

Middle East & Africa Sanitizers Market, By Application, 2020-2026 (USD Million)

By Automation

Middle East & Africa Sanitizers Market, By Automation, 2020-2026 (USD Million)

By Type of Sanitizer

Middle East & Africa Sanitizers Market, By Type of Sanitizer, 2020-2026 (USD Million)

By Country

Saudi Arabia

By Type of Ingredient

Saudi Arabia Sanitizers Market, By Type of Ingredient, 2020-2026 (USD Million)

By Active Ingredient

Saudi Arabia Sanitizers Market, By Active Ingredient, 2020-2026 (USD Million)

By Distribution Channel

Saudi Arabia Sanitizers Market, By Distribution Channel , 2020-2026 (USD Million)

By Portability

Saudi Arabia Sanitizers Market, By Portability, 2020-2026 (USD Million)

By Application

Saudi Arabia Sanitizers Market, By Application, 2020-2026 (USD Million)

By Automation

Saudi Arabia Sanitizers Market, By Automation, 2020-2026 (USD Million)

By Type of Sanitizer

Saudi Arabia Sanitizers Market, By Type of Sanitizer, 2020-2026 (USD Million)

UAE

By Type of Ingredient

UAE Sanitizers Market, By Type of Ingredient, 2020-2026 (USD Million)

By Active Ingredient

UAE Sanitizers Market, By Active Ingredient, 2020-2026 (USD Million)

By Distribution Channel

UAE Sanitizers Market, By Distribution Channel , 2020-2026 (USD Million)

By Portability

UAE Sanitizers Market, By Portability, 2020-2026 (USD Million)

By Application

UAE Sanitizers Market, By Application, 2020-2026 (USD Million)

By Automation

UAE Sanitizers Market, By Automation, 2020-2026 (USD Million)

By Type of Sanitizer

UAE Sanitizers Market, By Type of Sanitizer, 2020-2026 (USD Million)