Global Scleroderma Therapeutics Market Insights
Scleroderma is a chronic auto-immune condition with no clear cause. Fibrosis and microvascular damage in the infected organs are common symptoms. Raynaud's syndrome is a symptom of this illness that manifests as puffiness of the fingertips. Scleroderma is divided into two types: localized scleroderma and minimal cutaneous systemic sclerosis. As per findings, this disorder is caused by changes in certain environmental parameters or variations in certain genes in humans. Skin irregularities, morning weakness, nausea, sore knees, and weight loss are just a few of the signs of scleroderma disease.
Systemic sclerosis, also known as scleroderma, is a progressive connective tissue condition that is treated as an autoimmune rheumatic disease. It thickens and scars tissue in the body, such as the lungs and other organs. SSc-ILD is a debilitating and life-threatening advanced lung condition in which lung function deteriorates over time. In people with scleroderma, ILD is the major cause of death, usually due to a lack of pulmonary function, which happens when the lungs are unable to provide adequate oxygen to the heart. Localized scleroderma and systemic sclerosis are the two most common forms of scleroderma.
Scleroderma is an infectious rheumatic disease that causes the skin and soft tissues to harden and tighten over time. Scleroderma has an uncertain cause, although it is thought to be caused by excessive collagen formation. Internal organs such as the blood circulation, heart, lungs, stomach, and kidneys may be harmed. Scleroderma affects women at a much higher rate than men. In addition, the onset is more common between the ages of 30 and 50.
Skin thickening is the most frequent symptom of systemic sclerosis, which is a form of a chronic autoimmune condition characterized by skin hardening, inflammation in various organs, and skin thickening. While the exact cause of the disease is unclear, it is known that the body produces a large amount of collagen. The lack of a specific treatment for the disease, with only choices for symptom relief, would limit the growth of the scleroderma (systemic sclerosis) treatment market, while the diagnosis and origin of the disease are still unknown, making drug choice for symptom relief all the more difficult for doctors, as each case of scleroderma is unique.
Some of the key market forces that are accelerating the scleroderma therapeutics market are off-label use of medications authorized for symptomatic indications, like rheumatoid arthritis, which drives the market. Increased prevalence of scleroderma and genetic mutations, as well as dramatic changes in the climate, are expected to drive market development. Increasing disposable income levels, allowing for greater buying potential, as well as key player expansions and FDA approval activities, are prepared to facilitate market growth. Moreover, the rising R&D activities along with the advancing technology and increasing government spending in the pharma industry has boosted the market and growth will be seen in the future.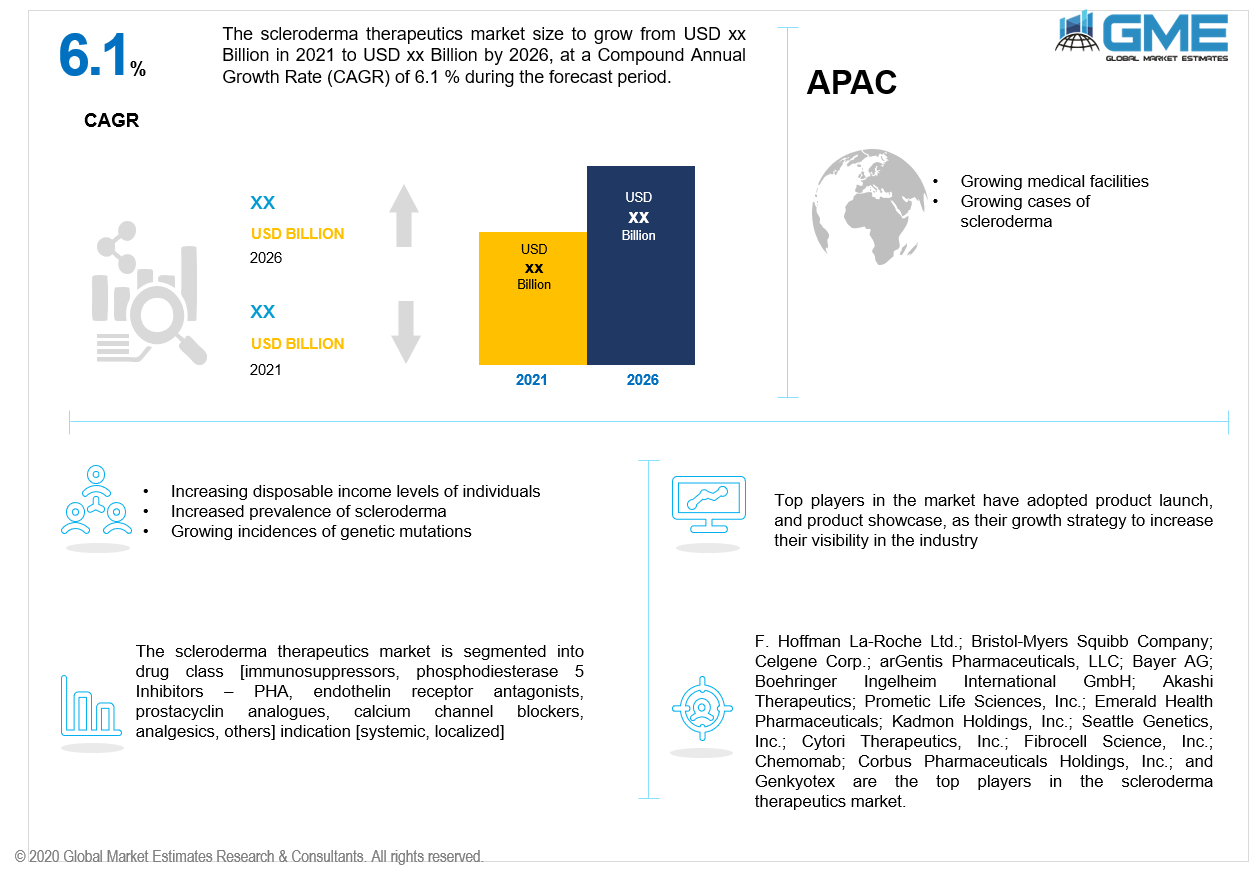 Scleroderma Therapeutics Market: By Drug Class
Based on the drug class, the scleroderma therapeutics market can be segmented as immunosuppressors, phosphodiesterase 5 inhibitors – PHA, endothelin receptor antagonists, prostacyclin analogues, calcium channel blockers, analgesics, and others. As there is no treatment for this disease, a broad range of medications are used to treat the symptoms. Immunosuppressants are popular since they have many biologics from well-known companies like Roche. An increasing category is biologics and small molecule immunosuppressants, with many scleroderma pipeline drugs based on this class.
Over the prediction timeframe, novel treatments like Lenabasum and Ofev are predicted to join the 'other drug groups' category. The demand for PDE-5 inhibitors by drug class is facing headwinds as Revatio's patent expires, lowering sales. ERAs are also in the spotlight because this family of drugs mainly consists of marketed medications and because they are used to treat high-intensity indications.
Scleroderma Therapeutics Market: By Indication
Based on indication, the scleroderma therapeutics market is divided into systemic and localized. SSc-induced complications and disorders like interstitial lung disease and pulmonary arterial hypertension are among the reasons for systemic scleroderma. Because of the high cost of immunosuppressants, systemic uses account for the majority of the market.
Localized scleroderma currently has a limited share in the market, although it is projected to expand over the projected timeframe as Fibrocell prepares to deliver FCX-013, a first-in-class treatment.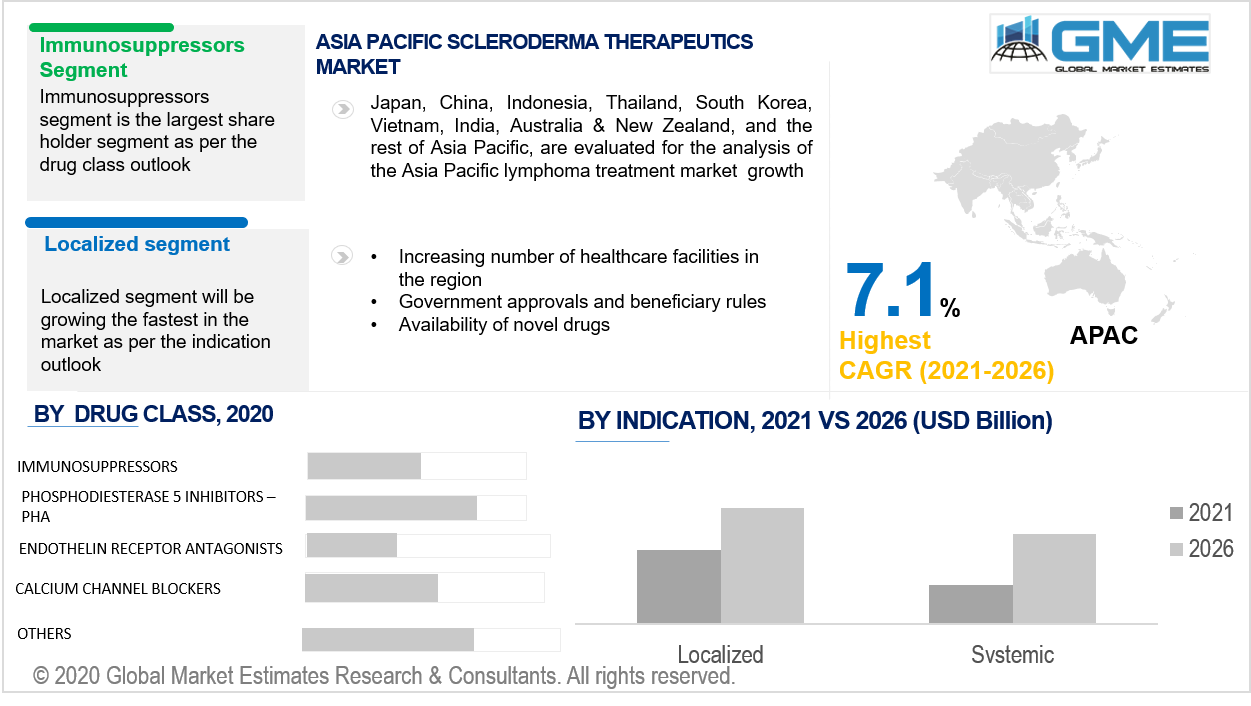 Scleroderma Therapeutics Market: By Region
As per the geographical analysis, the market can be classified into North America (the US, Canada, and Mexico), Asia Pacific (India, China, Japan, Malaysia, Singapore, and Rest of Asia Pacific), Europe (Germany, United Kingdom, Italy, France, Spain, Netherlands, and Rest of Europe), Middle East & Africa and Central South America. During the forecast timeline, North America would dominate the industry. The biggest sales driver is access to newly discovered immunosuppressants along with a beneficial reimbursement scenario.
Europe trails the United States in terms of sales, driven by the rising use of biosimilars and generic drugs for off-label scleroderma therapy.
Generic and over-the-counter medications are the mainstay treatment for scleroderma and its effects in developed countries. Despite price cuts, the Japanese industry has quicker access to new orphan therapies. The expected increase in access to biosimilar and generic immunosuppressants will accelerate growth in Latin America, the Middle East, and Africa.
Scleroderma Therapeutics Market Share and Competitor Analysis
F. Hoffman La-Roche Ltd.; Bristol-Myers Squibb Company; Celgene Corp.; arGentis Pharmaceuticals, LLC; Bayer AG; Boehringer Ingelheim International GmbH; Akashi Therapeutics; Prometic Life Sciences, Inc.; Emerald Health Pharmaceuticals; Kadmon Holdings, Inc.; Seattle Genetics, Inc.; Cytori Therapeutics, Inc.; Fibrocell Science, Inc.; Chemomab; Corbus Pharmaceuticals Holdings, Inc.; and Genkyotex are the top players in the scleroderma therapeutics market.
Please note: This is not an exhaustive list of companies profiled in the report.
The FDA approved RHOFADE (Oxymetazoline Hydrochloride) Cream in January 2017. This medication should be used to treat adults with chronic facial erythema caused by rosacea. The medicine is a modern prescription medication for treating people who have been affected by the disease.
Chapter 1 Methodology
1.1 Market Scope & Definitions
1.2 Estimates & Forecast Calculation
1.3 Historical Data Overview and Validation
1.4 Data Sources
1.4.1 Secondary
1.4.2 Primary
Chapter 2 Report Outlook
2.1 Global Scleroderma Therapeutics Industry Overview, 2019-2026
2.1.1 Industry Overview
2.1.2 Drug Class Overview
2.1.3 Indication Overview
2.1.4 Regional Overview
Chapter 3 Global Scleroderma Therapeutics Market Trends
3.1 Market Segmentation
3.2 Industry Background, 2019-2026
3.3 Market Key Trends
3.3.1 Positive Trends
3.3.1.1 Increasing disposable income levels of individuals
3.3.1.2 Increased prevalence of scleroderma and genetic mutations 3.3.2 Industry Challenges
3.3.2.1 Limited Study and Industry Participants
3.4 Prospective Growth Scenario
3.4.1 Drug Class Growth Scenario
3.4.2 Indication Growth Scenario
3.5 COVID-19 Influence over Industry Growth
3.6 Porter's Analysis
3.7 PESTEL Analysis
3.8 Value Chain & Supply Chain Analysis
3.9 Regulatory Framework
3.9.1 North America
3.9.2 Europe
3.9.3 APAC
3.9.4 LATAM
3.9.5 MEA
3.10 Technology Overview
3.11 Market Share Analysis, 2020
3.11.1 Company Positioning Overview, 2020
Chapter 4 Global Scleroderma Therapeutics Market, By Drug Class
4.1 Drug Class Outlook
4.2 Immunosuppressors
4.2.1 Market Size, By Region, 2019-2026 (USD Million)
4.3 Phosphodiesterase 5 Inhibitors - PHA
4.3.1 Market Size, By Region, 2019-2026 (USD Million)
4.4 Endothelin Receptor Antagonists
4.4.1 Market Size, By Region, 2019-2026 (USD Million)
4.5 Prostacyclin Analogues
4.5.1 Market Size, By Region, 2019-2026 (USD Million)
4.6 Calcium Channel Blockers
4.6.1 Market Size, By Region, 2019-2026 (USD Million)
4.7 Calcium Channel Blockers
4.7.1 Market Size, By Region, 2019-2026 (USD Million)
4.8 Others
4.8.1 Market Size, By Region, 2019-2026 (USD Million)
Chapter 5 Global Scleroderma Therapeutics Market, By Indication
5.1 Indication Outlook
5.2 Systematic
5.2.1 Market Size, By Region, 2019-2026 (USD Million)
5.3 Localized
5.3.1 Market Size, By Region, 2019-2026 (USD Million)
Chapter 6 Global Scleroderma Therapeutics Market, By Region
6.1 Regional outlook
6.2 North America
6.2.1 Market Size, By Country 2019-2026 (USD Million)
6.2.2 Market Size, By Drug Class, 2019-2026 (USD Million)
6.2.3 Market Size, By Indication, 2019-2026 (USD Million)
6.2.4 U.S.
6.2.4.1 Market Size, By Drug Class, 2019-2026 (USD Million)
6.2.4.2 Market Size, By Indication, 2019-2026 (USD Million)
6.2.5 Canada
6.2.5.1 Market Size, By Drug Class, 2019-2026 (USD Million)
6.2.5.2 Market Size, By Indication, 2019-2026 (USD Million)
6.3 Europe
6.3.1 Market Size, By Country 2019-2026 (USD Million)
6.3.2 Market Size, By Drug Class, 2019-2026 (USD Million)
6.3.3 Market Size, By Indication, 2019-2026 (USD Million)
6.3.4 Germany
6.2.4.1 Market Size, By Drug Class, 2019-2026 (USD Million)
6.2.4.2 Market Size, By Indication, 2019-2026 (USD Million)
6.3.5 UK
6.3.5.1 Market Size, By Drug Class, 2019-2026 (USD Million)
6.3.5.2 Market Size, By Indication, 2019-2026 (USD Million)
6.3.6 France
6.3.6.1 Market Size, By Drug Class, 2019-2026 (USD Million)
6.3.6.2 Market Size, By Indication, 2019-2026 (USD Million)
6.3.7 Italy
6.3.7.1 Market Size, By Drug Class, 2019-2026 (USD Million)
6.3.7.2 Market Size, By Indication, 2019-2026 (USD Million)
6.3.8 Spain
6.3.8.1 Market Size, By Drug Class, 2019-2026 (USD Million)
6.3.8.2 Market Size, By Indication, 2019-2026 (USD Million)
6.3.9 Russia
6.3.9.1 Market Size, By Drug Class, 2019-2026 (USD Million)
6.3.9.2 Market Size, By Indication, 2019-2026 (USD Million)
6.4 Asia Pacific
6.4.1 Market Size, By Country 2019-2026 (USD Million)
6.4.2 Market Size, By Drug Class, 2019-2026 (USD Million)
6.4.3 Market Size, By Indication, 2019-2026 (USD Million)
6.4.4 China
6.4.4.1 Market Size, By Drug Class, 2019-2026 (USD Million)
6.4.4.2 Market Size, By Indication, 2019-2026 (USD Million)
6.4.5 India
6.4.5.1 Market Size, By Drug Class, 2019-2026 (USD Million)
6.4.5.2 Market Size, By Indication, 2019-2026 (USD Million)
6.4.6 Japan
6.4.6.1 Market Size, By Drug Class, 2019-2026 (USD Million)
6.4.6.2 Market Size, By Indication, 2019-2026 (USD Million)
6.4.7 Australia
6.4.7.1 Market Size, By Drug Class, 2019-2026 (USD Million)
6.4.7.2 Market size, By Indication, 2019-2026 (USD Million)
6.4.8 South Korea
6.4.8.1 Market Size, By Drug Class, 2019-2026 (USD Million)
6.4.8.2 Market Size, By Indication, 2019-2026 (USD Million)
6.5 Latin America
6.5.1 Market Size, By Country 2019-2026 (USD Million)
6.5.2 Market Size, By Drug Class, 2019-2026 (USD Million)
6.5.3 Market Size, By Indication, 2019-2026 (USD Million)
6.5.4 Brazil
6.5.4.1 Market Size, By Drug Class, 2019-2026 (USD Million)
6.5.4.2 Market Size, By Indication, 2019-2026 (USD Million)
6.5.5 Mexico
6.5.5.1 Market Size, By Drug Class, 2019-2026 (USD Million)
6.5.5.2 Market Size, By Indication, 2019-2026 (USD Million)
6.5.6 Argentina
6.5.6.1 Market Size, By Drug Class, 2019-2026 (USD Million)
6.5.6.2 Market Size, By Indication, 2019-2026 (USD Million)
6.6 MEA
6.6.1 Market Size, By Country 2019-2026 (USD Million)
6.6.2 Market Size, By Drug Class, 2019-2026 (USD Million)
6.6.3 Market Size, By Indication, 2019-2026 (USD Million)
6.6.4 Saudi Arabia
6.6.4.1 Market Size, By Drug Class, 2019-2026 (USD Million)
6.6.4.2 Market Size, By Indication, 2019-2026 (USD Million)
6.6.5 UAE
6.6.5.1 Market Size, By Drug Class, 2019-2026 (USD Million)
6.6.5.2 Market Size, By Indication, 2019-2026 (USD Million)
6.6.6 South Africa
6.6.6.1 Market Size, By Drug Class, 2019-2026 (USD Million)
6.6.6.2 Market Size, By Indication, 2019-2026 (USD Million)
Chapter 7 Company Landscape
7.1 Competitive Analysis, 2020
7.2 Hoffman La Roche
7.2.1 Company Overview
7.2.2 Financial Analysis
7.2.3 Strategic Positioning
7.2.4 Info-Graphic Analysis
7.3 Boehringer Ingelheim International GmbH
7.3.1 Company Overview
7.3.2 Financial Analysis
7.3.3 Strategic Positioning
7.3.4 Info-Graphic Analysis
7.4 Bristol-Myers Squibb Company
7.4.1 Company Overview
7.4.2 Financial Analysis
7.4.3 Strategic Positioning
7.4.4 Info-Graphic Analysis
7.5 CELGENE CORPORATION
7.5.1 Company Overview
7.5.2 Financial Analysis
7.5.3 Strategic Positioning
7.5.4 Info-Graphic Analysis
7.6 arGentis Pharmaceuticals, Llc
7.6.1 Company Overview
7.6.2 Financial Analysis
7.6.3 Strategic Positioning
7.6.4 Info-Graphic Analysis
7.7 Akashi Therapeutics
7.7.1 Company Overview
7.7.2 Financial Analysis
7.7.3 Strategic Positioning
7.7.4 Info-Graphic Analysis
7.8 Prometic Life Sciences Inc
7.8.1 Company Overview
7.8.2 Financial Analysis
7.8.3 Strategic Positioning
7.8.4 Info-Graphic Analysis
7.9 Kadmon Holdings, Inc
7.9.1 Company Overview
7.9.2 Financial Analysis
7.9.3 Strategic Positioning
7.9.4 Info-Graphic Analysis
7.10 Emerald Health Pharmaceuticals
7.10.1 Company Overview
7.10.2 Financial Analysis
7.10.3 Strategic Positioning
7.10.4 Info-Graphic Analysis
7.11 Other Companies
7.11.1 Company Overview
7.11.2 Financial Analysis
7.11.3 Strategic Positioning
7.11.4 Info-Graphic Analysis