Global Sleep Apnea Devices Market: Insights
The rising frequency of sleep apnea, an expansion in the elderly demographic, an uptick in the predominance of obesity & hypertension, and increased consciousness amongst those patient populaces in emerging nations are the primary drivers propelling the market. The key element fuelling the market growth for sleep apnea devices is aging. The aged are the most vulnerable to getting this condition. As per World Population Prospects: The 2019 Revised statistics, the population of elderly individuals (those aged 60 and more) is anticipated to be more than double by 2050 and more than triple by 2100, growing from 962 million in 2017 to 2.1 billion in 2050 and 3.1 billion in 2100. Globally, the demographic group aged 60 and older is growing at a greater pace than all lower age groups combined.
Factors like the shift of patients towards novel smart sleep enabling devices, ongoing technological advancements, expanding utilization of products like mandibular advancement devices (MAD), the rising popularity of non-invasive portable diagnostics devices in sleep clinics, growing usage of oral appliances, rising non-compliance with CPAP devices, considerable venture capital funding, growing awareness about the ill-effects of untreated sleep apnea, rising demand for home healthcare, rising funding for effective sleep management therapeutics, an increasing number of companies venturing in sleep apnea, growing cases with initial disease diagnosis, increasing government initiatives, growing focus on telemedicine, and easy availability of color altering light bulbs are leading to growth in the sleep apnea market. The rising prevalence of sleep apnea and its related co-morbidities is driving global market expansion. Improving knowledge of sleep apnea, other sleep problems, and their management would encourage the use of these devices globally.
Some factors restrict or hinder the growth of the sleep apnea devices market which includes high cost of CPAP, inadequate patient adherence, negative effects linked with the usage of sleep apnea devices, discomfort caused by the CPAP mask, lack of awareness in developing countries, long waiting periods in sleep clinics, paucity of raw material, restricted reimbursements, and complex referral pathways. However, the rising occurrence of obstructive sleep apnea (OSA), central sleep apnea, and complicated sleep apnea syndrome is one of the primary reasons supporting market development. Such problems are common among the elderly and people suffering from various conditions such as diabetes, hypertension, and cardiovascular diseases (CVDs), which is boosting product acceptance in both industrialized and developing economies. Product advancements, such as Out-of-Center (OOC) testing equipment that analyzes sleeping habits, cardiovascular, oxygen saturation, and breathing variables for the diagnosis of OSA, are also key growth drivers.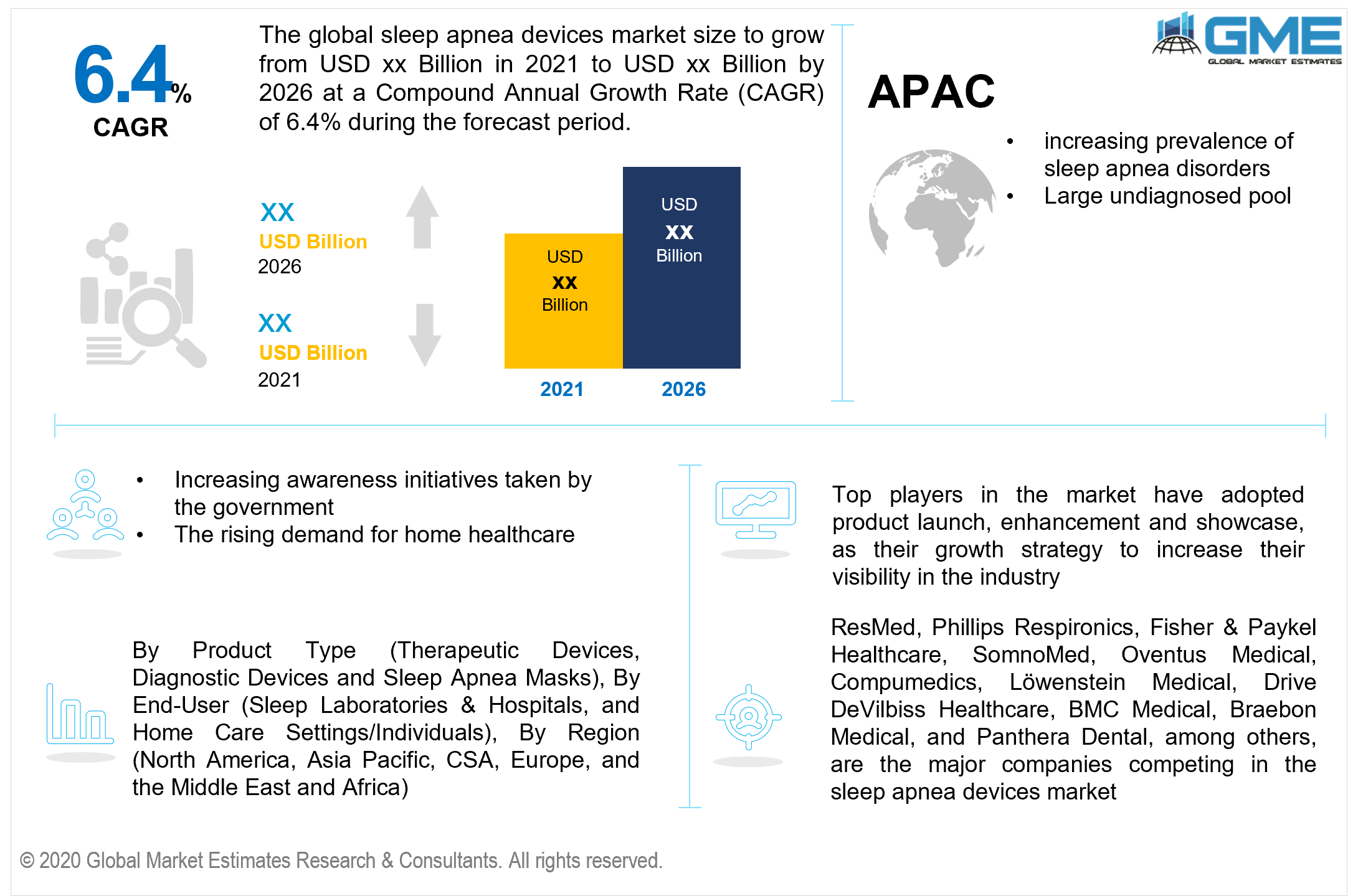 Global Sleep Apnea Devices Market: By Product Type
According to the type of product, there are three categories namely, therapeutic devices, diagnostic devices, and sleep apnea masks. The category of therapeutic devices is foreseen to be the largest shareholder over the forecast period. These therapeutic devices are prominent amongst others due to characteristics like higher efficacy & efficiency, performing multiple operations, hearing loss prevention, low price, high scalability, and increased accuracy. Growth in the usage of oral applications, rising initiatives by the local government, availability of technologically advanced devices, and patients' compliance to supportive therapy is leading to segment supremacy. However, the diagnostic devices segment will grow the fastest in the market due to the expanding utilization of devices, increasing prevalence of sleep apnea comorbidities, increasing awareness about these devices, and increasing adoption of CPAP machines.
Global Sleep Apnea Devices Market: By End-User
According to the end-user analysis, the two segments are sleep laboratories & hospitals and home care settings/individuals. Home care settings/individuals are foreseen to be the market leader. The segment's predominance is related to the rising usage of therapeutic equipment such as CPAP and oral appliances in-home health care and other settings. The rising incidence of sleep apnea, as well as effective government payment procedures for patients living in such environments, are some of the key factors contributing to a growing number of patients being treated in these establishments. However, due to the reduced proportion of patients treated totally at these institutions, the sleep clinics and laboratories segment contributed to a significantly lower portion of the market.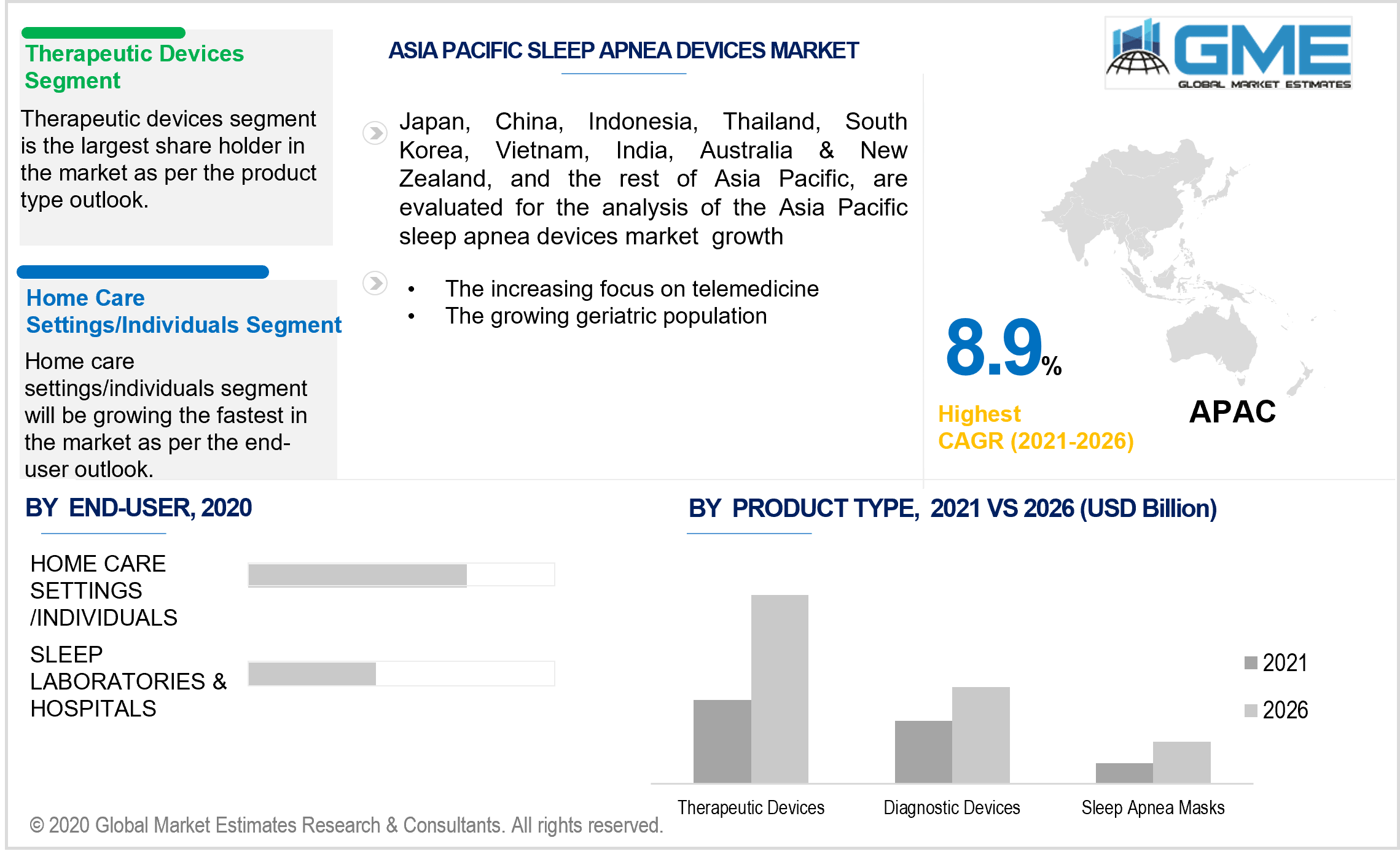 Global Sleep Apnea Devices Market: By Region
As per the geographical analysis, the market of the sleep apnea devices can be classified into North America (the US, Canada, and Mexico), Asia Pacific (India, China, Japan, Malaysia, Singapore, and the Rest of Asia Pacific), Europe (Germany, United Kingdom, Italy, France, Spain, Netherlands, and Rest of Europe), Middle East & Africa and Central & South America. The market for North America is presumed to be dominant due to the prevalence of a large number of core market players that have created robust distribution networks to ensure that their products are easily available. Rising incidence of sleep apnea, increasing healthcare investments, the presence of adequate reimbursement policies, growing usage of oral appliances, favorable government initiatives, rising prevalence of respiratory disorders, advancement in medical technology, rising number of sleep therapeutic tests, the presence of skilled medical professionals, the rising level of medical research work, availability of efficient treatment for sleep management, and increasing medical coverage for sleep apnea devices are all leading to the supremacy of North America. However, the Asia Pacific region will grow the fastest due to the rising geriatric population, increasing prevalence of sleep apnea disorders & lifestyle disorders, increasing growth opportunities due to initiatives taken by the government, strategic agreements of global market leaders, a large number of untreated patients, augmenting investment in medical tourism, growing health-care expenditures per capita, rising sleep laboratories, developing healthcare sector, and surging disposable income.
Global Sleep Apnea Devices Market: Share & Competitor Analysis
ResMed, Phillips Respironics, Fisher & Paykel Healthcare, SomnoMed, Oventus Medical, Compumedics, Löwenstein Medical, Drive DeVilbiss Healthcare, BMC Medical, Braebon Medical, and Natus Medical Incorporated, among others, are the major companies competing in the sleep apnea devices market.
Please note: This is not an exhaustive list of companies profiled in the report.
Chapter 1 Methodology
1.1 Market Scope & Definitions
1.2 Estimates & Forecast Calculation
1.3 Historical Data Overview And Validation
1.4 Data Sources
1.4.1 Secondary
1.4.2 Primary
Chapter 2 Report Outlook
2.1 Global Sleep Apnea Devices Industry Overview, 2016-2026
2.1.1 Industry Overview
2.1.1 Product Type Overview
2.1.2 End-User Overview
2.1.2 Regional Overview
Chapter 3 Global Sleep Apnea Devices Market Trends
3.1 Market Segmentation
3.2 Industry Background, 2016-2026
3.3 Market Key Trends
3.3.1 Positive Trends
3.3.1.1 The shift of patients towards new devices
3.3.1.2 The large pool of undiagnosed sleep apnea patients
3.3.2 Industry Challenges
3.3.2.1 High cost of CPAP
3.4 Prospective Growth Scenario
3.4.1 Product Type Growth Scenario
3.4.2 End-User Growth Scenario
3.5 COVID-19 Influence over Industry Growth
3.6 Porter's Analysis
3.7 PESTEL Analysis
3.8 Value Chain & Supply Chain Analysis
3.9 Regulatory Framework
3.9.1 North America
3.9.2 Europe
3.9.3 APAC
3.9.4 LATAM
3.9.5 MEA
3.10 Technology Overview
3.11 Market Share Analysis, 2020
3.11.1 Company Positioning Overview, 2020
Chapter 4 Global Sleep Apnea Devices Market, By Product Type
4.1 Product Type Outlook
4.2 Therapeutic Devices
4.2.1 Market Size, By Region, 2016-2026 (USD Million)
4.3 Diagnostic Devices
4.3.1 Market Size, By Region, 2016-2026 (USD Million)
4.4 Sleep Apnea Masks
4.4.1 Market Size, By Region, 2016-2026 (USD Million)
Chapter 5 Global Sleep Apnea Devices Market, By End-User
5.1 End-user Industry Outlook
5.2 Sleep Laboratories & Hospitals
5.2.1 Market Size, By Region, 2016-2026 (USD Million)
5.3 Home Care Settings/Individuals
5.3.1 Market Size, By Region, 2016-2026 (USD Million)
Chapter 6 Global Sleep Apnea Devices Market, By Region
6.1 Regional outlook
6.2 North America
6.2.1 Market Size, By Country 2016-2026 (USD Million)
6.2.2 Market Size, By Product Type, 2016-2026 (USD Million)
6.2.3 Market Size, By End-User, 2016-2026 (USD Million)
6.2.4 U.S.
6.2.4.1 Market Size, By Product Type 2016-2026 (USD Million)
6.2.4.2 Market Size, By End-User, 2016-2026 (USD Million)
6.2.5 Canada
6.2.5.1 Market Size, By Product Type, 2016-2026 (USD Million)
6.2.5.2 Market Size, By End-User 2016-2026 (USD Million)
6.3 Europe
6.3.1 Market Size, By Country 2016-2026 (USD Million)
6.3.2 Market Size, By Product Type, 2016-2026 (USD Million)
6.3.3 Market Size, By End-User, 2016-2026 (USD Million)
6.3.4 Germany
6.3.4.1 Market Size, By Product Type, 2016-2026 (USD Million)
6.3.4.2 Market Size, By End-User, 2016-2026 (USD Million)
6.3.5 UK
6.3.5.1 Market Size, By Product Type, 2016-2026 (USD Million)
6.3.5.2 Market Size, By End-User, 2016-2026 (USD Million)
6.3.6 France
6.3.6.1 Market Size, By Product Type, 2016-2026 (USD Million)
6.3.6.2 Market Size, By End-User, 2016-2026 (USD Million)
6.3.7 Italy
6.3.7.1 Market Size, By Product Type, 2016-2026 (USD Million)
6.3.7.2 Market Size, By End-User, 2016-2026 (USD Million)
6.3.8 Spain
6.3.8.1 Market Size, By Product Type, 2016-2026 (USD Million)
6.3.8.2 Market Size, By End-User, 2016-2026 (USD Million)
6.3.9 Russia
6.3.9.1 Market Size, By Product Type, 2016-2026 (USD Million)
6.3.9.2 Market Size, By End-User, 2016-2026 (USD Million)
6.4 Asia Pacific
6.4.1 Market Size, By Country 2016-2026 (USD Million)
6.4.2 Market Size, By Product Type, 2016-2026 (USD Million)
6.4.3 Market Size, By End-User, 2016-2026 (USD Million)
6.4.4 China
6.4.4.1 Market Size, By Product Type, 2016-2026 (USD Million)
6.4.4.2 Market Size, By End-User, 2016-2026 (USD Million)
6.4.5 India
6.4.5.1 Market Size, By Product Type, 2016-2026 (USD Million)
6.4.5.2 Market Size, By End-User, 2016-2026 (USD Million)
6.4.6 Japan
6.4.6.1 Market Size, By Product Type, 2016-2026 (USD Million)
6.4.6.2 Market Size, By End-User, 2016-2026 (USD Million)
6.4.7 Australia
6.4.7.1 Market Size, By Product Type, 2016-2026 (USD Million)
6.4.7.2 Market Size, By End-User, 2016-2026 (USD Million)
6.4.8 South Korea
6.4.8.1 Market Size, By Product Type, 2016-2026 (USD Million)
6.4.8.2 Market Size, By End-User, 2016-2026 (USD Million)
6.5 Latin America
6.5.1 Market Size, By Country 2016-2026 (USD Million)
6.5.2 Market Size, By Product Type, 2016-2026 (USD Million)
6.5.3 Market Size, By End-User, 2016-2026 (USD Million)
6.5.4 Brazil
6.5.4.1 Market Size, By Product Type, 2016-2026 (USD Million)
6.5.4.2 Market Size, By End-User, 2016-2026 (USD Million)
6.5.5 Mexico
6.5.5.1 Market Size, By Product Type, 2016-2026 (USD Million)
6.5.5.2 Market Size, By End-User, 2016-2026 (USD Million)
6.5.6 Argentina
6.5.6.1 Market Size, By Product Type, 2016-2026 (USD Million)
6.5.6.2 Market Size, By End-User, 2016-2026 (USD Million)
6.6 MEA
6.6.1 Market Size, By Country 2016-2026 (USD Million)
6.6.2 Market Size, By Product Type, 2016-2026 (USD Million)
6.6.3 Market Size, By End-User, 2016-2026 (USD Million)
6.6.4 Saudi Arabia
6.6.4.1 Market Size, By Product Type, 2016-2026 (USD Million)
6.6.4.2 Market Size, By End-User, 2016-2026 (USD Million)
6.6.5 UAE
6.6.5.1 Market Size, By Product Type, 2016-2026 (USD Million)
6.6.5.2 Market Size, By End-User, 2016-2026 (USD Million)
6.6.6 South Africa
6.6.6.1 Market Size, By Product Type, 2016-2026 (USD Million)
6.6.6.2 Market Size, By End-User, 2016-2026 (USD Million)
Chapter 7 Company Landscape
7.1 Competitive Analysis, 2020
7.2 ResMed
7.2.1 Company Overview
7.2.2 Financial Analysis
7.2.3 Strategic Positioning
7.2.4 Info Graphic Analysis
7.3 Phillips Respironics
7.3.1 Company Overview
7.3.2 Financial Analysis
7.3.3 Strategic Positioning
7.3.4 Info Graphic Analysis
7.4 Fisher & Paykel Healthcare
7.4.1 Company Overview
7.4.2 Financial Analysis
7.4.3 Strategic Positioning
7.4.4 Info Graphic Analysis
7.5 Oventus Medical
7.5.1 Company Overview
7.5.2 Financial Analysis
7.5.3 Strategic Positioning
7.5.4 Info Graphic Analysis
7.6 Löwenstein Medical
7.6.1 Company Overview
7.6.2 Financial Analysis
7.6.3 Strategic Positioning
7.6.4 Info Graphic Analysis
7.7 Drive DeVilbiss Healthcare
7.7.1 Company Overview
7.7.2 Financial Analysis
7.7.3 Strategic Positioning
7.7.4 Info Graphic Analysis
7.8 BMC Medical
7.8.1 Company Overview
7.8.2 Financial Analysis
7.8.3 Strategic Positioning
7.8.4 Info Graphic Analysis
7.9.1 Company Overview
7.9.2 Financial Analysis
7.9.3 Strategic Positioning
7.9.4 Info Graphic Analysis
7.10 SomnoMed
7.10.1 Company Overview
7.10.2 Financial Analysis
7.10.3 Strategic Positioning
7.10.4 Info Graphic Analysis
7.11 Natus Medical Incorporated
7.11.1 Company Overview
7.11.2 Financial Analysis
7.11.3 Strategic Positioning
7.11.4 Info Graphic Analysis
7.12 Other Companies
7.12.1 Company Overview
7.12.2 Financial Analysis
7.12.3 Strategic Positioning
7.12.4 Info Graphic Analysis