Smart Vision Testing MarketInsights
Laboratory tests performed for the purpose of monitoring the patients vision, and ability to focus on a distant object, along with detection of any form of physiological abnormalities in eye comes under the umbrella of vision testing segment. These tests or exams are conducted by healthcare experts such as optometrist, ophthalmologist, orthoptist, or an optician. A regular eye test is recommended by the healthcare experts in order to overcome any unavoidable issue related to vision. However, the right type of test or examination matters the most. Vision test or the Visual Acuity Test is set of examinations of the eyes to determine how well the patient can see, and read letters, alphabets and symbols from a specific distance. As per the recent report provided by CDC, around 11-12 million people who are above the age of 40 years residing in the United States have some or the form of eye disease and impairment, out of which around 1 million are blind, around 3 million have developed vision impairment after correction, and 8 million acquired vision impairment because of uncorrected refractive mistake. Hence, with such high prevalence, the market for ophthalmology testing products is ought to be growing constantly. The ophthalmology industry has come very far in terms of eye testing technologies which have prioritized the fact of invasiveness. The industry has welcomed many players to launch benchtop, and portable machines or device which can help monitor the eye vision accurately. However, the healthcare industry has been witnessing a successful merger of Internet of Things (IoT) and medical device. This is resulted in the launch of smart phone based eye vision testing devices. One such company has launched the world's first smart vision testing device with an integrated app. The vision testing device is also called as a mini microscope which is based on a patented design of refracted concept launched by MIT. The user simply has to attach the microscope to its mobile with the app on for initiating the test at home.By attaching the microscope to their smartphone and then aligning the red bar with the green on the touchscreen, users can assess their eyesight for refractive errors, such as astigmatism and near sightedness. The results of these test can be efficiently stored in the phone and can be also transferred from one device to another. This is a great source of help during a telemedicine consultation. Because the doctor can access their patient's report real time and sitting from a remote place. The company's app can be downloaded in both android and iOS. On the other hand, the market is also witnessing the launch of eye testing apps which have become even more easy and cheaper for both users and healthcare providers. Also, along with offering advantages of portability and ease of use especially for the low income and rural areas, the latest devices and apps also help in conducting performing complex eye examinations with no expensive equipment. One such app is the Peek app which offers facility like geo-tagging for patient location detection, and detection capabilities of eye tests such as the lens imaging for cataracts, color test, acuity test, contrast sensitivity test, and retinal imaging test. Owing to a wide application area the device has reached, the market will be growing rapidly from 2021 to 2026. Also with the rising cases of cataract operations in the low income and rural areas, the market is definitely on the rise. Cataract is one of the diseases that contracts geriatric patient quickly across the globe. Hence, the rising number of geriatric population will propel the market growth. As per the data offered by NIH, around 50% of the American population is the above the age of 75. Also, 1 in 6 people develop cataract in their lifetime in the US.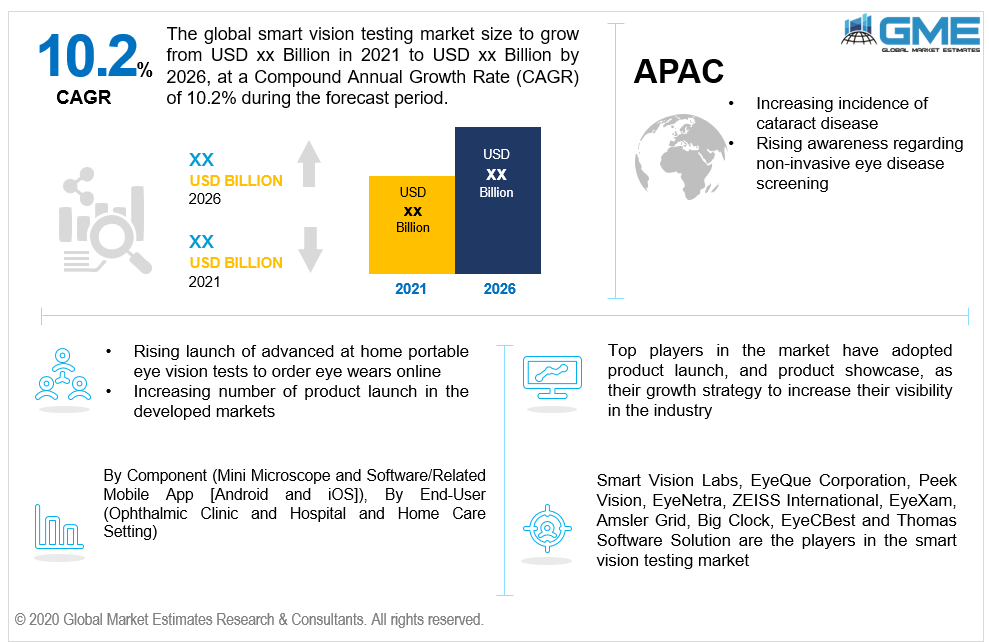 Smart Vision Testing Market: By Component
Based on the component offered, the market can be segmented into mini microscope and software/related mobile app. The software or related mobile app segment is further split into Android and iOS considering the most of the apps are only compatible with either of the two. The mini microscope segment will be the fastest growing segment owing to its high portability and effective technology to conduct most of the eye examinations seamlessly.
Smart Vision Testing Market: By End-User
Based on the end-user segment, or the potential users of these innovative eye testing, devices, the market can be segmented into ophthalmic clinic & hospital and home care setting. The ophthalmic clinic & hospital segment will bag the top position in the end-user segment from 2021 to 2026. Rising need for vision screening, and cases of cataract across the globe, this segment is ought to be growing the fastest in the market. Also, due to the launch of the vision testing app, doctors and hospital staff can now easily conduct screening programs and camps in low income countries and rural areas of Asian countries at a very low cost.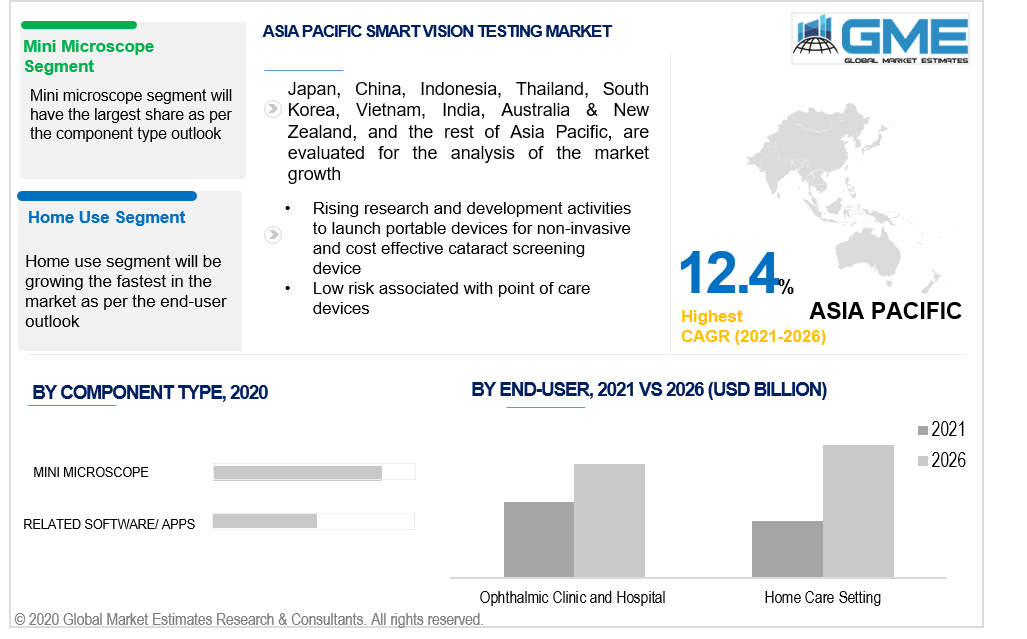 Smart Vision Testing Market: By Region
As per the geographical analysis, the Smart Vision Testing Marketcan be classified into North America (the United States, Canada, and Mexico), Asia Pacific (India, China, Japan, Malaysia, Singapore, and Rest of Asia Pacific), Europe (Germany, United Kingdom, Italy, France, Spain, Netherlands, and Rest of Europe), Middle East & Africa (Saudi Arabia, United Arab Emirates, and Rest of the Middle East & Africa) and Central &South America (Brazil, Argentina, and Rest of Central and South America).North America (the United States, Canada, and Mexico) will be the market segment with a lion's share.Launch of the latest eye testing devices used for home based patients reaches developed countries earlier than other countries owing to presence of the start-up players and top companies in US and Canada. However owing to increasing cases of cataract and other eye impairment diseases in the Asian countries, the market will be growing rapidly during the forecast period.
Smart Vision Testing Market Share and Competitor Analysis
Smart Vision Labs, EyeQue Corporation, PeekVision, EyeNetra, ZEISS International, EyeXam, Amsler Grid, Big Clock, EyeCBest and Thomas Software Solution are the players in the smart vision testing market.
Please note: This is not an exhaustive list of companies profiled in the report.
In December 2020, EyeQue Corporation bagged the CES Innovation Awards 2021 award for their innovative product.
In November 2020, EyeQue Corporation announced the launch of their product namely EyeQueVisionCheck 2, which is a refraction device for the home use purpose. This device can help the patient to test their vision and get the data on their refractive number and subsequently order eye wear from the online platform.
Chapter 1 Methodology
1.1 Market Scope & Definitions
1.2 Estimates & Forecast Calculation
1.3 Historical Data Overview and Validation
1.4 Data Sources
1.4.1 Secondary
1.4.2 Primary
Chapter 2 Report Outlook
2.1 Smart Vision Testing Industry Overview, 2019-2026
2.1.1 Industry Overview
2.1.2 Component Type Overview
2.1.3 End-User Overview
2.1.4 Regional Overview
Chapter 3 Smart Vision Testing Market Trends
3.1 Market Segmentation
3.2 Industry Background, 2019-2026
3.3 Market Key Trends
3.3.1 Positive Trends
3.3.1.1 Technology Advancement in At-Home Vision Testing Devices
3.3.1.2 The Rising Prevalence of Cataract Disease
3.3.2 Industry Challenges
3.3.2.1 Lack of Awareness in Low-Income Countries
3.4 Prospective Growth Scenario
3.4.1 Component Type Growth Scenario
3.4.2 End-User Growth Scenario
3.5 COVID-19 Influence over Industry Growth
3.6 Porter's Analysis
3.7 PESTEL Analysis
3.8 Value Chain & Supply Chain Analysis
3.9 Regulatory Framework
3.9.1 North America
3.9.2 Europe
3.9.3 APAC
3.9.4 LATAM
3.9.5 MEA
3.10 Technology Overview
3.11 Market Share Analysis, 2020
3.11.1 Company Positioning Overview, 2020
Chapter 4 Smart Vision Testing Market, By Component Type
4.1 Component Type Outlook
4.2 Mini Microscope
4.2.1 Market Size, By Region, 2019-2026 (USD Million)
4.3 Software/Related Mobile App
4.3.1 Market Size, By Region, 2019-2026 (USD Million)
Chapter 5 Smart Vision Testing Market, By End-User
5.1 End-User Outlook
5.2 Ophthalmic Clinic and Hospital
5.2.1 Market Size, By Region, 2019-2026 (USD Million)
5.3 Home Care Setting
5.3.1 Market Size, By Region, 2019-2026 (USD Million)
Chapter 6 Smart Vision Testing Market, By Region
6.1 Regional outlook
6.2 North America
6.2.1 Market Size, By Country 2019-2026 (USD Million)
6.2.2 Market Size, By Component Type, 2019-2026 (USD Million)
6.2.3 Market Size, By End-User, 2019-2026 (USD Million)
6.2.4 U.S.
6.2.4.1 Market Size, By Component Type, 2019-2026 (USD Million)
6.2.4.2 Market Size, By End-User, 2019-2026 (USD Million)
6.2.5 Canada
6.2.5.1 Market Size, By Component Type, 2019-2026 (USD Million)
6.2.5.2 Market Size, By End-User, 2019-2026 (USD Million)
6.3 Europe
6.3.1 Market Size, By Country 2019-2026 (USD Million)
6.3.2 Market Size, By Component Type, 2019-2026 (USD Million)
6.3.3 Market Size, By End-User, 2019-2026 (USD Million)
6.3.4 Germany
6.3.4.1 Market Size, By Component Type, 2019-2026 (USD Million)
6.3.4.2 Market Size, By End-User, 2019-2026 (USD Million)
6.3.5 UK
6.3.5.1 Market Size, By Component Type, 2019-2026 (USD Million)
6.3.5.2 Market Size, By End-User, 2019-2026 (USD Million)
6.3.6 France
6.3.6.1 Market Size, By Component Type, 2019-2026 (USD Million)
6.3.6.2 Market Size, By End-User, 2019-2026 (USD Million)
6.3.7 Italy
6.3.7.1 Market Size, By Component Type, 2019-2026 (USD Million)
6.3.7.2 Market Size, By End-User, 2019-2026 (USD Million)
6.3.8 Spain
6.3.8.1 Market Size, By Component Type, 2019-2026 (USD Million)
6.3.8.2 Market Size, By End-User, 2019-2026 (USD Million)
6.3.9 Russia
6.3.9.1 Market Size, By Component Type, 2019-2026 (USD Million)
6.3.9.2 Market Size, By End-User, 2019-2026 (USD Million)
6.4 Asia Pacific
6.4.1 Market Size, By Country 2019-2026 (USD Million)
6.4.2 Market Size, By Component Type, 2019-2026 (USD Million)
6.4.3 Market Size, By End-User, 2019-2026 (USD Million)
6.4.4 China
6.4.4.1 Market Size, By Component Type, 2019-2026 (USD Million)
6.4.4.2 Market Size, By End-User, 2019-2026 (USD Million)
6.4.5 India
6.4.5.1 Market Size, By Component Type, 2019-2026 (USD Million)
6.4.5.2 Market Size, By End-User, 2019-2026 (USD Million)
6.4.6 Japan
6.4.6.1 Market Size, By Component Type, 2019-2026 (USD Million)
6.4.6.2 Market Size, By End-User, 2019-2026 (USD Million)
6.4.7 Australia
6.4.7.1 Market Size, By Component Type, 2019-2026 (USD Million)
6.4.7.2 Market size, By End-User, 2019-2026 (USD Million)
6.4.8 South Korea
6.4.8.1 Market Size, By Component Type, 2019-2026 (USD Million)
6.4.8.2 Market Size, By End-User, 2019-2026 (USD Million)
6.5 Latin America
6.5.1 Market Size, By Country 2019-2026 (USD Million)
6.5.2 Market Size, By Component Type, 2019-2026 (USD Million)
6.5.3 Market Size, By End-User, 2019-2026 (USD Million)
6.5.4 Brazil
6.5.4.1 Market Size, By Component Type, 2019-2026 (USD Million)
6.5.4.2 Market Size, By End-User, 2019-2026 (USD Million)
6.5.5 Mexico
6.5.5.1 Market Size, By Component Type, 2019-2026 (USD Million)
6.5.5.2 Market Size, By End-User, 2019-2026 (USD Million)
6.5.6 Argentina
6.5.6.1 Market Size, By Component Type, 2019-2026 (USD Million)
6.5.6.2 Market Size, By End-User, 2019-2026 (USD Million)
6.6 MEA
6.6.1 Market Size, By Country 2019-2026 (USD Million)
6.6.2 Market Size, By Component Type, 2019-2026 (USD Million)
6.6.3 Market Size, By End-User, 2019-2026 (USD Million)
6.6.4 Saudi Arabia
6.6.4.1 Market Size, By Component Type, 2019-2026 (USD Million)
6.6.4.2 Market Size, By End-User, 2019-2026 (USD Million)
6.6.5 UAE
6.6.5.1 Market Size, By Component Type, 2019-2026 (USD Million)
6.6.5.2 Market Size, By End-User, 2019-2026 (USD Million)
6.6.6 South Africa
6.6.6.1 Market Size, By Component Type, 2019-2026 (USD Million)
6.6.6.2 Market Size, By End-User, 2019-2026 (USD Million)
Chapter 7 Company Landscape
7.1 Competitive Analysis, 2020
7.2 EyeQue Corporation,
7.2.1 CompanyOverview
7.2.2 Financial Analysis
7.2.3 Strategic Positioning
7.2.4 Info Graphic Analysis
7.3 Peek Vision
7.3.1 Company Overview
7.3.2 Financial Analysis
7.3.3 Strategic Positioning
7.3.4 Info Graphic Analysis
7.4 EyeNetra
7.4.1 Company Overview
7.4.2 Financial Analysis
7.4.3 Strategic Positioning
7.4.4 Info Graphic Analysis
7.5 Smart Vision Labs
7.5.1 Company Overview
7.5.2 Financial Analysis
7.5.3 Strategic Positioning
7.5.4 Info Graphic Analysis
7.6 ZEISS International
7.6.1 Company Overview
7.6.2 Financial Analysis
7.6.3 Strategic Positioning
7.6.4 Info Graphic Analysis
7.7 EyeXam
7.7.1 Company Overview
7.7.2 Financial Analysis
7.7.3 Strategic Positioning
7.7.4 Info Graphic Analysis
7.8 Amsler Grid
7.8.1 Company Overview
7.8.2 Financial Analysis
7.8.3 Strategic Positioning
7.8.4 Info Graphic Analysis
7.9 EyeCBest
7.9.1 Company Overview
7.9.2 Financial Analysis
7.9.3 Strategic Positioning
7.9.4 Info Graphic Analysis
7.10 Thomas Software Solution
7.10.1 Company Overview
7.10.2 Financial Analysis
7.10.3 Strategic Positioning
7.10.4 Info Graphic Analysis
7.11 Other Companies
7.11.1 Company Overview
7.11.2 Financial Analysis
7.11.3 Strategic Positioning
7.11.4 Info Graphic Analysis