Social Commerce Market Insights
The use of social networking platforms for the sale and promotion of goods and services is referred to as "social commerce.". It allows users to purchase products and services from any social media platform thus providing the safest shopping experience during this pandemic. Customers are shifting from conventional shopping mediums to online platforms since various large to medium-scale company products are easily available on various e-commerce platforms.
Leading and emerging brands have analyzed that this consumer behavior is growing and, in this situation, the most effective strategy would be to collaborate with various social media platforms. This sudden change in demand pattern had made the global and local market players tweak their marketing tactics and start leveraging the power of social media platforms. They are now using social media platforms to create a communication channel with their customers and sell their products and services.
Lately, the best medium to share content related to product and service sale offerings is through online medium social interactions thus the e-commerce and payments vendors are creating a robust environment for the entire shopping experience. They have collaborated with different social media platforms to spread awareness and spread the news about the availability of the best quality products/services with the safest payment options through creative posts.
Globally this industry is expected to experience skyrocketed demand because the shopping experience provided through this medium is extremely convenient due to technological revolution, safe transaction options, and surge in the number of smartphones, and social media users. The penetration rate of social media platforms is still in the early phase due to the limited availability of resources. It's expected that emerging technologies like AI, big data, AR, VR, chatbots, and blockchain will eventually help in creating a hostile environment to have a well-established customer reach for local and global vendors.
Even though e-commerce and social networking platforms have been around for a long time, there is still a huge scope for realigning each unit of the system to create a well-established secured social commerce market globally since many social media platforms are not secured against cyber-attacks making users worry about unauthorized access to their confidential information. The market is still in its infancy and a strategic solution will help it to propel forward. The merger of these two platforms is having a revolutionary change on the market dynamics and it is expected to have a continued positive growth rate in the coming years.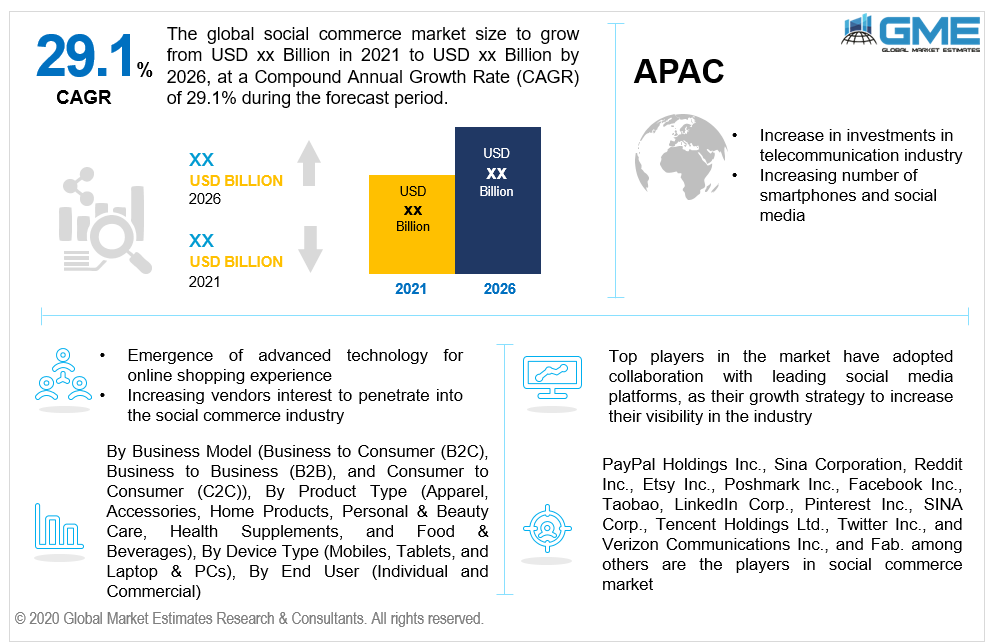 Social Commerce Market: By Business Model
Based on the business model, the market is segmented into business to consumer (B2C), business to business (B2B), and consumer to consumer (C2C). The B2C holds the largest market segment because this model eliminates the need for middlemen enabling customers to get goods at a low cost. Also, they can easily access, select, and order a product when comparing reviews shared by other users on social commerce platforms.
Social Commerce Market: By Product Type
Based on the type of product, the market is segregated into apparel, accessories, home products, personal & beauty care, health supplements, and food & beverages. Apparel will be the largest segment as per the product outlook owing to its high popularity and availability of vendors. Shoppers invest more time online and explore new social commerce shopping sites during the COVID-19 pandemic's lockdown because vendors were providing various offers to entice customers.
Social Commerce Market: By Device Type
Based on the type of devices, the market is segmented into mobiles, tablets, and laptops & PCs. The mobile segment is leading since the key market players in telecommunication and electronic devices provide data plans and mobile phones at affordable prices. Also, the evolution of 4G and 5G networks is capable of providing better connectivity and high penetration globally which will boost the market demand further.
Social Commerce Market: By End User
Based on the type of end-user, the market is segregated into individual and commercial. Individuals will be the largest segment. This segment growth in the global social commerce market is being fuelled by the COVID-19 pandemic, user-friendly e-commerce interface on social media platforms, convenience, changing consumer buying behavior, purchasing power, availability of retailers, retailer deals, e-commerce discounts, and assurance of secured transactions.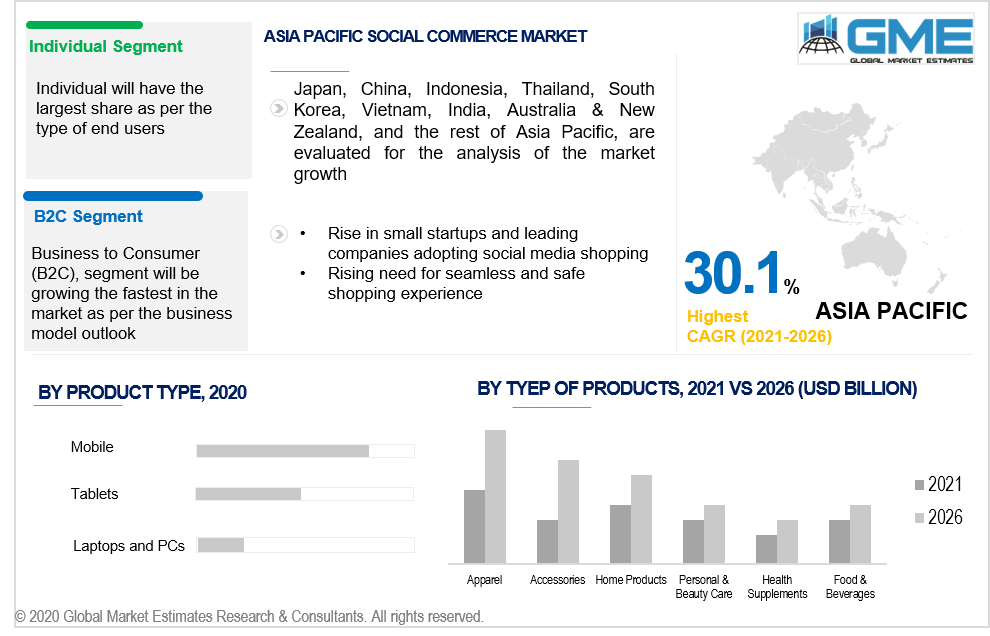 Social Commerce Market: By Region
As per the geographical analysis, the market can be classified into North America (the United States, Canada, and Mexico), Asia Pacific (India, China, Japan, Malaysia, Singapore, and Rest of Asia Pacific), Europe (Germany, United Kingdom, Italy, France, Spain, Netherlands, and Rest of Europe), Middle East & Africa (Saudi Arabia, United Arab Emirates, and Rest of the Middle East & Africa) and Central South America (Brazil, Argentina, and Rest of Central and South America). North America region has the largest market segment, due to the high internet penetration rate and growing adoption of technology like Artificial Intelligence (AI) in e-commerce. Furthermore, the COVID-19 pandemic has resulted in a significant rise in time spent on social media by consumers in 2020, resulting in business growth opportunities. This is a potential market and will steadily grow from 2021 to 2026. The Asia Pacific region is projected to grow at a high CAGR because agile telecommunication infrastructure is being built for users through a large sum of investments. Also, due to the increasing population in various regions, there is a high penetration rate for smartphones and social media platforms.
Social Commerce Market Share and Competitor Analysis
The social commerce industry is dominated by companies such as PayPal Holdings Inc., Sina Corporation, Reddit Inc., Etsy Inc., Poshmark Inc., Facebook Inc., Taobao, LinkedIn Corp., Pinterest Inc., SINA Corp., Tencent Holdings Ltd., Twitter Inc., and Verizon Communications Inc., and Fab.
Please note: This is not an exhaustive list of companies profiled in the report.
The Global Social Commerce Market has been studied from the year 2019 till 2026. However, the CAGR provided in the report is from the year 2021 to 2026. The research methodology involved three stages: Desk research, Primary research, and Analysis & Output from the entire research process.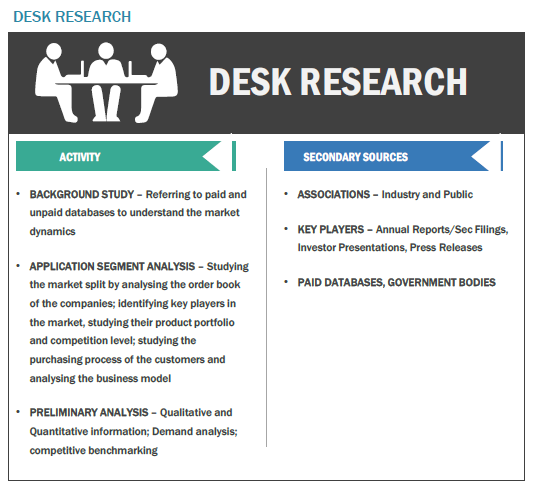 The desk research involved a robust background study which meant referring to paid and unpaid databases to understand the market dynamics; mapping contracts from press releases; identifying the key players in the market, studying their product portfolio, competition level, annual reports/SEC filings & investor presentations; and learning the demand and supply-side analysis for the Social Commerce Market.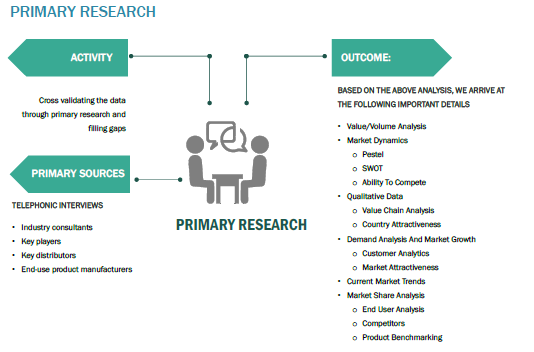 The primary research activity included telephonic conversations with more than 50 tier 1 industry consultants, distributors, and end-use product manufacturers.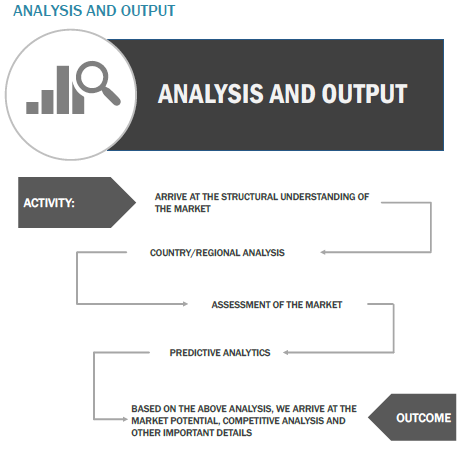 Finally, based on the above thorough research process, an in-depth analysis was carried out considering the following aspects: market attractiveness, current & future market trends, market share analysis, SWOT analysis of the company and customer analytics.