Solvent Evaporation Market Insights
Solvent evaporation includes the emulsification of polymer in the watery stage and dispersed in an unstable dissolvable like dichloromethane, chloroform, and ethyl acetic acid derivation. Then the solvent is completely evaporated using the application of high temperature, vacuum, or continuous stirring and persistent mixing. It has major applications in the Pharmaceutical industry. In that method of evaporation, the drug is subjected to dissolving, which is then followed by dispersed, into an organic polymer solution. After this step, the mixture is again subjected to an external aqueous phase followed by which the end product is formed, namely the microspheres. Here in this process, the solvent is evaporated and the polymer gets precipitated. Hence owing to its importance in drug-making methodology, the market has found its place largely in the Pharma and Bio-Pharma industries. The market for solvent evaporation will register a gradual growth of 7.5% from 2020 to 2026. The driving factors are the increasing government spending on Pharma drug research, and other related research activities, increasing adoption of highly purified end products in end users like pharmaceuticals and diagnostic laboratories and increasing establishment and expansion of Bio-Pharma ventures across Asia-Pacific and European regions.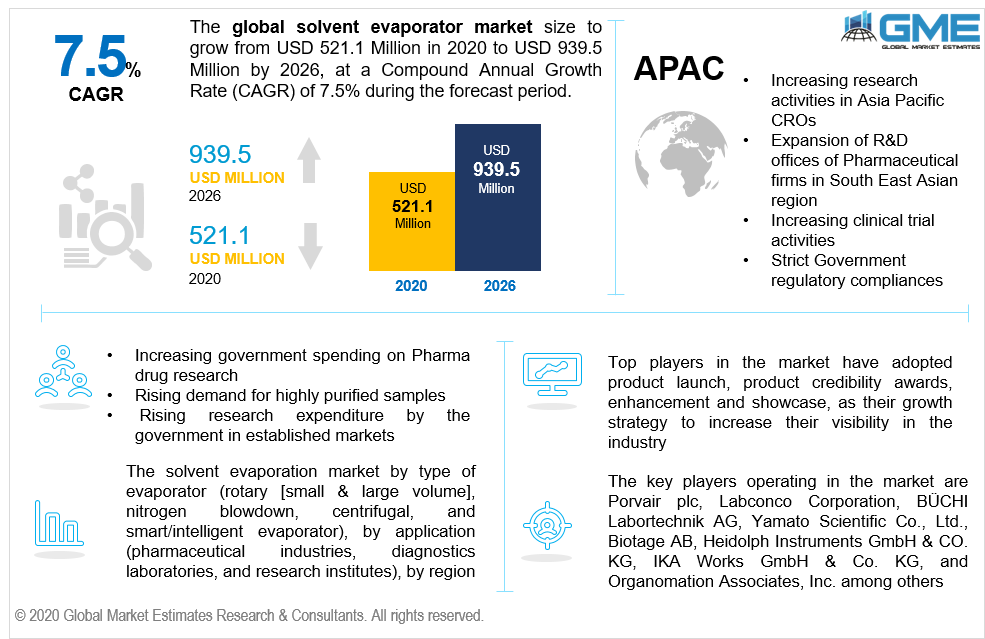 Solvent Evaporation Market: By Type of Evaporator
The market has 4 major types of smart/intelligent evaporator, nitrogen Blowdown evaporator, rotary evaporator, and centrifugal evaporator. However, based on volume, the rotary evaporator can be further classified into small and large volume rotary evaporators. As per the GME analysis, the market for rotary evaporators will be seen to be the largest. The major reason being that this type of evaporator offers a high level of purity in the sample when processed. And the market demand is seen to be only increasing for efficient & highly pure end products. Also increasing government spending on research and development activities carried out at Pharma industries will propel the adoption of such type of evaporator, increasing adoption of digitization in the upstream and downstream process, and an increasing number of research projects on novel drugs and rising production base for blockbuster drugs will help the rotary evaporators market grow.
Solvent Evaporation Market: By Application
Based on the end-user or the applications of this process, the market can be well explained in 3 segments, namely Pharma & Bio-Pharmaceutical industry, diagnostic laboratories, and research institutes. Owing to the high installation numbers of evaporators, the market for Pharma & Bio-Pharmaceutical industry is the largest, however, owing to rising research activities in novel drug testing and development, the market for research institutes is growing the fastest.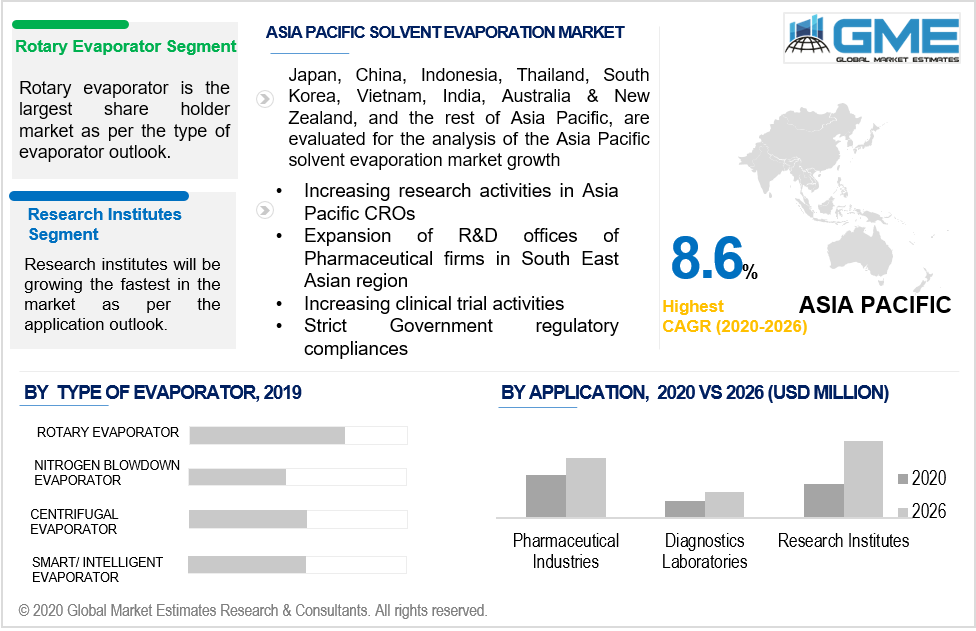 Solvent Evaporation Market: By Region
As per GME analysis, the regional segmentation is split into Asia Pacific, Europe, North America, and the Rest of the World (which includes the Middle East and Africa, Central and South America). Owing to increasing demand for production of high-quality molecule or samples, rising research expenditure by the government in North America, and the presence of major market companies in this region has helped to maintain the 1st rank market position and is forecasted to be the same from 2020 to 2026. However, owing to increasing research activities in Asia Pacific CROs, and shift of R&D activities from Europe to Asian countries, expansion of sales and marketing offices of Pharmaceutical firms, rising number of life science companies, increasing activity of clinical trials of drug about the covid-19 vaccine and other vaccines, will help the market grow faster during the forecast period. Moreover, the Asia-Pacific government too is keen on implying regulatory norms on bioprocess methods in Pharma and bio-Pharma industries. Such compliances will help this region adopt solvent evaporators faster than other established markets.
Solvent Evaporation Market Share And Competitor Analysis
Porvair plc, Labconco Corporation, BÜCHI Labortechnik AG, Yamato Scientific Co., Ltd., Biotage AB, Heidolph Instruments GmbH & CO. KG, IKA Works GmbH & Co. KG, Organomation Associates, Inc., Radleys, LabTech S.r.l., BioChromato, Inc., Steroglass Srl, DODA Limited, Asahi Glassplant Inc., KNF Neuberger, Inc., Abel Industries Canada Ltd., EYELA, ANPEL Laboratory Technologies Inc., SP Industries, Inc., and Pope Scientific, Inc. are the prime players in this market
Please note: This is not an exhaustive list of companies profiled in the report.
In July 2020, BUCHI Labortechnik AG launched an innovative and fully automatic product namely, SyncorePlus. This product will be used for parallel solvent evaporation methods, which will also be faster and quicker in real-time.
In 2019, the Heidolph Instruments GmbH & CO. KG., received an LLG award 2019, for its rotary evaporator namely, the Hei-VAP series.
Check the Press Release on Global Solvent Evaporation Market Report
The Global Solvent Evaporation Market has been studied from the year 2017 till 2026. However, the CAGR provided in the report is from the year 2018 to 2026. The research methodology involved three stages: Desk research, Primary research, and Analysis & Output from the entire research process.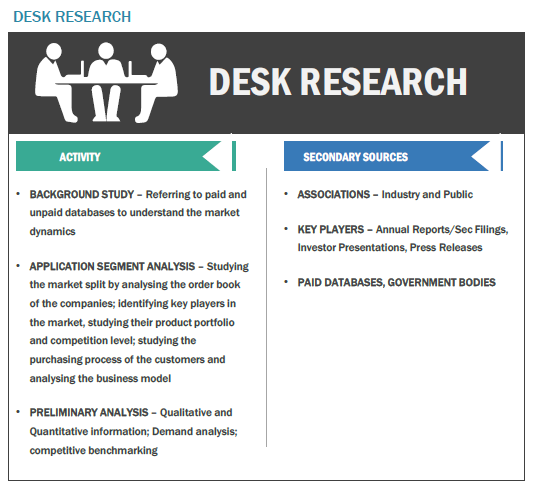 The desk research involved a robust background study which meant referring to paid and unpaid databases to understand the market dynamics; mapping contracts from press releases; identifying the key players in the market, studying their product portfolio, competition level, annual reports/SEC filings & investor presentations; and learning the demand and supply side analysis for the Solvent Evaporation Market.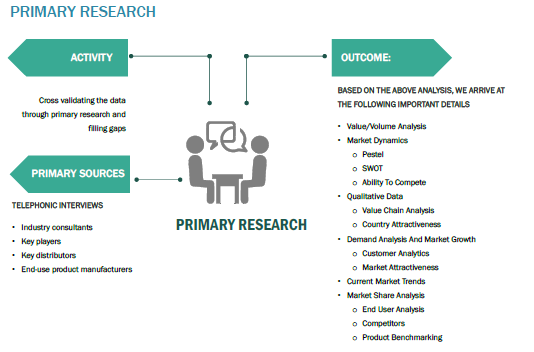 The primary research activity included telephonic conversations with more than 50 tier 1 industry consultants, distributors, and end-use product manufacturers.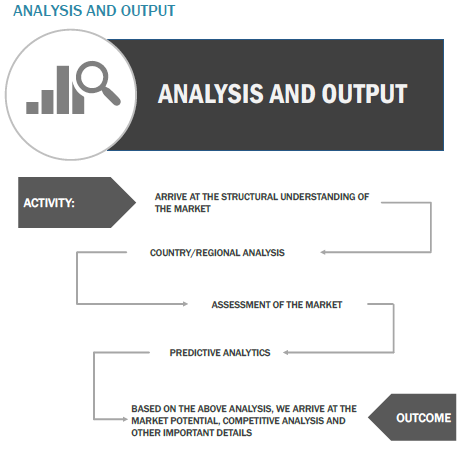 Finally, based on the above thorough research process, an in-depth analysis was carried out considering the following aspects: market attractiveness, current & future market trends, market share analysis, SWOT analysis of the companies and customer analytics.