Global Steel Wire Market: Insights
Steel Wire is one of the strongest mechanical devices and finds its application in various support building activities. Its long durability and strength make it a more suitable option in supporting, moving, or loading activities. These steel wires are nothing but a form of long metals, which are shaped in this form to provide more assistance in various application purposes.
Steel wires are manufactured using the cold drawing process, which reduces the diameter of the metal for better grip and sustenance. Steel is manufactured using an inorganic material, where the thick and sturdy steel ingot is passed through a small diameter circular mold to make it lose its shape and transform it into a thinner desired form with better hardness and resistance. Steel wires are known for their high cut resistance. The thickness of these wires determines its high resistance, the thinner the wire, the better the results of its application.
The steel wire market is anticipated to grow at a 6% growth rate during the forecast period. Steel wires are tremendously useful and multipurpose materials that can be used in a wide range of domains, right from household electrical wiring to massive equipment units in various industries. These diverse number of industries use these steel wires for various purposes- as conductor cables, for cleaning, for fencing, for logging, for underground mining, for staples, for giving mechanical stability, and even in creating music. These wires being all-purpose materials, are also manufactured in different diameters, better elasticity, different levels of thickness, and strength levels as per different requirements. These characteristics of steel wire make it more beneficial in innumerable industry usages.
The growing industrialization in developing countries across the world demands more steel wire production. Industries across various sectors rely heavily on steel wires as they are considerably less resistant to corrosion and rusting compared to other materials. With their high durability strength and less vulnerability to environmental effects, these wires end up being a cost-efficient resource to use. Steel being one of the versatile reusable materials, correspondingly make the steel wires recyclable too.
The potential budding manufacturers of steel wires all over the world are showing a positive move in the global market, earning a tremendous amount of revenue sales, and profit. These budding steel wire manufacturers are expanding the product range to huge levels, thus giving their end-users a wide variety of options to choose from, as per their necessities.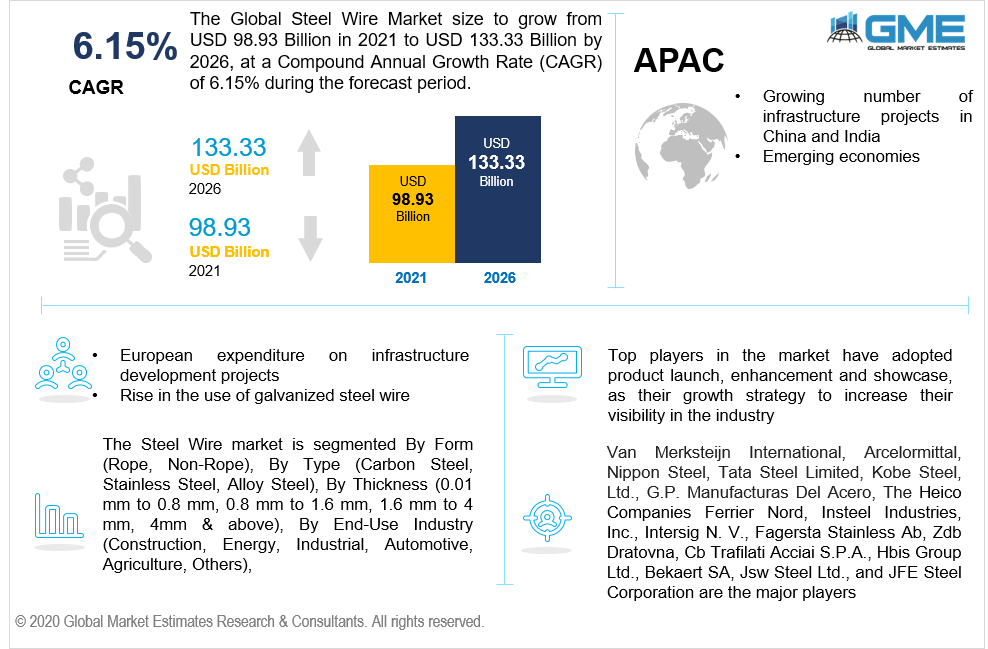 Global Steel Wire Market: By Form
Non-rope form of steel wire is majorly used in various industrial as well as non-industrial sectors attributing to their characteristics like flexibility, adaptable and multi-purpose nature. These non-rope form of steel wires are used in giving stiffness to the rubber tires, galvanized wires, flexible steel hoses, cables, staples, fencing, clips, screws, nails, barbed wires, mesh, springs, chains, and others.
These non-rope forms of steel wire come in handy use, compared to the steel wire ropes which can only be used in massive construction and industrial projects. The non-rope form of steel wire is majorly demanded for both domestic as well as industrial purposes.
Global Steel Wire Market: By Type
The different type of steel wires available for the end-users to use is carbon steel, stainless steel, and alloy steel. Carbon steel wire is tremendously demanded by huge industries like the construction sector owing to its ability of strength and durability. These carbon steel wires are highly ductile and sturdy.
The steel wire manufacturers also produce two different ranges of carbon steel wire, namely low carbon and high carbon steel wires. The wide range of carbon steel wires available in the market, consequently leads to their demand from different industry players. The low carbon steel wires are super beneficial in the construction, automotive and military industry. These carbon steel wires are easy to manufacture and are can moderately process twisting and flattening. High carbon steel wires are used in various industries like musical instruments, furniture, industrial purposes, and also frequently in the construction industry. These high carbon steel wires certainly have a high carbon content in them, making them less ductile compared to low carbon steel wires.
Stainless steel is also noticeably in demand considering its application in industries like automotive, agriculture, energy, and others, owing to its characteristics like flexibility, recyclability, and strength.
Global Steel Wire Market: By Thickness
Considering the vivid range of applications of steel wires, the required thickness of the wire also varies. There are various steel wires available in the market with different dimensions of thickness, viz. 0.01 mm to 0.8 mm, 0.8 mm to 1.6 mm, 1.6 mm to 4 mm, and 4mm & above. 1.6 mm to 4 mm thickness is the most preferred and demanded level of dimensions among the industry users. The wires of this thickness are used in various domestic usage as well as industrial usages like fencing, mesh, armour cables, binding wire, baling wire, and others.
Global Steel Wire Market: By End-Use Industries
Steel wires are most commonly used in industries like Construction, Energy, Industrial, Automotive, and Agriculture. Among these, the construction industry majorly prefers steel wires in their application base. The construction industry is a non-stop working business with only persistent positively moving demand trend lines within the market. The rising construction work for residential buildings, spaces for commercial activities, infrastructural development like bridges, railway stations, airports, medical centers, dams, and others, subsequently demand more steel wires.
The spiking demand for automobiles from the upper-middle class and middle-class society is increasing the growth in the automotive industry, thus consequently the need for steel wires.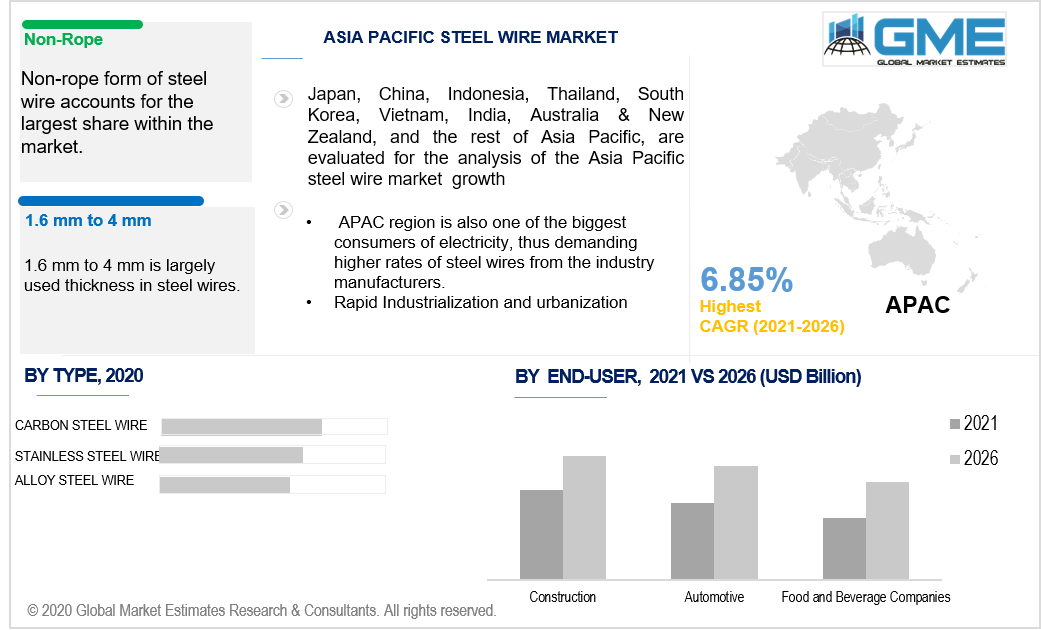 Global Steel Wire Market: By Region
The Asia-pacific region also holds its monopoly over the steel wire market, attributing to the presence of numerous steel wire manufacturers in the region. China and India are the countries with huge infrastructural projects lined up, requiring a mass amount of steel wires for undertaking these construction works. China and Japan are the countries having most of the oldest, well-established and huge steel wire manufacturers along with the newest enterers into the market. These countries are also the biggest hub of the automotive industry and energy industry, thus contributing to the growth of steel wire manufacturing industries. APAC region is also one of the biggest consumers of electricity, thus demanding higher rates of steel wires from the industry manufacturers.
Along with Asia, European Region has tremendous demand from the construction industry, promoting infrastructural development. Governments of the countries in the European region also promote huge investments and funds into infrastructure projects to ensure fulfillment of the necessities of the citizens.
Global Steel Wire Market: By Share & Competitor Analysis
Van Merksteijn International, Arcelormittal, Nippon Steel, Tata Steel Limited, Kobe Steel, Ltd., G.P. Manufacturas Del Acero, The Heico Companies Ferrier Nord, Insteel Industries, Inc., Intersig N. V., Fagersta Stainless Ab, Zdb Dratovna, Cb Trafilati Acciai S.P.A., Hbis Group Ltd., Bekaert SA, Jsw Steel Ltd., JFE Steel Corporation, Jiangsu Shagang Group, Byelorussian Steel Works, Hy-Ten Group Limited, Viraj Profiles Ltd., DWK Drahtwerk Koln GmbH, and Kamaridis Global Wire SA among others, are some of the key industry players
Please note: This is not an exhaustive list of companies profiled in the report.
In January 2019, Byelorussian Steel Works announced an agreement contract to supply approximately 32.8 thousand tons of steel cords.
In April 2018, Bekaert SA reached signed an agreement with Bridon-Bekaert Ropes Group to take over the ownership.