Market Analysis
Whilst the sophisticated safety measures in modern submarines and rigorous crew training reduce the risk of a serious mishap to an extremely low level, there exists a small risk of an accident due to collision, fire, flooding, explosion of ordnance, equipment failure, etc. Hence a disabled submarine in shallow waters can attempt an individual escape through an escape trunk without outside help or alternately through an assisted escape using a Submarine Rescue Bell or Chamber lowered by a Submarine Rescue Ship.
However at deeper depths, it is preferable to rescue the surviving crew of a bottomed submarine using a submersible which attaches itself to the disabled submarine, extracting the survivors. Therefore, submarine rescue systems play an important part in morale upkeep of the crew as well as indicate the host country's humanitarian efforts of building or acquiring a robust rescue capability to boost survivability in case of a mishap.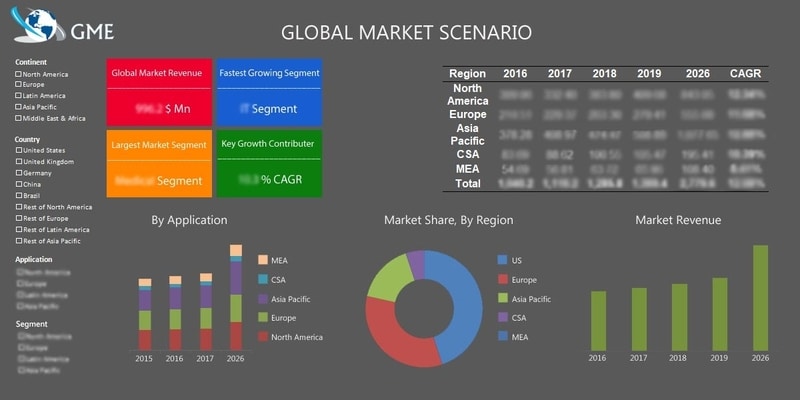 Regional Insights
Globally, about 90 submarines are on order and likely to be added in the next five years taking the total to about 500 submarines. An analysis of the submarine rescue systems providers in the world reveals that basically, there are only a few power centres amounting to about 6 or 7 which can claim of providing global coverage for submarine rescue.
The US capability of deployment of the current day SRDRS is extended to about 5 countries with compatibility established for about 20 countries. Whereas, the NATO Submarine Rescue System NSRS facility which has been developed by UK, France, Norway with Italy as an observer can extend this facility to other countries of NATO including extra regional countries on invitation.
Thus the market for submarine rescue systems has tremendous scope as a majority of the countries do not have intrinsic submarine rescue capabilities. For the target countries, vast scope lies in acquisition of a capability on a graduated scale, wherein, the ability to escape individually from a Disabled Submarine DISSUB lies at the bottom most part of the scale and to be able to receive and operate the entire modern comprehensive rescue system at the top of the scale.
Competitor Analysis
Private industries involved in submarine rescue globally are very limited in number and have been discussed briefly in subsequent paragraphs. Some of the companies include James Fisher Rumic, Lockheed Martin Missiles & Space Co., Phoenix International, and Oceaneering
James Fisher Rumic offers a wide range of services in the supply of engineering and personnel, specializing in the application of remote technology. JFR provides an integrated solution to clients including the Defense and personnel including payroll, marine travel, visa applications, and a 24 hour, 7 days a week duty call out service. Its main area of expertise lies in supply and operation of ROVs and Deck Equipment.
Scope of the Report
The scope of this report is to carry out an analysis of the availability of Submarine Rescue Ships/ Vessels systems for submarines in distress, and examine the development and application on countries operating submarines or other specialized craft in the next five years from 2017 to 2022.
The entire spectrum of all submarine operating countries has been examined, the capabilities of Submarine Rescue Providers globally have been studied and potential client navies who are likely to opt for the submarine rescue facility have been researched.
Emphasis in this report has been given to 'Rescue' which by definition means assisted recovery, wherein, rescue is conducted by a Submarine Rescue Vessel and not on 'Escape' where the crew is expected to individually escape from a disabled submarine.
Escape Systems which primarily deal with intrinsic capabilities provided within the disabled submarine itself in the form of breathing apparatus and hydro-suits to enable the crew to escape from the disabled submarine lying at a reasonable depth beneath the surface of the sea have not been discussed in detail.
Check the Press Release on Global Submarine Rescue Systems Market Report
1 RESEARCH METHODOLOGY
1.1 DESK RESEARCH
1.2 PRIMARY RESEARCH
1.3 ANALYSIS AND OUTPUT
1.4 FINAL OUTPUT FROM DESK AND PRIMARY RESEARCH
2 ECOSYSTEM OVERVIEW
3 TECHNOLOGICAL TRENDS IN SUBMARINE RESCUE SYSTEMS MARKET
4 DEMAND AND SUPPLY MATRIX
4.1 INTRODUCTION
4.2 DEMAND SIDE ANALYSIS
4.2.1 SUBMARINE RESCUE SYSTEMS: MARKET DRIVERS
4.2.2 SUBMARINE RESCUE SYSTEMS: MARKET RESTRAINTS
4.2.3 SUBMARINE RESCUE SYSTEMS: MARKET OPPORTUNITIES
4.2.4 SUBMARINE RESCUE SYSTEMS: MARKET CHALLENGES
4.3 SUPPLY SIDE ANALYSIS
4.3.1 FUTURE SCENARIO (CAGR% VS. COUNTRY)
4.3.2 MAPPING KEY SUBMARINE RESCUE SYSTEM PROVIDERS
4.4 SUBMARINE MARKET ANALYSIS
4.5 BEHAVIOURAL ANALYSIS
4.5.1 KEY MACRO INDICATORS
4.5.2 KEY MICRO INDICATORS
5 STAGES OF SUBMARINE RESCUE
6 SUBMARINE RESCUE METHODOLOGY
7 SUBMARINE RESCUE SYSTEMS, BY ACTIVITY
7.1 INTRODUCTION
7.2 SUBMARINE RESCUE VEHICLE (SRV)
7.3 PORTABLE LAUNCH AND RECOVERY SYSTEM (PLARS)
7.4 TRANSFER UNDER PRESSURE DECOMPRESSION SYSTEM
7.5 PORTABLE NAVIGATION
7.6 TRACKING AND COMMUNICATION SYSTEM
7.7 SUPPORT EQUIPMENT
7.8 OPERATIONAL CREW
7.9 OTHERS
8 SUBMARINE RESCUE SYSTEMS OVERVIEW, BY COUNTRY
8.1 INTRODUCTION
8.2 U.S.
8.2.1 RESUCE SYSTEMS IN SERVICE
8.3 NATO
8.3.1 RESUCE SYSTEMS IN SERVICE
8.4 SWEDEN
8.4.1 RESUCE SYSTEMS IN SERVICE
8.5 CHINA
8.5.1 RESUCE SYSTEMS IN SERVICE
8.6 SOUTH KOREA
8.6.1 RESUCE SYSTEMS IN SERVICE
8.7 AUSTRALIA
8.7.1 RESUCE SYSTEMS IN SERVICE
8.8 SINGAPORE
8.8.1 RESUCE SYSTEMS IN SERVICE
8.9 INDIA
8.9.1 RESUCE SYSTEMS IN SERVICE
8.10 RUSSIA
8.10.1 RESUCE SYSTEMS IN SERVICE
9 COMPANY PROFILE
9.1 JAMES FISHER MARINE SERVICES LTD.
9.1.1 BUSINESS DESCRIPTION
9.1.2 FINANCIAL PERFORMANCE
9.1.3 PRODUCTS AND SERVICES OFFERED
9.1.4 STRATEGIC INITIATIVES
9.2 LOCKHEED MARTIN MISSILES & SPACE CO.
9.2.1 BUSINESS DESCRIPTION
9.2.2 FINANCIAL PERFORMANCE
9.2.3 PRODUCTS AND SERVICES OFFERED
9.2.4 STRATEGIC INITIATIVES
9.3 PHOENIX INTERNATIONAL
9.3.1 BUSINESS DESCRIPTION
9.3.2 FINANCIAL PERFORMANCE
9.3.3 SWOT ANALYSIS
9.3.4 PRODUCTS AND SERVICES OFFERED
9.3.5 STRATEGIC INITIATIVES
9.4 OCEANEERING
9.4.1 BUSINESS DESCRIPTION
9.4.2 FINANCIAL PERFORMANCE
9.4.3 PRODUCTS AND SERVICES OFFERED
9.4.4 STRATEGIC INITIATIVES
9.5 ROLLS ROYCE
9.5.1 BUSINESS DESCRIPTION
9.5.2 FINANCIAL PERFORMANCE
9.5.3 PRODUCTS AND SERVICES OFFERED
9.5.4 STRATEGIC INITIATIVES
9.6 SMP LTD
9.6.1 BUSINESS DESCRIPTION
9.6.2 FINANCIAL PERFORMANCE
9.6.3 PRODUCTS AND SERVICES OFFERED
9.6.4 STRATEGIC INITIATIVES
9.7 LAZURIT CENTRAL DESIGN BUREAU.
9.7.1 BUSINESS DESCRIPTION
9.7.2 FINANCIAL PERFORMANCE
9.7.3 PRODUCTS AND SERVICES OFFERED
9.7.4 STRATEGIC INITIATIVES
9.8 DRASS GALEAZZI
9.8.1 BUSINESS DESCRIPTION
9.8.2 FINANCIAL PERFORMANCE
9.8.3 PRODUCTS AND SERVICES OFFERED
9.8.4 STRATEGIC INITIATIVES
9.9 PERRY SLINGSBY SYSTEMS.
9.9.1 BUSINESS DESCRIPTION
9.9.2 FINANCIAL PERFORMANCE
9.9.3 PRODUCTS AND SERVICES OFFERED
9.9.4 STRATEGIC INITIATIVES
9.10 STM DEFENSE TECHNOLOGIES ENGINEERING AND TRADE INC..
9.10.1 BUSINESS DESCRIPTION
9.10.2 FINANCIAL PERFORMANCE
9.10.3 PRODUCTS AND SERVICES OFFERED
9.10.4 STRATEGIC INITIATIVES
9.11 KAWASAKI
9.11.1 BUSINESS DESCRIPTION
9.11.2 FINANCIAL PERFORMANCE
9.11.3 PRODUCTS AND SERVICES OFFERED
9.11.4 STRATEGIC INITIATIVES
9.12 CHINA SHIPBUILDING INDUSTRY CORPORATION
9.12.1 BUSINESS DESCRIPTION
9.12.2 FINANCIAL PERFORMANCE
9.12.3 PRODUCTS AND SERVICES OFFERED
9.12.4 STRATEGIC INITIATIVES
The global submarine rescue systems market report has been studied from the year 2016 till 2022. However, the CAGR provided in the market research report is from the year 2017 to 2022. The market research method involved three stages: Desk research, Primary surevy research, and Analysis & Output from the entire research process.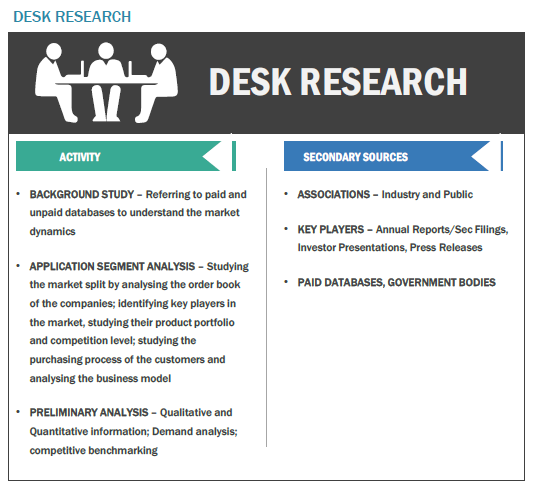 The desk research involved a robust background study which meant referring to paid and unpaid databases to understand the industry analysis; industry trends; market analysis; market trends; market dynamics; mapping contracts from press releases; identifying the key players in the market, studying their product portfolio, competition level, annual reports/SEC filings & investor presentations; and learning the demand and supply side analysis for the submarine rescue systems market.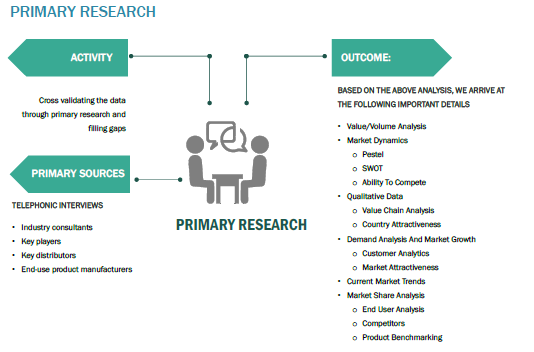 The primary research activity included telephonic conversations with more than 50 tier 1 industry consultants, VPs, CEOs, COOs, financial consultants, business consultants, strategy consultants, project management consultants, business management consultants, distributors, and end-use product manufacturers.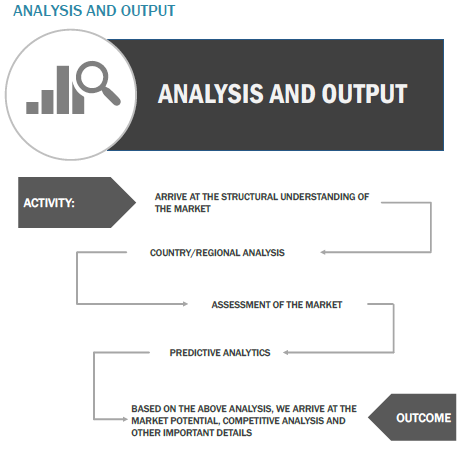 Finally, based on the above thorough research process, an in-depth analysis was carried out considering the following aspects: market attractiveness, current & future market trends, market share analysis, demand forecasting, SWOT analysis of the company's manufacturing submarine rescue systems, and customer analytics.