Global Sugar Substitutes Market Insights
The main features which will lead to growth in the sugar substitution market are rising living standards of people with high purchasing power is helping the sugar substitutes to penetrate well, increasing awareness about the benefits of sugar substitutes in boosting their demand, rising knowledge on health issues caused by sugar, growing preference for healthy substitutes for sugar, and growing cases of diabetes. The market of the sugar substitutes will experience a growth of CAGR 4 per cent during the prediction period.
Sugar alternatives are additives that are used rather than sugar to flavour foods and drinks. Sugar replacements are used in several items on the market. Any food producers make this assertion on their packaging, such as saying that their products are "sugar-free." Many foods can require a closer examination of the list of ingredients to determine if they contain an artificial sweetener. Diet drinks, gum, sugar-free syrup, fruit cups, low-calorie ice cream, milk, and cereal are some examples of foods that contain sugar substitutes. If a meal tastes sweet but has a low-calorie count, it almost always comprises sugar substitutes.
Sugar is being avoided by people in modern times due to many reasons and better awareness about the harms that it causes. Sugar spikes and drops blood sugar levels raise the risk of diabetes, obesity, and cardiac disease, impairs immune function, induces chromium deficiency, accelerates ageing, causes tooth loss, can cause dental problems, can contribute to heart disease, affects children's behaviour and memory, increases stress, and takes the place of essential nutrients leading to deficiency of nutrients in the body.
Artificial sweetener compounds are sufficiently analogous with the sugar compounds and seamlessly align on the sweetness detector. They are, though, too distinct from sugar for the metabolism to convert these to calories. That's how we achieve a sweet flavour without adding more calories. Just a small percentage of chemical sugar substitutes have a form that can be broken down into calories by the body.People eat almost no calories because sugar substitutes are used in only limited doses to make foods taste sweet.
Before being allowed to be used in meals and drinks in the EU, all sweeteners are subjected to a thorough quality review by the European Food Safety Authority (EFSA). Many nations, such as the United States and the United Kingdom, have identical laws. The increasing concern of diabetes is also boosting the growth of sugar substitutes. Diabetes is expected to rise from 2.8 percent in 2000 to 4.4 percent in 2030 among all age ranges around the world. By 2030, the worldwide diabetic demographic would have increased from 171 million in 2000 to 366 million. Males have a relatively high diabetic level than females, but females have much higher diabetic complications.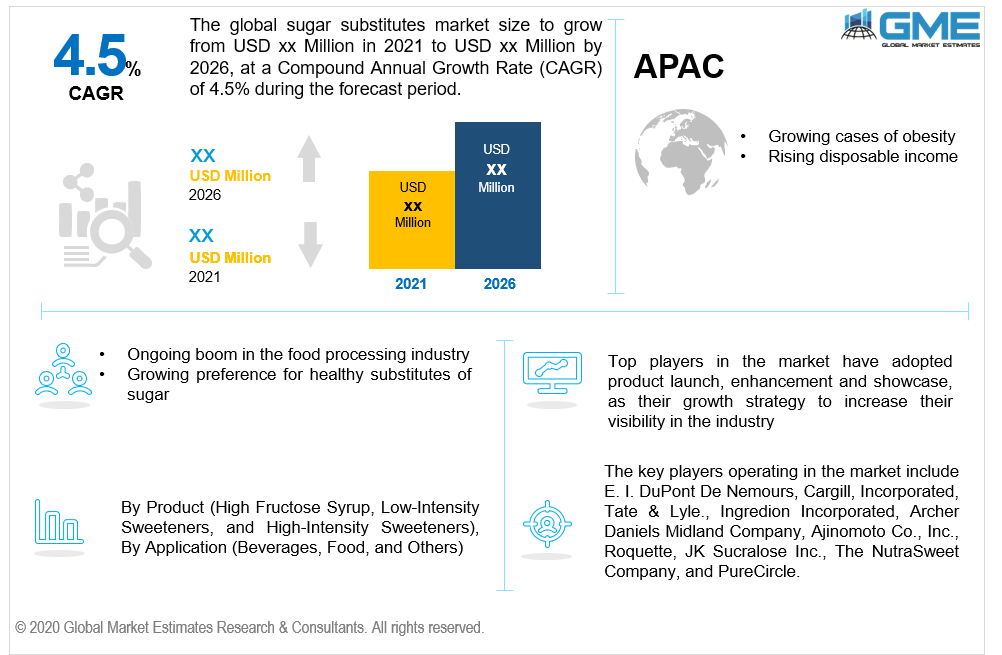 Global Sugar Substitutes Market: By Product
Based on the type of product, the market is divided into high fructose syrup, low-intensity sweeteners, and high-intensity sweeteners.The fastest-growing segment in the sugar substitutes market is predicted to be the high-intensity sweeteners segment. The growing awareness of health and wellness, rising preference for low calories, rising knowledge about the benefits of sugar substitutes, and rising cases of diabetes are the key factors working for the growth of this segment.
Global Sugar Substitutes Market: By Application
Based on the application the market is divided into beverages, food, and others.The dominating segment is anticipated to be the beverage segment in the sugar substitutes market. The key contributors for the dominance of this segment are increasing consumption of the beverage, rising preference for lowcalories beverages, growing market of sport as well as health drinks, and growing awareness of health and wellness.Over the last few years, there has been a substantial increase in global awareness about rising obesity rates and their associated health effects, such as diabetes. The prevalence of high-calorie fast snacks and beverages, as well as buyers' need for convenience and comfort in their meal, are contributing factors to this bodyweight gain.While beverages provide a significant portion of our everyday nutrients and calories, there are few systematic methods for monitoring beverage intake. Furthermore, the increasing use of sugar substitutes in drinks is assisting the world in combating diabetes and other health issues.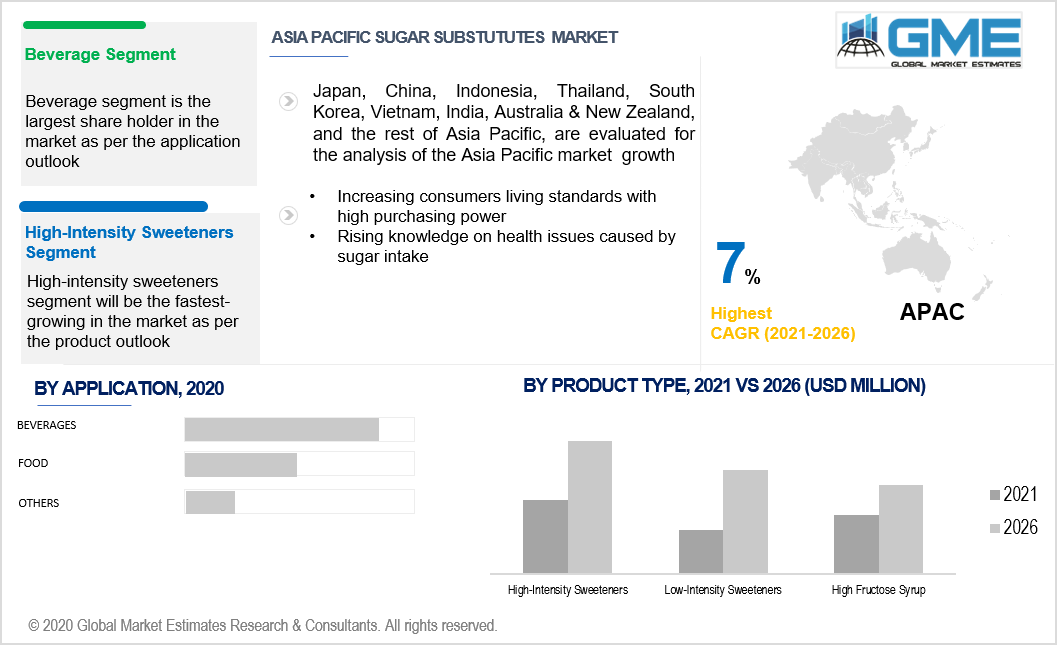 Global Sugar Substitutes Market: By Region
As per the geographical analysis, the market can be classified into North America (the United States, Canada, and Mexico), Asia Pacific (India, China, Japan, Malaysia, Singapore, and Rest of Asia Pacific), Europe (Germany, United Kingdom, Italy, France, Spain, Netherlands, and Rest of Europe), Middle East & Africa (Saudi Arabia, United Arab Emirates, and Rest of the Middle East & Africa) and Central South America (Brazil, Argentina, and Rest of Central and South America). In the worldwide sugar substitutes market, the North American region is projected to be the major shareholder. The factors driving its growth are rising cases of obesity as well as diabetes, boosting sector of food processing, rising living standards of people with high purchasing power, and rising knowledge on health issues caused by sugar.In the United States, diabetes is currently the seventh primary reason for death. The firms are increasingly selling drinks with stevia as a sugar replacement, such as sports drinks. Manufacturers have invested in producing or importing stevia leaf to generate the organic sugar substitute while customers demand non-genetically modified food. Asia Pacific would be the market leader in terms of CAGR. The regional market is being driven by soaring medical conditions associated with sugar intake, the existence of developing countries offering profitability to major market players, and increasing disposable income of the core consumer demographics.
Global Sugar Substitutes Market Share and Competitor Analysis
E. I. DuPont De Nemours, Cargill, Incorporated, Tate & Lyle., Ingredion Incorporated, Archer Daniels Midland Company, Ajinomoto Co., Inc.,Roquette, JK Sucralose Inc., The NutraSweet Company, and PureCircle among others are a few of the major players in thesugar substitutes market.
Please note: This is not an exhaustive list of companies profiled in the report.
In March 2021: Nestle's latest chocolate contains a sugar substitute that is both healthy and environmentally friendly. Nestle also developed a new bar of chocolate that includes cocoa fruit pulp as a sweetener instead of artificial sugar.This cutting-edge technology could have a major effect on West African cocoa cultivation. The use of cocoa fruit pulp as fuel for investment and progress may be a game-changer.
In February 2021: The Tate & Lyle Nutrient Hub, a modern digital platform offering convenient access to definitive science on additives that can help solve public health concerns, has been launched by Tate & Lyle, a leading international supplier of food and beverage ingredients and solutions.
The Global Sugar Substitutes Market has been studied from the year 2019 till 2026. However, the CAGR provided in the report is from the year 2021 to 2026. The research methodology involved three stages: Desk research, Primary research, and Analysis & Output from the entire research process.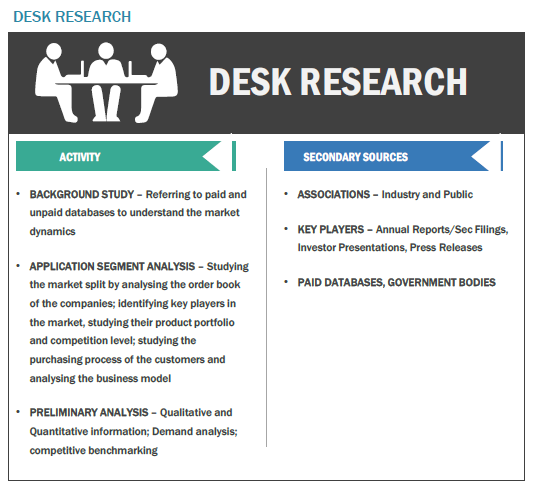 The desk research involved a robust background study which meant referring to paid and unpaid databases to understand the market dynamics; mapping contracts from press releases; identifying the key players in the market, studying their product portfolio, competition level, annual reports/SEC filings & investor presentations; and learning the demand and supply-side analysis for the Sugar Substitutes Market.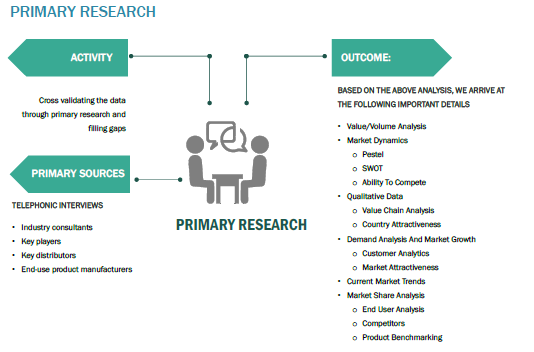 The primary research activity included telephonic conversations with more than 50 tier 1 industry consultants, distributors, and end-use product manufacturers.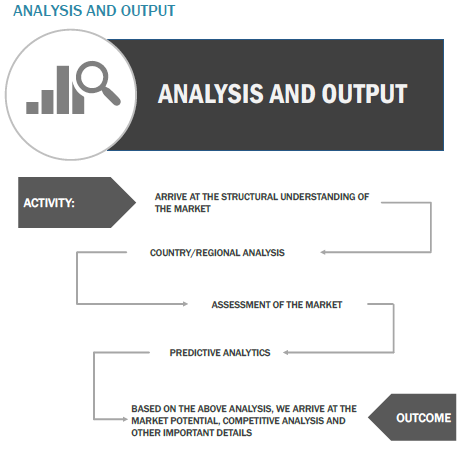 Finally, based on the above thorough research process, an in-depth analysis was carried out considering the following aspects: market attractiveness, current & future market trends, market share analysis, SWOT analysis of the company and customer analytics.