Symptom Checking Healthcare Chatbot Market Insights
A chatbot is a software program that utilizes artificial intelligence to enable insightful user communication. These systems operate by utilizing key pre-calculated user auditory or text message signals. A healthcare chatbot is an artificial intelligence software used in the medical sector that allows users to make appointments with physicians, find healthcare services, and view prescription information. Furthermore, healthcare chatbots are now significantly used to check early-stagesigns to diagnose any illness or disorder.
COVID-19 pandemic had made the government impose lockdowns and social distancing norms which significantly boosted the digital business models in healthcare services. Furthermore, the COVID pandemic has accelerated the deployment of chatbots in hospitalsand other medical facilities to provide safe treatments. Many facilities have made use of the chatbots system for intelligent patient treatment procedures. End-user interest for the chatbot has indeed increased because of the introduction of innovative solutions and services, thus accelerating the development of the symptom checking healthcare chatbot market.
This market's growth is influenced by a wide range of factors, namely increasing internet access and smart technology usage, an increase in the patient group worldwide, an increase in hospital cost savings due to the usage of healthcare chatbots, demand for mobile healthcare assistance, an increase in chronic illnesses, and a shortage of medical expertise to answer all medical queries.
Furthermore, the increase in installations of healthcare smartphone apps and hike in user visits on websites providing virtual care has shown that patients have a high degree of interest in chatbots. Furthermore, the rise of telemedicine and virtual healthcare is indicative of evolving trends in medication management and key matters related to timely symptom checking procedures.
The threat of coronavirus infectionduring thewait time in hospital facilities and the lack of effective hygiene management around the world fuels the development of the symptom checking healthcare chatbots market.Moreover, the increase in knowledge over the projected timeframe provides attractive prospects for business expansion. However, issues regarding data protection are impeding the market's expansion.
The increasing implementations of high-techyet simplistic symptom checking healthcare chatbots will drive market development in the coming years. These chatbots offer consultative services that save time and are convenientdue to their user-friendly interface and holds decent expertisein providing automatedpatient care service. Furthermore, apps alert patients to take their prescriptions and offer real-time monitoring depending onthe patient's condition. Therefore, growing dependence and adoption of symptom checking healthcare chatbots for monitoring patient's health is expected to drive the market growth.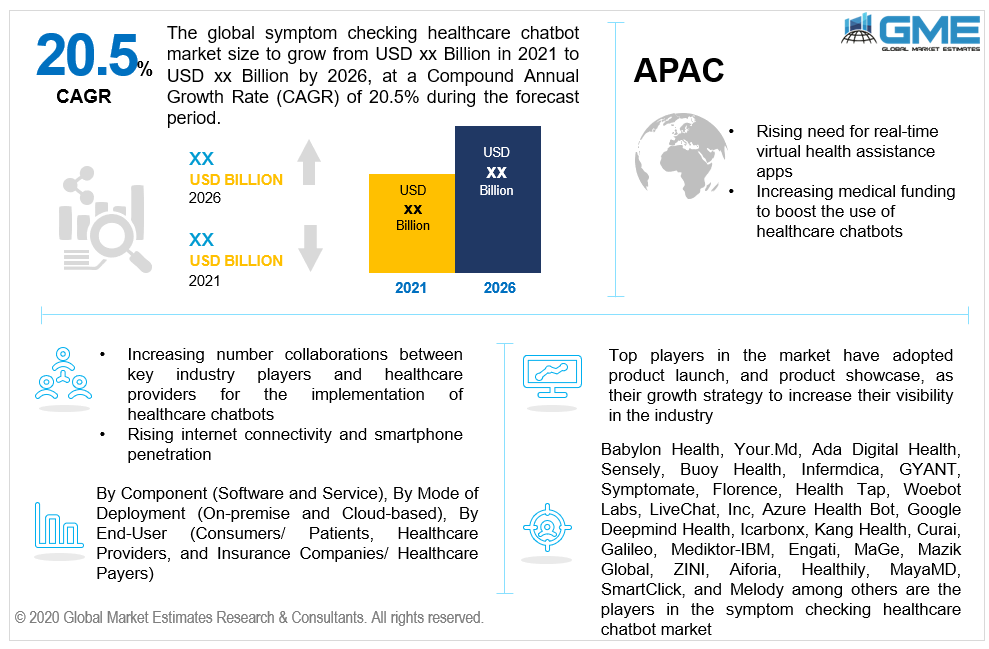 Symptom Checking Healthcare Chatbot Market: By Component
Based on the type of component, the market is segmented into,software and service.The market of software will be the dominant segment from 2021 to 2026 because, via a single chat, physicians can monitor patients and coordinate consultations using apps. As a result, the emergence of such applications that improves patient experience and identifies early-stage symptoms efficiently would boost this segment's growth over the forecast period.
Symptom Checking Healthcare Chatbot Market: By Mode of Deployment
Based on the mode of deployment, the market is classified intoon-premise and cloud-based. Over the forecast period, the cloud-based segment is expected to witness the highest market share. Amid the pandemic, the healthcare sector is transitioning to cloud-based IT technology to enhance the quality of healthcare services provided. The advantage offered by cloud-based technology isthe systematic incorporation of artificial intelligence, natural language processing and machine learningin all aspects of the healthcare servicesprovided through apps or websites on different devices will boost the growth of this segment.
Symptom Checking Healthcare Chatbot Market: By End-User
Based on the end-user, the market is segregated asconsumers/ patients, healthcare providers, and insurance companies/ healthcare payers.The consumers/ patientswill be the largest market segment owing to the spike in access to the internet, economic data packs, use of smartphone &devices,increased incidence of infectious diseases and patients' demand for online consultation, and timely symptom test.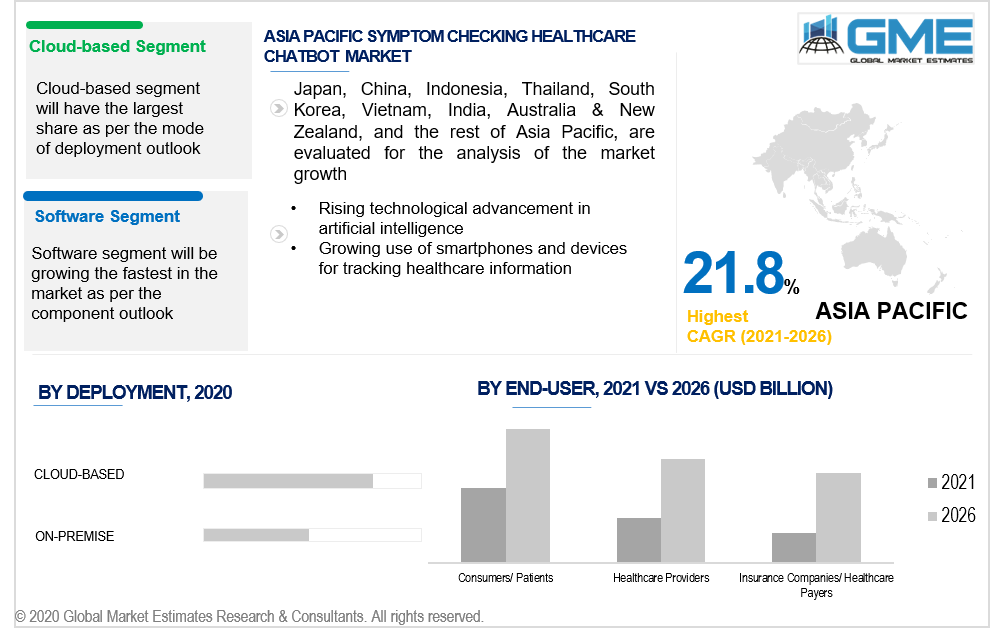 Symptom Checking Healthcare Chatbot Market: By Region
As per the geographical analysis, the market can be classified into North America (the United States, Canada, and Mexico), Asia Pacific (India, China, Japan, Malaysia, Singapore, and Rest of Asia Pacific), Europe (Germany, United Kingdom, Italy, France, Spain, Netherlands, and Rest of Europe), Middle East & Africa (Saudi Arabia, United Arab Emirates, and Rest of the Middle East & Africa) and Central South America (Brazil, Argentina, and Rest of Central and South America).North America has the biggest share of the symptom testing healthcare chatbot market, owing to the quick and easy access of the healthcare chatbots system. Furthermore, relentless healthcare technology development,the early introduction of advanced smart healthcare devices, and the provision of cutting-edge digital medical facilities lead to the expansion of the global healthcare chatbots market in North American region.Furthermore, developed economies' healthcare regulatory bodies in this area are increasingly introducing telemedicine schemes andraising virtual healthcare awareness. Also, consumers are eager to embrace modern technical innovations and advances thus boosting the growth of this market.The Asia Pacific region is anticipated to hold a notable share in terms of CAGR because there has been a growth in knowledge amongst patients about the telemedicine service providers and an increase in the amount of virtual healthcare service infrastructure in the region. Also,due to the advanced technology deployment in the digital healthcare ecosystem and high involvement in virtual health assistance systemsexhibited by medical funding bodies of emerging economies, symptom testing healthcare chatbots would see substantial growth in APAC.
Symptom Checking Healthcare Chatbot Market Share and Competitor Analysis
Babylon Health, Your.Md, Ada Digital Health, Sensely, Buoy Health, Infermdica, GYANT, Symptomate, Florence, Health Tap, Woebot Labs, LiveChat, Inc, Azure Health Bot, Google Deepmind Health, Icarbonx, Kang Health, Curai, Galileo, Mediktor-IBM, Engati, MaGe, Mazik Global, ZINI, Aiforia, Healthily, MayaMD, SmartClick, and Melody among others are the players in the symptom checking healthcare chatbot market.
Please note: This is not an exhaustive list of companies profiled in the report.
The Global Symptom Checking Healthcare Chatbot Market has been studied from the year 2019 till 2026. However, the CAGR provided in the report is from the year 2021 to 2026. The research methodology involved three stages: Desk research, Primary research, and Analysis & Output from the entire research process.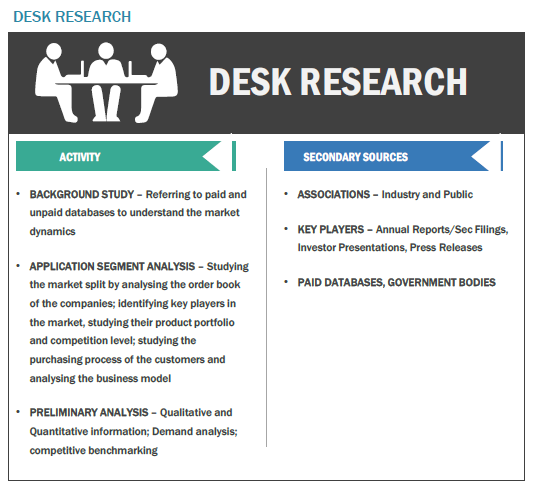 The desk research involved a robust background study which meant referring to paid and unpaid databases to understand the market dynamics; mapping contracts from press releases; identifying the key players in the market, studying their product portfolio, competition level, annual reports/SEC filings & investor presentations; and learning the demand and supply-side analysis for the Symptom Checking Healthcare Chatbot Market.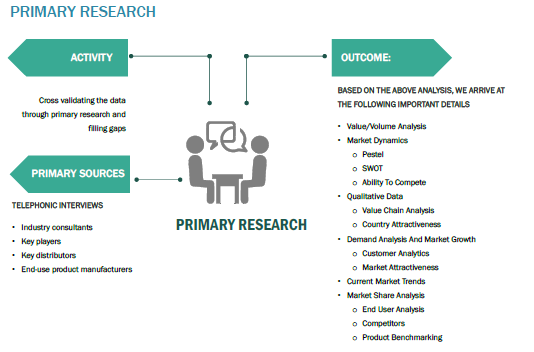 The primary research activity included telephonic conversations with more than 50 tier 1 industry consultants, distributors, and end-use product manufacturers.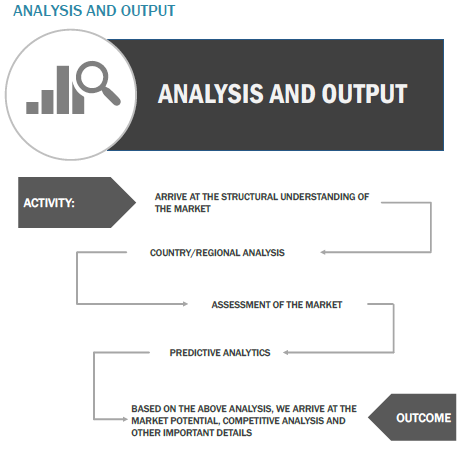 Finally, based on the above thorough research process, an in-depth analysis was carried out considering the following aspects: market attractiveness, current & future market trends, market share analysis, SWOT analysis of the company and customer analytics.