Tocotrienol Market Insights
Tocotrienol is a chemical compound that is useful in the treatment of diseases such as respiratory disorders and pancreatic cancer, which has led to an increase in consumer demand. Four tocotrienols and four tocopherols make up this vitamin E family, with saturated and unsaturated chains distinguishing them. Individuals' increasing understanding of health issues increases demand for tocotrienol-containing dietary supplements, resulting in market expansion and growth.
Tocotrienols are a good source of vitamin E which is found naturally.Tocotrienols have many health benefits and are an important component in the treatment of diseases such as diabetes, cardiovascular disease, and cancer. Tocotrienols also prevent breast cancer cells from growing. Tocotrienols are widely known as stable (GRAS) substance that is quite often utilized as a nutritional supplement additive. Tocotrienols can be found naturally like rice, oil, wheat, rye, barley, and oats.Furthermore, palm oil, which is derived from the palm nut, contains a high concentration of tocotrienols. Tocotrienols are naturally occurring compounds that are usually present in low concentrations.
The market drivers which contribute to the Tocotrienolmarket include the increasing demand for tocotrienol in a variety of applications, the customer understanding of the importance of eating nutritious foods, the urbanization, and rising disposable income, involvement in various cancer prevention and treatment models, and increased use in the cosmetics and personal care industry. The requirement for tocotrienol in a variety of application areas spanning from nutritional supplements to pharmaceutical drugs, growing customer awareness of the importance of eating nutritious foods, rapid urbanization, and increasing disposable income are all accelerating the tocotrienol market forward.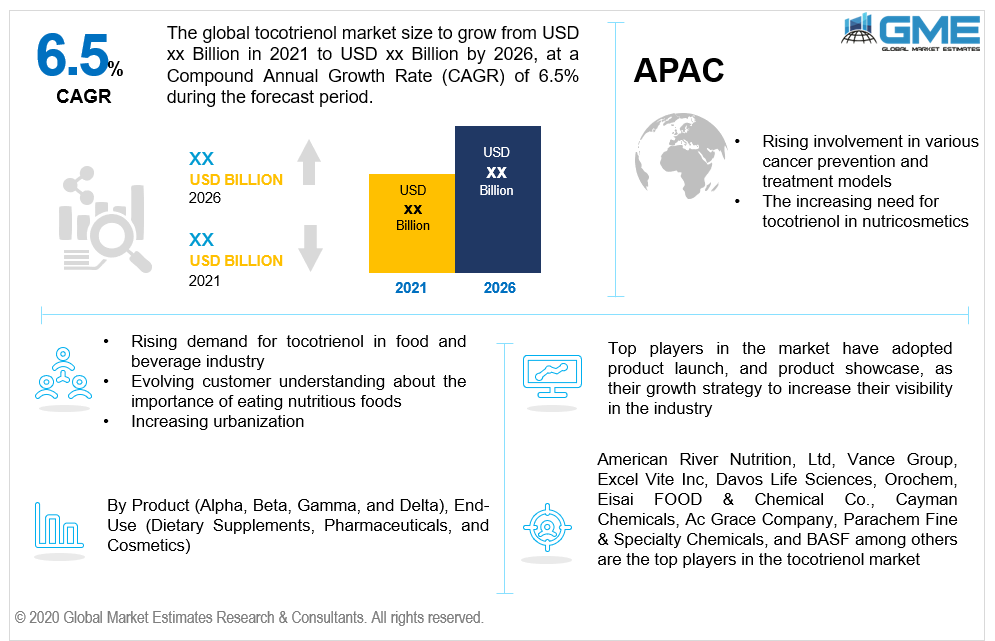 Tocotrienol Market: By Product
Based on the product, the market is categorized into alpha, beta, gamma, and delta. Currently, the alpha type is the most common sub-segment in the industry. During the forecast era, this sub-segment is expected to rise at a faster rate.The industry revenue for alpha tocotrienol is higher. They have consistently shown results in lowering total and LDL cholesterol levels. It also has more antioxidant properties than alpha tocopherols, according to reports. As a result, their antioxidant properties are being credited with a variety of health benefits, especially in the treatment of cardiovascular diseases.In the next eight years, gamma-tocotrienol is anticipated to expand at the maximum sales volume. This form of substance aids in the reduction of triglyceride synthesis and transport in the human body. They also aid in increasing the calcium content of the human body's bones.
Tocotrienol Market: By End-Use
Based on end-use, the market is categorized into dietary supplements, pharmaceuticals, and cosmetics. Nutritional supplements are amongst the major end-use markets with a significant market share, owing to the growing population, improved awareness of health issues, and the perceived comfort of purchasing dietary supplement items.
The primary reason for the market's growth is a shift in consumer preferences to engage in diets and a lifestyle change. Vitamin E deficiency causes various health issues. When tocotrienols are taken as dietary supplements, this aspect is greatly reduced. Tocotrienols are commonly used as skin conditioners in cosmetics. Skin aging, especially skin cancer is induced by lengthy exposure to ultraviolet radiation. They help to avoid the harmful effects of oxidation and are used in cosmetics and skincare products. They also aid in skin depigmentation, skin repair, and skin hydration by growing the length of a DNA structure known as telecom.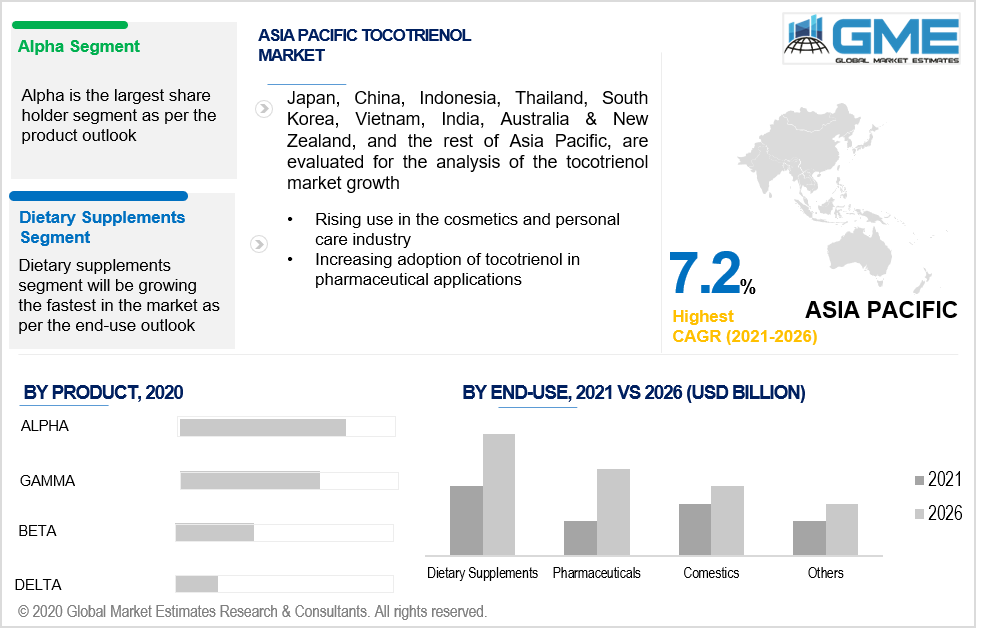 Tocotrienol Market: By Region
As per the geographical analysis, the market can be classified into North America (the US, Canada, and Mexico), Asia Pacific (India, China, Japan, Malaysia, Singapore, and Rest of Asia Pacific), Europe (Germany, United Kingdom, Italy, France, Spain, Netherlands, and Rest of Europe), Middle East & Africa and Central South America.North America is the leader in the tocotrienolmarket since this is the area where most R&D is taking place. The utilization of tocotrienol in nutritional supplements and pharmaceutical products, and also preference for sustainably derived pharmaceutical drugs, have propelled market growth in recent years.Because of the consumer demand for dietary supplements, especially in the United States, tocotrienol production capacity in North America is rapidly increasing.Updating nutritional preferences, increasing production levels, growing health complications amongst the younger generation, and transformations in the formulation of tocotrienol in regards to availability in diverse variants all contribute to the region's tocotrienol market's development.Because of the growing number of end-user applications around the world, the tocotrienol market is expected to expand at a healthy rate.Asia-Pacific has a large market share and is expected to rise at a relatively high CAGR over the projected period. Due to the extremely rapid expansion of the nutritional supplements market, particularly in China and India, the Asia Pacific tocotrienol market is projected to expand exponentially during the projected timeline. Consequently, the APEJ tocotrienol market is anticipated to expand due to increasing population and medical issues, particularly in emerging markets of the APAC region.
Tocotrienol Market Share and Competitor Analysis
American River Nutrition, Ltd, Vance Group, Excel ViteInc, Davos Life Sciences, Orochem, Eisai FOOD & Chemical Co., Cayman Chemicals, Ac Grace Company, Parachem Fine & Specialty Chemicals, and BASF are the top players in the tocotrienol market.
Please note: This is not an exhaustive list of companies profiled in the report.
The Global Tocotrienol Market has been studied from the year 2019 till 2026. However, the CAGR provided in the report is from the year 2021 to 2026. The research methodology involved three stages: Desk research, Primary research, and Analysis & Output from the entire research process.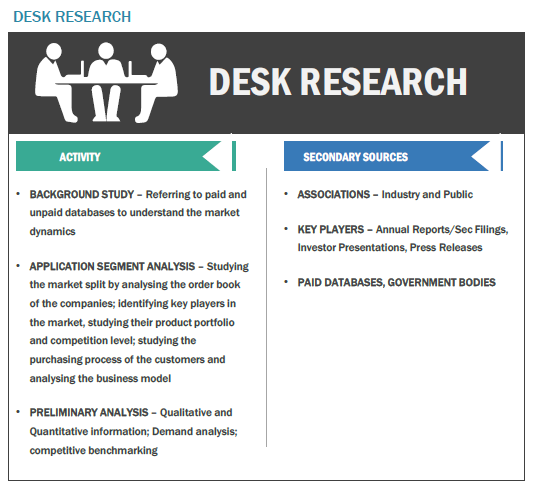 The desk research involved a robust background study which meant referring to paid and unpaid databases to understand the market dynamics; mapping contracts from press releases; identifying the key players in the market, studying their product portfolio, competition level, annual reports/SEC filings & investor presentations; and learning the demand and supply-side analysis for the Tocotrienol Market.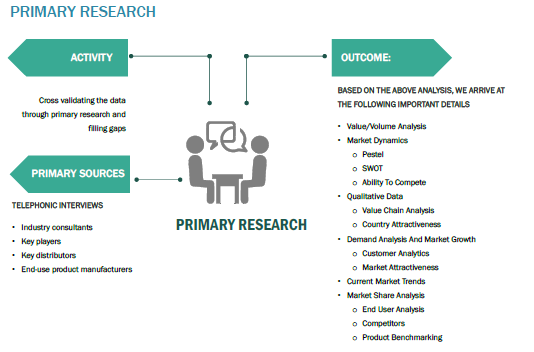 The primary research activity included telephonic conversations with more than 50 tier 1 industry consultants, distributors, and end-use product manufacturers.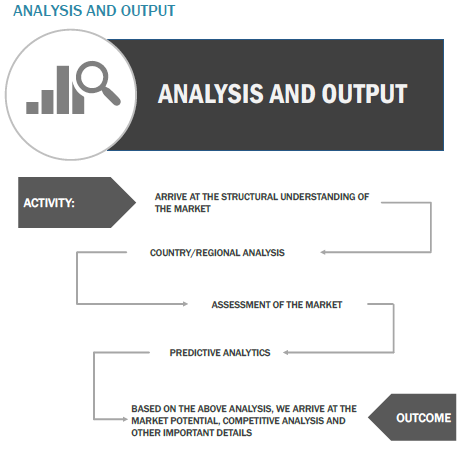 Finally, based on the above thorough research process, an in-depth analysis was carried out considering the following aspects: market attractiveness, current & future market trends, market share analysis, SWOT analysis of the company and customer analytics.