Tube Packaging Market Insights
The tube packaging market is estimated to be valued at USD 9.5 Billion in 2021 and is projected to reach USD 13.26 Billion by 2026 at a CAGR of 6.9%. A few of the main driving variables for the tube packaging market growth include considerable expansion in the packaging industry, novel packaging with superior barrier characteristics, and a shift in end-user attitudes toward ecological packaging. Furthermore, this packaging technology has a wide variety of applicability domains in many industries, broadening the spectrum of its usage. Tube packaging market share is proposed to grow considerably as a result of considerations including rising customer desire for convenient, safe, and ecological packaging. Growing consumer understanding of personal hygiene and wellbeing is projected to fuel the expansion of the personal care industry. A significant concern regarding physical attractiveness is the increasing demand for personal care goods, which will increase the demand for packaging options.
Covid 19 impact on the tube packaging market has been significant since demand has fluctuated owing to lockdown in key nations throughout the world. As the packaging sector's output declines, the global market is projected to see a minor deceleration in its growth pace. The global economic collapse and the unpredictability of packaging raw material prices are two key limitations of the market. Furthermore, growing ecological considerations and rigorous government legislation surrounding the utilization and management of plastic are projected to stymie market expansion throughout the forecast period. Nonetheless, amidst Covid 19, there appeared to be a surge in requirement for such packages for oral care, food & beverage, and pharmaceutical purposes. As hospitals, medicines, and PPE makers deal with the crises, the tubing packaging market growth in the pharmaceutical business is likely to continue strong. The requirement for domestic hygiene products, pharmaceuticals, and medical items is not projected to fall substantially, and the commercial distribution of such goods via online shipping is likely to increase.
Likewise, growing environmental apprehensions and the need to decrease pollution have culminated in the development of eco-friendly packaging solutions that utilise as few non-biodegradable materials as possible. Ecological tube manufacturing with lightweight materials, less consumption of energy, and fewer natural resources are emerging, resulting in decreased carbon dioxide footprints. Numerous pharmaceutical and skincare sector companies are developing sophisticated organic and innovative formulas, which have generated a requirement for safe packaging. Multi-layered laminating tubing gives complicated formulae with the necessary shielding to minimize contamination. In multi-layered laminated tubes, the functional barrier coatings are constructed of EVOH plastic resin or aluminium. EVOH is commonly used as a barrier material in multi-layered tubing in plastic packaging, and it has advantages, including recovering its initial form even after being compressed while transiting.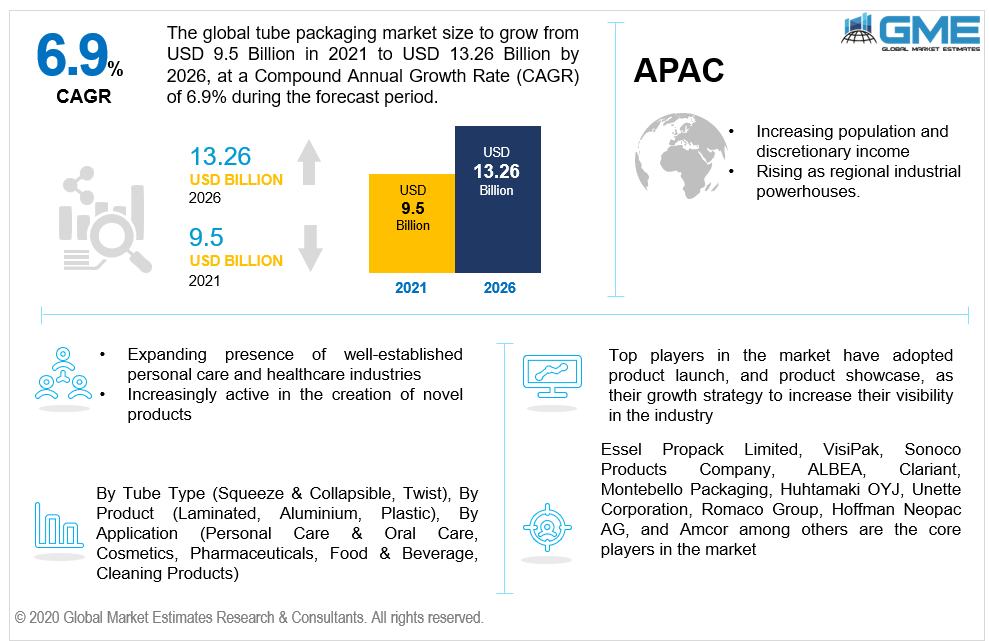 Tube Packaging Market: By Tube Type
Depending on the type of tube, the market is categorized as squeeze & collapsible and twist. Due to the increasing product adoption in end-user sectors, including personal care & oral care and pharmaceuticals, the squeeze & collapsible category is likely to lead the global market. Since it is lightweight, non-breakable, and leakproof, the plastic squeeze version is the most commonly utilized product. The laminated and aluminium collapsible types are commonly used in healthcare and dental care operations. Collapsible tubes do not revert to their former shape when the tension is removed, making them better suited for ointments and cream packing.
Tube Packaging Market: By Product
Depending on the product, the market is categorized as laminated, aluminium, and plastic. Laminated tubes are foreseen to dominate the market because laminates are in significant demand since they integrate the characteristics of both plastic and metal and so prevent the items from spoiling. Laminated tubing is made up of multiple layers of polymers as well as other components. Such layers serve as effective protection from humidity, lighting, and the atmosphere, resulting in longer shelf life for the products kept within them.
Tube Packaging Market: By End-User
Depending on the product, the market is categorized as personal care & oral care, cosmetics, pharmaceuticals, food & beverages, and cleaning products. The personal care & oral care application segment is expected to provide the most revenue. Developing fitness & wellbeing consciousness, combined with the rising need for chemical-free and biological goods, are projected to fuel category growth over the forecast period. The growing elderly demographics, particularly in Europe and North America, are likely to boost the need for anti-ageing personal care products.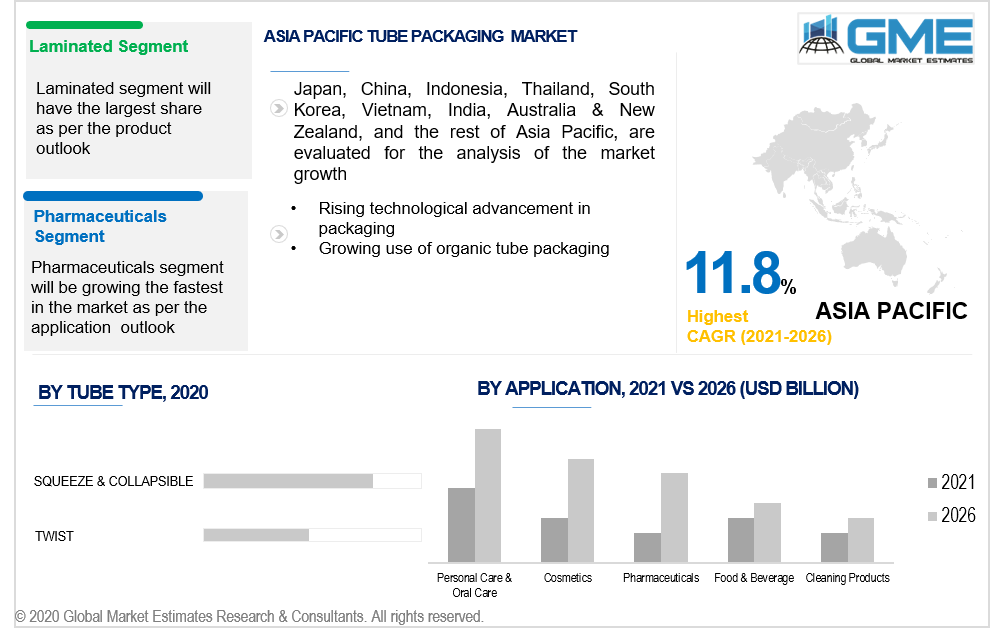 Tube Packaging Market: By Region
As per the geographical analysis, the market can be classified into North America (the United States, Canada, and Mexico), Asia Pacific (India, China, Japan, Malaysia, Singapore, and Rest of Asia Pacific), Europe (Germany, United Kingdom, Italy, France, Spain, Netherlands, and Rest of Europe), Middle East & Africa (Saudi Arabia, United Arab Emirates, and Rest of the Middle East & Africa) and Central South America (Brazil, Argentina, and Rest of Central and South America). North America is foreseen to dominate the market as a result of the steadily increasing requirement for goods from the personal care and healthcare application sectors. North America is home to a large array of medium-scale tubing packaging producers working to meet the demands of the appliance sector. Because of the growing need for simple and lightweight packaging, the United States is the dominating market in North America. Due to the extreme ease of manufacturing and imprinting, plastic-based tubing packaging, comprising a laminated tube and an extruded plastic tube, was a popular material type in the area and had a significant share of the market. The presence of well-established personal care and healthcare industries in the region is responsible for the higher market share.
The Asia Pacific is foreseen to be the fastest-growing regional market over the forecast period. India, China, and South Korea are rising as regional industrial powerhouses. The area's expansion is also being aided by an increasing population and discretionary income brackets. Europe is trailed by North America. Emerging advancements in cosmetic and pharmaceutical items, as well as increased awareness of health and cleanliness in this area, are propelling the market, particularly in the consumer goods sector. Developing livelihoods and living conditions in emerging nations is a key component of these countries' market expansion. Market players in Europe are always active in the creation of novel products to meet the rising demand from multiple end sectors.
Tube Packaging Market Share and Competitor Analysis
Essel Propack Limited, VisiPak, Sonoco Products Company, ALBEA, Clariant, Montebello Packaging, Huhtamaki OYJ, Unette Corporation, Romaco Group, Hoffman Neopac AG, and Amcor among others are the key players in the market.
Please note: This is not an exhaustive list of companies profiled in the report.
Chapter 1 Methodology
1.1 Market Scope & Definitions
1.2 Estimates & Forecast Calculation
1.3 Historical Data Overview And Validation
1.4 Data Sources
1.4.1 Secondary
1.4.2 Primary
Chapter 2 Report Outlook
2.1 Tube Packaging Industry Overview, 2016-2026
2.1.1 Industry Overview
2.1.2 Tube Type Overview
2.1.3 Product Overview
2.1.4 Application Overview
2.1.5 Regional Overview
Chapter 3 Tube Packaging Market Trends
3.1 Market Segmentation
3.2 Industry Background, 2016-2026
3.3 Market Key Trends
3.3.1 Positive Trends
3.3.1.1 Augmenting Demand from Various Application Sectors
3.3.1.2 Growing Technological Developments
3.3.1.3 Increasing Consumer Awareness Regarding Personal Health and Wellness
3.3.2 Industry Challenges
3.3.2.1 Fluctuating Raw Material Prices
3.4 Prospective Growth Scenario
3.4.1 Tube Type Growth Scenario
3.4.2 Product Growth Scenario
3.4.3 Application Growth Scenario
3.5 COVID-19 Influence over Industry Growth
3.6 Porter's Analysis
3.7 PESTEL Analysis
3.8 Value Chain & Supply Chain Analysis
3.9 Regulatory Framework
3.9.1 North America
3.9.2 Europe
3.9.3 APAC
3.9.4 LATAM
3.9.5 MEA
3.10 Technology Overview
3.11 Market Share Analysis, 2020
3.11.1 Company Positioning Overview, 2020
Chapter 4 Tube Packaging Market, By Tube Type
4.1 Tube Type Outlook
4.2 Squeeze & Collapsible
4.2.1 Market Size, By Region, 2016-2026 (USD Million)
4.3 Twist
4.3.1 Market Size, By Region, 2016-2026 (USD Million)
Chapter 5 Tube Packaging Market, By Product
5.1 Product Outlook
5.2 Laminated
5.2.1 Market Size, By Region, 2016-2026 (USD Million)
5.3 Aluminium
5.3.1 Market Size, By Region, 2016-2026 (USD Million)
5.4 Plastic
5.4.1 Market Size, By Region, 2016-2026 (USD Million)
Chapter 6 Tube Packaging Market, By Application
6.1 Application Outlook
6.2 Personal Care & Oral Care
6.2.1 Market Size, By Region, 2016-2026 (USD Million)
6.3 Cosmetics
6.3.1 Market Size, By Region, 2016-2026 (USD Million)
6.4 Pharmaceuticals
6.4.1 Market Size, By Region, 2016-2026 (USD Million)
6.5 Food & Beverage
6.5.1 Market Size, By Region, 2016-2026 (USD Million)
6.6 Cleaning Products
6.6.1 Market Size, By Region, 2016-2026 (USD Million)
Chapter 7 Global Depth Filtration Market, By Region
7.1 Regional outlook
7.2 North America
7.2.1 Market Size, By Country 2016-2026 (USD Million)
7.2.2 Market Size, By Tube Type, 2016-2026 (USD Million)
7.2.3 Market Size, By Product, 2016-2026 (USD Million)
7.2.4 Market Size, By Application, 2016-2026 (USD Million)
7.2.5 U.S.
7.2.5.1 Market Size, By Tube Type, 2016-2026 (USD Million)
7.2.5.2 Market Size, By Product, 2016-2026 (USD Million)
7.2.5.3 Market Size, By Application, 2016-2026 (USD Million)
7.2.6 Canada
7.2.6.1 Market Size, By Tube Type, 2016-2026 (USD Million)
7.2.6.2 Market Size, By Product, 2016-2026 (USD Million)
7.2.6.3 Market Size, By Application, 2016-2026 (USD Million)
7.3 Europe
7.3.1 Market Size, By Country 2016-2026 (USD Million)
7.3.2 Market Size, By Tube Type, 2016-2026 (USD Million)
7.3.3 Market Size, By Product 2016-2026 (USD Million)
7.3.4 Market Size, By Application, 2016-2026 (USD Million)
7.3.5 Germany
7.3.5.1 Market Size, By Tube Type, 2016-2026 (USD Million)
7.3.5.2 Market Size, By Product, 2016-2026 (USD Million)
7.3.5.3 Market Size, By Application, 2016-2026 (USD Million)
7.3.6 UK
7.3.6.1 Market Size, By Tube Type, 2016-2026 (USD Million)
7.3.6.2 Market Size, By Product, 2016-2026 (USD Million)
7.3.6.3 Market Size, By Application, 2016-2026 (USD Million)
7.3.7 France
7.3.7.1 Market Size, By Tube Type, 2016-2026 (USD Million)
7.3.7.2 Market Size, By Product, 2016-2026 (USD Million)
7.3.7.3 Market Size, By Application, 2016-2026 (USD Million)
7.3.8 Italy
7.3.8.1 Market Size, By Tube Type, 2016-2026 (USD Million)
7.3.8.2 Market Size, By Product, 2016-2026 (USD Million)
7.3.8.3 Market Size, By Application, 2016-2026 (USD Million)
7.3.9 Spain
7.3.9.1 Market Size, By Tube Type, 2016-2026 (USD Million)
7.3.9.2 Market Size, By Product, 2016-2026 (USD Million)
7.3.9.3 Market Size, By Application, 2016-2026 (USD Million)
7.3.10 Russia
7.3.10.1 Market Size, By Tube Type, 2016-2026 (USD Million)
7.3.10.2 Market Size, By Product, 2016-2026 (USD Million)
7.3.10.3 Market Size, By Application, 2016-2026 (USD Million)
7.4 Asia Pacific
7.4.1 Market Size, By Country,2016-2026 (USD Million)
7.4.2 Market Size, By Tube Type, 2016-2026 (USD Million)
7.4.3 Market Size, By Product, 2016-2026 (USD Million)
7.4.4 Market Size, By Application, 2016-2026 (USD Million)
7.4.5 China
7.4.5.1 Market Size, By Tube Type, 2016-2026 (USD Million)
7.4.5.2 Market Size, By Product, 2016-2026 (USD Million)
7.4.5.3 Market Size, By Application, 2016-2026 (USD Million)
7.4.6 India
7.4.6.1 Market Size, By Tube Type, 2016-2026 (USD Million)
7.4.6.2 Market Size, By Product, 2016-2026 (USD Million)
7.4.6.3 Market Size, By Application, 2016-2026 (USD Million)
7.4.7 Japan
7.4.7.1 Market Size, By Tube Type, 2016-2026 (USD Million)
7.4.7.2 Market Size, By Product, 2016-2026 (USD Million)
7.4.7.3 Market Size, By Application, 2016-2026 (USD Million)
7.4.8 Australia
7.4.8.1 Market Size, By Tube Type, 2016-2026 (USD Million)
7.4.8.2 Market size, By Product, 2016-2026 (USD Million)
7.4.8.3 Market Size, By Application, 2016-2026 (USD Million)
7.4.9 South Korea
7.4.9.1 Market Size, By Tube Type, 2016-2026 (USD Million)
7.4.9.2 Market Size, By Product, 2016-2026 (USD Million)
7.4.9.3 Market Size, By Application, 2016-2026 (USD Million)
7.6.5 Latin America
7.5.1 Market Size, By Country 2016-2026 (USD Million)
7.5.2 Market Size, By Tube Type, 2016-2026 (USD Million)
7.5.3 Market Size, By Product, 2016-2026 (USD Million)
7.5.4 Market Size, By Application, 2016-2026 (USD Million)
7.5.5 Brazil
7.5.5.1 Market Size, By Tube Type, 2016-2026 (USD Million)
7.5.5.2 Market Size, By Product, 2016-2026 (USD Million)
7.5.5.3 Market Size, By Application, 2016-2026 (USD Million)
7.5.6 Mexico
7.5.6.1 Market Size, By Tube Type, 2016-2026 (USD Million)
7.5.6.2 Market Size, By Product, 2016-2026 (USD Million)
7.5.6.3 Market Size, By Application, 2016-2026 (USD Million)
7.5.7 Argentina
7.5.7.1 Market Size, By Tube Type, 2016-2026 (USD Million)
7.5.7.2 Market Size, By Product, 2016-2026 (USD Million)
7.5.7.3 Market Size, By Application, 2016-2026 (USD Million)
7.6 MEA
7.6.1 Market Size, By Country 2016-2026 (USD Million)
7.6.2 Market Size, By Tube Type, 2016-2026 (USD Million)
7.6.3 Market Size, By Product, 2016-2026 (USD Million)
7.6.4 Market Size, By Application, 2016-2026 (USD Million)
7.6.5 Saudi Arabia
7.6.5.1 Market Size, By Tube Type, 2016-2026 (USD Million)
7.6.5.2 Market Size, By Product, 2016-2026 (USD Million)
7.6.5.3 Market Size, By Application, 2016-2026 (USD Million)
7.6.6 UAE
7.6.6.1 Market Size, By Tube Type, 2016-2026 (USD Million)
7.6.6.2 Market Size, By Product, 2016-2026 (USD Million)
7.6.6.3 Market Size, By Application, 2016-2026 (USD Million)
7.6.7 South Africa
7.6.7.1 Market Size, By Tube Type, 2016-2026 (USD Million)
7.6.7.2 Market Size, By Product, 2016-2026 (USD Million)
7.6.7.3 Market Size, By Application, 2016-2026 (USD Million)
Chapter 8 Company Landscape
8.1 Competitive Analysis, 2020
8.2 Essel Propack Limited
8.2.1 Company Overview
8.2.2 Financial Analysis
8.2.3 Strategic Positioning
8.3 VisiPak
8.3.1 Company Overview
8.3.2 Financial Analysis
8.3.3 Strategic Positioning
8.3.4 Info Graphic Analysis
8.4 Sonoco Products Company
8.4.1 Company Overview
8.4.2 Financial Analysis
8.4.3 Strategic Positioning
8.4.4 Info Graphic Analysis
8.5 ALBEA
8.5.1 Company Overview
8.5.2 Financial Analysis
8.5.3 Strategic Positioning
8.5.4 Info Graphic Analysis
8.6 Clariant
8.6.1 Company Overview
8.6.2 Financial Analysis
8.6.3 Strategic Positioning
8.6.4 Info Graphic Analysis
8.7 Montebello Packaging
8.7.1 Company Overview
8.7.2 Financial Analysis
8.7.3 Strategic Positioning
8.7.4 Info Graphic Analysis
8.8 Huhtamaki OYJ
8.8.1 Company Overview
8.8.2 Financial Analysis
8.8.3 Strategic Positioning
8.8.4 Info Graphic Analysis
8.9 Unette Corporation
8.9.1 Company Overview
8.9.2 Financial Analysis
8.9.3 Strategic Positioning
8.9.4 Info Graphic Analysis
8.10 Romaco Group
8.10.1 Company Overview
8.10.2 Financial Analysis
8.10.3 Strategic Positioning
8.10.4 Info Graphic Analysis
8.11 Hoffman Neopac AG
8.11.1 Company Overview
8.11.2 Financial Analysis
8.11.3 Strategic Positioning
8.11.4 Info Graphic Analysis
8.12 Amcor
8.12.1 Company Overview
8.12.2 Financial Analysis
8.12.3 Strategic Positioning
8.12.4 Info Graphic Analysis
8.13 Other Companies
8.13.1 Company Overview
8.13.2 Financial Analysis
8.13.3 Strategic Positioning
8.13.4 Info Graphic Analysis