Virtual Neurorehabilitation Device Market Insights
Rising gamification trends in rehabilitation treatments along with growing startup prominence in VR focused neuroscience has positively influenced the Virtual Neurorehabilitation Device Market growth. In terms of revenue, the overall neurorehabilitation devices market size will reach USD 3 Billion by 2026.
The wearable healthcare device industry has increased its investment in VR based neurological treatment programs. The hospitals are adopting VR environments to give a natural event experience to the patient. These programs create social interactions through multimodal sensory stimulation which treats the patient more effectively.
Novelties like advanced wristbands that can deliver machine-interpretable commands and are also highly compatible with VR systems and FES will enhance the virtual neurorehabilitation device market innovations. With the occurrence of these innovative wristbands, the virtual neurorehabilitation device market manufacturers are exploring new opportunities to offer better solutions in the healthcare industry.
Balance & posture improvement, upper limb & post-acute treatment, regaining fitness, and spasticity reduction are the major benefits witnessed in the motor function treatment programs. Improvement in cognitive and psychological benefits such as mental alertness, memory stimulation, reduction in depression symptomology in the geriatric population are also witnessed during the therapy.
Based on the positive results obtained from VR therapy programs, virtual neurorehabilitation devices can be used as an effective tool to encourage patients to have better orientation and responsiveness in daily life activities. Moreover, successful adoption of customized therapy programs to target specific dysfunction and also to increase patient's interest can be achieved through using telerehabilitation. Economical costing due to less face to face intervention will positively influence the virtual neurorehabilitation device market price trend.
Concerning treatment among children, more research is required. VR holds an excellent potential in the treatment of children's motor functions. Studies have demonstrated that eye-tracking and EMG-supported 3D VR devices have shown promising improvement among the youngsters with spastic tetraparesis.
The industry participants are expected to highlight and focus on the eye tracker usage as this will be the most potential feature. Companies are working to create high resolution and more realistic environment VR and also with minimal hardware power.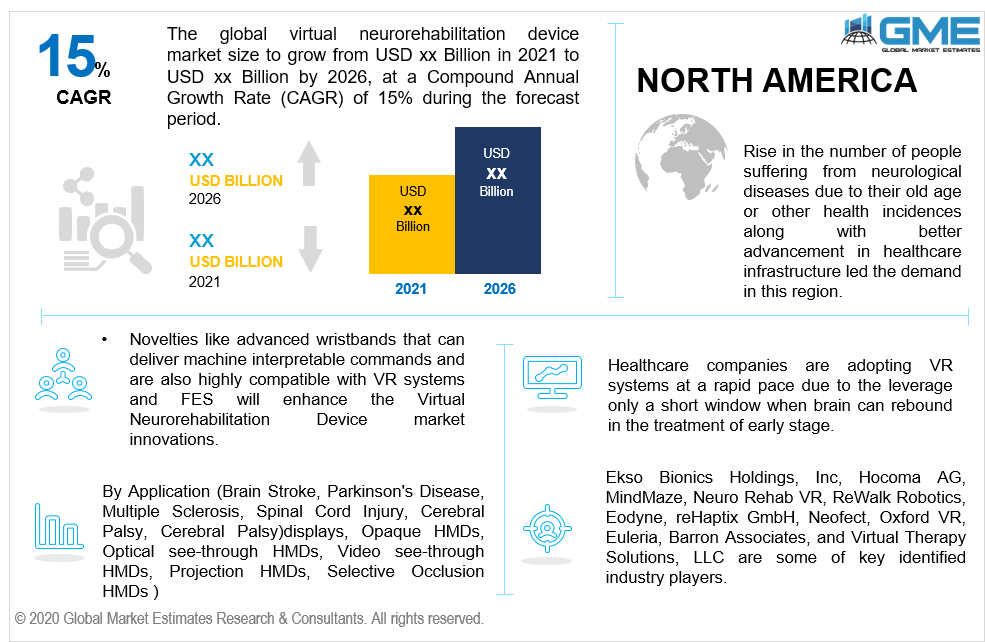 Virtual Neurorehabilitation Device Market: By End-User
The virtual neurorehabilitation device market end-user segment is dominated by the rehabilitation centers and accounted for over 45% of the industry share. Better approach and accessibility along with more attention towards patients has reinforced the growth in this category.
Increasing trends towards customized therapy programs for every individual patient accompanied by system compatibility with telerehabilitation will improve the demand in the home-care setting segment.
The home-care setting will witness the highest growth due to its cost efficiency and time management. As per the American Congress of Rehabilitation Medicine (ACRM) data in 2015, clinic & hospital intervention resulted in more expenses than in-home telerehabilitation.
Virtual Neurorehabilitation Device Market: By Application
An increase in the number of patients with neurological disorders due to brain stroke, cerebral palsy, multiple sclerosis, spinal cord injuries, and other neurological conditions has resulted in the rise in the patients dealing with movement disabilities. The main aim of these therapies is to offer optimum health programs to the patient to carry out their daily activities with no hindrances.
A diverse range of benefits among the geriatric population with Parkinson's disease is witnessed such as better motor functions, community participation, improved cognitive and psychological function with the adoption of VR neurorehabilitation therapies.
It is also vital to understand that in the future these VR applications will be subsidized from larger pooled automated data with artificial intelligence. For instance, if eye trackers are included by default in every VR headset then it will allow generating more meaningful data of patients with disabilities.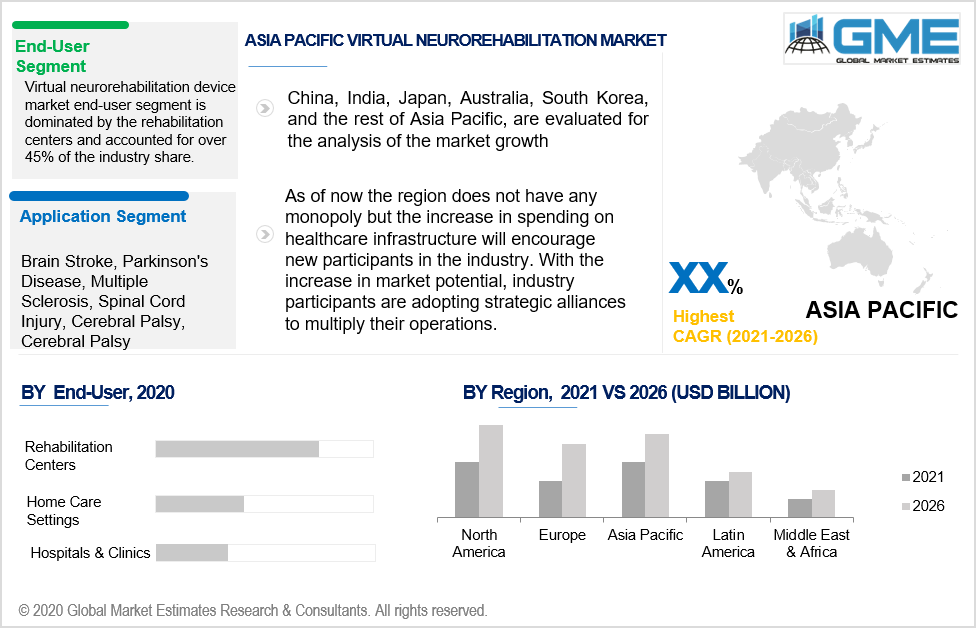 Virtual Neurorehabilitation Device Market: By Region
North America virtual neurorehabilitation device market dominated the overall industry revenue share. The rise in the number of people suffering from neurological diseases due to their old age or other health incidences along with better advancement in healthcare infrastructure led to the demand in this region.
It is estimated that annually, more than 125,000 people die due to stroke in the U.S. which results in disability among the patient. In Canada, around 400,000 people have disability issues due to stroke occurrence.
Asia Pacific virtual neurorehabilitation device market will witness a significant growth of around 15% from 2021-2026. Currently, the region does not have any monopoly but the increase in spending on healthcare infrastructure will encourage new participants in the industry. With the increase in market potential, industry participants are adopting strategic alliances to multiply their operations. For instance, Hocoma AG, a Switzerland-based healthcare device company collaborated with Apollo Hospitals, India to offer neurorehabilitation services.
Europe is highly influenced by the rising number of technologically advanced medical devices. Also, increasing in home-care setting approvals to avoid people gathering at clinics and centers to promote social distancing will promote the regional industry growth. In 2017 Barron Associates and Virtual Therapy Solutions received CE Marking for their SaeboVR system.
Virtual Neurorehabilitation Device Market Share and Competitor Analysis
Ekso Bionics Holdings, Inc, Hocoma AG, MindMaze, Neuro Rehab VR, ReWalk Robotics, Eodyne, reHaptix GmbH, Neofect, Oxford VR, Euleria, Barron Associates, and Virtual Therapy Solutions, LLC are some of the key identified industry players.
Healthcare companies are adopting VR systems at a rapid pace due to the leverage of only a short window when the brain can rebound in the treatment of early stage. For instance, MindMaze has won various recognition in gamification therapy programs.
In October 2020, Neuro Rehab VR announced the introduction of its foremost clinically approved and FDA registered XR Therapy System.
Novel technologies with respect to electrostimulation are submerging the virtual neurorehabilitation device market share. The Italy-based international team of Sissa (International School for Advanced Studies) teamed up with the California and Leeds University to work on a multi-electrode system for spinal cord stimulation.
Other key players include Cooper University Healthcare, Libra@Home, Immersive Rehab, STRIVR Labs, Brain Scope, Magic Leap, and EMOTIV.
Please note: This is not an exhaustive list of companies profiled in the report.
Chapter 1 Methodology
1.1 Market scope & definitions
1.2 Estimates & forecast calculation
1.3 Historical data overview and validation
1.4 Data sources
1.4.1 Secondary
1.4.2 Primary
Chapter 2 Report Outlook
2.1 Virtual Neurorehabilitation Device Market industry overview, 2016-2026
2.1.1 Industry overview
2.1.2 End-User overview
2.1.3 Application overview
2.1.4 Regional overview
Chapter 3 Virtual Neurorehabilitation Device Market Trends
3.1 Market segmentation
3.2 Industry background, 2016-2026
3.3 Market key trends
3.3.1 Positive trends
3.3.1.1 Growing prominence of VR Neuro startups
3.3.1.2 Increasing expenditure on healthcare AI
3.3.2 Industry challenges
3.3.2.1 Limited treatment study for some neurological conditions
3.4 Prospective growth scenario
3.4.1 Application growth scenario
3.4.2 End-User growth scenario
3.5 COVID-19 influence over industry growth
3.6 Porter's analysis
3.7 PESTEL analysis
3.8 Value chain & supply chain analysis
3.9 Regulatory framework
3.9.1 North America
3.9.2 Europe
3.9.3 APAC
3.9.4 LATAM
3.9.5 MEA
3.10 Technology overview
3.11 Market share analysis, 2020
3.11.1 Company positioning overview, 2020
Chapter 4 Virtual Neurorehabilitation Device Market, By End-User
4.1 End-User Outlook
4.2 Hospitals & Clinics
4.2.1 Market size, by region, 2016-2026 (USD Million)
4.3 Rehabilitation Centers
4.3.1 Market size, by region, 2016-2026 (USD Million)
4.4 Home Care Settings
4.4.1 Market size, by region, 2016-2026 (USD Million)
Chapter 5 Virtual Neurorehabilitation Device Market, By Application
5.1 Application Outlook
5.2 Brain Stroke
5.2.1 Market size, by region, 2016-2026 (USD Million)
5.3 Parkinson's Disease
5.3.1 Market size, by region, 2016-2026 (USD Million)
5.4 Multiple Sclerosis
5.4.1 Market size, by region, 2016-2026 (USD Million)
5.5 Spinal Cord Injury
5.5.1 Market size, by region, 2016-2026 (USD Million)
5.6 Cerebral Palsy
5.6.1 Market size, by region, 2016-2026 (USD Million)
5.7 Schizophrenia
5.7.1 Market size, by region, 2016-2026 (USD Million)
5.8 Others
5.8.1 Market size, by region, 2016-2026 (USD Million)
Chapter 6 Virtual Neurorehabilitation Device Market, By Region
6.1 Regional outlook
6.2 North America
6.2.1 Market size, by country 2016-2026 (USD Million)
6.2.2 Market size, by end-User, 2016-2026 (USD Million)
6.2.3 Market size, by application, 2016-2026 (USD Million)
6.2.4 U.S.
6.2.4.1 Market size, by end-User, 2016-2026 (USD Million)
6.2.4.2 Market size, by application, 2016-2026 (USD Million)
6.2.5 Canada
6.2.5.1 Market size, by end-User, 2016-2026 (USD Million)
6.2.5.2 Market size, by application, 2016-2026 (USD Million)
6.3 Europe
6.3.1 Market size, by country 2016-2026 (USD Million)
6.3.2 Market size, by end-User, 2016-2026 (USD Million)
6.3.3 Market size, by application, 2016-2026 (USD Million)
6.3.4 Germany
6.2.4.1 Market size, by end-User, 2016-2026 (USD Million)
6.2.4.2 Market size, by application, 2016-2026 (USD Million)
6.3.5 UK
6.3.5.1 Market size, by end-User, 2016-2026 (USD Million)
6.3.5.2 Market size, by application, 2016-2026 (USD Million)
6.3.6 France
6.3.6.1 Market size, by end-User, 2016-2026 (USD Million)
6.3.6.2 Market size, by application, 2016-2026 (USD Million)
6.3.7 Italy
6.3.7.1 Market size, by end-User, 2016-2026 (USD Million)
6.3.7.2 Market size, by application, 2016-2026 (USD Million)
6.3.8 Spain
6.3.8.1 Market size, by end-User, 2016-2026 (USD Million)
6.3.8.2 Market size, by application, 2016-2026 (USD Million)
6.3.9 Russia
6.3.9.1 Market size, by end-User, 2016-2026 (USD Million)
6.3.9.2 Market size, by application, 2016-2026 (USD Million)
6.4 Asia Pacific
6.4.1 Market size, by country 2016-2026 (USD Million)
6.4.2 Market size, by end-User, 2016-2026 (USD Million)
6.4.3 Market size, by application, 2016-2026 (USD Million)
6.4.4 China
6.4.4.1 Market size, by end-User, 2016-2026 (USD Million)
6.4.4.2 Market size, by application, 2016-2026 (USD Million)
6.4.5 India
6.4.5.1 Market size, by end-User, 2016-2026 (USD Million)
6.4.5.2 Market size, by application, 2016-2026 (USD Million)
6.4.6 Japan
6.4.6.1 Market size, by end-User, 2016-2026 (USD Million)
6.4.6.2 Market size, by application, 2016-2026 (USD Million)
6.4.7 Australia
6.4.7.1 Market size, by end-User, 2016-2026 (USD Million)
6.4.7.2 Market size, by application, 2016-2026 (USD Million)
6.4.8 South Korea
6.4.8.1 Market size, by end-User, 2016-2026 (USD Million)
6.4.8.2 Market size, by application, 2016-2026 (USD Million)
6.5 Latin America
6.5.1 Market size, by country 2016-2026 (USD Million)
6.5.2 Market size, by end-User, 2016-2026 (USD Million)
6.5.3 Market size, by application, 2016-2026 (USD Million)
6.5.4 Brazil
6.5.4.1 Market size, by end-User, 2016-2026 (USD Million)
6.5.4.2 Market size, by application, 2016-2026 (USD Million)
6.5.5 Mexico
6.5.5.1 Market size, by end-User, 2016-2026 (USD Million)
6.5.5.2 Market size, by application, 2016-2026 (USD Million)
6.5.6 Argentina
6.5.6.1 Market size, by end-User, 2016-2026 (USD Million)
6.5.6.2 Market size, by application, 2016-2026 (USD Million)
6.6 MEA
6.6.1 Market size, by country 2016-2026 (USD Million)
6.6.2 Market size, by end-User, 2016-2026 (USD Million)
6.6.3 Market size, by application, 2016-2026 (USD Million)
6.6.4 Saudi Arabia
6.6.4.1 Market size, by end-User, 2016-2026 (USD Million)
6.6.4.2 Market size, by application, 2016-2026 (USD Million)
6.6.5 UAE
6.6.5.1 Market size, by end-User, 2016-2026 (USD Million)
6.6.5.2 Market size, by application, 2016-2026 (USD Million)
6.6.6 South Africa
6.6.6.1 Market size, by end-User, 2016-2026 (USD Million)
6.6.6.2 Market size, by application, 2016-2026 (USD Million)
Chapter 7 Company Landscape
7.1 Competitive analysis, 2020
7.2 Ekso Bionics Holdings, Inc
7.2.1 Company overview
7.2.2 Financial analysis
7.2.3 Strategic positioning
7.2.4 Info graphic analysis
7.3 Neuro Rehab VR
7.3.1 Company overview
7.3.2 Financial analysis
7.3.3 Strategic positioning
7.3.4 Info graphic analysis
7.4 MindMaze
7.4.1 Company overview
7.4.2 Financial analysis
7.4.3 Strategic positioning
7.4.4 Info graphic analysis
7.5 ReWalk Robotics
7.5.1 Company overview
7.5.2 Financial analysis
7.5.3 Strategic positioning
7.5.4 Info graphic analysis
7.6 Eodyne
7.6.1 Company overview
7.6.2 Financial analysis
7.6.3 Strategic positioning
7.6.4 Info graphic analysis
7.7 Neofect
7.7.1 Company overview
7.7.2 Financial analysis
7.7.3 Strategic positioning
7.7.4 Info graphic analysis
7.8 Oxford VR
7.8.1 Company overview
7.8.2 Financial analysis
7.8.3 Strategic positioning
7.8.4 Info graphic analysis
7.9 Euleria
7.9.1 Company overview
7.9.2 Financial analysis
7.9.3 Strategic positioning
7.9.4 Info graphic analysis
7.10 Luminopia
7.10.1 Company overview
7.10.2 Financial analysis
7.10.3 Strategic positioning
7.10.4 Info graphic analysis
7.11 Nexstim
7.11.1 Company overview
7.11.2 Financial analysis
7.11.3 Strategic positioning
7.11.4 Info graphic analysis
7.12 MicroTransponder
7.12.1 Company overview
7.12.2 Financial analysis
7.12.3 Strategic positioning
7.12.4 Info graphic analysis
7.13 Trexo Robotics
7.13.1 Company overview
7.13.2 Financial analysis
7.13.3 Strategic positioning
7.13.4 Info graphic analysis
7.14 Helius Medical Technologies
7.14.1 Company overview
7.14.2 Financial analysis
7.14.3 Strategic positioning
7.14.4 Info graphic analysis
7.15 Synergia Medical
7.15.1 Company overview
7.15.2 Financial analysis
7.15.3 Strategic positioning
7.15.4 Info graphic analysis
7.16 CoRehab
7.16.1 Company overview
7.16.2 Financial analysis
7.16.3 Strategic positioning
7.16.4 Info graphic analysis
7.17 Magic Leap
7.17.1 Company overview
7.17.2 Financial analysis
7.17.3 Strategic positioning
7.17.4 Info graphic analysis
7.18 Brain Scope
7.18.1 Company overview
7.18.2 Financial analysis
7.18.3 Strategic positioning
7.18.4 Info graphic analysis
7.19 EMOTIV
7.19.1 Company overview
7.19.2 Financial analysis
7.19.3 Strategic positioning
7.19.4 Info graphic analysis
7.20 STRIVR Labs
7.20.1 Company overview
7.20.2 Financial analysis
7.20.3 Strategic positioning
7.20.4 Info graphic analysis
7.21 Immersive Rehab
7.21.1 Company overview
7.21.2 Financial analysis
7.21.3 Strategic positioning
7.21.4 Info graphic analysis
7.22 EODYNE
7.22.1 Company overview
7.22.2 Financial analysis
7.22.3 Strategic positioning
7.22.4 Info graphic analysis
7.23 reHaptix GmbH
7.23.1 Company overview
7.23.2 Financial analysis
7.23.3 Strategic positioning
7.23.4 Info graphic analysis
7.24 Libra@Home
7.24.1 Company overview
7.24.2 Financial analysis
7.24.3 Strategic positioning
7.24.4 Info graphic analysis
7.25 Cooper University Healthcare
7.25.1 Company overview
7.25.2 Financial analysis
7.25.3 Strategic positioning
7.26 Hocoma AG
7.26.1 Company overview
7.26.2 Financial analysis
7.26.3 Strategic positioning
7.26.4 Info graphic analysis
7.27 Barron Associates
7.27.1 Company overview
7.27.2 Financial analysis
7.27.3 Strategic positioning
7.27.4 Info graphic analysis
7.28 Virtual Therapy Solutions, LLC,
7.28.1 Company overview
7.28.2 Financial analysis
7.28.3 Strategic positioning
7.28.4 Info graphic analysis