Visitor Management System Market: Insights
The visitor management system is a piece of software that keeps track of visitors when they reach the building. To make it more available, this framework replaces traditional visitor records with management software. It helps the final user to keep track of visitors who come into apartments, campuses, and other facilities. It also provides guests with a touch screen experience.Visitor control involves features such as auto-identification of regular visitors and fingerprint scanning. It creates access cards with allowed access based on the type of visitor.This software allows visitors to register themselves and sends notifications to employees. It eliminates human errors and ensures that employees perform at a high level while remaining safe on the premises. Visitor management is a cutting-edge technique for gaining greater control over visitor activity at a company's locations.
As security measures tighten across enterprises, the demand for AI-based visitor management systems is rising. The need to check visitor IDs and capture images has been a driving force behind the implementation of visitor management systems. AI functionalities are designed with deep learning models and a highly intuitive user interface to ensure smart and automatic visitor management.Using visitor management systems, organizers are counting visitors, receiving real-time updates, and measuring the congestion point and peak time across multiple locations.Pre-registration is one of the system's main features, which makes it easier to organize on-site or off-site activities by encouraging visitors to pre-register.
The visitor management system market is being driven by the need for organizations to organize enforcement and appropriate security protocols, as well as the broad acceptance of software-based security solutions to recognize trespassers.Furthermore, the incorporation of advanced and complex technologies like artificial intelligence, big data, and the Internet of things to enhance the efficiency of visitor management software is expected to provide sufficient growth opportunities for players in the visitor management system market.
During COVID-19, the market for visitor management systems is growing. Visitor management systems have assisted organizations in being touchless, a vital method used by people all over the world to stop the virus from spreading. The growing use of visitor management systems has aided businesses in staying informed about health, travel, and potential COVID-19 exposure.The pandemic of COVID-19 seems to have had a positive impact on the visitor management system market, generating opportunities for providers.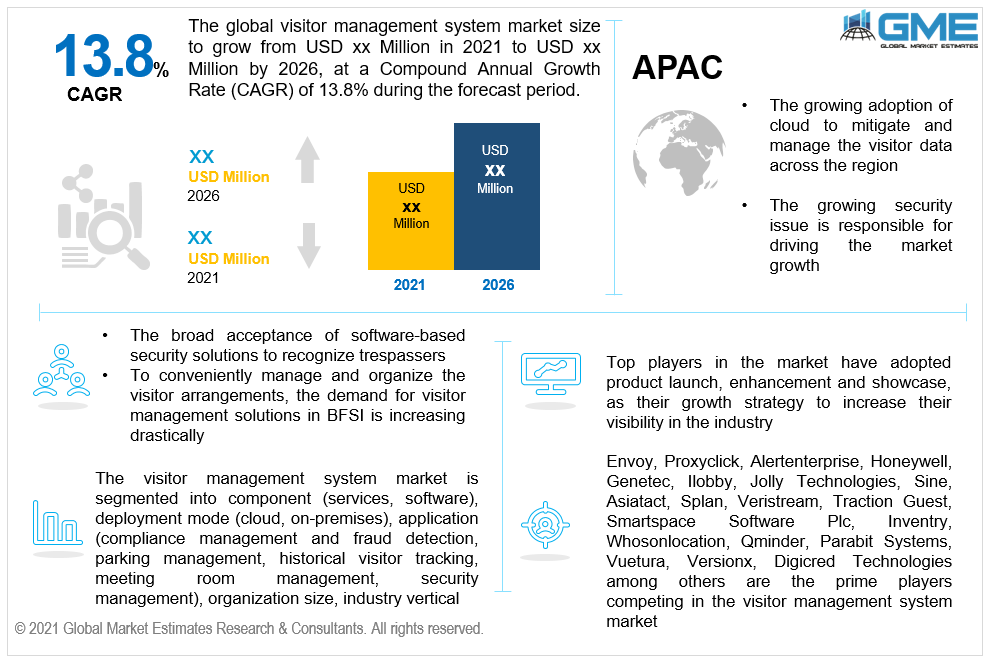 Visitor Management System Market: By Component
Over the forecast period, the software segment will generate the most revenue since it helps strengthen physical security, comply with data security regulations, monitor unwanted visitors, and minimize fraudulent activities.Visitor management systems increase the efficiency, accuracy, and continuity of the visitor registration process, as well as the ability to store visitor information in the database.
The professional services segment is expected to grow at a robust CAGR over the forecasted timeframe.The market is growing due to the rising number of IT projects being outsourced as a result of population growth. Also, the increasing number of third-party security and administration vendors has further cemented professional services' dominance in the visitor management software market.
Visitor Management System Market: By Application
The compliance management and fraud detection segment is expected to grow at the fastest pace from 2021 to 2026.It is due to the increasing trend in fraud and crime in several sectors, including telecom& IT, and BFSI. By combining advanced electronic security, biometric recognition, database control, and video monitoring, modern visitor management software assists in every area of compliance management and fraud detection, from transactions and securities to risk analytics.
The companies are concerned about security because a vulnerability to business data will result in data integrity, availability, and confidentiality being compromised. It also ensures data encryption from end to end, as well as data protection from unauthorized users.
Visitor Management System Market: By Type of Deployment
Cloud-based visitor management software also offers offsite storage in the event of a disaster and malware security. A cloud-based visitor management system reduces the initial costs of purchasing as well as the costs of maintenance and updates.Cloud-based visitor management system penetration has accelerated during the COVID-19 pandemic since it shares many of the features of the software hosted at an enterprise.Logs can be accessed from anywhere via the internet since it is hosted in the cloud.
Visitor Management System Market: By Industry Vertical
Over the forecast period, the BFSI segment will grow at the fastest growth rate to generate the most revenue.The financial services industry (BFSI) is a fast-paced industry that relies on visitor data to improve business operations. In the vertical banking field, visitor management system solutions are vital because security measures are necessary to support minimize and avoid potential threats as well as monitor and identify actual clients.
By identifying and tracking data and the movement of any visitor in the workplace, these systems boost workplace security. On their tablets, staff can receive instant updates and visitor notifications. If a workplace needs visitors to sign paperwork such as on-site guidelines or non-disclosure agreements, visitor management software can ensure that these procedures are followed.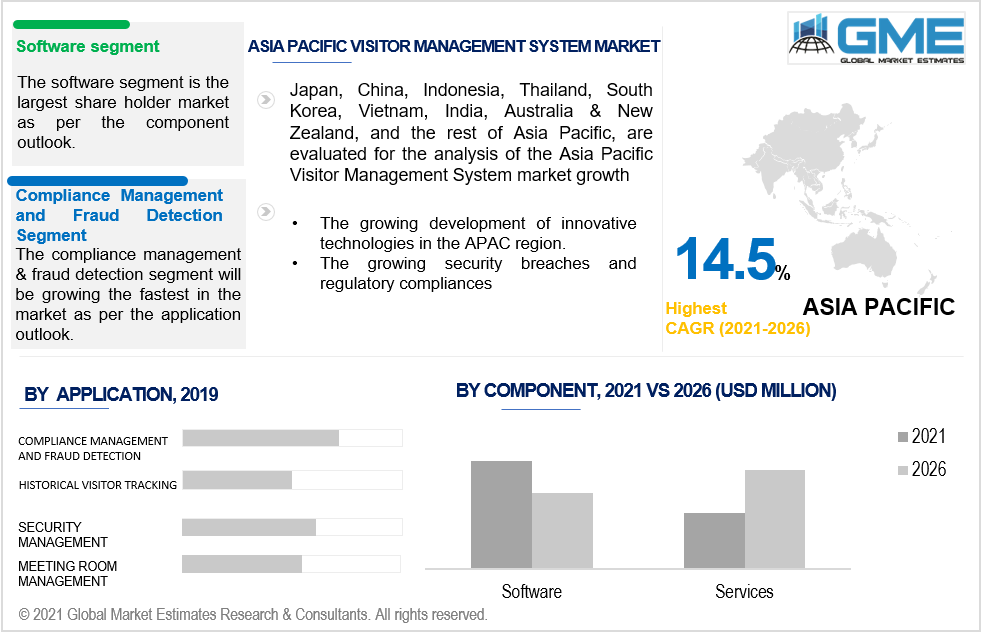 Visitor Management System Market: By Region
In terms of revenue, the North American region will continue to lead in the coming years.The region's emerging industrial infrastructure encourages the use of visitor management systems, which is expected to accelerate the region's growth in the global visitor management system market.Moreover, owing to the increasing investment by market leaders in access control and perimeter defense, there's been a surge in demand for visitor management systems in the United States. However, according to the research, 61% of companies in the United States have replaced paper logbooks with visitor management software to ensure the safety of their workers.
Over the projected timeframe, the Asia-Pacific region will display a significant CAGR rate.The commercialization of AI and IoT technologies, as well as the need for more advances to exploit these technologies, is driving up demand for visitor management systems in the APAC region. The government's emphasis on implementing visitor management initiatives to anticipate or detect possible threats is expected to fuel the expansion of visitor management systems throughout the region.
Visitor Management System Market: Share & Competitor Analysis
Envoy, Proxyclick, Alertenterprise, Honeywell, Genetec, Ilobby, Jolly Technologies, Sine, Asiatact, Splan, Veristream, Traction Guest, Smartspace Software Plc, Inventry, Whosonlocation, Qminder, Parabit Systems, Vuetura, Versionx, Digicred Technologies among others are the prime players competing in the visitor management system market.
Please note: This is not an exhaustive list of companies profiled in the report.
In August 2019, Genetec has introduced GenetecClearID, a self-service Physical Identity, and Access Management system. This approach assisted in addressing problems with cardholder management and privileged access
In July 2019, SmartSpace Software collaborated with Evoko and developed NASO a meeting room panel. This solution will be available as a subscription-based integrated software that allows users to manage reservations using Microsoft Outlook.
The Global Visitor Management System Market has been studied from the year 2019 till 2026. However, the CAGR provided in the report is from the year 2021 to 2026. The research methodology involved three stages: Desk research, Primary research, and Analysis & Output from the entire research process.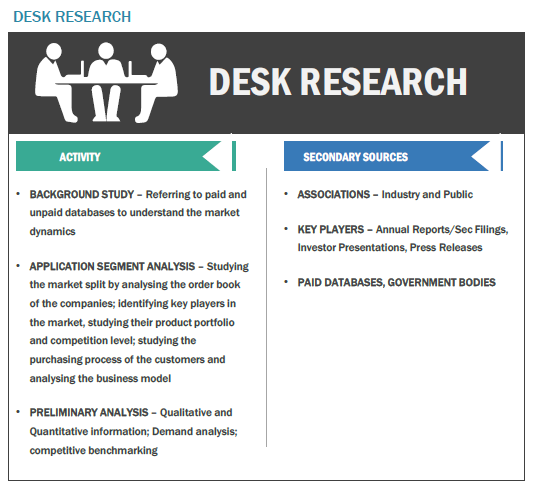 The desk research involved a robust background study which meant referring to paid and unpaid databases to understand the market dynamics; mapping contracts from press releases; identifying the key players in the market, studying their product portfolio, competition level, annual reports/SEC filings & investor presentations; and learning the demand and supply-side analysis for the Visitor Management System Market.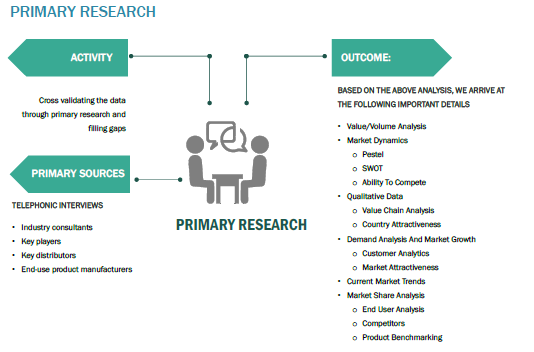 The primary research activity included telephonic conversations with more than 50 tier 1 industry consultants, distributors, and end-use product manufacturers.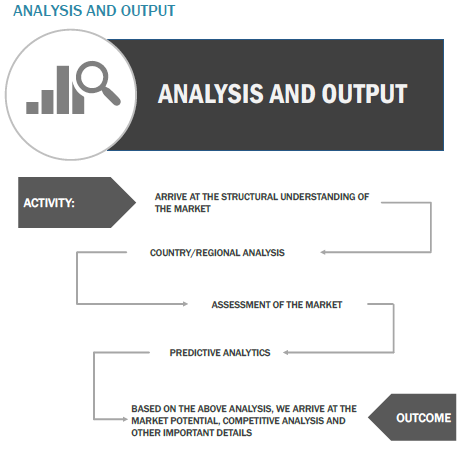 Finally, based on the above thorough research process, an in-depth analysis was carried out considering the following aspects: market attractiveness, current & future market trends, market share analysis, SWOT analysis of the company and customer analytics.