Wearable Healthcare Devices Market: Insights
Wearable healthcare devices are the most interesting and emerging trends in the world where the data that is generated from the patient can be directly synced with electronic health records and doctors can monitor patient activities like step counts or heart rates without actually seeing the patient. These devices are designed to prevent diseases, maintenance of health, patient management, etc. Factors like advanced sensors, rising adoption of artificial intelligence, growing mobile platforms, increasing disposable income, penetration of 3G and 4G network to serve uninterrupted healthcare services, rising pollution levels, enhanced focus on fitness and health, monitoring of data, smart fabrics, cloud computing, growing obese population, precise delivery of results, personalized medicines, increasing prevalence of remote patient monitoring, user-friendly, comfortable and advancement in technology are expected to increase demand forthe market. However, there are factors as well in the market that restrict or hinder the growth of wearable healthcare devices being: issues regarding safety and security of data, data not being validated, and lack of awareness in developing countries along with lesser access to smartphones and technology, restricted reimbursements, and high cost of the devices.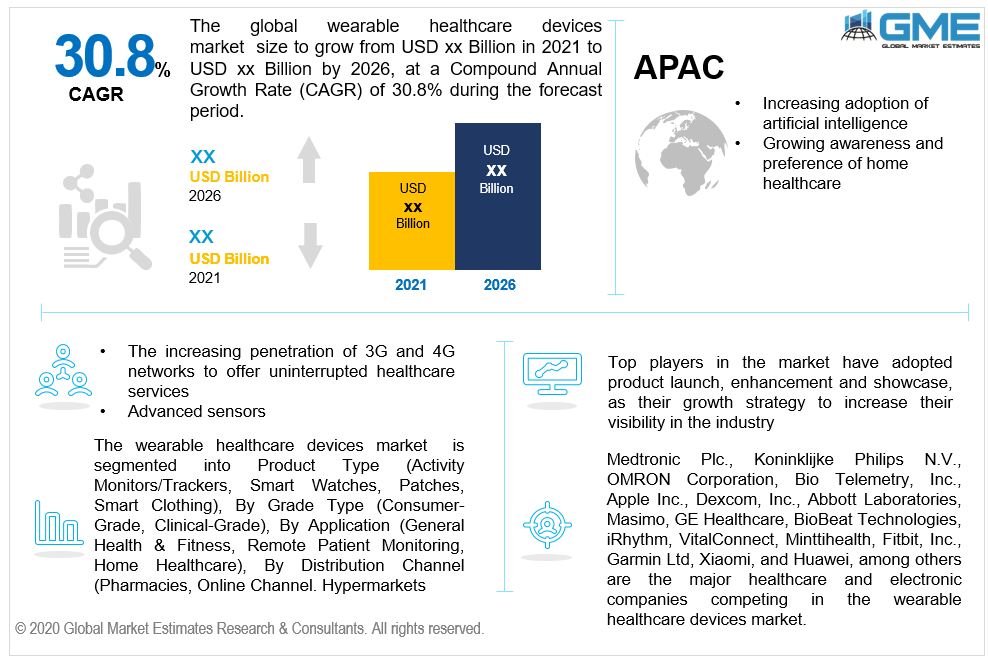 Wearable Healthcare Devices Market: By Device Type
The two categories include Therapeutic Devices,Diagnostic & Monitoring Devices, and others. The Diagnostic & Monitoring Devices domain would hold a significant share in this market. This is due to the rising neurological disorder occurrences (migraine being most prevalent with 95% of the population) and the growing demand for non-invasive devicesand minimally invasive device.
Wearable Healthcare Devices Market: By Product
According to the product analysis, the four segments are Smartwatches, Patches, Activity Monitors/Trackers, and Smart Clothing. In terms of revenue growth, theActivity Monitors/Trackers domain held the largest share in 2020 due to the low-priced activity trackers, accurate and real-time measurement of parameters, rising unhealthy lifestyles, and innovative product launches by new market players.
Wearable Healthcare Devices Market: By Grade Type
Based on the study, the grade-type can be divided into two categories: Consumer-Grade, Clinical-Grade, among others. In 2020, Consumer-Grade isestimated to foster record-breaking growth in the market. This is owing to certain factors like easily accessible devices that are comfortable, user-friendly, low-priced, and can be worn for 24 hours at a stretch without affecting routine life.
Wearable Healthcare Devices Market: By Application
According to the application analysis, the three segments are Remote Patient Monitoring, General Health & Fitness Home Healthcare. In terms of revenue growth, the largest shareholder was the Home Healthcare segment in 2020 because of finer management of diseases, growing geriatric population, cost-efficiency, convenience to patients, and rising need to curb healthcare expenditure.
Wearable Healthcare Devices Market: By Distribution Channel
The three categories include Online, Hypermarkets, ChannelPharmacies,and others. The category of Pharmacies is the largest shareholder over the estimated timeframe as a result of non-evasive monitoring and accessibility of devices, growing demand for diagnostic devices, and improved standard of living.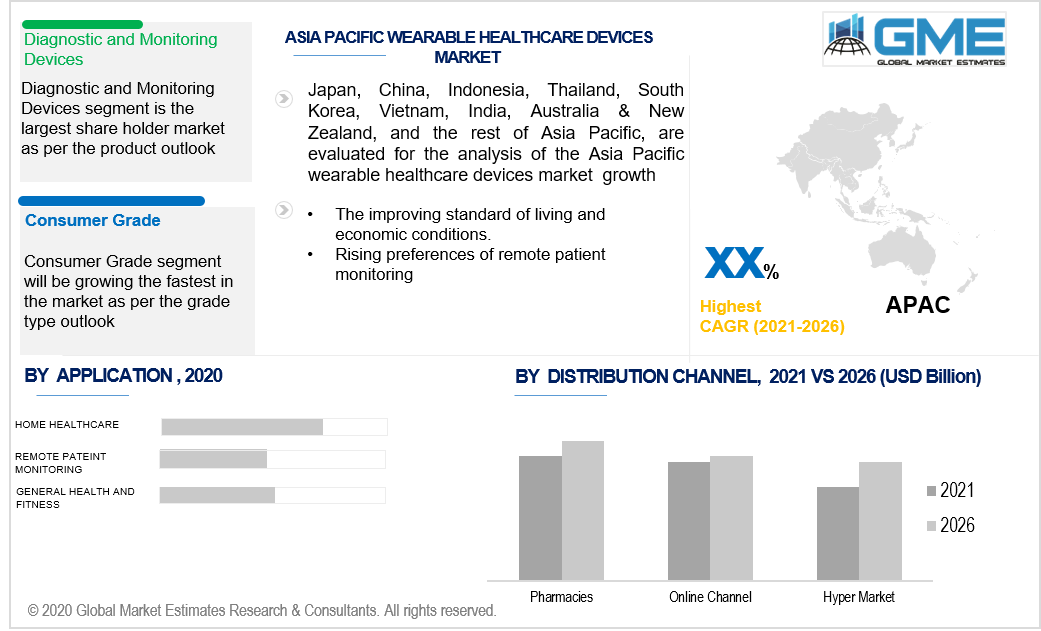 Wearable Healthcare Devices Market: By Region
The dominant market segment is held by the North American region in terms of revenue generation. This is attributed to the rising occurrences of heart diseases, huge expenditure on technological advancements, the presence of a large number of top manufacturers in the U.S., and advanced healthcare infrastructure. However, due to the increasing initiation of cost-effective products, favorable government initiatives, and the presence of cost-effective device manufacturers, the Asia Pacific region will grow rapidly
Market Share & Competitor Analysis
Medtronic plc., Koninklijke Philips N.V., OMRON Corporation, Bio Telemetry, Inc., Apple Inc., Dexcom, Inc., Abbott Laboratories, Masimo, GE Healthcare, BioBeat Technologies, iRhythm, VitalConnect, Minttihealth, Preventice Solutions, Inc., CONTEC Medical Systems Co., Ltd, Biotricity, Verily Life Sciences, Cyrcadia Asia, ten3T healthcare, Fitbit, Inc., Garmin Ltd, Xiaomi, and Huawei, among others are the major healthcare and electronic companies competing in the wearable healthcare devices market.
Please note: This is not an exhaustive list of companies profiled in the report.
In May 2020, AvaBracelet, mainly used as a fertility tracker, is now being used to help in fightingthe coronavirus. It tracks heart rate variability, breathing rate, and skin temperature making it helpful in tracing symptoms of the virus.
In November 2020, Royal Philips launched the Philips Ventilator BiPAP A40 EFL.
In January 2019, Omron introducedHeart Guide, a wearable blood pressure smartwatch.
The Global Wearable Healthcare Devices Market has been studied from the year 2019 till 2026. However, the CAGR provided in the report is from the year 2021 to 2026. The research methodology involved three stages: Desk research, Primary research, and Analysis & Output from the entire research process.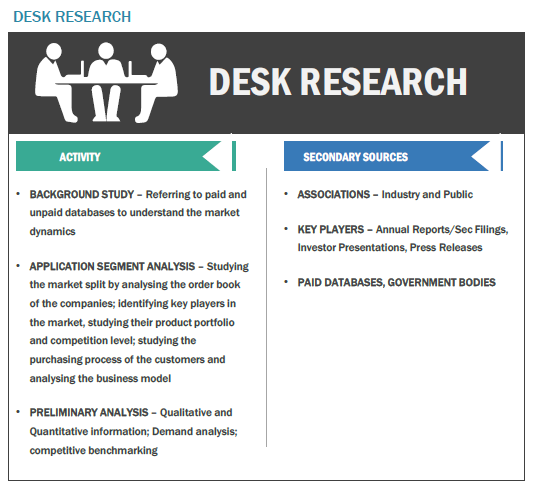 The desk research involved a robust background study which meant referring to paid and unpaid databases to understand the market dynamics; mapping contracts from press releases; identifying the key players in the market, studying their product portfolio, competition level, annual reports/SEC filings & investor presentations; and learning the demand and supply side analysis for the Wearable Healthcare Devices Market.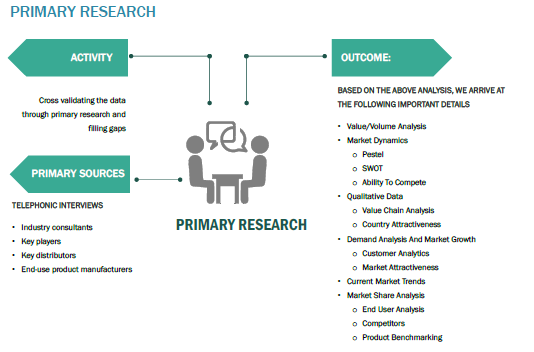 The primary research activity included telephonic conversations with more than 50 tier 1 industry consultants, distributors, and end-use product manufacturers.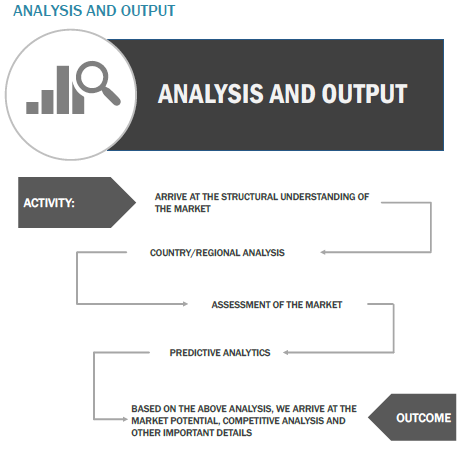 Finally, based on the above thorough research process, an in-depth analysis was carried out considering the following aspects: market attractiveness, current & future market trends, market share analysis, SWOT analysis of the company and customer analytics.