Weather Forecasting Services Market: Insights
The prediction of weather has always been a difficult but significant part of human existence. From agriculture & fisheries to modern aviation industries, the desired performance and safety are heavily dependent on precise weather forecasts. Weather forecasting also helps to reduce overhead transport & logistics costs and avoid heavy losses due to extreme weather conditions. Moreover, the growth of the market is also stimulated by technological advances in product offerings, an increase in the need to enhance performance and operational efficiency, an increase in adoption of advanced data analytical models, and an increase in application areas among end-users. However, the lack of qualified professionals and uncertainty about weather forecasting solutions are likely to undermine market growth over the projected timeframe.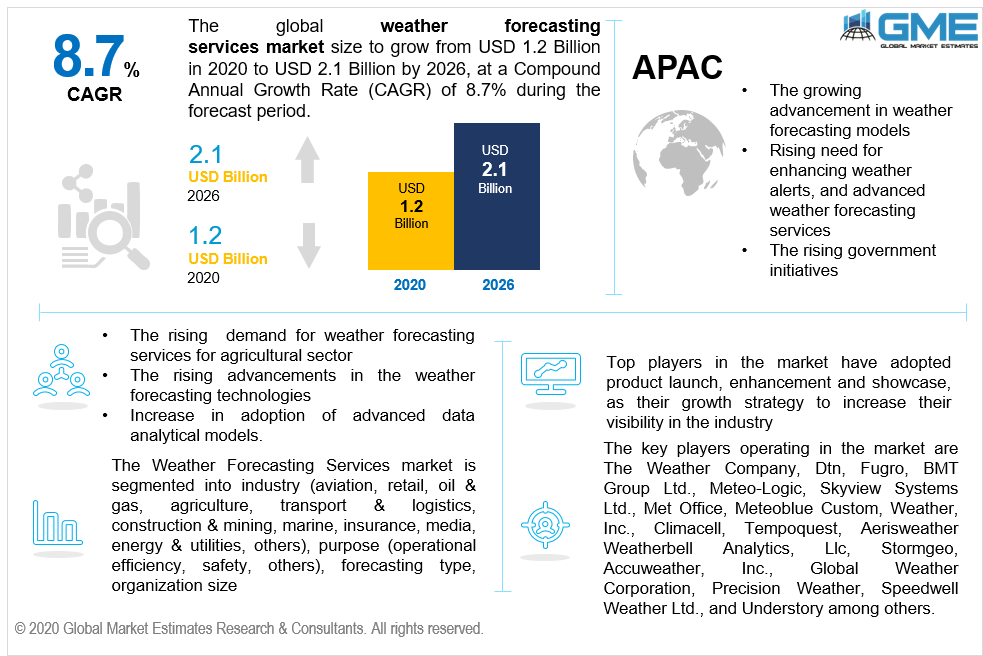 Weather Forecasting Services Market: By Industry
Aviation, retail, oil & gas, agriculture, transport & logistics, construction & mining, maritime, insurance, media, and energy & utilities, among others, are categorized into industry type-based divisions. The aviation division is expected to contribute more to worldwide business revenues across all industry verticals. This is attributed to the widespread acceptance and increased trade traffic of advanced weather prediction models.
Weather Forecasting Services Market: By Organization Size
According to the enterprises-size, this market may be described in two categories: large enterprises and small and medium enterprises. It is expected that the small and medium enterprises segment division will contribute to a significant growth pattern in the business sector from 2020 to 2026. Cost-efficiency, enhanced scalability, 24x7 availability, and improved decision-making are provided by weather forecasting services. Therefore, weather forecasting services are expected to be adopted at a high rate by SMEs, as cost-effectiveness is essential for these organizations.
Weather Forecasting Services Market: By Forecasting Type
This market can be expressed in three sections, depending on the forecasting type, including short-range forecasting, nowcast, long-range forecasting, and medium-range forecasting. It was anticipated that the short-range forecast segment market will lead to more group sales in this business community. This is due to a rise in demand for better analytical models and increased spending related to the cloud to appeal to emerging nations' untapped markets.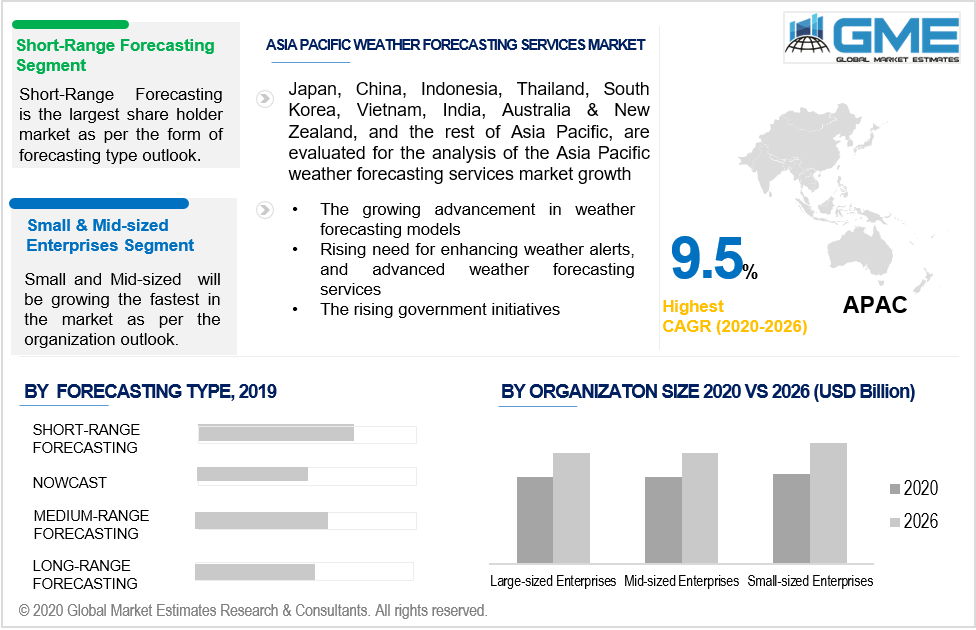 Weather Forecasting Services Market: By Region
Based on the geographical scope, the demand for weather forecasting services is divided into Europe, North America, Asia Pacific, CSA, and the Middle East & Africa. Over the years ahead, the North American area is anticipated to contribute high to global revenues. This is due to the introduction of technology and technological advances in digital database forecasting, such as developments in data analytics and computer forecast models, and an increase in the use of supercomputers that have more computational power. The Asia-Pacific region is also predicted to see strong growth at a vigorous CAGR rate in the coming years. This is due to the advancement of weather forecasting models, combined with high-performance computer systems, which have led to changes in extra-tropical weather forecasts, are some of the factors that influence the growth of the industry.
Weather Forecasting Services Market Share & Competitor Analysis
The key players competing in this market are The Weather Company, Dtn, Fugro, BMT Group Ltd., Meteo-Logic, Skyview Systems Ltd., Met Office, Meteoblue Custom, Weather, Inc., Climacell, Tempoquest, Aerisweather Weatherbell Analytics, Llc, Stormgeo, Accuweather, Inc., Enav S.P.A., Meteosim S.L., Skymet Weather Services Pvt. Ltd., Global Weather Corporation, Precision Weather, Speedwell Weather Ltd., and Understory among others.
Please note: This is not an exhaustive list of companies profiled in the report.
In August 2020, The Weather Company and Vizzion have entered into a collaboration. To incorporate traffic camera imagery, sources, and data into its Max Traffic broadcast solution, the organization is active in providing the largest traffic camera network worldwide.
In July 2020, to optimize consumer safety and understanding of hurricanes, AccuWeather revealed its breakthrough.
The Global Weather Forecasting Services Market has been studied from the year 2017 till 2026. However, the CAGR provided in the report is from the year 2018 to 2026. The research methodology involved three stages: Desk research, Primary research, and Analysis & Output from the entire research process.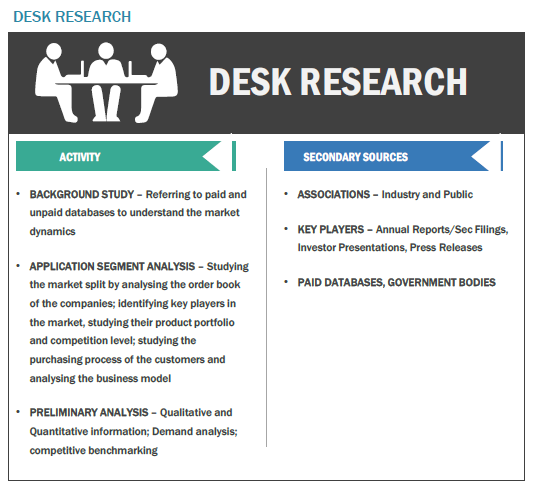 The desk research involved a robust background study which meant referring to paid and unpaid databases to understand the market dynamics; mapping contracts from press releases; identifying the key players in the market, studying their product portfolio, competition level, annual reports/SEC filings & investor presentations; and learning the demand and supply side analysis for the Weather Forecasting Services Market.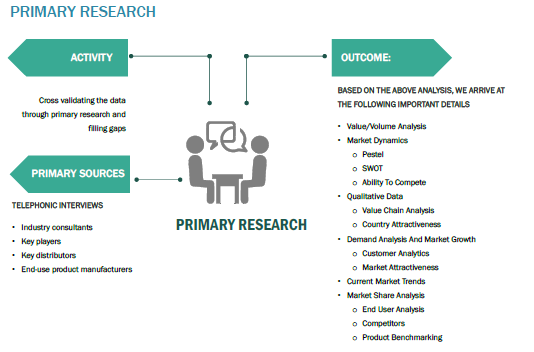 The primary research activity included telephonic conversations with more than 50 tier 1 industry consultants, distributors, and end-use product manufacturers.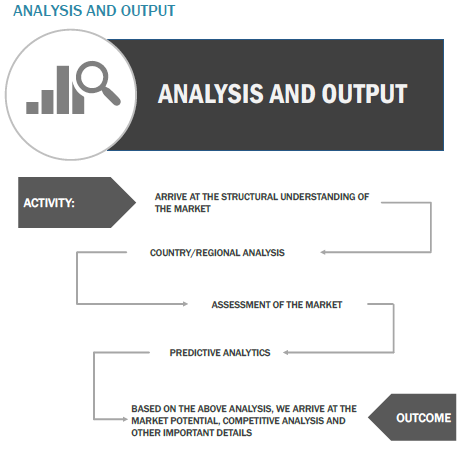 Finally, based on the above thorough research process, an in-depth analysis was carried out considering the following aspects: market attractiveness, current & future market trends, market share analysis, SWOT analysis of the companies and customer analytics.