Workplace Safety Market: Insights
Workplace Safety refers to a company's work environment that incorporates all factors that impact the employees' well-being, health, and safety. This also includes unsafe working conditions, environmental hazards, workplace violence, and drug and alcohol abuse. Effective workplace safety programs may even impact a company's financial performance. Some actions that fall under workplace safety are: installing equipment controls, providing equipment for personal safety, taking up drug and alcohol testing programs, providing operational manuals, providing employee counseling services, minimizing workplace violence, and also implementing programs for safety training. The adoption of Environmental Health and Safety (EHS) solutions by many industries have ensured compliance to regulations also boosting employee productivity. The workplace safety market is expected to undergo a substantial level of growth during the projected timeline as regulatory bodies like OSHA (Occupational Safety and Health Administration) have passed mandates and guidelines to enhance safety in workplaces. In North America and Europe, as the surveillance industry is growing, it would push companies to develop workplace safety solutions in the next few years.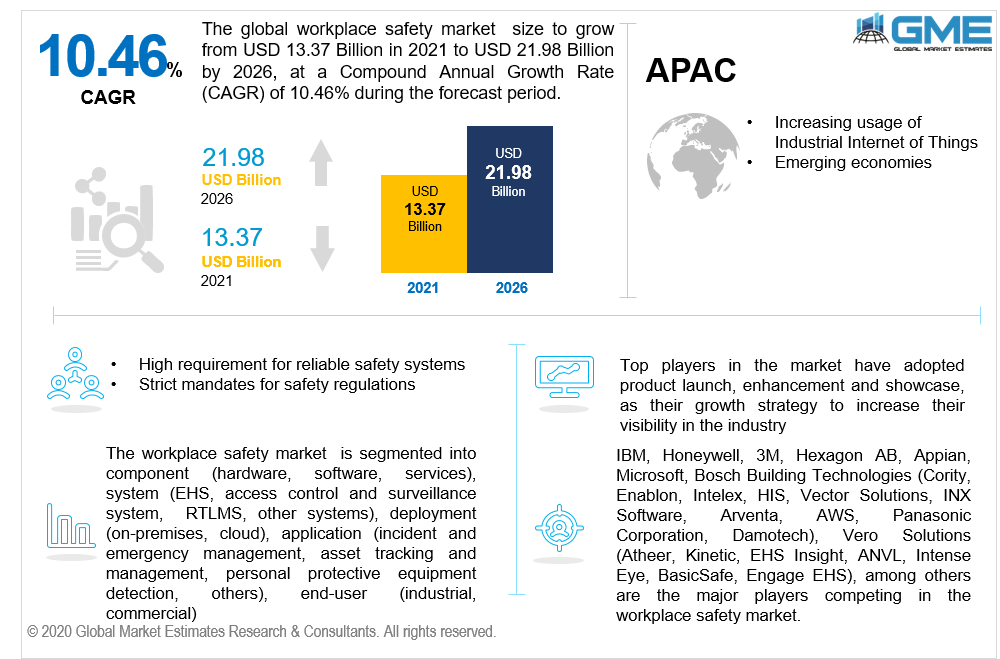 Workplace Safety Market: By Component
The component segment includes hardware, software, and services. The software component is the largest shareholder over the estimated timeframe. Measures like reducing incidents, complying with occupational safety regulations, and mitigating safety risks, should be carried out by companies while controlling costs. The need to ensure workers' safety and assets in today's work environment has risen significantly, and the safety management solution helps organizations do that. The software collects and analyses the data collected through mobile devices, which helps to identify risks for injuries and illnesses. Due to Covid-19, as many businesses are being conducted as work from home, the demand for software and solutions have shot up to track workers' activities and remotely ensure their safety.
Workplace Safety Market: By System
According to the application analysis, the market is explained into environmental health and safety, access control and surveillance system, and real-time location monitoring, among others. The largest shareholder in the estimated timeframe is the Environmental Health and Safety (EHS) segment in terms of revenue growth. This segment helps organizations streamline medical information and activities without spending too much time on paperwork. It will aid a company's compliance with regulatory and policy requirements.
Workplace Safety Market: By Deployment
By deployment, the market can be divided into two categories: cloud and on-premises. Cloud deployment offers a better hold over the data and reduces the risk of data loss while also reducing the concerns related to regulatory compliance. It also provides better speed, increased scalability, enhanced IT security, and non-stop service. These functionalities and core features of cloud-based solutions will stimulate the market's growth in the projected time frame.
Workplace Safety Market: By Application
Based on the application study, the market can be divided into four categories: incident and emergency management, asset tracking and management, personal protective equipment detection, others. The incident and emergency management segment are expected to dominate in the estimated timeframe. Workplace injuries are so frequent that it leads to increased expenditure on medications. Hence, to reduce such accidents, organizations are adopting workplace safety systems, propelling this market's growth.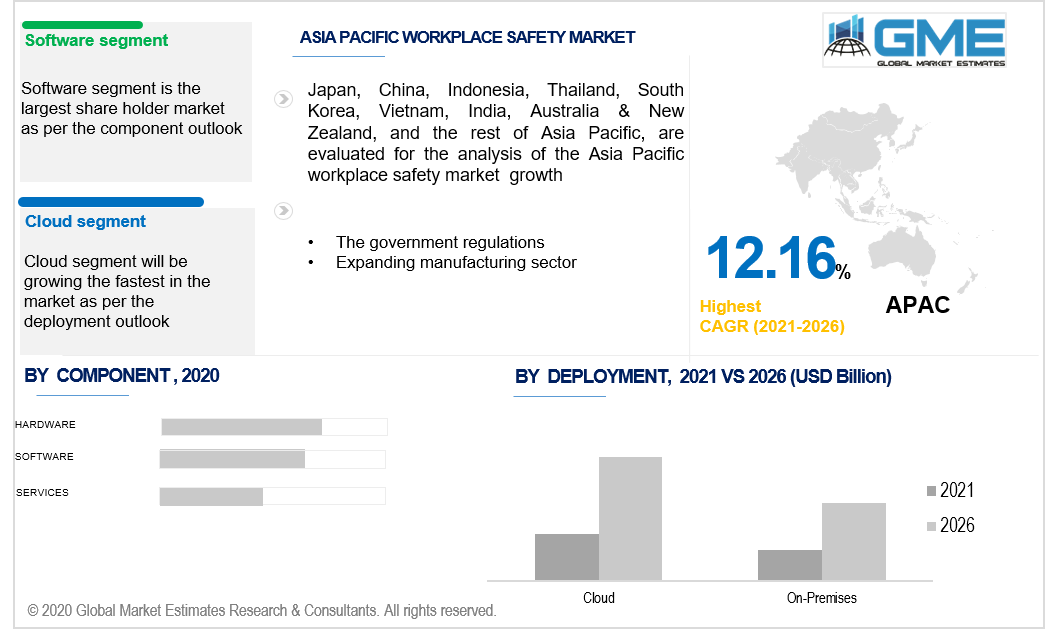 Workplace Safety Market: By Region
According to the regional analysis, the North American region is leading the market in terms of revenue growth between 2021-2026. The region is also known as the global innovative technology provider. The demand for workplace safety solutions is massive in the region. The government regulations to strengthen the safety standards is also responsible for the market growth. The Asia Pacific region will register a high growth rate between 2021-2026. The rapid growth in the manufacturing sector and various government initiatives such as "Make in India" are supporting the market growth.
Workplace Safety Market: Share & Competitor Analysis
IBM, Engage EHS, Honeywell, BasicSafe, 3M, Intense Eye, Hexagon AB, ANVL, Appian, EHS Insight, Microsoft, Kinetic, Bosch Building Technologies, Atheer, Cority, Vero Solutions, Enablon, Intelex, Damotech, HIS, Vector Solutions, Panasonic Corporation, INX Software, AWS, and Arventa among others, are the major vendors competing in the Workplace Safety market.
Please note: This is not an exhaustive list of companies profiled in the report.
The Global Workplace Safety Market has been studied from the year 2019 till 2026. However, the CAGR provided in the report is from the year 2021 to 2026. The research methodology involved three stages: Desk research, Primary research, and Analysis & Output from the entire research process.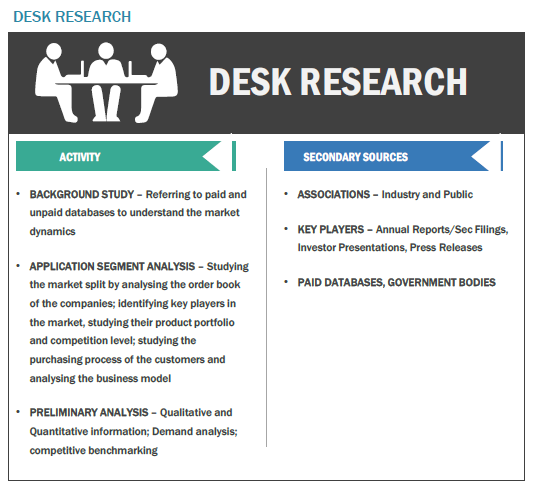 The desk research involved a robust background study which meant referring to paid and unpaid databases to understand the market dynamics; mapping contracts from press releases; identifying the key players in the market, studying their product portfolio, competition level, annual reports/SEC filings & investor presentations; and learning the demand and supply side analysis for the Workplace Safety Market.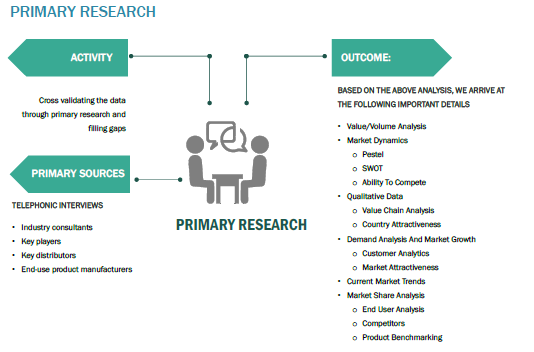 The primary research activity included telephonic conversations with more than 50 tier 1 industry consultants, distributors, and end-use product manufacturers.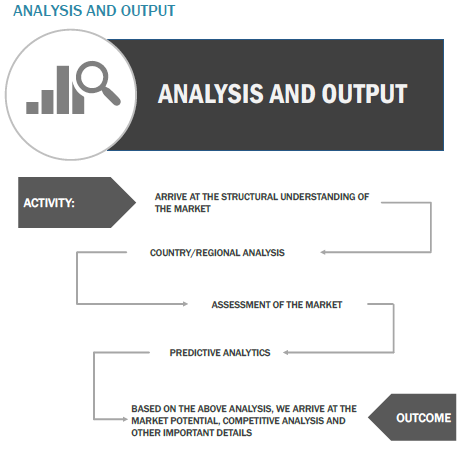 Finally, based on the above thorough research process, an in-depth analysis was carried out considering the following aspects: market attractiveness, current & future market trends, market share analysis, SWOT analysis of the companies and customer analytics.