Yarn Market: By Source
On the basis of source, the global yarn market is segmented into animal, chemical, and plant, among others. The animal segment is expected grow during the forecast period, owing to its smooth and shimmering appearance. There are different varieties of animal yarn including Sheep, Camel, Yak and Musk Ox among others. The market for plant is also expected to increase during the forecast period owing to increase in demand for natural products and easy carrying property of the product. The plant based yarns are further divided into cotton, jute, ramie and others.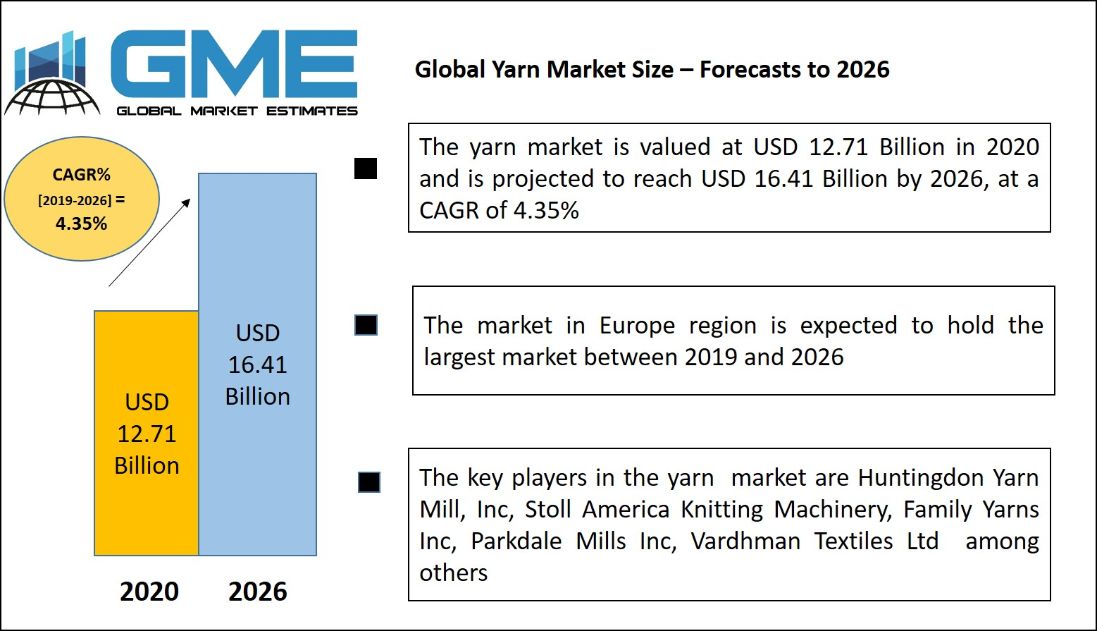 Yarn Market: By Material
On the basis of material, the global yarn market is segmented into natural fiber and synthetic fiber. The synthetic fiber segment is expected grow during the forecast period. Synthetic fibers are more durable than most natural fibers and readily pick-up different dyes. In addition, many synthetic fibers offer consumer-friendly functions such as stretching, waterproofing and stain resistance. Sunlight, moisture, and oils from human skin cause all fibers to break down and wear away. Natural fibers tend to be much more sensitive than synthetic blends. This is mainly because natural products are biodegradable. Natural fibers are susceptible to larval insect infestation; whereas synthetic fibers are not a good food source for fabric-damaging insects.
Yarn Market: By Type
On the basis of type, the global yarn market is segmented into regular yarn and special yarn. The special yarn segment is expected grow during the forecast period owing to the special aesthetic and high decorative appeal of the fiber. They are used to make apparel, carpets and curtains among others. Some of the special yarns include cord yarn, novelty yarn, metallic yarn and textured yarn among others. The regular yarn is much cheaper as compared to special yarn. Regular yarn can usually be produced near the point of use, their production does not require large land areas; they can be manufactured quickly in desired quantities, with specific built-in properties; and they require little advance preparation for conversion to yarn.
Yarn Market: By Application
On the basis of application, the global yarn market is classified into apparel, home textile, and industrial among others. The apparel segment is expected grow during the forecast period owing to high demand from menswear, women's wear and kids wear. Short product life cycle, volatile fashions, unpredictable market trends and impulse purchase nature of the customers are some of the factors for the growth of apparel segment. Home textiles yarns are referred to as soft furnishings, and are fabrics used in the home. They include items frequently classified as linens, such as bath and dish towels, table linens, shower curtains, and bathroom ensembles among others. Most of these items are also used in hotels and motels, and many are used in offices, showrooms, retail stores, restaurants, recreational facilities, and various other commercial establishments. Industrial applications include the use of yarn for protective clothing. They are used to frequently withstand severe conditions. They are used in making protective clothing for military, deep exploration and are even used in garments for space travel.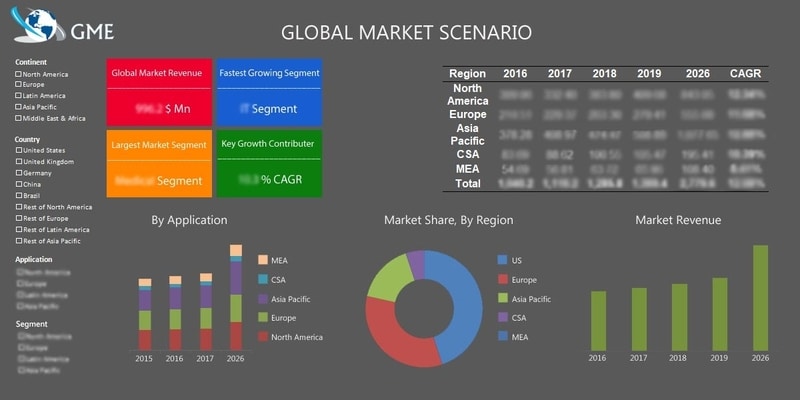 Yarn Market: By Region
Asia-Pacific is expected to hold the largest market share. The availability of cheap labor in the fabrication industries in China, India, and South Korea are expected to be the prime factors contributing to the growth of yarn industry. Yarn products such as cotton and polyester are among the widely used products in Asia-Pacific. Rise in disposable income, change in consumer behavior and a substantial shift towards branded apparel and changing consumption pattern are also some of the major factors driving the yarn market in this region. The yarn industry is undergoing a drastic change due to global sourcing and high level of price competition.
North America is expected to witness considerable growth in the yarn market. The growth of the market in the region can be attributed to increased technological advancement in the field of precision tools and sophisticated production process. The presence of leading yarn fabrication companies including Huntingdon Yarn Mill, Inc, Family Yarns Inc, and Parkdale Mills Inc. among others are expected to have a positive impact on the yarn market in the region. The market for yarn is also expected to grow in Europe. Europe is home to some of the most lucrative markets for apparel and clothing worldwide. Among the leading European countries, Germany and France clothing industry has the highest value. Women's and girl's apparel is responsible for the largest share of revenue overall in the yarn market.
Yarn Market: End Use Landscape
The end-user landscape entails a list of current and prospective consumers prevailing across the regions. This section briefs you about company addresses, contact details, products, and regional presence of companies who are purchasing or are likely to purchase Yarn. The key end-users of the markets are GAP, Nike, Zara and Gucci among others.
Yarn Market: Vendor Landscape
The report contains a chapter dedicated to vendors operating in the market, covering raw material manufactures, equipment developers, manufacturers, and distributors. The report provides these insights on a regional level. This section of the report entails contact details, experience, products manufactured/supplied, and geographical presence of companies.
Yarn Market: Share & Competitor Analysis
Some of the key players operating in the yarn market are Huntingdon Yarn Mill, Inc, Stoll America Knitting Machinery, Family Yarns Inc, Parkdale Mills Inc, Vardhman Textiles Ltd., Weiqiao Textile Company Ltd, Huvis Corporation, Grasim Industries Ltd, Texpro SpA, Varvaressos S.A and Indorama Ventures among others.
Please note: This is not an exhaustive list of companies profiled in the report.
In July 2019, Indorama Ventures entered into an agreement to acquire Sinterama S.p.A, a leading Global polyester automotive interiors and high performance colored yarns manufacturer. The acquisition comprises five production sites in four countries in Italy, Brazil, China and Bulgaria, the last being a new market for IVL.
In March 2019, Indorama Ventures announced that it has completed the acquisition of UTT Beteiligungsgesellschaft mbH which is one of the leading suppliers of airbag fabrics, and has manufacturing sites in Germany and Mexico with a combine capacity to produce around 70 million sqm of fabrics.
In October 2014, Grasim Industries Ltd introduced a new festive fabric range made from the environment friendly jute fibre. Replete with an ultra-comfy soft feeling fabric structure, each fabric from the collection is incorporated with a unique texture and fall.