Market Insights:
The developed economies such as North America and Europe are expected to observe a growth in demand due to their rising disposable income. Developing economies in Asia Pacific such as India and China are expected to drive the demand owing to increasing birth rates.
Growing awareness about safety, hygiene, and nutrition among infants is projected to augment market demand. Innovations in the manufacturing sector for baby products are very crucial for growth of this industry. Increase in women workforce is expected to have a positive demand for baby nutrition and hygiene products.
High birth rates in countries such as Niger, Burundi, Mali, and Somalia is expected to positively affect demand. The market in countries such as China and Russia with low birth rate offer opportunities to the already existing large population in the region, the low birth rate allows parents to spend more on premium products.
Product Insights:
Cosmetics & toiletries had the largest share in the market in 2016. These products tend to enhance the baby skin, resist swelling & itching, and provide nourishment. Apart from these benefits, these products have anti-bacterial as well as anti-fungal qualities; they provide a safety coating to the infant's skin.
Baby food was the second-largest segment in 2016. This segment is crucial as it caters to the nutritional requirements of infants to build up immunity. Increasing awareness via print media programs and numerous electronic programs regarding essential ingredients for infants such as vitamin, iron, carbohydrates, protein, and vitamin B12 has lead to a rapid growth of this industry.
In the developed regions, high demand is observed for car seats and strollers for the infants. Growing awareness about child safety is projected to foster demand for such products. High demand for infant safety would lead to new product innovation which will help further develop the market.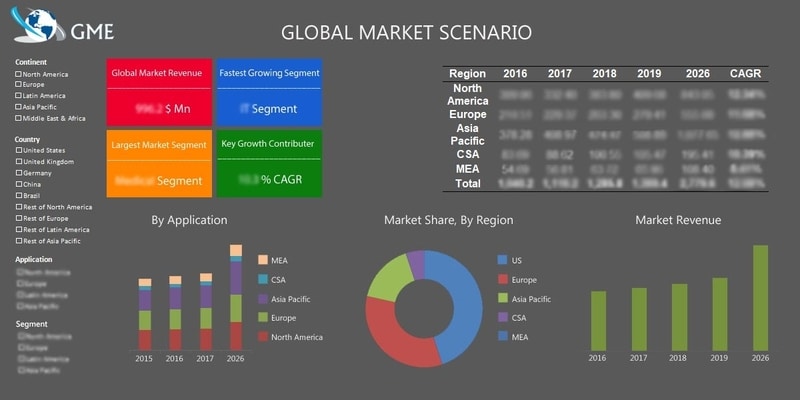 Regional Insights:
The U.S. occupied more than 70% of the market share in North America. The U.S. manufacturers are engaged in product innovations to produce technologically advanced and cost-effective products. The product modifications are in accordance to local needs and offer attractive packaging along with the online availability. Customized product offerings are projected to augment market demand over the coming years.
Growth in the Asia Pacific region can be attributed to adequate food safety measures implemented over the past few years. Changing lifestyle, urbanization, and international baby product manufacturers expanding in Asia Pacific will lead to market growth. The large number of female workers has led to an increase in disposable income of the households. This will augment affordability and reach of infant products in developing countries.
Competitor Analysis:
Product differentiation, innovation and affordable prices enable producers sustain tough competition. Companies have been investing in research & development to maintain sustainable growth and retain their market share.
Johnson & Johnson Consumer Inc. completed the acquisition of Vogue International LLC in Jan 2016 for USD 3.3 billion, which is engaged in manufacturing and distributing hair care and other personal care products. Abbott launched new line of nutritious snack bars for kids, under the brand Curate, to provide nutrition in between meals, with no artificial preservatives, colours or flavors.
The global industry is fragmented owing to the presence of numerous manufacturers such as Kimberly-Clark Corporation, Procter & Gamble Company, Johnson & Johnson Plc, Nestle S.A., Unilever Plc, and Abbott Nutrition.
1 RESEARCH METHODOLOGY
1.1 DESK RESEARCH
1.2 PRIMARY RESEARCH
1.3 ANALYSIS AND OUTPUT
1.4 FINAL OUTPUT FROM DESK AND PRIMARY RESEARCH
2 ECOSYSTEM OVERVIEW
3 TECHNOLOGICAL TRENDS IN KIDS MARKET
4 DEMAND AND SUPPLY MATRIX
4.1 INTRODUCTION
4.2 DEMAND SIDE ANALYSIS
4.2.1 MARKET DRIVERS
4.2.2 MARKET RESTRAINTS
4.2.3 MARKET OPPORTUNITIES
4.2.4 MARKET CHALLENGES
4.3 SUPPLY SIDE ANALYSIS
4.3.1 FUTURE SCENARIO (CAGR% VS. COUNTRY)
4.3.2 MAPPING KEY PRODUCT MANUFACTURERS
4.3.3 PORTER'S FIVE FORCES ANALYSIS
4.3.3.1 Threat of new entrants
4.3.3.2 Threat of substitutes
4.3.3.3 Bargaining power of buyers
4.3.3.4 Bargaining power of suppliers
4.3.3.5 Intensity of competitive rivalry
4.3.4 TREND ANALYSIS
4.4 PESTLE ANALYSIS
4.5 IMPACT ANALYSIS
4.6 PATENT LISTING
4.7 BEHAVIOURAL ANALYSIS
4.7.1 KEY MACRO INDICATORS
4.7.2 KEY MICRO INDICATORS
5 REGULATORY FRAMEWORK
6 GLOBAL KIDS MARKET, BY PRODUCT
6.1 INTRODUCTION
6.2 COSMETICS & TOILETERIES
6.2.1 SKIN CARE
6.2.2 BATH PRODUCTS
6.2.3 HAIR CARE
6.2.4 OTHERS
6.3 BABY FOOD
6.3.1 MILK PRODUCTS
6.3.2 FROZEN FOOD
6.3.3 JUICE
6.3.4 SNACKS & CEREALS
6.3.5 OTHERS
6.4 BABY SAFETY AND CONVINIENCE
6.4.1 STROLLERS
6.4.2 CAR SEATS
6.4.3 OTHERS
7 GLOBAL KIDS MARKET, BY REGION
7.1 INTRODUCTION
7.2 NORTH AMERICA
7.2.1 BY PRODUCT
7.2.2 BY COUNTRY
7.2.2.1 U.S.
7.2.2.1.1 By product
7.2.2.2 CANADA
7.2.2.2.1 By product
7.2.2.3 MEXICO
7.2.2.3.1 By product
7.3 EUROPE
7.3.1 BY PRODUCT
7.3.2 BY COUNTRY
7.3.2.1 U.K.
7.3.2.1.1 By product
7.3.2.2 GERMANY
7.3.2.2.1 By product
7.3.2.3 FRANCE
7.3.2.3.1 By product
7.3.2.4 ITALY
7.3.2.4.1 By product
7.4 ASIA PACIFIC
7.4.1 BY PRODUCT
7.4.2 BY COUNTRY
7.4.2.1 CHINA
7.4.2.1.1 By product
7.4.2.2 JAPAN
7.4.2.2.1 By product
7.4.2.3 INDIA
7.4.2.3.1 By product
7.4.2.4 AUSTRALIA
7.4.2.4.1 By product
7.5 CENTRAL & SOUTH AMERICA
7.5.1 BY PRODUCT
7.5.2 BY COUNTRY
7.5.2.1 ARGENTINA
7.5.2.1.1 By product
7.5.2.2 BRAZIL
7.5.2.2.1 By product
7.6 MIDDLE EAST & AFRICA
7.6.1 BY PRODUCT
7.6.2 BY COUNTRY
7.6.2.1 SOUTH AFRICA
7.6.2.1.1 By product
7.6.2.2 SAUDI ARABIA
7.6.2.2.1 By product
8 VENDOR LANDSCAPE (SUPPLIERS/MANUFACTURERS/DISTRIBUTORS)
8.1 NORTH AMERICA
8.2 EUROPE
8.3 ASIA PACIFIC
8.4 CENTRAL & SOUTH AMERICA
8.5 MIDDLE EAST & AFRICA
9 COMPANY PROFILE
9.1 ABBOTT NUTRITION
9.1.1 BUSINESS DESCRIPTION
9.1.2 FINANCIAL PERFORMANCE
9.1.3 SWOT ANALYSIS
9.1.4 PRODUCTS AND SERVICES OFFERED
9.1.5 STRATEGIC INITIATIVES
9.2 WALGREENS BOOTS ALLIANCE
9.2.1 BUSINESS DESCRIPTION
9.2.2 FINANCIAL PERFORMANCE
9.2.3 SWOT ANALYSIS
9.2.4 PRODUCTS AND SERVICES OFFERED
9.2.5 STRATEGIC INITIATIVES
9.3 ASDA GROUP LTD.
9.3.1 BUSINESS DESCRIPTION
9.3.2 FINANCIAL PERFORMANCE
9.3.3 SWOT ANALYSIS
9.3.4 PRODUCTS AND SERVICES OFFERED
9.3.5 STRATEGIC INITIATIVES
9.4 DABUR INTERNATIONAL LTD.
9.4.1 BUSINESS DESCRIPTION
9.4.2 FINANCIAL PERFORMANCE
9.4.3 SWOT ANALYSIS
9.4.4 PRODUCTS AND SERVICES OFFERED
9.4.5 STRATEGIC INITIATIVES
9.5 JOHNSON & JOHNSON PLC.
9.5.1 BUSINESS DESCRIPTION
9.5.2 FINANCIAL PERFORMANCE
9.5.3 SWOT ANALYSIS
9.5.4 PRODUCTS AND SERVICES OFFERED
9.5.5 STRATEGIC INITIATIVES
9.6 KIMBERLY-CLARK CORPORATION
9.6.1 BUSINESS DESCRIPTION
9.6.2 FINANCIAL PERFORMANCE
9.6.3 SWOT ANALYSIS
9.6.4 PRODUCTS AND SERVICES OFFERED
9.6.5 STRATEGIC INITIATIVES
9.7 NESTLE S. A.
9.7.1 BUSINESS DESCRIPTION
9.7.2 FINANCIAL PERFORMANCE
9.7.3 SWOT ANALYSIS
9.7.4 PRODUCTS AND SERVICES OFFERED
9.7.5 STRATEGIC INITIATIVES
9.8 BEIERSDORF GROUP (NIVEA)
9.8.1 BUSINESS DESCRIPTION
9.8.2 FINANCIAL PERFORMANCE
9.8.3 SWOT ANALYSIS
9.8.4 PRODUCTS AND SERVICES OFFERED
9.8.5 STRATEGIC INITIATIVES
9.9 PROCTER & GAMBLE COMPANY
9.9.1 BUSINESS DESCRIPTION
9.9.2 FINANCIAL PERFORMANCE
9.9.3 SWOT ANALYSIS
9.9.4 PRODUCTS AND SERVICES OFFERED
9.9.5 STRATEGIC INITIATIVES
9.10 UNILEVER PLC
9.10.1 BUSINESS DESCRIPTION
9.10.2 FINANCIAL PERFORMANCE
9.10.3 SWOT ANALYSIS
9.10.4 PRODUCTS AND SERVICES OFFERED
9.10.5 STRATEGIC INITIATIVES
9.11 DANONE S A
9.11.1 BUSINESS DESCRIPTION
9.11.2 FINANCIAL PERFORMANCE
9.11.3 SWOT ANALYSIS
9.11.4 PRODUCTS AND SERVICES OFFERED
9.11.5 STRATEGIC INITIATIVES
9.12 WELEDA AG
9.12.1 BUSINESS DESCRIPTION
9.12.2 FINANCIAL PERFORMANCE
9.12.3 SWOT ANALYSIS
9.12.4 PRODUCTS AND SERVICES OFFERED
9.12.5 STRATEGIC INITIATIVES
9.13 MEAD JOHNSON NUTRITIONALS
9.13.1 BUSINESS DESCRIPTION
9.13.2 FINANCIAL PERFORMANCE
9.13.3 SWOT ANALYSIS
9.13.4 PRODUCTS AND SERVICES OFFERED
9.13.5 STRATEGIC INITIATIVES
9.14 GERBER PRODUCTS COMPANY
9.14.1 BUSINESS DESCRIPTION
9.14.2 FINANCIAL PERFORMANCE
9.14.3 SWOT ANALYSIS
9.14.4 PRODUCTS AND SERVICES OFFERED
9.14.5 STRATEGIC INITIATIVES
9.15 ABC- AMERICAN BABY CORPORATION
9.15.1 BUSINESS DESCRIPTION
9.15.2 FINANCIAL PERFORMANCE
9.15.3 SWOT ANALYSIS
9.15.4 PRODUCTS AND SERVICES OFFERED
9.15.5 STRATEGIC INITIATIVES
The global kids market report has been studied from the year 2016 till 2025. However, the CAGR provided in the market study is from the year 2017 to 2025. The market research method involved three stages: Desk research, Primary survey research, and Analysis & Output from the entire research process.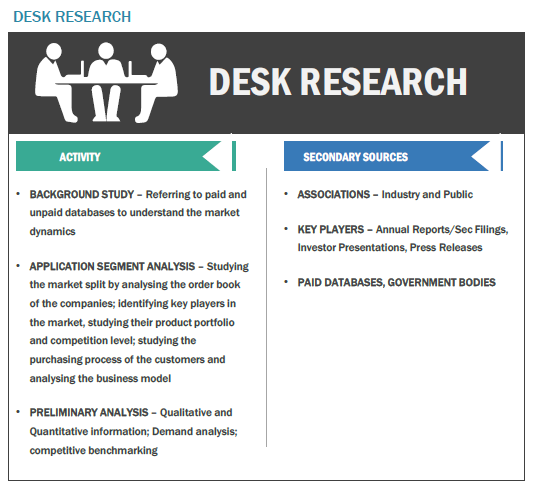 The desk research involved a robust background study which meant referring to paid and unpaid databases to understand the industry analysis; industry trends; market analysis; market trends; market dynamics; mapping contracts from press releases; identifying the key players in the market, studying their product portfolio, competition level, annual reports/SEC filings & investor presentations; and learning the demand and supply side analysis for the kids market.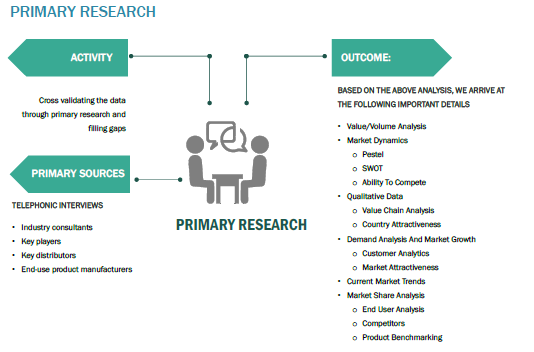 The primary research activity included telephonic conversations with more than 50 tier 1 industry consultants, VPs, CEOs, COOs, financial consultants, business consultants, strategy consultants, project management consultants, business management consultants, distributors, and end-use product manufacturers.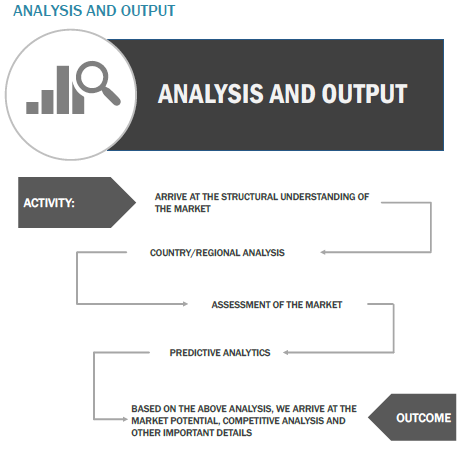 Finally, based on the above thorough research process, an in-depth analysis was carried out considering the following aspects: market attractiveness, current & future market trends, market share analysis, demand forecasting, SWOT analysis of the company's manufacturing baby products, and customer analytics.