Global Marine GPS Equipment Market Size
The Global Marine GPS Equipment Market is projected to grow at a CAGR value of 5.6% from 2022 to 2027.
In keeping with the goal of sustainable development, the International Marine Organization (IMO) supports using the best available technology to promote continual improvement and innovation in the facilitation of maritime trade. It is widely acknowledged that current technology has transformed sea navigation, and it now has a significant potential to improve maritime safety.
A rise in globalization and international trading activities, an emergence in seaborne routes, an upsurge in maritime military expenditures, sprouting technological advances leading to higher adoption and implementation of electronic navigational aids, and an upswing in e-commerce are some factors driving the market growth during the forecast period.
Additionally, a growing interest in water sports, both professionally and as a recreational activity, and favorable government initiatives and expenditures to develop and strengthen the sea transportation industry will drive market expansion.
Differential GPS (DGPS), an improvement to the original GPS signal, provides improved accuracy and safety in its network coverage for maritime activities. Countries often use DGPS for buoy location, scouring, and excavation tasks, and this improvement also aids in the betterment of harbor navigation.
Market participants will benefit from more significant usage of GPS systems, increased attention on improving marine transportation safety, and development in the seaborne trade. In addition, as new and improved equipment for maritime navigation and communication becomes more widely adopted, the desire for sailing and boating technology is expected to rise.
GPS is the quickest and most precise way to navigate, measure speed, and determine the location of mariners. This improves the safety and efficiency of mariners all across the world. Additionally, mariners and oceanographers rely on GPS data for underwater surveying, buoy installation, and navigating hazardous locations and monitoring, driving market expansion.
Commercial fishing boats increasingly employ GPS to find the best fishing spots, track fish movements, and assure regulatory compliance. Furthermore, GPS enables the automation of the container pick-up, transferring, and placement process by monitoring vessels from port entry to exit, resulting in market growth.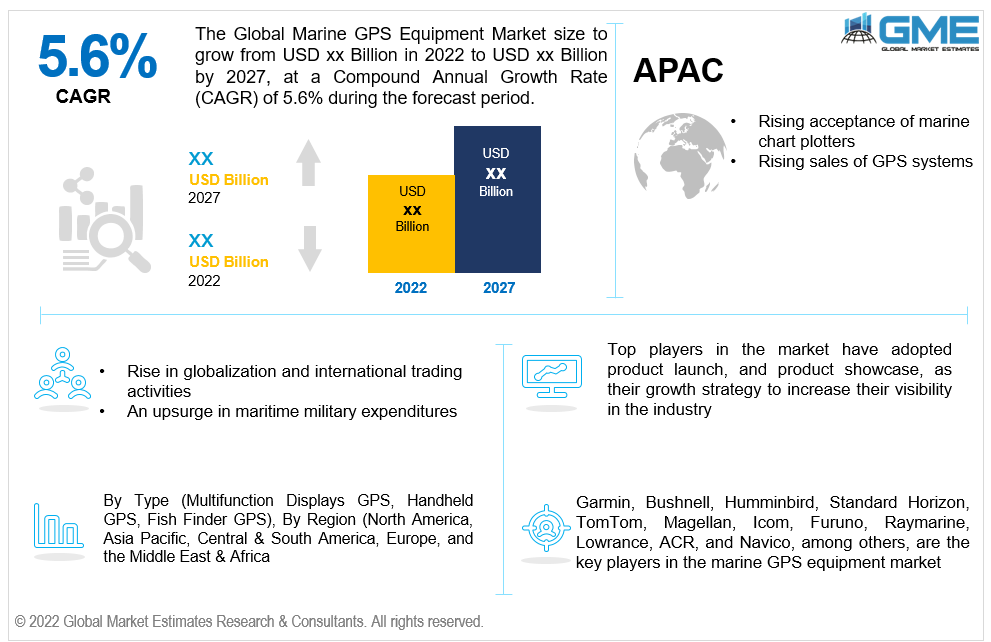 COVID-19 Impact on Global Marine GPS Equipment Market
The COVID-19 epidemic has harmed the market as pandemic-related lockdowns and restrictions have slowed equipment manufacture and deliveries by disrupting global supply chains and restricting working employees.
This delay has also been created by halting all types of cargo via water or air during the quarantine period (isolation period). The transit of such shipments on ships or by air could potentially spread the virus from one port to another.
This global epidemic has taken a toll on the shipping and maritime industries, not just at China's ports (where the virus is thought to have originated) but also in ports worldwide. All trade linkages, including significant import and export transactions, seem to be collapsing.
Ukraine-Russia War Impact on Marine Industry
The Ukraine-Russia war will harm the shipping sector for an extended period. The conflict between Russia and Ukraine is not only driving up commodity prices but also hurting global maritime operations. This has already delayed worldwide trade and may jeopardize the global economy's ability to recover more quickly from the pandemic. Around 140 vessels with over 1,000 seamen are stranded in the Black Sea since the region's ports have shut down.
The Black Sea, smack dab in the middle of the conflict, serves as a vital crossroads for agricultural and oil-related goods. The escalation of the war could result in a catastrophic food shortage. Experts predict that higher expenses, fewer capabilities, and anticipation of delays are some of the repercussions.
The operational issues are particularly complicated by the global labor shortage in the shipping industry. Since about 15% of the world's mariners are Russian or Ukrainian, even severe crunches are likely. Russia also accounts for about 11.3% of the world crude oil trade and 9.7% of the overall refined products trade.
Global Marine GPS Equipment Market: By Type
Fish Finder GPS is the most prominent marine GPS equipment market segment from 2022 to 2027. Fishfinders allow anglers to see depth, aquatic structure, fish hiding spots, velocity, and depth temperature. The fishfinder GPS employs a sophisticated GPS that can display the vessel's location as it moves across the water. The screen's features are simple to use and have the capacity to locate fish in a variety of water terrains and weather conditions.
On the other hand, the handheld GPS is expected to be the fastest-growing segment in the market. The GPS handheld is more reliable, sturdy, weatherproof, and appropriate for outdoor use. Users do not need to be concerned about the weather as handheld GPS devices are suited for outdoor activities. It is simple to navigate through the elevated wilderness with this GPS, which collects signals from satellites rapidly and monitors locations in rugged terrain such as forests and mountains.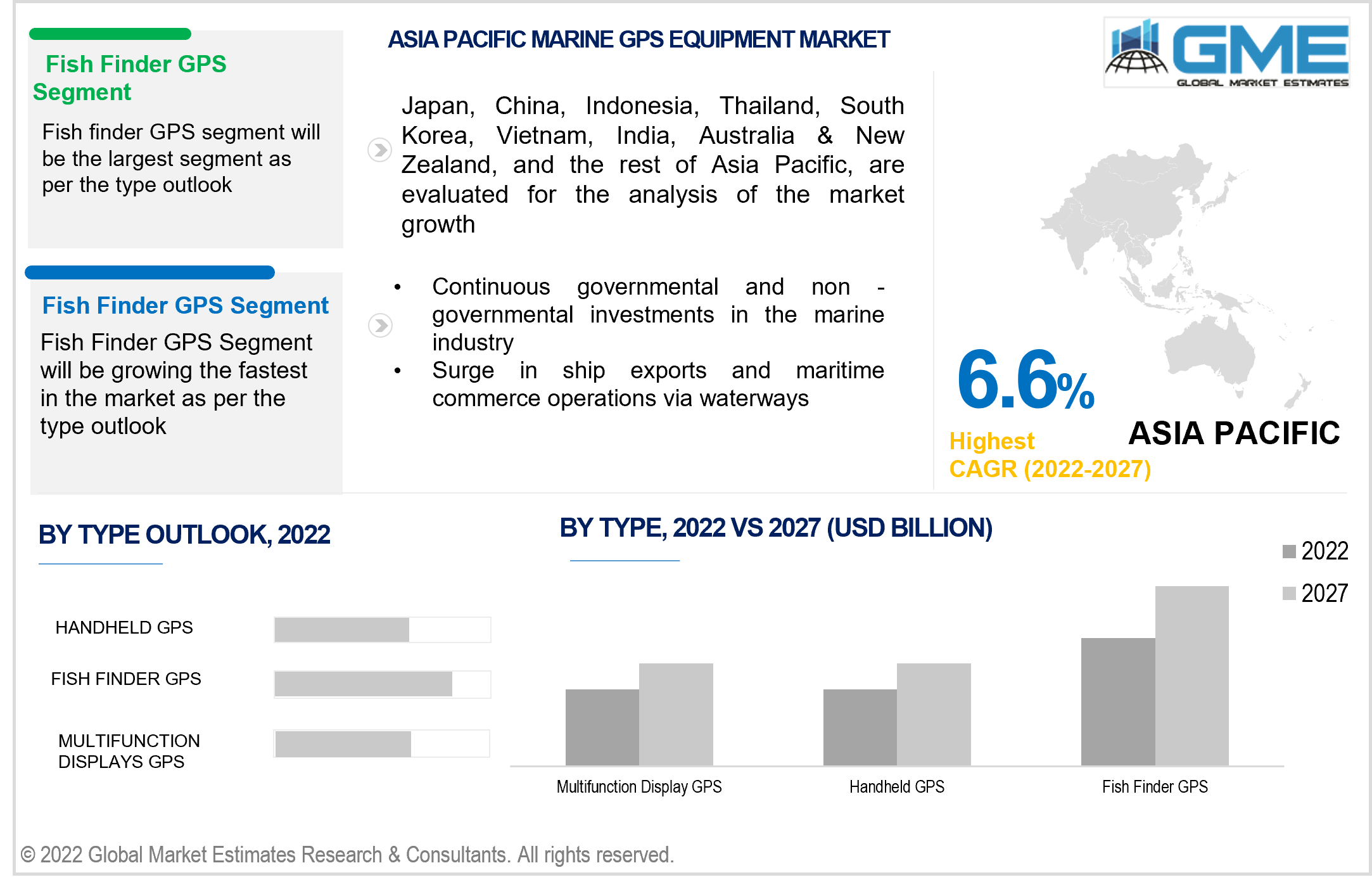 Global Marine GPS Equipment Market: By Region
North America (the United States, Canada, and Mexico) will dominate the Marine GPS Equipment market from 2022 to 2027. This is attributed to the high defense expenditures in marine activities, a significant volume of maritime trade operations, and the growing popularity of water sports as recreational activities, boosting the market growth.
The United States is expected to have the lion's share in the North American marine GPS equipment market. Expanding logistics activities in the United States that necessitate continuous supervision and transmission, substantial research and innovations in the maritime environment, and increased military spending in vessel protection are driving demand for the market in this area.
Moreover, the Asia-Pacific region is expected to be the fastest-growing marine GPS equipment market segment during the forecast period. The market in this region is growing due to the rising acceptance of marine chart plotters, a large footprint of various marine electronics equipment manufacturing firms, and rising sales of GPS systems.
China is expected to hold the largest share in the Asia Pacific marine GPS equipment market. A surge in ship exports and maritime commerce operations via waterways, the massive presence of ports, and continuous governmental and non - governmental investments in the marine industry, along with expanding maritime commerce procedures, are aiding China's marine electronics industry to thrive during the forecast period.
Global Marine GPS Equipment Market Share and Competitor Analysis
Garmin, Bushnell, Humminbird, Standard Horizon, TomTom, Magellan, Icom, Furuno, Raymarine, Lowrance, ACR, and Navico, among others, are the key players in the marine GPS equipment market.
Please note: This is not an exhaustive list of companies profiled in the report.
The global marine GPS equipment market has observed several strategic alliances between key players to launch new products with added functionalities and maintain revenue share & profitability. Organic and inorganic growth strategies adopted by small players have been the highlight of this market.
Chapter 1 Research Methodology
1.1 Research Assumptions
1.2 Research Methodology
1.2.1 Estimates and Forecast Timeline
1.3 Information Procurement
1.3.1 Purchased Database
1.3.2 GME's Internal Database
1.3.3 Primary Research
1.3.4 Secondary Sources & Third-Party Perspectives
1.3.4.1 Company Information Sources: Annual Reports, Investor Presentation, Press Release, SEC Filling, Company Blogs & Website
1.3.4.2 Secondary Data Sources: National Oceanic and Atmospheric Administration (NOAA), National Institute for Fisheries Research and Development (INIDEP), Commonwealth Scientific and Industrial Research Organisation (CSIRO), National Centre for Marine Research Reports
1.4 Information or Data Analysis
1.4.1 Data Analysis Models
1.5 Market Formulation & Data Visualization
1.6 Data Validation & Publishing
1.7 Market Model
1.7.1 Model Details
1.7.1.1 Top-Down Approach
1.7.1.2 Bottom-Up Approach
1.8 Market Segmentation & Scope
1.9 Market Definition
Chapter 2 Executive Summary
2.1. Global Market Outlook
2.2 Type Outlook
2.3 Regional Outlook
Chapter 3 Global Marine GPS Equipment Market Trend Analysis
3.1. Market Introduction
3.2 Penetration & Growth Prospect Mapping
3.3 Impact of COVID-19 on the Marine GPS Equipment Market
3.4 Metric Data on Marine GPS Equipment Industry
3.5 Market Driver Analysis
3.5.1 Market Driver Analysis
3.5.2 Market Restraint Analysis
3.5.3 Industry Challenges
3.5.4 Industry Opportunities
3.6 Porter's Five Analysis
3.6.1 Supplier Power
3.6.2 Buyer Power
3.6.3 Substitution Threat
3.6.4 Threat from New Entrant
3.7 Market Entry Strategies
Chapter 4 Marine GPS Equipment Market: Type Trend Analysis
4.1 Type: Historic Data vs. Forecast Data Analysis, 2021 vs. 2027
4.2 Multifunction Displays GPS
4.2.1 Market Estimates & Forecast Analysis of Multifunction Displays GPS Segment, By Region, 2019-2027 (USD Billion)
4.3 Handheld GPS
4.3.1 Market Estimates & Forecast Analysis of Handheld GPS Segment, By Region, 2019-2027 (USD Billion)
4.4 Fish Finder GPS
4.4.1 Market Estimates & Forecast Analysis of Fish Finder GPS Segment, By Region, 2019-2027 (USD Billion)
Chapter 5 Marine GPS Equipment Market, By Region
5.1 Regional Outlook
5.2 North America
5.2.1 Market Estimates & Forecast Analysis, By Country 2019-2027 (USD Billion)
5.2.2 Market Estimates & Forecast Analysis, By Type, 2019-2027 (USD Billion)
5.2.3 U.S.
5.2.3.1 Market Estimates & Forecast Analysis, By Type, 2019-2027 (USD Billion)
5.2.4 Canada
5.2.4.1 Market Estimates & Forecast Analysis, By Type, 2019-2027 (USD Billion)
5.2.5 Mexico
5.5.5.1 Market Estimates & Forecast Analysis, By Type, 2019-2027 (USD Billion)
5.3 Europe
5.3.1 Market Estimates & Forecast Analysis, By Country 2019-2027 (USD Billion)
5.3.2 Market Estimates & Forecast Analysis, By Type, 2019-2027 (USD Billion)
5.3.3 Germany
5.3.3.1 Market Estimates & Forecast Analysis, By Type, 2019-2027 (USD Billion)
5.3.4 UK
5.3.4.1 Market Estimates & Forecast Analysis, By Type, 2019-2027 (USD Billion)
5.3.5 France
5.3.5.1 Market Estimates & Forecast Analysis, By Type, 2019-2027 (USD Billion)
5.3.6 Russia
5.3.6.1 Market Estimates & Forecast Analysis, By Type, 2019-2027 (USD Billion)
5.3.7 Italy
5.3.7.1 Market Estimates & Forecast Analysis, By Type, 2019-2027 (USD Billion)
5.3.8 Spain
5.3.8.1 Market Estimates & Forecast Analysis, By Type, 2019-2027 (USD Billion)
5.3.9 Rest of Europe
5.3.9.1 Market Estimates & Forecast Analysis, By Type, 2019-2027 (USD Billion)
5.4 Asia Pacific
5.4.1 Market Estimates & Forecast Analysis, By Country 2019-2027 (USD Billion)
5.4.2 China
5.4.2.1 Market Estimates & Forecast Analysis, By Type, 2019-2027 (USD Billion)
5.4.3 India
5.4.3.1 Market Estimates & Forecast Analysis, By Type, 2019-2027 (USD Billion)
5.4.4 Japan
5.4.4.1 Market Estimates & Forecast Analysis, By Type, 2019-2027 (USD Billion)
5.4.5 Australia
5.4.5.1 Market Estimates & Forecast Analysis, By Type, 2019-2027 (USD Billion)
5.4.6 South Korea
5.4.6.1 Market Estimates & Forecast Analysis, By Type, 2019-2027 (USD Billion)
5.4.7 Rest of Asia Pacific
5.3.7.1 Market Estimates & Forecast Analysis, By Type, 2019-2027 (USD Billion)
5.5 Central & South America
5.5.1 Market Estimates & Forecast Analysis, By Country 2019-2027 (USD Billion)
5.5.2 Market Estimates & Forecast Analysis, By Type, 2019-2027 (USD Billion)
5.5.3 Brazil
5.5.3.1 Market Estimates & Forecast Analysis, By Type, 2019-2027 (USD Billion)
5.5.4 Rest of Central & South America
5.5.4.1 Market Estimates & Forecast Analysis, By Type, 2019-2027 (USD Billion)
5.5 Middle East & Africa
5.5.1 Market Estimates & Forecast Analysis, By Country 2019-2027 (USD Billion)
5.5.2 Market Estimates & Forecast Analysis, By Type, 2019-2027 (USD Billion)
5.5.3 Saudi Arabia
5.6.3.1 Market Estimates & Forecast Analysis, By Type, 2019-2027 (USD Billion)
5.5.4 United Arab Emirates
5.5.4.1 Market Estimates & Forecast Analysis, By Type, 2019-2027 (USD Billion)
5.5.5 South Africa
5.5.5.1 Market Estimates & Forecast Analysis, By Type, 2019-2027 (USD Billion)
5.5.6 Rest of Middle East & Africa
5.5.6.1 Market Estimates & Forecast Analysis, By Type, 2019-2027 (USD Billion)
Chapter 6 Competitive Analysis
6.1 Key Global Players, Recent Developments & their Impact on the Industry
6.2 Four Quadrant Competitor Positioning Matrix
6.2.1 Key Innovators
6.2.2 Market Leaders
6.2.3 Emerging Players
6.2.4 Market Challengers
6.3 Vendor Landscape Analysis
6.4 End-User Landscape Analysis
6.5 Company Market Share Analysis, 2021
Chapter 7 Company Profile Analysis
7.1 Garmin
7.1.1 Company Overview
7.1.2 Financial Analysis
7.1.3 Strategic Initiatives
7.1.4 Product Benchmarking
7.2 Bushnell
7.2.1 Company Overview
7.2.2 Financial Analysis
7.2.3 Strategic Initiatives
7.2.4 Product Benchmarking
7.3 Humminbird
7.3.1 Company Overview
7.3.2 Financial Analysis
7.3.3 Strategic Initiatives
7.3.4 Product Benchmarking
7.4 Standard Horizon
7.4.1 Company Overview
7.4.2 Financial Analysis
7.4.3 Strategic Initiatives
7.4.4 Product Benchmarking
7.5 TomTom
7.5.1 Company Overview
7.5.2 Financial Analysis
7.5.3 Strategic Initiatives
7.5.4 Product Benchmarking
7.6 Magellan
7.6.1 Company Overview
7.6.2 Financial Analysis
7.6.3 Strategic Initiatives
7.6.4 Product Benchmarking
7.7 Icom
7.5.1 Company Overview
7.5.2 Financial Analysis
7.5.3 Strategic Initiatives
7.5.4 Product Benchmarking
7.8 Furuno
7.6.1 Company Overview
7.6.2 Financial Analysis
7.6.3 Strategic Initiatives
7.6.4 Product Benchmarking
7.9 Raymarine
7.7.1 Company Overview
7.7.2 Financial Analysis
7.7.3 Strategic Initiatives
7.7.4 Product Benchmarking
7.10 Lowrance
7.10.1 Company Overview
7.10.2 Financial Analysis
7.10.3 Strategic Initiatives
7.10.4 Product Benchmarking
7.11 Other Companies
7.11.1 Company Overview
7.11.2 Financial Analysis
7.11.3 Strategic Initiatives
7.11.4 Product Benchmarking
List of Tables
1 Technological Advancements In Marine GPS Equipment Market
2 Global Marine GPS Equipment Market: Key Market Drivers
3 Global Marine GPS Equipment Market: Key Market Challenges
4 Global Marine GPS Equipment Market: Key Market Opportunities
5 Global Marine GPS Equipment Market: Key Market Restraints
6 Global Marine GPS Equipment Market Estimates & Forecast Analysis, 2019-2027 (USD Billion)
7 Global Marine GPS Equipment Market, By Type, 2019-2027 (USD Billion)
8 Multifunction Displays GPS: Global Marine GPS Equipment Market, By Region, 2019-2027 (USD Billion)
9 Handheld GPS: Global Marine GPS Equipment Market, By Region, 2019-2027 (USD Billion)
10 Fish Finder GPS: Global Marine GPS Equipment Market, By Region, 2019-2027 (USD Billion)
11 Others: Global Marine GPS Equipment Market, By Region, 2019-2027 (USD Billion)
12 Regional Analysis: Global Marine GPS Equipment Market, By Region, 2019-2027 (USD Billion)
13 North America: Marine GPS Equipment Market, By Type, 2019-2027 (USD Billion)
14 North America: Marine GPS Equipment Market, By Component, 2019-2027 (USD Billion)
15 North America: Marine GPS Equipment Market, By Deployment Mode , 2019-2027 (USD Billion)
16 North America: Marine GPS Equipment Market, By Country, 2019-2027 (USD Billion)
17 U.S: Marine GPS Equipment Market, By Type, 2019-2027 (USD Billion)
18 Canada: Marine GPS Equipment Market, By Type, 2019-2027 (USD Billion)
19 Mexico: Marine GPS Equipment Market, By Type, 2019-2027 (USD Billion)
20 Europe: Marine GPS Equipment Market, By Type, 2019-2027 (USD Billion)
21 Europe: Marine GPS Equipment Market, By Country, 2019-2027 (USD Billion)
22 Germany: Marine GPS Equipment Market, By Type, 2019-2027 (USD Billion)
23 UK: Marine GPS Equipment Market, By Type, 2019-2027 (USD Billion)
24 France: Marine GPS Equipment Market, By Type, 2019-2027 (USD Billion)
25 Italy: Marine GPS Equipment Market, By Type, 2019-2027 (USD Billion)
26 Spain: Marine GPS Equipment Market, By Type, 2019-2027 (USD Billion)
27 Rest Of Europe: Marine GPS Equipment Market, By Type, 2019-2027 (USD Billion)
28 Asia Pacific: Marine GPS Equipment Market, By Type, 2019-2027 (USD Billion)
29 Asia Pacific: Marine GPS Equipment Market, By Country, 2019-2027 (USD Billion)
30 India: Marine GPS Equipment Market, By Type, 2019-2027 (USD Billion)
31 Japan: Marine GPS Equipment Market, By Type, 2019-2027 (USD Billion)
32 South Korea: Marine GPS Equipment Market, By Type, 2019-2027 (USD Billion)
33 Middle East & Africa: Marine GPS Equipment Market, By Type, 2019-2027 (USD Billion)
34 Middle East & Africa: Marine GPS Equipment Market, By Country, 2019-2027 (USD Billion)
35 Saudi Arabia: Marine GPS Equipment Market, By Type, 2019-2027 (USD Billion)
36 UAE: Marine GPS Equipment Market, By Type, 2019-2027 (USD Billion)
37 Central & South America: Marine GPS Equipment Market, By Type, 2019-2027 (USD Billion)
38 Central & South America: Marine GPS Equipment Market, By Country, 2019-2027 (USD Billion)
39 Brazil: Marine GPS Equipment Market, By Type, 2019-2027 (USD Billion)
40 Garmin: Products Offered
41 Bushnell: Products Offered
42 Humminbird: Products Offered
43 Standard Horizon: Products Offered
44 TomTom: Products Offered
45 Magellan: Products Offered
46 Icom: Products Offered
47 Furuno: Products Offered
48 Raymarine: Products Offered
49 Lowrance: Products Offered
50 Other Companies: Products Offered
List of Figures
1. Global Marine GPS Equipment Market Segmentation & Research Scope
2. Primary Research Partners and Local Informers
3. Primary Research Process
4. Primary Research Approaches
5. Primary Research Responses
6. Global Marine GPS Equipment Market: Penetration & Growth Prospect Mapping
7. Global Marine GPS Equipment Market: Value Chain Analysis
8. Global Marine GPS Equipment Market Drivers
9. Global Marine GPS Equipment Market Restraints
10. Global Marine GPS Equipment Market Opportunities
11. Global Marine GPS Equipment Market Challenges
12. Key Marine GPS Equipment Market Manufacturer Analysis
13. Global Marine GPS Equipment Market: Porter's Five Forces Analysis
14. PESTLE Analysis & Impact Analysis
15. Garmin: Company Snapshot
16. Garmin: Swot Analysis
17. Bushnell: Company Snapshot
18. Bushnell: Swot Analysis
19. Humminbird: Company Snapshot
20. Humminbird: Swot Analysis
21. Standard Horizon: Company Snapshot
22. Standard Horizon: Swot Analysis
23. TomTom: Company Snapshot
24. TomTom: Swot Analysis
25. Magellan: Company Snapshot
26. Magellan: Swot Analysis
27. Icom: Company Snapshot
28. Icom: Swot Analysis
29. Furuno: Company Snapshot
30. Furuno: Swot Analysis
31. Raymarine: Company Snapshot
32. Raymarine: Swot Analysis
33. Lowrance: Company Snapshot
34. Lowrance: Swot Analysis
35. Other Companies: Company Snapshot
36. Other Companies: Swot Analysis