Mesoporous Silica Market Size
The global mesoporous silica market is projected to grow from USD 165.0 million in 2021 and is expected to reach USD 259.7 million by 2026 at a CAGR of 9.5%. Mesoporous silica (MS) is a nanotechnological advancement, comprised of a honeycomb-like structure of silica, with a large number of empty channels (mesoporous) that entrap bioactive molecules. It comes in different forms such as rods, discs, and powdered forms in amorphous, anhydrous, surface hydrates, crystalline, quartz, tridymite, and cristobalite variations. They have exceptional physical stability and biomedical applications, which facilitate their use in drug loading, and drug delivery. Because of their exceptional physical stability, MS are routinely used in a wide variety of procedures such as sewage treatment, air quality monitoring and maintenance, bio-catalysis, drug development, absorption of atmospheric carbon, bio analytical sample preparation, and pervaporation membrane enhancement.
Mesoporous materials with a larger specific surface area, porous structure, and unique pore volume have lately been investigated extensively to be used as bio-materials, such as carriers for drug delivery research. In relation to amorphous colloidal silica, mesoporous silica materials have a larger capacity for drug loading and provide regulated bio-active chemical release if functionalized in a proper manner. Mesoporous silica nanoparticles have recently attracted a lot of attention due to their significant potential for treating cancer and chronic diseases. Hence, rising demand for mesoporous silica for drug discovery process, and increasing prevalence of chronic disorders are the major factors driving the growth of the market.
Other factors driving the market's constructive outlook is significant growth in the pharmaceutical industry in the developing regions. Mesoporous silica is commonly employed in cancer treatment research and development. Furthermore, the increasing use of mesoporous silica as a catalyst in the manufacturing of various industrial chemicals, as well as a building and construction material, is propelling the market growth rapidly.
Mesoporous silica is used in the manufacturing of sand, concrete, and cement for construction purposes. Other factors, such as growing industrialization and considerable advances in health sector, are expected to boost market expansion, especially in the developing countries.
The impact of COVID-19 has influenced the global market both negatively and positively. The nationwide shutdown to prevent the spread of the virus has resulted in de-growth of the market. The market for mesoporous silica was highly affected due to the pandemic because of uncertain demand for drugs, and disturbed supply of raw materials.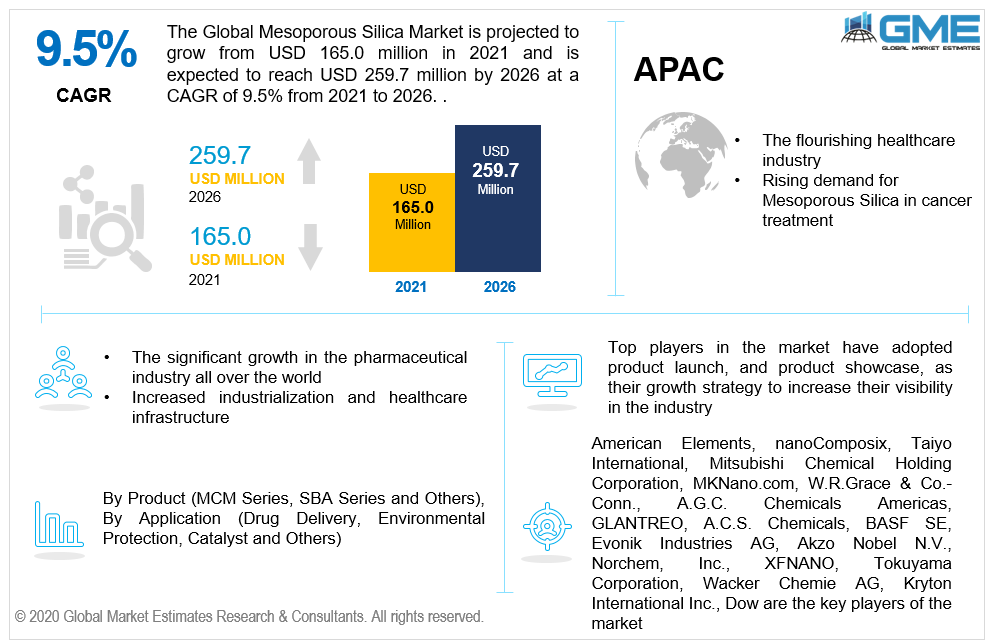 Mesoporous Silica Market: By Product
Based on products, the market is segmented into MCM Series, SBA Series and others. The MCM series segment is expected to have the highest growth rate during the forecast period. The wide applications of MCM, in pharmaceuticals, chemicals, and others, has helped it become the fastest growing segment during the forecast period.
Mesoporous Silica Market: By Application
Based on application, the market is segmented into drug delivery, environmental protection, catalyst and others. In 2020, the drug delivery segment of mesoporous silica dominated the market and is predicted to grow in the forecast period. This growth is mainly witnessed due to rapidly increasing development in the pharmaceutical industry, increase usage of mesoporous silica in treating cancerous tumors and imaging, and rising prevalence of chronic diseases.
The market for the environmental protection segment is also anticipated to grow well during the forecast period because of its extensive usage in wastewater treatment plants as it possessives unique features of absorption and photo catalysis.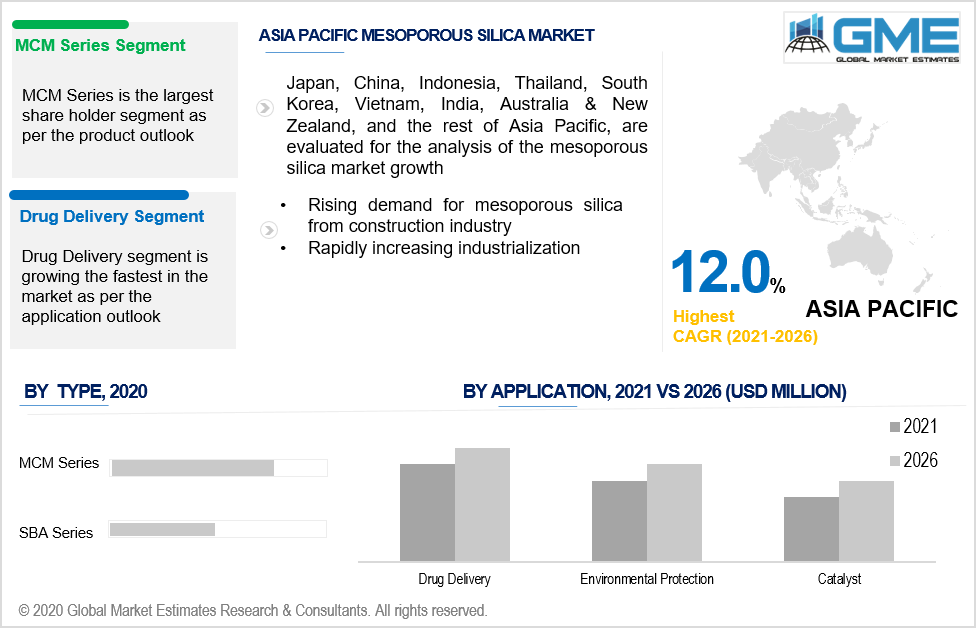 Mesoporous Silica Market: By Region
As per the geographical analysis, the market can be classified into North America (the US, Canada, and Mexico), Asia Pacific (India, China, Japan, Malaysia, Singapore, and Rest of Asia Pacific), Europe (Germany, United Kingdom, Italy, France, Spain, Netherlands, and Rest of Europe), Middle East & Africa (Saudi Arabia, Jordan, Qatar, South Africa, and Rest of MEA) and Central and South America (Brazil, and Rest of CSA).
The North American region is expected to hold the lion's share of the global revenue generated in the market. Since the region has been an early user of innovative technologies, as a result, demand for such materials has always been high. Rapid industrialization, mounting carbon emissions, and stringent restrictions implemented by government to protect environmental quality are expected to encourage the installation of wastewater treatment technologies, boosting the use of mesoporous silica throughout the forecast period.
During the forecast period, the Asia Pacific region is expected to grow rapidly as compared to other regions. The rising number of diseases and environmental concerns in the region are the major drivers of the APAC's market growth. Moreover, growing urbanisation in the region demands more of construction materials like cement, sand, concrete and others which also stands as one of the major drivers of mesoporous silica market in the APAC region.
Mesoporous Silica Market Share and Competitor Analysis
American Elements, nanoComposix, Taiyo International, Mitsubishi Chemical Holding Corporation, MKNano.com, W.R.Grace & Co.-Conn., A.G.C. Chemicals Americas, GLANTREO, A.C.S. Chemicals, BASF SE, Evonik Industries AG, Akzo Nobel N.V., Norchem, Inc., XFNANO, Tokuyama Corporation, Wacker Chemie AG, Kryton International Inc., Dow, and Applied Material, Inc, among others are the top players in the mesoporous silica market.
Please note: This is not an exhaustive list of companies profiled in the report.
Chapter 1 Methodology
1.1 Market Scope & Definitions
1.2 Estimates & Forecast Calculation
1.3 Historical Data Overview and Validation
1.4 Data Sources
1.4.1 Secondary
1.4.2 Primary
Chapter 2 Report Outlook
2.1 Mesoporous Silica Industry Overview, 2021-2026
2.1.1 Industry Overview
2.1.2 Product Overview
2.1.3 Application Overview
2.1.4 Regional Overview
Chapter 3 Mesoporous Silica Market Trends
3.1 Market Segmentation
3.2 Industry Background, 2021-2026
3.3 Market Key Trends
3.3.1 Positive Trends
3.3.1.1 The rapidly rising rate of urbanisation
3.3.2 End-User Challenges
3.3.2.1 The stringent supply of the raw material amid COVID-19 pandemic
3.4 Prospective Growth Scenario
3.4.1 Product Growth Scenario
3.4.2 Application Growth Scenario
3.5 COVID-19 Influence over End-User Growth
3.6 Porter's Analysis
3.6 PESTEL Analysis
3.7 Value Chain & Supply Chain Analysis
3.9 Regulatory Framework
3.9.1 North America
3.9.2 Europe
3.9.3 APAC
3.9.4 LATAM
3.9.5 MEA
3.10 End-User Overview
3.11 Market Share Analysis, 2021
3.11.1 Company Positioning Overview, 2021
Chapter 4 Mesoporous Silica Market, By Product
4.1 Product Outlook
4.2 MCM Series
4.2.1 Market Size, By Region, 2021-2026 (USD Million)
4.3 SBA Series
4.3.1 Market Size, By Region, 2021-2026 (USD Million)
4.4 Others
4.4.1 Market Size, By Region, 2021-2026 (USD Million)
Chapter 5 Mesoporous Silica Market, By Application
5.1 Application Outlook
5.2 Drug Delivery
5.2.1 Market Size, By Region, 2021-2026 (USD Million)
5.3 Environmental Protection
5.3.1 Market Size, By Region, 2021-2026 (USD Million)
5.4 Catalyst
5.4.1 Market Size, By Region, 2021-2026 (USD Million)
Chapter 6 Mesoporous Silica Market, By Region
6.1 Regional outlook
6.2 North America
6.2.1 Market Size, By Country 2021-2026 (USD Million)
6.2.2 Market Size, By Product, 2021-2026 (USD Million)
6.2.3 Market Size, By Deployment Mode, 2021-2026 (USD Million)
6.2.4 Market Size, By End-User, 2021-2026 (USD Million)
6.2.6 U.S.
6.2.6.1 Market Size, By Product, 2021-2026 (USD Million)
6.2.4.2 Market Size, By Deployment Mode, 2021-2026 (USD Million)
6.2.4.3 Market Size, By End-User, 2021-2026 (USD Million)
6.2.6 Canada
6.2.6.1 Market Size, By Product, 2021-2026 (USD Million)
6.2.6.2 Market Size, By Deployment Mode, 2021-2026 (USD Million)
6.2.6.3 Market Size, By End-User, 2021-2026 (USD Million)
6.3 Europe
6.3.1 Market Size, By Country 2021-2026 (USD Million)
6.3.2 Market Size, By Product, 2021-2026 (USD Million)
6.3.3 Market Size, By Deployment Mode, 2021-2026 (USD Million)
6.3.4 Market Size, By End-User, 2021-2026 (USD Million)
6.3.6 Germany
6.3.6.1 Market Size, By Product, 2021-2026 (USD Million)
6.3.6.2 Market Size, By Deployment Mode, 2021-2026 (USD Million)
6.3.6.3 Market Size, By End-User, 2021-2026 (USD Million)
6.3.6 UK
6.3.6.1 Market Size, By Product, 2021-2026 (USD Million)
6.3.6.2 Market Size, By Deployment Mode, 2021-2026 (USD Million)
6.3.6.3 Market Size, By End-User, 2021-2026 (USD Million)
6.3.7 France
6.3.6.1 Market Size, By Product, 2021-2026 (USD Million)
6.3.6.2 Market Size, By Deployment Mode, 2021-2026 (USD Million)
6.3.6.3 Market Size, By End-User, 2021-2026 (USD Million)
6.3.9 Italy
6.3.9.1 Market Size, By Product, 2021-2026 (USD Million)
6.3.9.2 Market Size, By Deployment Mode, 2021-2026 (USD Million)
6.3.9.3 Market Size, By End-User, 2021-2026 (USD Million)
6.3.10 Spain
6.3.10.1 Market Size, By Product, 2021-2026 (USD Million)
6.3.10.2 Market Size, By Deployment Mode, 2021-2026 (USD Million)
6.3.10.3 Market Size, By End-User, 2021-2026 (USD Million)
6.3.11 Russia
6.3.11.1 Market Size, By Product, 2021-2026 (USD Million)
6.3.11.2 Market Size, By Deployment Mode, 2021-2026 (USD Million)
6.3.11.3 Market Size, By End-User, 2021-2026 (USD Million)
6.4 Asia Pacific
6.4.1 Market Size, By Country 2021-2026 (USD Million)
6.4.2 Market Size, By Product, 2021-2026 (USD Million)
6.4.3 Market Size, By Deployment Mode, 2021-2026 (USD Million)
6.4.4 Market Size, By End-User, 2021-2026 (USD Million)
6.4.6 China
6.4.6.1 Market Size, By Product, 2021-2026 (USD Million)
6.4.6.2 Market Size, By Deployment Mode, 2021-2026 (USD Million)
6.4.6.3 Market Size, By End-User, 2021-2026 (USD Million)
6.4.6 India
6.4.6.1 Market Size, By Product, 2021-2026 (USD Million)
6.4.6.2 Market Size, By Deployment Mode, 2021-2026 (USD Million)
6.4.6.3 Market Size, By End-User, 2021-2026 (USD Million)
6.4.7 Japan
6.4.6.1 Market Size, By Product, 2021-2026 (USD Million)
6.4.6.2 Market Size, By Deployment Mode, 2021-2026 (USD Million)
6.4.6.3 Market Size, By End-User, 2021-2026 (USD Million)
6.4.9 Australia
6.4.9.1 Market Size, By Product, 2021-2026 (USD Million)
6.4.9.2 Market size, By Deployment Mode, 2021-2026 (USD Million)
6.4.9.3 Market Size, By End-User, 2021-2026 (USD Million)
6.4.10 South Korea
6.4.10.1 Market Size, By Product, 2021-2026 (USD Million)
6.4.10.2 Market Size, By Deployment Mode, 2021-2026 (USD Million)
6.4.10.3 Market Size, By End-User, 2021-2026 (USD Million)
6.5 Latin America
6.5.1 Market Size, By Country 2021-2026 (USD Million)
6.5.2 Market Size, By Product, 2021-2026 (USD Million)
6.5.3 Market Size, By Deployment Mode, 2021-2026 (USD Million)
6.5.4 Market Size, By End-User, 2021-2026 (USD Million)
6.5.6 Brazil
6.5.6.1 Market Size, By Product, 2021-2026 (USD Million)
6.5.6.2 Market Size, By Deployment Mode, 2021-2026 (USD Million)
6.5.6.3 Market Size, By End-User, 2021-2026 (USD Million)
6.5.6 Mexico
6.5.6.1 Market Size, By Product, 2021-2026 (USD Million)
6.5.6.2 Market Size, By By Application, 2021-2026 (USD Million)
6.5.6.3 Market Size, By End-User, 2021-2026 (USD Million)
6.5.7 Argentina
6.5.6.1 Market Size, By Product, 2021-2026 (USD Million)
6.5.6.2 Market Size, By Deployment Mode, 2021-2026 (USD Million)
6.5.6.3 Market Size, By End-User, 2021-2026 (USD Million)
6.6 MEA
6.6.1 Market Size, By Country 2021-2026 (USD Million)
6.6.2 Market Size, By Product, 2021-2026 (USD Million)
6.6.3 Market Size, By Deployment Mode, 2021-2026 (USD Million)
6.6.4 Market Size, By End-User, 2021-2026 (USD Million)
6.6.5 Saudi Arabia
6.6.5.1 Market Size, By Product, 2021-2026 (USD Million)
6.6.5.2 Market Size, By Deployment Mode, 2021-2026 (USD Million)
6.6.5.3 Market Size, By End-User, 2021-2026 (USD Million)
6.6.6 UAE
6.6.6.1 Market Size, By Product, 2021-2026 (USD Million)
6.6.6.2 Market Size, By Deployment Mode, 2021-2026 (USD Million)
6.6.6.3 Market Size, By End-User, 2021-2026 (USD Million)
6.6.6 South Africa
6.6.6.1 Market Size, By Product, 2021-2026 (USD Million)
6.6.6.2 Market Size, By Deployment Mode, 2021-2026 (USD Million)
6.6.6.3 Market Size, By End-User, 2021-2026 (USD Million)
Chapter 7 Company Landscape
7.1 Competitive Analysis, 2021
7.2 American Elements
7.2.1 Company Overview
7.2.2 Financial Analysis
7.2.3 Strategic Positioning
7.2.4 Info Graphic Analysis
7.3 nanoComposix
7.3.1 Company Overview
7.3.2 Financial Analysis
7.3.3 Strategic Positioning
7.3.4 Info Graphic Analysis
7.4 Taiyo International
7.4.1 Company Overview
7.4.2 Financial Analysis
7.4.3 Strategic Positioning
7.4.4 Info Graphic Analysis
7.5 Mitsubishi Chemical Holding Corporation
7.5.1 Company Overview
7.5.2 Financial Analysis
7.5.3 Strategic Positioning
7.5.4 Info Graphic Analysis
7.6 MKNano.com
7.6.1 Company Overview
7.6.2 Financial Analysis
7.6.3 Strategic Positioning
7.6.4 Info Graphic Analysis
7.6 BASF SE
7.6.1 Company Overview
7.6.2 Financial Analysis
7.6.3 Strategic Positioning
7.6.4 Info Graphic Analysis
7.7 Akzo Nobel N.V
7.7.1 Company Overview
7.7.2 Financial Analysis
7.7.3 Strategic Positioning
7.7.4 Info Graphic Analysis
7.9 Norchem, Inc
7.7.1 Company Overview
7.7.2 Financial Analysis
7.7.3 Strategic Positioning
7.7.4 Info Graphic Analysis
7.10 Tokuyama Corporation
7.10.1 Company Overview
7.10.2 Financial Analysis
7.10.3 Strategic Positioning
7.10.4 Info Graphic Analysis
7.11 Wacker Chemie AG
7.11.1 Company Overview
7.11.2 Financial Analysis
7.11.3 Strategic Positioning
7.11.4 Info Graphic Analysis
7.12 Kryton International Inc
7.12.1 Company Overview
7.12.2 Financial Analysis
7.11.3 Strategic Positioning
7.11.4 Info Graphic Analysis
7.13 Other Companies
7.13.1 Company Overview
7.13.2 Financial Analysis
7.13.3 Strategic Positioning
7.13.4 Info Graphic Analysis